Category: Archangel Michael Written by Celia Fenn Views: 1973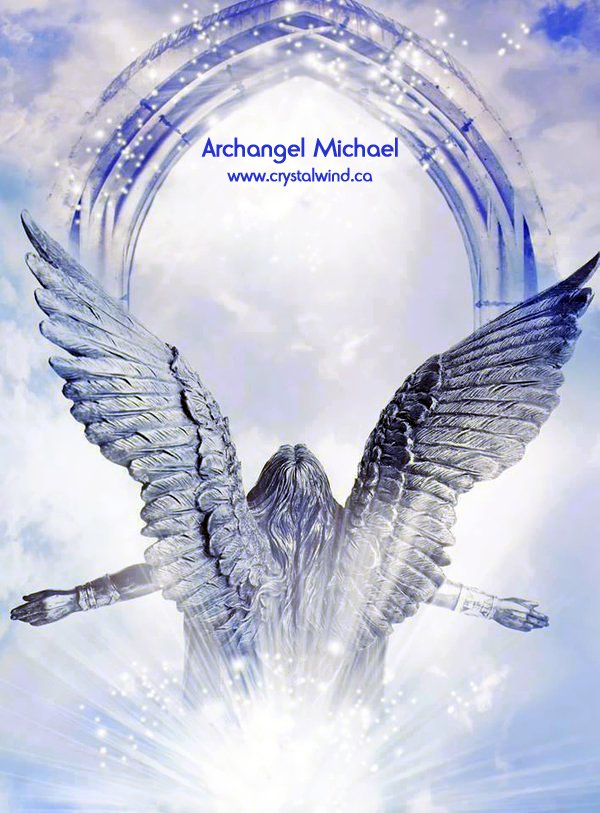 Beloved Family of Light, we have reached a moment that many of you have waited for, and asked for, for many lifetimes. There is a wave of Cosmic Light approaching your Planet that will activate a "Great Awakening" on the Earth. Even now, many of you have felt that wave as it began to approach at the September Equinox. This energy is so intense that it causes physical symptoms in many as your body seeks to integrate and balance.
This rising energy will be felt at the 10:10 Portal on the 10th of October, and it will continue to intensify at the Major 11:11 Star Gate on the 11th of November. Then it will continue on to the 12:12 on the 12th of December and the 21:12 on the 21st December (Solstice) and will culminate on the 12th of January (1:12:2020), when Saturn and Pluto move into conjunction in the sign of Capricorn.
At each of these important nexus points, more of the New Divine Masculine will be revealed on the Earth. It will be the Divine Masculine that will lead the way in creating new structures for the New Earth. This is the role of the Divine Masculine, to create structure for the flow of the Divine Wisdom of Sophia, the Divine Feminine Essence of Wisdom and Light. It will indeed be a powerful, intense and awe-inspiring shift on many levels.
10:10 : Initiation into the "Great Awakening Time Line/Time Spiral"
The great disturbance that so many of you have already begun to feel, is the establishing and energizing of the "Great Awakening Time Line" for October 2019 to January 2020. When a powerful new time line is energized, other alternate time lines collapse and fall away.
On the 10th of October, the 10:10, this Wave of Awakening will be initiated and will begin the process of bringing forth a new group of souls to join the Planetary Awakening process and accelerate the manifestation of the New Earth.
This may create "shock waves"in the fabric of TimeSpace that can cause physical symptoms. But know, Beloved Ones, that closing time lines and activating new time lines (time spirals) is an activity that is undertaken with spiritual and collective consensus, as being for the highest good of the Earth at this time.
As the next segment of the Time Line is energized, these "shock waves" may intensify. It will be these intense waves of Diamond Light Codes, Golden Christ Consciousness Codes and Divine Heart Frequencies from the Angelic and Star Nations that will begin to initiate this "Great Awakening" on Earth.
The First Stirrings of the "Great Awakening"
As this new Time Line begins to energize the "initiations of Light", there will be two levels of Events. At the first level, those of you who are way showers and already awakened will be called and "propelled" into wider and greater levels of service on the Planet. At the second level, very "ordinary" people will suddenly awaken and feel disoriented and shocked as their perception of Reality changed radically, almost overnight.
The large second group of ":awakeners" will need you, the first level of way showers, to guide them through this process. According to your Soul Contracts, this is the purpose for which you have chosen to be on the Earth at this time.
Beloved Family of Light, this is not the time to shrink back or think "small". It is time to step up and be the Self-empowered Beings and Community Leaders that you are. As you make yourself available for expanded service as a Teacher or Healer, so Spirit will guide those who have need to you. As you work with these ones, it will also be good to remember how important it also is to take care of yourself and your own process.
As the newly awakened ones shift across into the New Earth Time Line/Spiral, they will feel physical, mental and emotional symptoms that will feel like some kind of "breakdown", for this is in fact the process of breaking down the old do that the new can emerge. Their old support systems in the old time line will have collapsed and broken down and they will feel as if they are "falling" into a void of nothingness. It will be your task to be the Light that guides them to anchor in the New Earth grids and to find their Soul Family or Tribe in this new TimeSpace Reality.
Those of you that are of the first level, the first waved of awakening, will find that you are receiving new understandings and new gifts of healing. Your Light Body system will accelerate to the point where you will explore and develop new techniques of Quantum Light and Sound Healing similar to those used by Shamanic practitioners to shift and heal energies and soul "fractures".
The 11:11 Initiations : Star Fire and Angelic Frequencies
in 2017 at the 11:11 Gateway, the Planet received a powerful wave of Angelic Frequencies and Light Codes from the Elohim and the Seraphim. At this years 11:11 there will be another powerful wave of Light Initiations from the Stellar and Cosmic Councils of Light. This will be an Initiation of Star Fire Light Codes that will rapidly raise the Frequencies on Earth to accelerate the Awakening that is taking place.
The 11:11 Portal is under the guardianship of the Pleiadians, and is on the same astrological axis as the 5:5 Gateway, that of Taurus and Scorpio, and it is associated with the awakening of the Buddha and with the spiritual energies of the Collective Awareness.
At this time, a powerful transmission of Star Fire Light Codes will be received on Earth in the form of a Light/Sound wave that will be an initiation and an activation of the newly energized New Earth Time Spiral.
This will not be received as a single wave, but as a series of waves each carrying different codes or instructions from the Divine Heart toi activate the New Earth in the consciousness of the Collective.
At this time, those who have agreed at the soul level to awaken, sill be activated by these waves and will suddenly awaken to join this rising wave of new consciousness.
Those of you who work with Light Codes and Language of Light will be empowered and guided to "translate" these "codes" for the benefit of those in your tribe and community. You may feel guided to paint, draw, sound, sing or dance these Star Fire Codes into physical manifestation.
At this time of the 11:11, the Pleiadians will be very active in working with you to assist you to activate the Human Angelic Template and embody the Soul in Divine Love as proof of this process. As specialists in In Human/Animal and Plant DNA on Earth, they will guide you through Light Code Activations and Collective Activations.
The Arcturians have also been commissioned to guide a multi-representational group that will work with Earth, including Lyrans, Sirians and Andromedans. These ones will assist with their particular means of Light communication and connection.
At the 11:11 you may, therefor, feel guided to join a group or community to experience the Star Fire Light Code initiations as a group. You may also feel drawn to channel these codes in some way and to keep a record of the information that is given to you in these codes in a journal.
The Angelic Beings, the Elohim and Seraphim, will continue to empower transmissions of the Angelic Frequencies of Light and Color to support these initiations and the Awakening process in general.
Time Lines, SpaceTime and Slowing Down the Tempo of Life
Beloved Ones, as the waves of Light Codes arrive on Earth, there will be another "acceleration" in the SpaceTime field as consciousness is raised yet again.
To many this will be perceived as time moving even faster, and they may feel the urge to try to move even faster on the physical plane to "keep up" with the increase in frequency in SpaceTime.
This would not be recommended, Dear Ones, as what is needed is to slow down and allow the body to align with "natural" SpaceTime, which is the natural frequency of Nature (Divine Source Code) on your Planet.
At this time on your Planet you have two expressions of time. The one is, as mentioned, natural time that spirals in harmony with the SpaceTime field and vibrates at the frequency of the Divine Heart. The second is "artificial" or "linear" time that is anchored in mechanical illusion and hurtles forward, ever increasing in momentum as it moves further from natural time and the spiral movement of the Galaxy.
That is why it is so beneficial to spend time in Nature. You allow your cells and your DNA to resonate with natural time and to slow down physically so that you can experience the higher frequencies of Light Codes from the Divine Heart.
To meditate and to do Ceremony in Nature is to align with natural time through focus and intention, and it will assist you to integrate and embody these light codes without undue disturbance to your physical body system, or overstimulation of your nervous system and your emotional and mental bodies.
The Role of the Emerging New Divine Masculine
As these new Star Fire Light Codes are received by the Divine Feminine Sophia consciousness, the Divine Masculine, or rather the New Divine Masculine, will have the task of creating form and structure for this new wisdom to be expressed and experienced.
In this four month period of the Star Fire waves, the planets Saturn and Pluto will be moving towards each other for their "date" of conjunction on the 12th of January 2020. This movement takes place in the house of Capricorn, a masculine energy. This magnetic conjunction of Saturn (structure) and Pluto (Transformation) creates a vortex for the dismantling of the old masculine energy structures and the birthing of forms of expression for the New Masculine.
The form and structure of the New Masculine is already emerging in the expression of compassion and love for the Planet that is being expressed through many young people, the Crystal children who are finding their "voice" and expressing what they feel to the older generations. Soon, they will be joined by Diamond Children who will have an even stronger expression of the New Divine Masculine Christ Consciousness energy and a need to prepare a path for the New Earth, which is their Soul Mission as representatives of the Diamond Light on Earth.
So, we wish you a wonderful journey into these New Light Codes and new ways of being as you stand on the threshold of this powerful New Earth Time Spiral. Move forward with confidence and joy, knowing that this is the time that you have waited for!
Celia Fenn holds MA and PhD degrees in English Literature, and has also studied Art and Music. She lives in Cape Town, South Africa.
She worked for 12 years as a University academic teacher of English Literature before switching to a career in Healing and Therapy. For ten years she helped many people to find their own personal healing path to wholeness and inner peace. She then became a channel for Archangel Michael, and developed the Starchild Global website. Her ongoing adventure has lead to a new focus on the grounding of the New Earth, Quantum Reality and Time Lines, the importance of the Divine Feminine energy and rediscovering the power of Shamanic practice and ceremony in a modality called Galactic Shamanism. She is the Director of the Starchild Children's Foundation, which runs the "Children of Africa Project". This is a Community Support Program for the Children of the Cape Town area in South Africa. The project is run and maintained by donations.
CrystalWind.ca is free to access and use.
Please donate a small gift of $11.11 or $22.22 or $33.33.
Thank you!
ॐ Namasté - Blessings!

© 2008-2020 crystalwind.ca. All rights reserved.
X
Right Click
No right click