Category: Astrology by Dale Views: 3014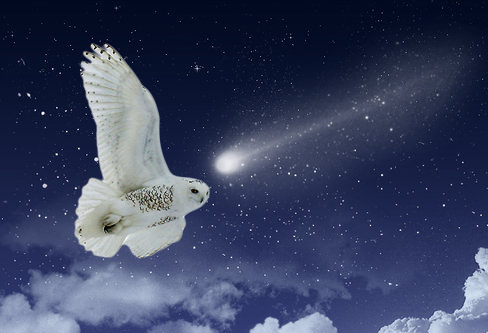 Dale Osadchuk
11 January 2013 at 2.45pm EST
11.45am PST and 7.45pm GMT
Grandmother Snow Goose slowly climbed the path to the Star Temple. She was feeling her 90 years in her bones. She knew her time to return to the Star People would come soon so she wanted to spend this New Moon celebration with her granddaughters Snowy Owl and Shooting Star. She had always encouraged them to follow their dreams and at this New Moon celebration she wanted to ask them if they were, in actuality, doing that. She wanted to know if her guidance had been received.
When she reached the Star Temple all was quiet. She entered the Sacred Center and sat down to rest for the long climb had winded her. She was tired. She then remembered all the years she had come to this Temple to speak to the Star People and receive their messages. In that moment she felt rejuvenated and her younger self came alive. She realized she was still the same inside. Vibrant, hopeful, and excited about the possibilities this Earth Renewal Moon had to offer.
When the sisters reached the Star Temple they found their Grandmother sitting in the Sacred Circle singing to the Starry Ones. They felt blessed to have her join the ceremony. They both knew it would be a long time before they became as wise as Snow Goose. The young women joined their Grandmother in song and thanked her for her loving guidance. She had taught them to follow their dreams.
The threesome fell silent waiting for Sister Moon's message. "Grandmother Snow Goose" Luna said "you come from the Starry Ones and to them you will return but your time is not yet. You have walked lightly on the Earth Mother with Love in your heart and have taught others to honour the Sacredness of all that Great Spirit and Great Mystery has created. You are a Wisdom Keeper and your knowledge and teachings are still needed by the two leggeds who have yet to awaken to the Oneness Of All. When you do return to the Stars you will continue to guide Snowy Owl and Shooting Star. They will feel your spirit on the wind and know it is you."
This is the first New Moon of 2013 and The North Direction on The Medicine Wheel. We entered the North on Winter Solstice Dec 21, 2012 and The Earth Renewal Time. How appropriate for that date completed the old way to create space for transition to the new. We say transition because humanity is not yet ready to release the old way of being. The North is the place of contemplation, knowledge gained through experience, and the wisdom that brings. It is the place of the Elders and Wisdom Keepers. This New Moon asks us to honour and thank the Wisdom Keepers who have guided us on our Earth Walk. Both those on the physical plane and those in spirit, be they loved ones who have transitioned or Spirit Walker Guides.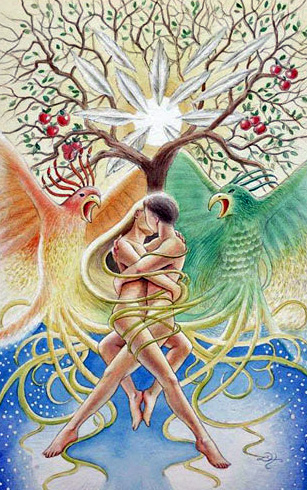 We mentioned in our last posting that 2013 is a 6 Year. That is the Tarot Constellation of The Lovers; the principle of Relationship and Choice. The lesson is the choice to love, the urge to unite, ourselves in relation to others. In the Tarot the sixth card is the Lovers and relates to the sign of Gemini. At this New Moon Gemini is part of a Yod pattern or "finger of God" as it is also called. We will come back to that as it echoes the Yod that was activated on the Winter Solstice chart.
The other sign that is part of this Tarot Constellation is Capricorn so how synchronistic that our first New Moon activates this lesson. Capricorn, as part of The Lovers, is associated with the choice to fear, the urge to separate, ourselves in relation to the world. In the Tarot the 15th card is The Devil and the sign of Capricorn. The symbolism is when we are in fear we are controlled by outer forces and lose our power. For all you Capricorns out there this is the shadow side of your sign. It does not mean it is how you relate to the world. And for everyone else we all have Capricorn somewhere in our natal Mandala.
On a material/physical plane Capricorn is associated with ambition and the desire to climb the ladder of success however we define what that is. On a personal level this sign is also associated with our status in society or how we take our power in the world. On the natural Zodiac wheel Capricorn is the Mid Heaven and the doorway to the 10th house. This links the sign of the goat to society and its rules, government, presidents and heads of states, big business and corporations, presidents and C.E.O's. Basically it describes those few who have power and control over the many. We did say that is the material/physical focus. We can also call it the ego's agenda. So this New Moon in Capricorn is sure to stir up world issues connected to the above. As well Pluto who tears down the old structures that no longer work has been in Capricorn since Jan 2008 and is part of the Yod pattern at this Lunation. I wonder what will come tumbling down in 2013.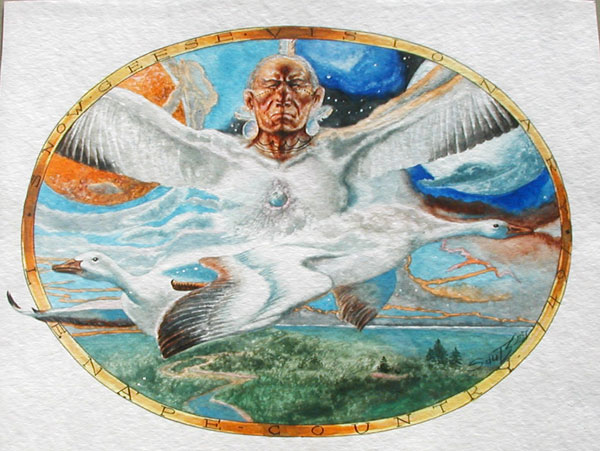 All zodiac signs also have a spiritual side. For Capricorn it is about finding our Soul Purpose and sharing our knowledge and wisdom in the world. That is the spirit of this Capricorn New Moon. The Animal Totem who guides us is Snow Goose. She supports us to fly to mystical realms and follow our dreams and visions. The Clan Mother who guides us is Talks With Relations. She is the guardian of learning the truth and honouring the kinship with all life. She is the keeper of right relationship with Creator and Great Mystery, the self, and our spiritual essence. She is also the keeper of sacred rhythms and teaches us to respect the sacred space of all. She teaches us to be in our compassionate hearts and be Loving Kindness in All Our Relations. More of her story can be found in the 13 Original Clan Mothers and Earth Medicine, both by Jamie Sams.
This Capricorn New Moon is active on three Rays and gives us an opportunity to work with the energies they express. The Rays are the 7th Ray of Ceremonial Order and White Magic, with Archangels Zadkiel, Invocation and ascension into higher consciousness, and Amethyst, transformation and freedom. They both carry the vibration of the Violet Flame of Transmutation. The next is the 3rd Ray of Divine Mind and Active Intelligence with Archangels Chamuel, healing through Divine Love, and Charity, gratitude and generosity. Finally this Capricorn New Moon activates the 1st Ray of Divine Will and Power with Archangels Michael, protection and spiritual destiny guide, and Faith, love and trust in self, as our guides.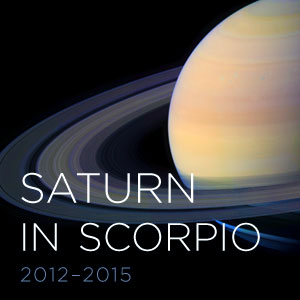 The ruler of this New Moon is Saturn in Scorpio. He is giving us all the opportunity to do deep transformational healing so we free ourselves to live our Soul Purpose Path. He is working in harmony with Chiron, the wounded healer, in Pisces, the collective unconscious and World Wound. Saturn is also trine the Asteroid Hygeia, the goddess of health, both physical and mental, healing and wholeness. She is also in Pisces travelling with Chiron and emphasising that society must heal its collective wound.
Saturn is also part of the Yod aspect we talked about earlier. He is in mutual reception with Pluto in Capricorn. That is when planets visit each other's signs and so in this case are working together to support us all to do deep transformational healing. The energy of the Yod is focused on the asteroid Vesta/Hestia in Gemini. She is the Temple Priestess who was the guardian of the hearth fire and the Sacred Flame. She offers us the gift of discovering the Divine Flame within and allowing that Sacred Self to guide us on our Soul Purpose Path. The space between Saturn and Pluto is 10 degrees Sagittarius and that is where Vesta is pointing. She is saying when you choose to love yourself and experience harmony within you are able to express your Spiritual Vision and Soul Purpose and help heal the world.
So 2013 is off to a remarkable start and the promise that A New Earth is manifesting. Aren't you glad you signed up for the ride? If you would like to discover what your personal journey for 2013 is I am available for sessions in person or by telephone. You can contact me at to book your session.
Blessings Dale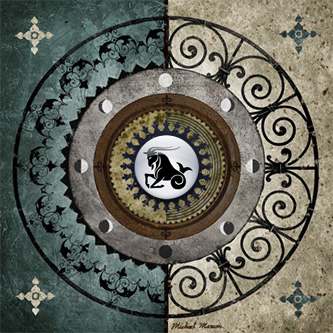 Here are the Moon phases and planetary activations. All times are 75 west longitude EST. We have included the day and time the Moon changes signs.
Capricorn New Moon- 2.45pm EST- On the material plane Capricorn is about who you are in the world. It is seen as the sign of ambition and power. Spiritually this New Moon is asking you to step further onto your Soul Purpose Path and help to change the world. The Animal Totem guide is Snow Goose. She teaches you to follow your dreams and spiritual vision. Blessings will come your way when you do.
Moon enters Aquarius- Jan 12- 4.01am EST- sextile Uranus in Aries- 12.09pm EST- trine Jupiter in Gemini- 3.11pm EST- The Aquarius Moon asks you to focus on your gift to give to the Universe. It also asks you to do it with joy. These early aspects support you to release any issues that block you from giving your Soul Gift. Moon in Aquarius square Saturn in Scorpio- 8.58pm EST- Venus in Capricorn square Uranus in Aries- 11.13pm EST- These two aspects will most likely create situations that emphasise any limitations in your life. The challenge will come from people who do not understand your spiritual vision. But squares ask you to find new ways of doing things so surround yourself with those people who support your Soul Purpose work. Just remember challenges are really opportunities to strengthen your commitment to your spiritual path.
Moon conjunct Mars in Aquarius- Jan 13- 3.37am EST- This is the only activation for today and it can support you to take action when it comes to giving your gift. Work with the Spiritual Warrior aspect of Mars and remarkable things can happen. Sometimes conjunctions with Mars can be combustible. The ruler of this aspect is Uranus in Aries which can be a "leap before you look" influence. Make sure you are focused on action that is for the greater good of all.
Moon enters Pisces- Jan 14- 5.49am EST- Venus in Capricorn sextile Chiron in Pisces- 7.09am EST- Moon conjunct Neptune in Pisces- 8.20am EST- The Moon in Pisces asks us to view our experiences from a spiritual perspective. These aspects with Chiron and Neptune can allow us to experience the mystical. Venus in Capricorn inconjunct Jupiter in Gemini- 8.36am EST- This aspect can create confusion about taking the next step on our journey to give our gift to the Universe. Just let it be what it is. Things will work themselves out later today. Moon in Pisces conjunct Chiron in Pisces- 5.23pm EST- square Jupiter in Gemini- 5.26pm EST- sextile Venus in Capricorn- 6.21pm EST- sextile Pluto in Capricorn- 10.49pm EST- All these connections are supporting you to strengthen your Soul Purpose Path. Even the Moon square Jupiter is helpful as it will show you where not to focus. The Moon in Pisces is about healing, forgiveness, and release. It is another opportunity to release any blocks that came up on Jan 12 if you have not yet resolved the issue.
Pisces Crescent Moon- Jan 14- 11.28pm EST to Jan 18- 6.45pm EST- This is the expansion, growth, and manifestation of your vision phase. For the next four days look for opportunities that will allow you to expand your gift to the Universe. This Crescent Moon phase is a direct link to Great Mystery and your spiritual guides. Kwan Yin, the Goddess of Compassion, is working with you. If there are people you need to forgive she will support you so your way is clear.
Moon in Pisces trine Saturn in Scorpio- Jan 15- 12.01am EST- Jupiter in Gemini square Chiron in Pisces- 1.09pm EST- These aspects echo the issues of the last few days. Creator and Great Mystery give us lots of time to work things out by challenging us. The door of opportunity is always just around the corner.
Moon in Pisces sextile Mercury in Capricorn- Jan 16- 1.54am EST- sextile Sun in Capricorn- 4.32am EST- These early morning aspects (EST) support you to follow your dreams and Spiritual Vision. If you are asleep pay attention upon waking to the messages received from the dreamtime. Moon enters Aries- 11.07am EST- When the Moon visits Aries it activates opportunity for new inspiration and new ways of seeing things. Venus in Capricorn conjunct Pluto in Capricorn- 8.29pm EST-Moon in Aries conjunct Uranus in Aries- 8.38pm EST- sextile Jupiter in Gemini- 11.28pm EST- All these aspects are quite dramatic. They can be positive as they are very transformational. A word of caution though, if you are hanging onto old ways of doing things the rug just might be pulled out from underneath you. Pluto is about releasing what no longer serves you and Uranus is breaking through to the new. If you do not act voluntarily they will do it for you. You do not want to miss the Moon sextile Jupiter as it is a blessing but there has to be space in your life for you to receive the opportunity they offer.
Moon in Aries square Pluto in Capricorn- Jan 17- 5.38am EST- square Venus in Capricorn- 6.37am EST- inconjunct Saturn in Scorpio- 7.02am EST- With these aspects it is best to review what you do not want in your life. Capricorn is the very oriented toward the "status quo" from the ego's perceptive. Most people reading this do not want to play that game anymore. Venus in Capricorn sextile Saturn in Scorpio- 11.02am EST- Moon in Aries sextile Mars in Aquarius- 9.27pm EST- These aspects will feel like a "breath of fresh air" after the earlier challenges today. You can now move forward with support from the Universe. We are still in the growth and expansion phase.
Sun in Capricorn conjunct Mercury in Capricorn- Jan 18- 3.56am EST- This continues the moving forward energy from yesterday. The focus is definitely on living your Soul Purpose with commitment. Aries First Quarter Moon- 6.45pm EST to Jan 22- 10.20pm EST- The theme for the First Quarter phase is to make a decision, take action, and break through or break free. Moon in Aries square Mercury in Capricorn- 7.40pm EST- This square will help you identify what you want to break free from. Just remember to look before you leap. The Moon in Aries can be impulsive. Moon enters Taurus- 8.36pm EST- sextile Neptune in Pisces- 11.49pm EST- When the Moon visits Taurus she asks us to focus on self worth and loving ourselves and opening to our hidden talents and abilities. The sextile to Neptune reminds us we all have spiritual gifts to share. We all are Wisdom Keepers.
Mercury enters Aquarius- Jan 19- 2.25am EST to Feb 05- 9.55am EST- For the next two and a half weeks the planet of the mind is moving fast. While in Aquarius he is asking us to again focus on our gift to give to the Universe. This is important for he will go on one of his retrograde journeys on Feb 23 this time in the sign of Pisces. We will then have a chance until Mar 17 to review where we are on our spiritual journey. We suggest you journal where you are now so you can make adjustments during the retrograde. Moon in Taurus sextile Chiron in Pisces- 10.27am EST- trine Pluto in Capricorn- 4.30pm EST- Whatever issues there are regarding loving yourself these aspects are supporting healing and transformation. Embrace this gift and set yourself free.
Sun enters Aquarius- Jan 19- 4.52pm EST to Feb 18- 7.02am EST- We now enter the Rest and Cleansing Time with the Animal Totem Otter as our guide. It is the time for sharing and companionship with those who are of like mind. In the northern hemisphere it is deep winter where we are inclined to snuggle in our warm homes. That is perfect for rest and introspection and identifying what is truly important in our lives. Moon in Taurus opposite Saturn in Scorpio- 6.05pm EST- This opposition is simply asking you to release anything that blocks your sense of empowerment. Saturn in Scorpio offers the opportunity for transformation.
Moon in Taurus trine Venus in Capricorn- Jan 20- 12.17am EST- square Mars in Aquarius- 1.16pm EST- The Moon trine Venus means whatever issues came up with yesterday's opposition can now be resolved harmoniously. The Moon square Mars might mean the "other" in your life is not yet ready to let the issue go. Stay connected to your sense of inner power and just let them work out their own issue. You are not responsible for how they react. You are only responsible for how you respond.
Moon enters Gemini- Jan 21- 9.04am EST- square Neptune in Pisces- 12.33pm EST- trine Sun in Aquarius- 12.59pm EST- trine Mercury in Aquarius- 6.13pm EST- sextile Uranus in Aries- 7.49pm EST- conjunct Jupiter in Gemini- 10.13pm EST- square Chiron in Pisces- 11.32pm EST-This is a day of mixed influences. The Moon in Gemini emphasises the theme of relationship and choice. For the most part the energies are supportive if you are choosing to love and unite. Just remember Gemini is the sign of duality. Listen to your intuition as you relate with others and you will be in balance.
Mercury in Aquarius sextile Uranus in Aries- Jan 22- 5.28am EST- The day begins with the opportunity for breakthrough. We are still in the First Quarter phase of making a decision and taking action. But the next few hours will be challenging and confusing with all the inconjunct aspects so be patient. Moon in Gemini inconjunct Pluto in Capricorn- 5.36am EST- inconjunct Saturn in Scorpio- 7.16am EST- inconjunct Venus in Capricorn- 8.32pm EST- These aspects activate the Yod from the day of the New Moon. Focus on your spiritual vision and you will get through the challenges. Logical thinking will not work. Mercury in Aquarius trine Jupiter in Gemini- 9.26pm EST- This is the time to make that breakthrough that was activated with Mercury sextile Uranus earlier today. The energy is supporting you to give your gift to the Universe in a new way.
Gemini Gibbous Moon- Jan 22- 10.20pm EST to Jan 26- 11.38pm EST- We now enter the phase of analyzing, adjusting, evaluating and redefining our Spiritual Vision. This is the focus until The Leo Full Moon on Jan 26. The Gibbous phase is also about aligning the mind, body, and spirit so you can be of spiritual service to the world. In other words to find integration within so you can share your Soul's Wisdom with those who are ready to hear.
Moon in Gemini trine Mars in Aquarius- Jan 23- 6.42am EST- This aspect supports you to continue to take action as you share your spiritual gifts with others. Group projects are favoured today so align yourself with those of like mind. Moon enters Cancer- 10.00pm EST- When the Moon is in Cancer the traditional focus is on home and family. But the spiritual influence activates a desire to follow your destiny. We are all here with a Soul Purpose. That is the focus until the Moon enters Leo on Jan 26.
Moon in Cancer trine Neptune in Pisces- Jan 24- 1.36am EST- inconjunct Sun in Aquarius- 7.24am EST- square Uranus in Aries- 8.45am EST- trine Chiron in Pisces- 12.31pm EST- inconjunct Mercury in Aquarius- 5.07pm EST- opposite Pluto in Capricorn- 6.19pm EST-trine Saturn in Scorpio- 8.00pm EST- Sun in Aquarius sextile Uranus in Aries- 11.46pm EST- This is a busy day of up and down energy. Make sure you are not reacting to whatever is happening from an overly emotional place. Move into the Watcher/Witness part of self and just observe. The Sun sextile Uranus offers breakthrough with ease if you are centered in your Sacred Self.
Mercury in Aquarius square Saturn in Scorpio- Jan 25- 1.42 pm EST- Moon in Cancer opposite Venus in Scorpio- 3.35pm EST- inconjunct Mars in Aquarius- 10.40pm EST- These aspects continue yesterday's challenges. Stay centered in your Sacred Self and all will work itself out favourably. Sun in Aquarius trine Jupiter in Gemini- 10.56pm EST- This is an aspect of ease and flow. It supports you to breakthrough to the new and to share your spiritual gifts with the world.
Moon enters Leo- Jan 26- 9.20am EST- inconjunct Neptune in Pisces- 12.59pm EST- trine Uranus in Aries- 7.52pm EST- sextile Jupiter in Gemini- 9.36pm EST- inconjunct Chiron in Pisces- 11.36pm EST- Another up and down day with ease and flow but also confusion. The Moon in Leo asks us to be in our compassionate heart center not our ego. When you treat others with Loving Kindness it will flow back to you a hundred-fold.
Leo/Aquarius Full Moon- Jan 26- 11.38pm EST- The theme of this Full Moon is courage of your convictions, embracing inner strength, courage to be yourself, and strengthening your connection to Source whatever that is for you. We now complete the lessons we have been working on since the Leo New Moon of Aug 17, 2012. The theme has been to live our lives with authenticity and Love. Ask yourself if that is your truth now.
---
Dale Osadchuk is an Artist, Spiritual Astrologer, and Transformational Counsellor and is available for consultations in Sharon (just north of Newmarket) Ontario, Canada in person or by telephone. You can contact her at her cell number 905-589-0192. To receive her brochure of Astrological Sessions, New Moon Meditation Schedule or to be added to her free New Moon list contact her at

you can also find Dale on www.facebook.com and www.crystalwind.ca
© 2013 Dale Osadchuk
You are welcome to share this Moon information with others. Please send it in its entirety with Dale's contact information. Thank you.
Design and Layout © 2012 Crystal Wind™. Reprinted with permission. All rights reserved.
CrystalWind.ca is free to access and use.
"Would you consider a small gift of $11.11 ?" :)
ॐ Namasté - Blessings!

© 2008-2019 crystalwind.ca. All rights reserved.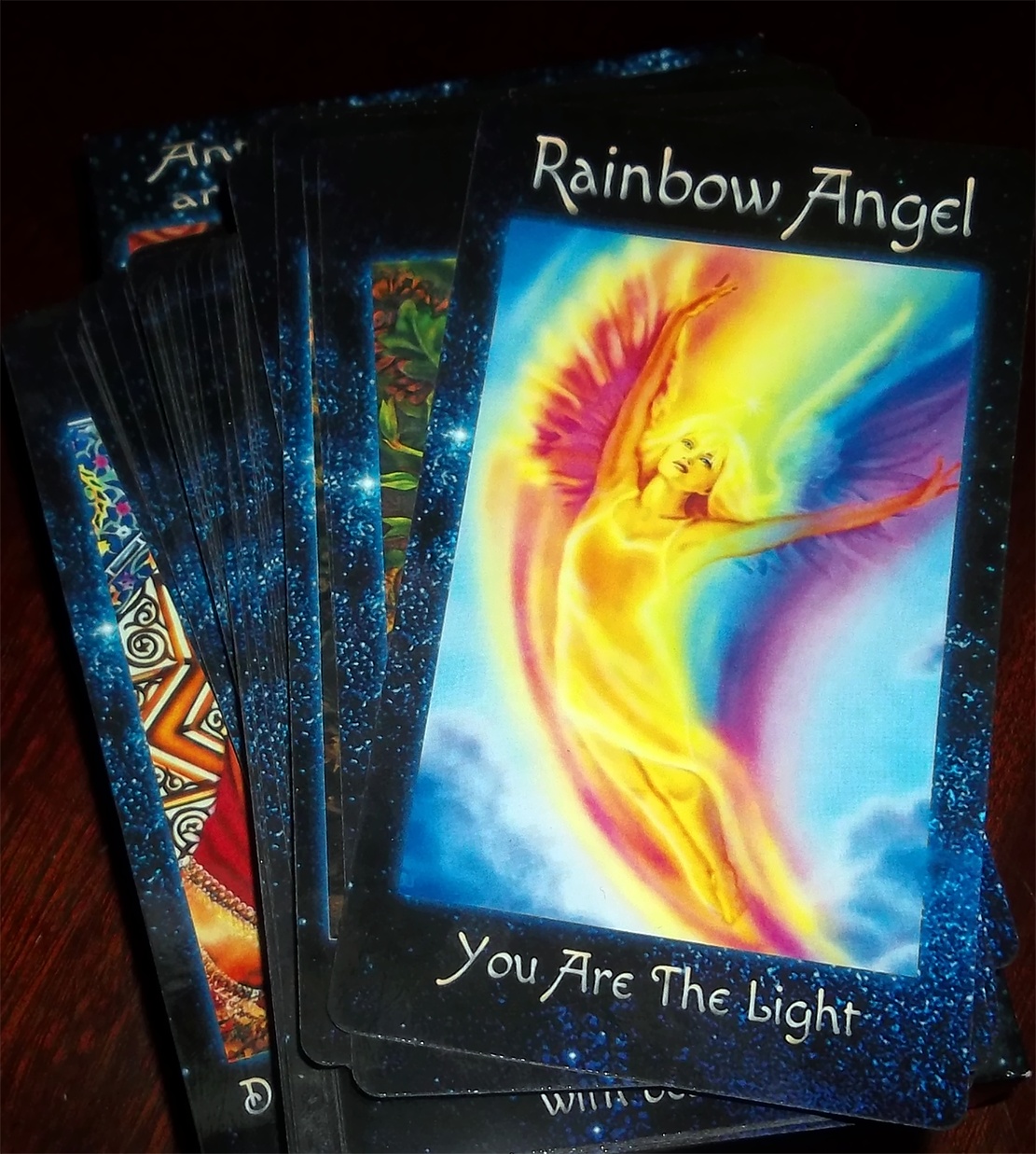 The Crystal Wind Oracle
Myth & Magic Card Deck!
Details Here!
NEW Expanded
Printed & Boxed!
Now with 58 cards!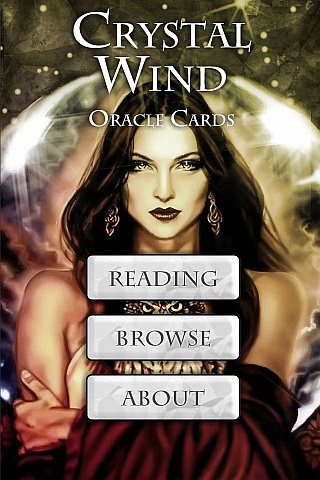 Cut Through The Illusions!
We have 1331 guests and no members online