Category: Astrology by Dale Views: 2708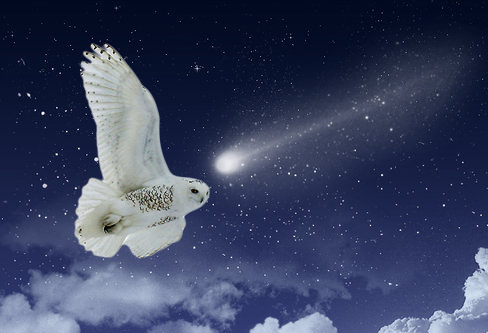 Dale Osadchuk
Moon at 26 Pisces 41 opposite Sun at 36 Virgo 41
19 September 2013 at 7.14am EDT
4.14am PDT and 11.14am GMT
As Snowy Owl and Shooting Star made their way to the Star Temple a thunderstorm had just passed. The eastern sky was very dark and they could see the rain still falling in the distance. Suddenly in the west Grandfather Sun emerged from the Cloud People and his rays shone through the rain. A brilliant rainbow appeared against the darkened sky. The sister knew it was a message from Great Mystery.
As the young women settled in the Sacred Center some time had passed and Grandfather Sun had slipped below the western horizon. The Cloud People had moved on and the east direction was now clear. As the two focused on the east Sister Moon appeared rising as a golden orange orb. She looked huge and Snowy Owl and Shooting Star felt they could almost reach out and touch her. Then Sister Moon spoke.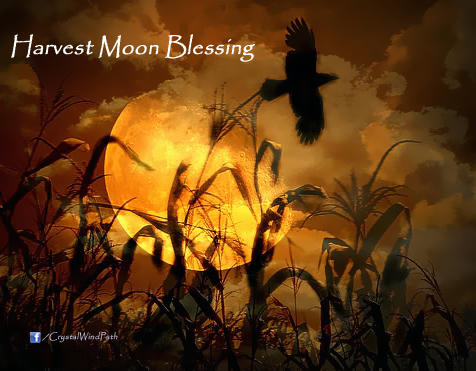 "This is the Harvest Moon Time. Those who tend the crops in the fields use my light to do their work. They are totally connected to the natural rhythms of the Earth Mother, Grandfather Sun, and me. In the far away time that is no longer true. When artificial light was created the two-leggeds lost their connection to the cosmic guidance. This Lunation is the opportunity for humans to rediscover they are spiritual beings. There has been a separation from Great Mystery and therefore a loss of spirit. The Rainbow you saw is the bridge of healing that will allow all who are ready to reconnect with their Soul Essence Selves. That is the gift this Full Moon offers."
Sister Moon continued "Grandfather Sun and I ask that you go to the far away time to guide people, who are ready to awaken their spirits, to the Rainbow Bridge of Healing and Transformation."
In the astrological system the Zodiac signs are grouped into six pairs. They are Aries/Libra, Taurus/Scorpio, Gemini/Sagittarius, Cancer/Capricorn, Leo/Aquarius, and Virgo/Pisces. At the Full Moon whatever sign Grandfather Sun is visiting Sister Moon is in its opposite sign. At this Lunation the Sun is in Virgo, the sign of healing and mind, body, spirit integration. The traditional ruler is Mercury, currently at 16 degrees of Libra. He is asking us to focus our thoughts on harmony and balance. But he is square Jupiter at 16 degrees of Cancer and Pluto at 08 degrees Capricorn and opposite Uranus at 11 degrees Aries. So we have a Cardinal Grand Cross (also called a Cosmic Cross) at this Full Moon. A Cardinal Grand Cross is about taking action and breaking free from limitation and restriction. Mercury in Libra is our thoughts, Jupiter in Cancer is our emotions, Uranus in Aries is breaking through to the authentic self and Pluto in Capricorn is transforming our fears so we can feel empowered in our lives.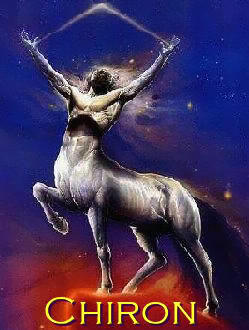 The spiritual ruler of Virgo is Chiron, the wounded healer. Astrologer Barbara Hand Clow calls him the Rainbow Bridge and I agree. Chiron orbits between Saturn, restriction, and Uranus, breakthrough. At this Lunation Chiron is at 10 degrees Pisces working in Harmony with Jupiter in Cancer (Spiritual Destiny) Pluto in Capricorn (Soul Purpose) and Uranus in Aries (breaking through to the authentic self). He holds the key to unlocking the Rainbow Bridge of Healing. So interesting for his astrological symbol is the shape of a key.
Chiron also forms a Grand Trine in water. He is trine Jupiter in Cancer, healing emotional wounds that keep us stuck in old patterns, and trine the North Node and Saturn at 08 degrees Scorpio and Venus at 09 degrees Scorpio. Once we heal our deepest hurts the promise of that entire Scorpio cluster is transformed new directions. Chiron is also opposite the asteroid Ceres, the nurturing principle, at 10 degrees Virgo. She is a symbol for healing wounds connected to separation and loss. Oppositions always offer the gift of finding balance.
The ancient ruler for the Moon in Pisces is Jupiter in Cancer and the modern ruler is Neptune currently at 03 degrees Pisces. Jupiter ruling the Moon brings in the energy of the Grand Cross we talked about. The theme for Pisces is healing, forgiveness, completion and release to make space for renewal. Neptune is working in harmony with North Node, Saturn, and Venus in Scorpio. Neptune's theme is illusion or illumination. At this very powerful Full Moon we have an opportunity for deep healing so we can step onto the path of transformed new directions. We now complete the lessons we have been working on since the Pisces New Moon of March 11, 2013. The theme has been to connect to the spiritual oneness within.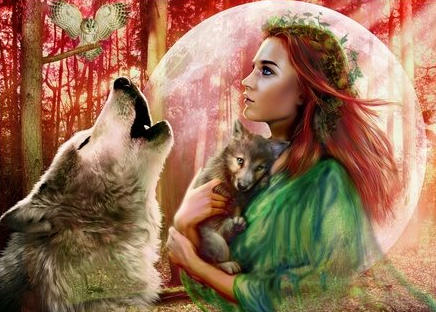 Our story told us that this is the Harvest Moon. In the Northern Hemisphere she is closest to Fall Equinox (this year on Sept 22 at 4.44pm EDT) and creates an optical illusion as she rises appearing very large on the horizon. As we prepare to enter the West Direction on the Medicine Wheel, the Looking Within Place, adulthood, personal responsibility, and empowerment let Sister Moon guide us to healing and wholeness. The Totems for the West are Grizzly Bear, strength, Black Horse, movement and freedom, and The Thunderbeings, empowerment. In the Southern Hemisphere this is your Spring Equinox, the East Direction on the Medicine Wheel. This is the place of spiritual awakening and inspired new beginnings with Eagle as your guide. This Winged One carries your prayers to Creator and Great Mystery so you can receive support for your transformed new directions. Both Equinox activations are to create balance in our lives.
Brown Bear, introspection and healing, guides us for the Sun in Virgo. Cougar, coming into your personal power, and Wolf, the teacher about the power of change, are the Animal Totems for the Moon in Pisces. Dolphins, along with Whales, are Sacred Animals for Pisces. All are working together to support your journey of healing, forgiveness, and completion. Now is the time to release whatever blocks you from your spirit and a sense of wholeness.
The Clan Mother for Virgo is Setting Sun Woman, the keeper of tomorrow's dreams and vision. She is also the Guardian of going within to find your Inner Universe and personal truth. Her teaching is how to live that truth. The Clan Mother who guides us for the Moon in Pisces is Weights The Truth. She is the Guardian of right action, justice, equality, and Divine Law. She teaches us to accept the truth even when we do not want to see what is true. Weighs The Truth is the carrier of the Burden Basket. Put your own worries in the Basket and you will feel a lightness of being as Creator and Great Mystery bless your journey. For more insight about Setting Sun Woman and Weighs The Truth read the 13 Original Clan Mothers by Jamie Sams.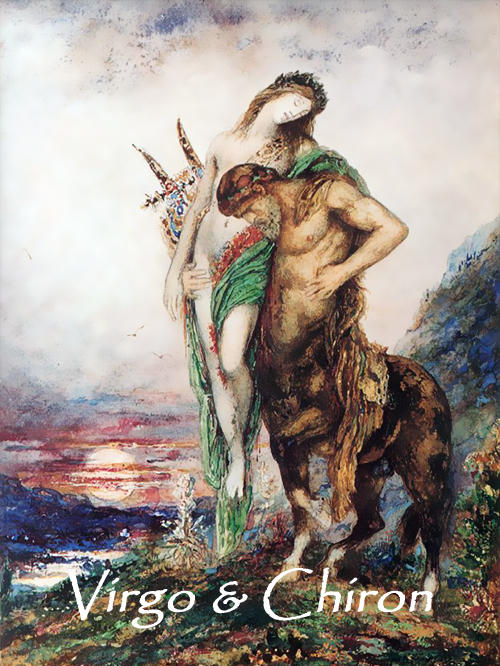 I believe the Pisces/Virgo Full Moon is the most spiritual of all Full Moons. Raven Kaldera in "Moon Phase Astrology" calls this the Healers Moon. This pairing of astrological signs is found on the Tarot Constellation of the Hermit, the principle of Introspection and Personal Integrity. Virgo is journeying within to heal our spirits and Pisces is journeying to Source to find our Divine Light and to shine it out into the world. Only when we heal old wounds is that possible. As we said earlier the theme for this Lunation is healing, forgiveness (ourselves and others), releasing old wounds, and completion, which leads to transformed new directions.
Virgo and Pisces are active on the 6th Ray of Idealism and Devotion. The Archangels of the 6th Ray are Uriel, peace, harmony and love, and Aurora Grace, divine blessings. They are also
2nd Ray signs. This is the Ray of Divine Love and Wisdom. I see Virgo and Chiron as the rainbow bridge of healing showing us the path to illumination and enlightenment that Pisces offers. The Archangels who guide us are Jophiel, creative power and vision, and Constance Christine, inner perception and divine illumination. Let us all focus on what we are wanting to complete and release at this Full Moon so Divine Blessings are received from Creator and Great Mystery.
Blessings to all,
Dale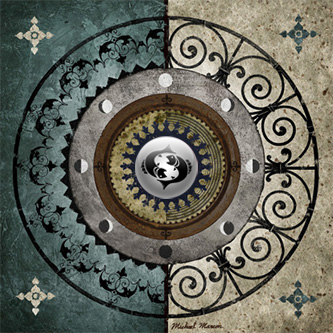 Here is the outline for the Moon phases and planetary activations. All times are 75 west longitude EDT. I post a description of the planetary activations every day or two on my Facebook Timeline. Just send me a friend request if you are on Facebook to access the postings.
Pisces/Virgo Full Moon- Sept 19- 7.14am EDT- Heal, forgive, complete, release and experience transformation.
Pluto in Capricorn moves Direct- Sept 20- 11.29am EDT- Focus on your Soul Purpose Path.
Autumn Equinox Sun enters Libra- Sept 22- 4.44pm EDT- Enter the West Direction on the Medicine Wheel, the Looking Within place of adulthood and personal responsibility.
Taurus Disseminating Moon- Sept 22- 11.08pm EDT- Share your knowledge and wisdom from a place of empowerment.
Cancer Fourth Quarter Moon- Sept 26- 11.57pm EDT- Realign and revision your Spiritual Path.
Mercury enters Scorpio- Sept 29- 7.38am EDT to Dec 04- 9.42pm EDT- Focus on transforming your thoughts and perceptions about life.
Leo Balsamic Moon- Oct 01- 1.47am EDT- We complete the lessons of the Leo New Moon Aug 06. Being in the compassionate heart rather than the ego. Heal and forgive.
Mercury in Scorpio enters retrograde shadow- Oct 01- Although we have not calculated the exact time the planet of our thoughts and perceptions enters his shadow today. The retrograde is from Oct 21 to Nov 10. The theme is transforming your thoughts will change your perceptions.
Libra New Moon- Oct 04- 8.35pm EDT- Focus on harmony and balance in relationship.
---
Our next Moon Circle is on Sunday Oct 06 at The Rising Sun in Richmond Hill, Ontario. We will be sharing information about all the active energy that is occurring in October. It is going to be intense to say the least. Please let me know at if you would like more information and I will send you the outline for that Moon Circle.
Dale Osadchuk is an Artist, Spiritual Astrologer, and Transformational Counsellor and is available for consultations in Sharon (just north of Newmarket) Ontario, Canada in person or by telephone. You can contact her at her cell number 905-589-0192. To receive her brochure of Astrological Sessions, New Moon Meditation Schedule or to be added to her free New Moon list contact her at you can also find Dale on www.facebook.com and www.crystalwind.ca
© 2013 Dale Osadchuk
You are welcome to share this Moon information with others. Please send it in its entirety with Dale's contact information. Thank you.
Design and Layout © 2012-2013 Crystal Wind™. Reprinted with permission. All rights reserved.
CrystalWind.ca is free to access and use.
"Would you consider a small gift of $11.11 ?" :)
ॐ Namasté - Blessings!

© 2008-2019 crystalwind.ca. All rights reserved.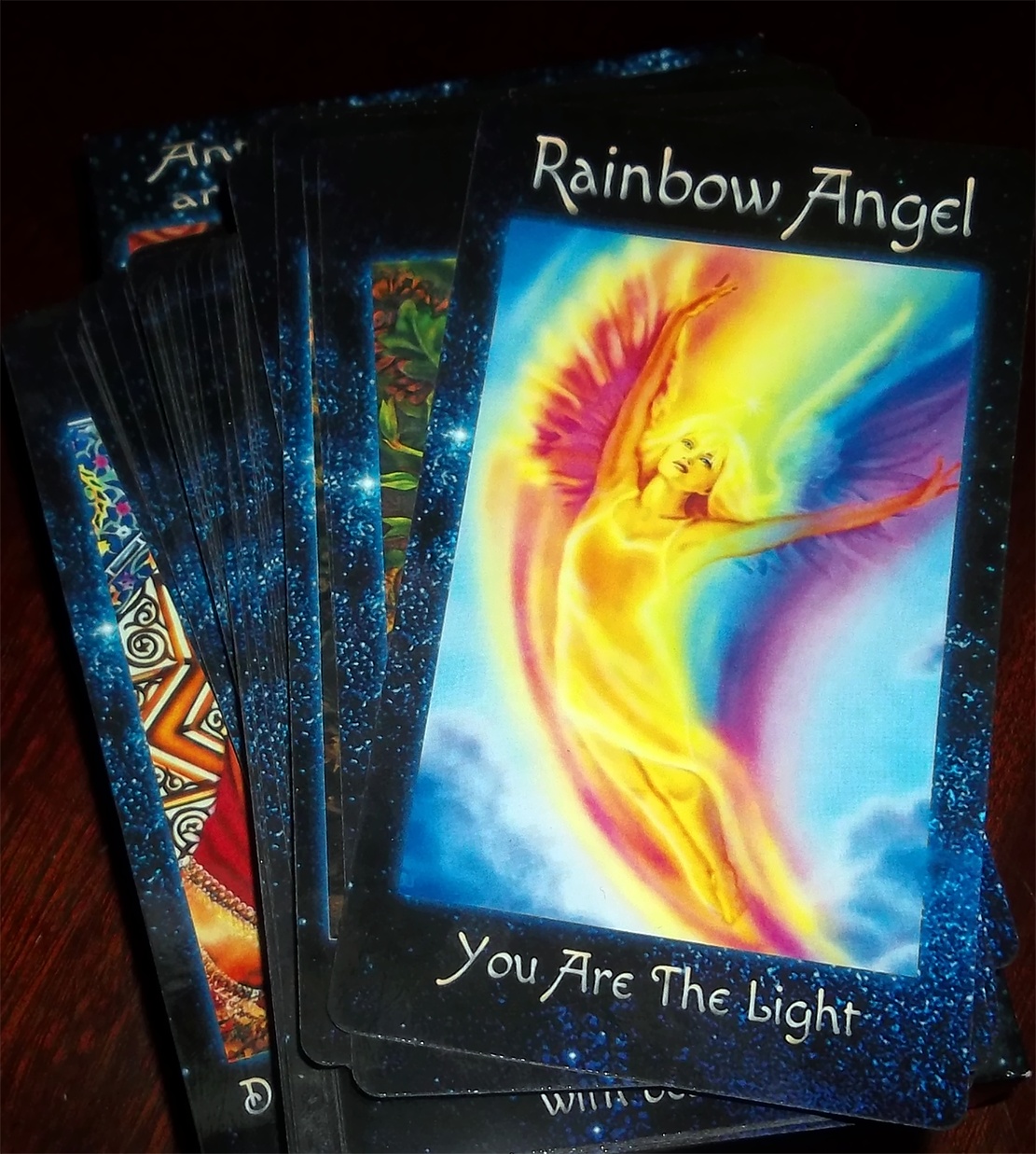 The Crystal Wind Oracle
Myth & Magic Card Deck!
Details Here!
NEW Expanded
Printed & Boxed!
Now with 58 cards!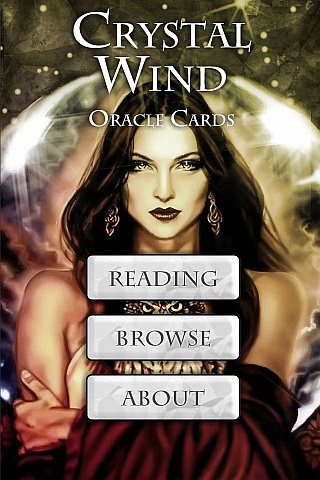 Cut Through The Illusions!
We have 1233 guests and no members online