Category: Astrology by Dale Views: 2984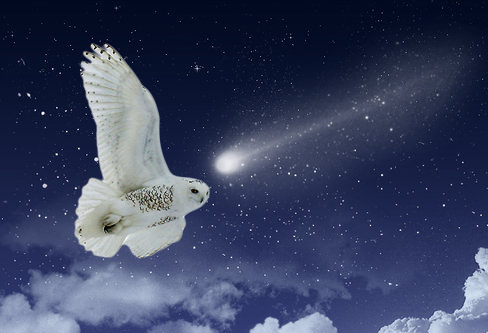 Dale Osadchuk
30 March 2014 at 2.46pm EDT
11.46am PDT and 6.46pm GMT
Imagine you are in the dreamtime sitting in the Star Temple with Snowy Owl and Shooting Star waiting for Sister Moon's message. In the North Country it is The Budding Trees Time and even though it is spring the Standing Ones are still sleeping. But you can feel a sense of something about to happen. Something is about to change. Reading your thoughts Snowy Owl says "You are feeling the stirring of new beginnings. The Earth Mother is starting to awaken from her long sleep. The seeds of new life are coming alive even though you cannot see it yet. This is what we celebrate at this Budding Trees New Moon."
As you absorb the information Snowy Owl just shared you feel the stirrings, that sense of something about to happen. Then you hear Sister Moon's soft voice coming from the Universe. "Welcome traveller from the far away time. You are here to remember your true self and the knowledge and wisdom your Soul has to share so healing can happen and balance can be restored to all of the Earth Mother's kingdoms especially that of the two leggeds". As you think about what knowledge you have to share a Winged One flies into the center of the Star Temple.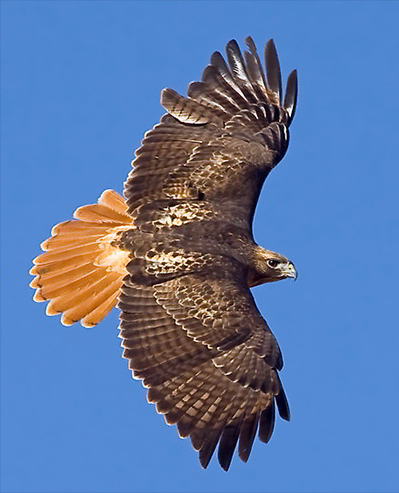 "This is Red Tailed Hawk, my guide for this Moon cycle." Sister Moon said. "He is also your guide and will bring messages from Great Mystery to awaken your memories about who you really are. Many two leggeds who now live in the faraway time had a lifetime in the land of Lemuria. It was a time of peace and harmony. They were caretakers of the Earth Mother and treated her with love and respect for the beautiful garden she is. Then came the time of Atlantis when the human ego-mind became all powerful and the balance was upset. Great Mystery became annoyed at the misdirection the two leggeds were going and sent a great flood to cleanse the Earth Mother. Now in the far away time the ego-mind is still all powerful and it is necessary for the humans to come back to their heart centers and become peacemakers so the New Earth can be birthed. This New Moon cycle is the beginning of that birth. Go now and be a part of that new birth by becoming your true self."
As you wake from the dreamtime Sister Moon's message is echoing in your mind. You are ready to be the change you want to see in the world. You are ready to help build the New Earth. You are ready!!!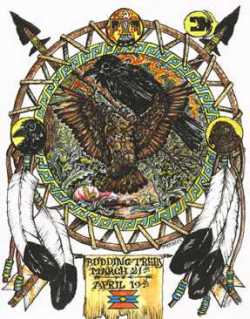 In the Northern Hemisphere this is The Budding Trees and The Awakening Time New Moon with Falcon, clear sight, and Red Tailed Hawk, spiritual messenger, as our guides. In the Southern Hemisphere this is the Falling Leaves New Moon Time with Crow, justice and Sacred Law, and Raven, the magic of Great Mystery, as your guides. But wherever you are in the world this is the first New Moon of the astrological year. The zodiac wheel begins with Aries and we are planting seeds for inspired new beginnings. Wherever you find the sign of Aries in your natal mandala is where you will be inspired to take action.
This is a very intense and potent Moon cycle so "hang onto your hats" so to speak. We have been under the influence of a Cardinal T Square (trying to actively break out of feeling cornered) since January 2014. Actually we have been dealing with this configuration, off and on, since June of 2013. This Aries New Moon cycle is the climatic point which we will see starting with the Libra Full Moon eclipse (the red Moon) of April 15 and taking us to Apr 27 when the Moon (again in Aries) will show us if we have broken free from the old self and broken through to the true self. So on a spiritual level the T Square has focused on our Spiritual Vision and Soul Purpose Path and breaking through to the authentic self. On the mundane level (world events) the activation has been Jupiter in Cancer (the homeland) opposite (tug of war) Pluto in Capricorn (misuse of government power) both square Uranus in Aries (individual freedom and rebellion).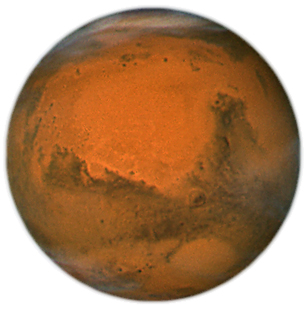 The traditional ruler for this Aries New Moon is Mars, currently retrograde in Libra. He will play an important part in the planetary dance April 15 to 27. Spiritually Mars in Libra is the mediator and peaceful warrior. Nelson Mandela was a Mars in Libra leader. The red planet begins a new shamanic journey as peaceful warrior when he opposes the Sun on April 08. But not all those in power today have the consciousness to walk the path of peace as Nelson Mandela did. There-in lies a problem.
Mars is also the god of war. Whatever mythology you explore that was his title and demeanor. He aggressively stirred up trouble wherever he went. Mars retrograde in Libra can be very passive aggressive. You think you are negotiating an issue nicely then you get hit with a curve ball out of the blue. The red planet is very potent this spring. He is closer to earth than he has been since 2007 and he will begin (April 14 his closest approach to Earth) creating a Cardinal Grand Cross (breaking out of the box) with Jupiter (expansion) Pluto (transformation) and Uranus (breakthrough). Notice I have described the positive potential for this Grand Cross. Whatever occurs it will be life changing for many. Let us all focus on healing and transformation for the world. That is the power of spirit.
We do have support from Great Mystery to do that. The Soul Centered ruler of this Aries New Moon is Mercury currently at 17 degrees of Pisces. Like Red Tailed Hawk he is a spiritual messenger and reminds us we are all one. He is travelling with Chiron, the healer and problem solver, at 15 degrees Pisces. Mercury and Chiron are trine (ease and flow) Jupiter in Cancer (spiritual vision) and sextile Pluto in Capricorn (opportunity for a transformed society). It is said every storm has a silver lining and this is it.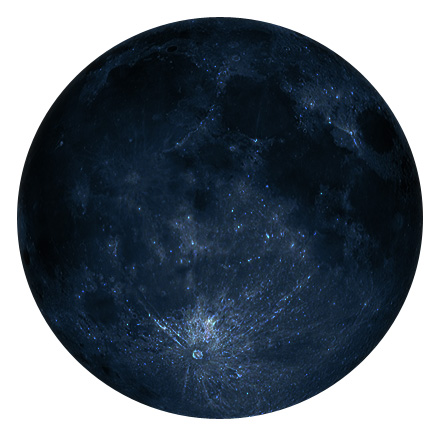 This Aries New Moon is special for another reason. For anyone living in the Pacific Daylight Time Zone or East of there this is the second New Moon in the calendar month of March. These days many spiritually minded people consider this to be a Blue Moon of Transformation (myself included). That means we have two Clan Mothers guiding us. For the Aries Moon the Clan Mother who guides us is Looks Far Woman. "She is the Doorkeeper of the Crack in the Universe and the Golden Door of Illumination that leads to all other dimensions of awareness." (The 13 Original Clan Mothers by Jamie Sams) She is also the guardian of the Dreamtime and the truth in all things. For the Blue Moon it is Becomes Her Vision. She is the Mother of Change and the guardian of all cycle of Transformation. She teaches us to live our spiritual vision in truth. For more insight on these Clan Mothers gifts you can read The 13 Original Clan Mothers and Earth Medicine both by Jamie Sams.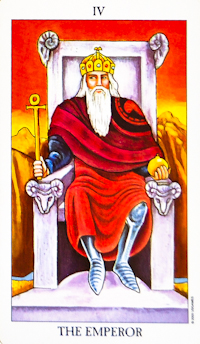 The Tarot Constellation active at this Aries New Moon is The Emperor, the principle of Life Force and realization that we have personal power. Scorpio (releasing what no longer serves us) and Uranus (breaking through to the new) are also found on this Constellation. Saturn is currently in Scorpio (healing limitation and restriction) and is trine Mercury in Pisces (connecting with the Mystical) at this New Moon. Uranus, currently in Aries, is a major player in the Cardinal Grand Cross. The time to break through to the authentic self is stronger than ever.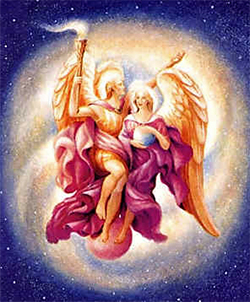 Aries is active on the 7th Ray of Invocation and Ceremonial Magic. Our Archangel guides are Zadkiel, the angel of Invocation and Prayer, and Amethyst, the angel of Divine Light and Forgiveness. Together they are the Keepers of the Violet Flame of Ascension and Transmutation. Aries is also found on the 1st Ray of Divine Will and Power with Archangels Michael, Divine Protection and Spiritual Guide, and Faith, belief in the Divine Self. As always Great Mystery gives us everything we need to remember who we really are.
I wish everyone the courage and empowerment to become your true self in all aspects of living.
Blessings Dale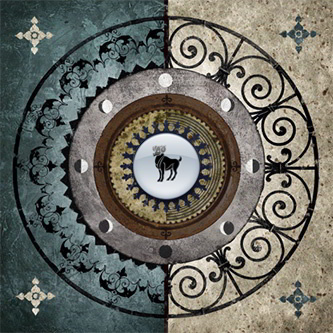 Here is the outline for the Moon phases and planetary activations until the Taurus New Moon Eclipse on April 29. All times are 75 west longitude EDT. I post more information on my Facebook timeline every day or two. You can also find my articles on www.crystalwind.ca
Aries New Moon and Blue Moon- March 30- 2.46pm EDT- focus on transformed new beginnings and being your true self.
Moon enters Taurus- April 01- 1.20am EDT- focus on what is of true value and importance
Taurus Crescent Moon- April 03- 5.03am EDT-expand on what is of true value and importance
Moon enters Gemini- April 03- 7.48am EDT- communicate your true values to others
Venus enters Pisces- April 05- 4.31pm EDT- focus on your connection to the Mystical
Moon enters Cancer- April 05- 5.40pm EDT- focus on mastery of the emotions
Cancer First Quarter Moon- April 07- 4.31am EDT- decision, action, and breaking through phase
Mercury enters Aries- April 07- 11.35am to Apr 23- 5.16am EDT- focus on communicating spiritual messages
Moon enters Leo- April 08- 5.50am EDT- focus on being in your compassionate heart
Mars Rx in Libra opposite Sun in Aries- April 08- 5.04pm EDT- the new shamanic journey of Mars as Peaceful Warrior begins
Moon enters Virgo- April 10- 6.08pm EDT- focus on mind, body, and spirit integration
Virgo Gibbous Moon- April 11- 6.56am EDT- redefine your vision of being of spiritual service
Moon enters Libra- April 13- 4.33am EDT- focus on balance within and in relationship
Pluto in Capricorn turns retrograde- April 14- 7.47pm EDT to Sept 22- 8.36pm EDT- Today Mars Rx is closest to Earth. Pluto is the higher octave of Mars. Pay attention to anger issues and transform them into peace. You do not want to take anger into this Pluto cycle.
Libra/Aries Full Moon Total Lunar Eclipse- April 15- 3.43am EDT- This is the Red Moon. Focus on inner balance and harmony in relationship
Moon enters Scorpio- April 15- 12.20pm EDT- focus on healing and transformation
Moon enters Sagittarius- April 17- 5.44pm EDT- focus on your spiritual vision
Sagittarius Disseminating Moon- April 18- 5.37pm EDT- share your spiritual vision
Moon enters Capricorn- April 19- 9.28pm EDT- focus on your Soul Purpose path
Sun enters Taurus- April 19- 11.56pm EDT- focus on what is of true value in your life
Jupiter in Cancer square Uranus in Aries- April 20- 3.29am EDT- Jupiter in Cancer opposite Pluto in Capricorn- 7.26pm EDT- Moon in Capricorn square Uranus in Aries- 8.27pm EDT- conjunct Pluto Rx in Capricorn- 8.32pm EDT- opposite Jupiter in Cancer- 8.32pm EDT- square Mars Rx in Libra- 9.56pm EDT- this is a day to expect the unexpected and prepare to make significant changes in your life
Uranus in Aries square Pluto Rx in Capricorn- April 21- 3.21pm EDT- focus on transformation and breakthrough
Moon enters Aquarius- April 22- 12.18am EDT- focus on your gifts to give the world
Aquarius Fourth Quarter Moon- April 22- 3.52am EDT- Mars Rx in Libra square Jupiter in Cancer- 3.28pm EDT- focus on realignment and revision especially when it comes to relationship and family dynamics
Mars Rx in Libra opposite Uranus in Aries- April 23- 3.08am EDT- Mars Rx in Libra square Pluto Rx in Capricorn- 9.38am EDT- this repeats the energy of April 20. Expect the unexpected
Moon enters Pisces- April 24- 2.55am EDT- focus on your spiritual vision and connection to the Mystical
Pisces Balsamic Moon- April 25- 1.37pm EDT- this is the healing, forgiveness, completion and release phase. Let go and flow.
Moon enters Aries- April 26- 6.01am EDT- focus on the seeds you planted at the Aries New Moon. Have they sprouted yet? How are your new beginnings?
Moon in Aries opposite Mars Rx in Libra- April 27- 3.28am EDT- square Pluto Rx in Capricorn- 5.27am EDT- conjunct Uranus in Aries- 6.01am EDT- square Jupiter in Cancer- 7.02am EDT- this ends the strongest effects of the Cardinal Grand Cross of April. Hopefully we are all still alive. Now it is time to thrive.
Taurus New Moon Solar Eclipse- April 29- 2.15am EDT- focus on what is of true value and importance in your life. This New Moon eclipse influences us until Oct 23.
---
Dale Osadchuk is an Artist, Spiritual Astrologer, and Transformational Counsellor and is available for consultations in Sharon (just north of Newmarket) Ontario, Canada in person or by telephone. You can contact her at her cell number 905-589-0192. To receive her brochure of Astrological Sessions, New Moon Meditation Schedule or to be added to her free New Moon list contact her at you can also find Dale on www.facebook.com and www.crystalwind.ca
© 2014 Dale Osadchuk
You are welcome to share this Moon information with others. Please send it in its entirety with Dale's contact information. Thank you.
Design and Layout © 2012-2014 Crystal Wind™. Reprinted with permission. All rights reserved.
CrystalWind.ca is free to access and use.
"Please consider a small gift of $11.11 or $22.22 or $33.33
$44.44 or $55.55 or $77.77 or $88.88 or $111.11."
ॐ Namasté - Blessings!

© 2008-2020 crystalwind.ca. All rights reserved.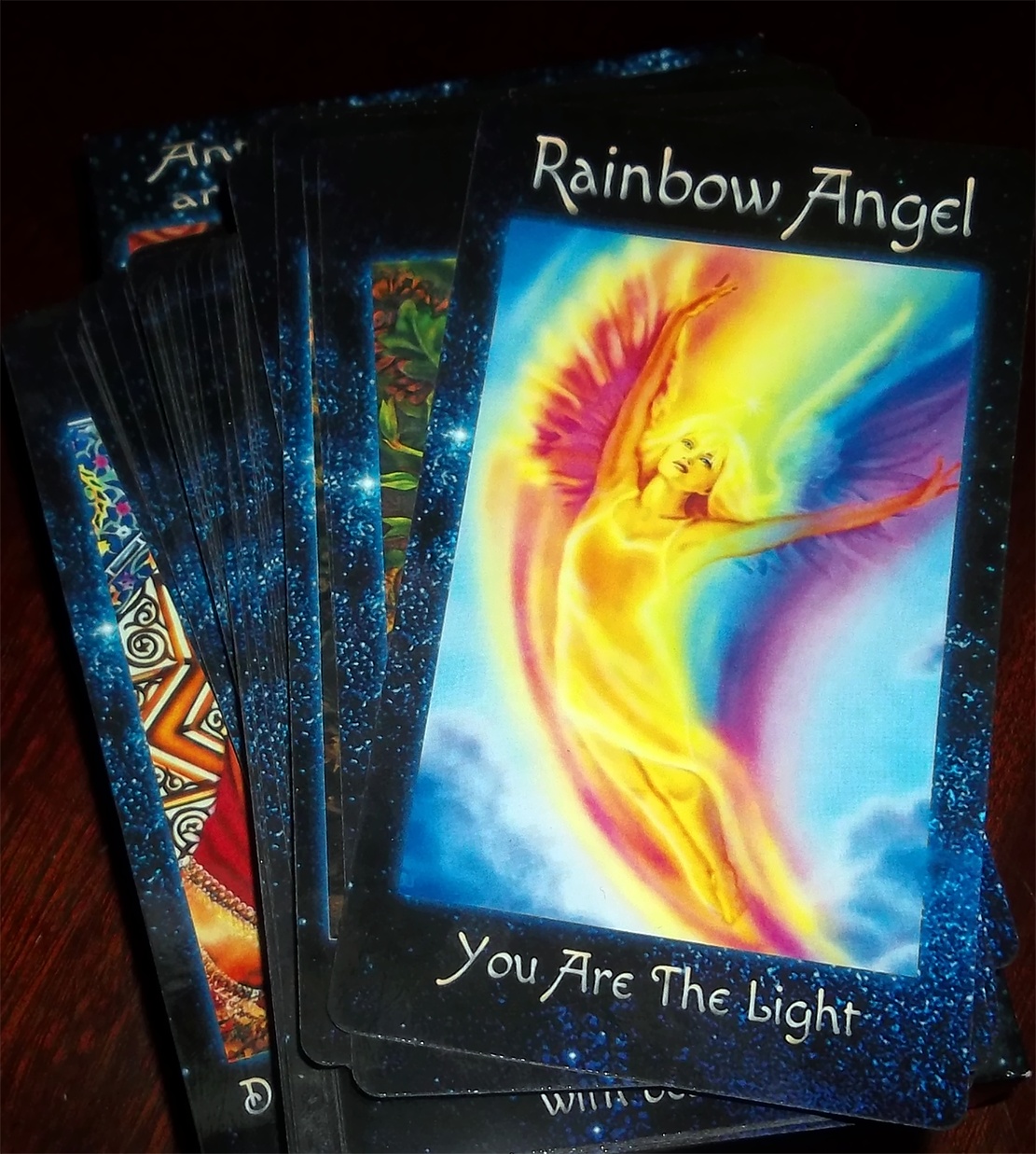 The Crystal Wind Oracle
Myth & Magic Card Deck!
Details Here!
NEW Expanded
Printed & Boxed!
Now with 58 cards!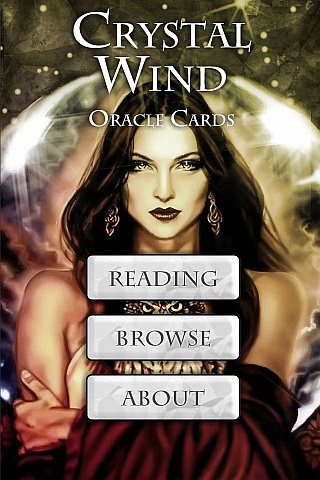 Cut Through The Illusions!
Who is Online Now
We have 1089 guests and no members online