Category: Astrology by Dale Views: 3086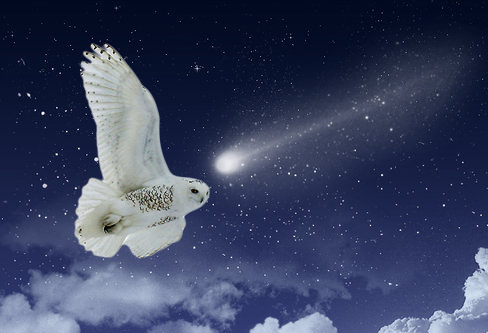 Dale Osadchuk
28 May 2014 at 2.41pm EDT
11.41am PDT and 6.41pm GMT
It was early afternoon as Snowy Owl and Shooting Star climbed the path to the Star Temple. They could feel the warmth of Grandfather Sun on their faces and bodies and it felt so good as it had been a long winter and cold spring here in the North Country. At the last New Moon ceremony the path had been bare but now the Standing Ones had halos of soft green leaves and the Plant and Flower People were blooming. This current New Moon was the Flowering Time and the Earth Mother was doing just that. The sisters thanked her for the gift of beauty from her plants, flowers, and trees.
The young women were excited to receive Sister Moon's message on such a glorious day but when they entered the Star Temple they saw a very old man waiting for them. He had a long white beard and long white hair and wore a purple robe. He supported himself with a walking stick that had the symbol for life at its top, the ankh. Beside him was a white bird with very long legs and a crest of white feathers that looked like lace. The old man spoke "I am Thoth, the keeper of Sacred Knowledge and Wisdom, and this is my Sacred Power Totem called Ibis. Sister Moon has asked us to be her messengers for this New Moon cycle."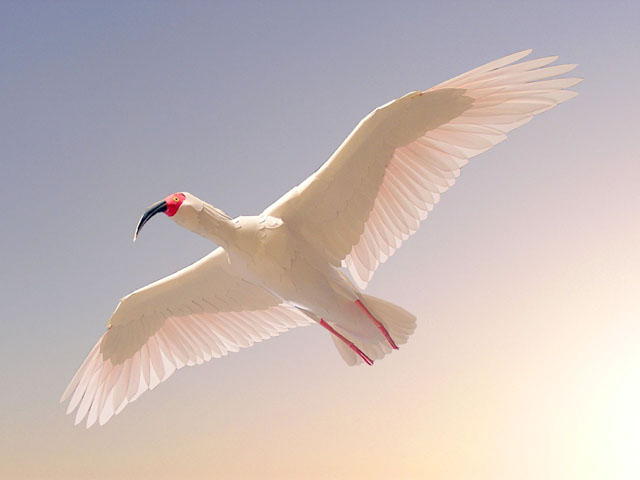 As Thoth paused, appearing to be deep in thought, The Ibis spread its wings as if to take flight. Then the old man said to Snowy Owl and Shooting Star "Go now and put on your capes of magic feathers. Ibis will take you on a journey out into the Universe." The sisters put on their capes and as soon as they did The Ibis took flight. The Winged One led them out into the dark Cosmos past Grandfather Sun, the Wanderers and Starry Ones to the place of no-thing-ness. They were at the edge of The Universe.
Snowy Owl and Shooting Star felt apprehensive and very small in the vastness of space but then they saw a Golden Door open into a place of shimmering Golden Light. The Ibis led them into the Light and the young women felt Divine Wisdom and Power surround them. They felt Love and Compassion. The Ibis had guided them to Creator and the Center of Great Mystery. As they stood very still in the shimmering Golden Light all fear dissolved. They knew intuitively they were being blessed by The Source of All That Is. They also knew they would never be their old selves again.
When The Ibis led them back to the Star Temple the wise old man Thoth was waiting for them. "You have been initiated into the ancient teaching of As Above So Below. Go now and be teachers for others that they may find the Center of The Universe that lies within. AS Above So Below."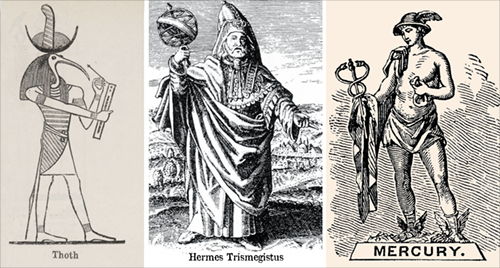 I love these stories and they always surprise me. I have said many times before I am just the messenger. This one involving the Egyptian Deity called Thoth makes a lot of sense to me at this Gemini New Moon. The planetary ruler for this New Moon is Mercury who influences our thoughts, perceptions, style of communication, and knowledge we embrace. That is his Roman name (our planetary system uses Roman names). In Greek mythology he is called Hermes and was the messenger of the gods. In Shamanic Egyptian Astrology he is Hermes Thoth the keeper of Ancient Knowledge and Wisdom. When our planet Mercury goes on one of his retrograde journeys it is Thoth who guides us to discover the Law of Correspondences which is As Above, So Below. In Native Spirituality the Above is Grandfather Sky and the Below is Grandmother Earth. But on the Medicine Wheel there is also a place called The Within. That is our Inner Universe that is a reflection of the Great Cosmos. We all come from the Stars.
When I was a child there was a very old man with a long white beard and long white hair who would come to me in dreams. The Sabian Symbol for my North Node (the direction for this lifetime) is "A VERY OLD MAN FACING A VAST DARK SPACE TO THE NORTHEAST". I now know that ancient guide was Thoth. And my natal Mercury in Aries (spiritual messenger) is RETROGRADE. So if at birth your natal Mercury (whatever sign it was in) was retrograde Thoth, the keeper of ancient knowledge and wisdom, guides you as well.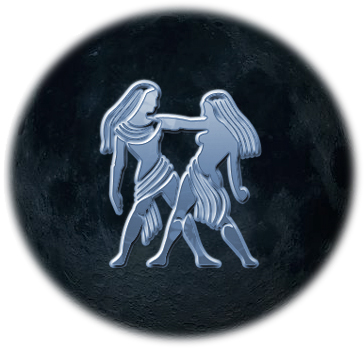 This Gemini New Moon cycle will have its ruler Mercury in retrograde motion from June 07 to July 01. His retrograde shadow began May 22 and he will not clear it until July 16. When Mercury is retrograde he is seen as The Trickster. It is advised to put Re: in front of whatever you do rather than beginning anything new. Also we need to be very alert and aware while driving as Mercury rules travel by automobile. Traffic accidents increase during Mercury retrograde. But I am proposing it will be a Moon cycle to connect within, heal what is need of healing, and discover your inner universe. The Soul Centered ruler (Ageless Wisdom Teachings) for Gemini is Venus. She is the Harmonizer of the Universe. At the exact New Moon she is at 29 degrees Aries (working in harmony with Mercury at 29 Gemini) but at 9.45pm EDT tonight she enters Taurus. She is asking us to focus on what is of true value and importance in our lives and release what is not. I find it interesting that Thoth came through in our story. The age of Taurus is the period when the Egyptian civilization was at its height so Venus in Taurus is a link to the Egyptian Mysteries. I love the connections astrology makes.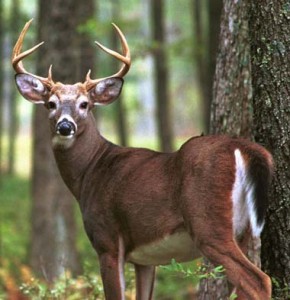 The Animal Totem who guides us at this Gemini New Moon is Deer, gentleness, compassion, and loving communication. The Clan Mother is Storyteller, the guardian of speaking the truth from the heart. She teaches us the art of listening so we can hear another's truth and have empathy. She is the keeper of curiosity, innocence, and the magical child. She teaches us to discover that child and live with joy. You can find more of her teachings in the 13 Original Clan Mothers and Earth Medicine both by Jamie Sams. You can also discover more about Deer Medicine in her oracle Medicine Cards co-authored by David Carson.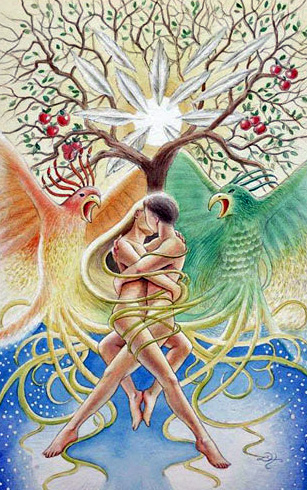 Gemini is found on the Tarot Constellation of The Lovers, relationship and choice. The theme is the urge to unite, the choice to love, ourselves in relation to each other. The other sign of this Constellation is Capricorn and its expresses the shadow of the urge to separate, the choice to fear, ourselves in relation to the world. With Pluto in Capricorn we have the opportunity to transform the latter and live our Soul Purpose. When we are aligned with our Universal Purpose ego issues fall away and we are guided by our Soul Essence.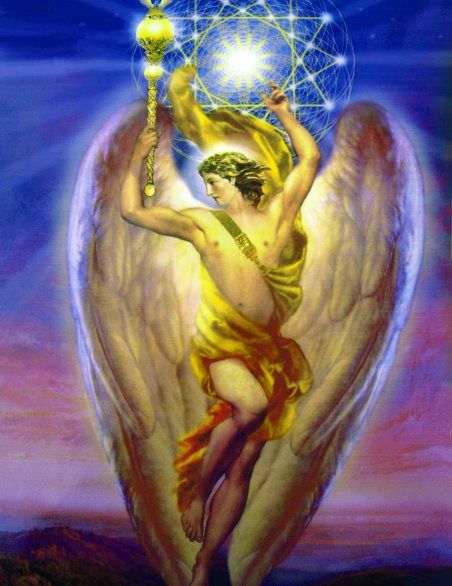 Gemini is only found on the Second Ray of Divine Love and Wisdom. This New Moon asks us all to express Loving kindness in our life and fear will disappear. The Archangel who guides us is Jophiel, creative power and vision. When you call on him he will assemble a legion of angels to help you manifest your greatest dream. A wonderful oracle about the Angel Guides is Angel Blessings by Kimberly Marooney. Jophiel's feminine counterpart is Constance Christine, spiritual illumination. Call on both these Archangels to support you on this journey to your inner universe.
For anyone wishing to make a connection to Thoth during this Moon cycle I recommend the teachings of Nicki Scully. Some of her books are "Alchemical Healing" "Shamanic Mysteries of Egypt" and "Power Animal Meditations". Journeys to Thoth are include in all. For historical insights and information about Hermes Thoth I recommend "The Emerald Tablet; alchemy for personal transformation" by Dennis William Hauck.
New Moon blessings,
Dale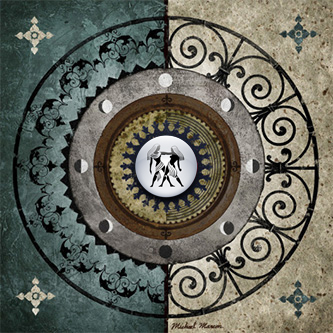 Here are the Moon phases and planetary activations. All times are 75 west longitude EDT. I post more details on my Facebook timeline every day or so. You can also find this article on www.crystalwind.ca
Gemini New Moon- May 28- 2.41pm EDT- focus on connecting to your inner universe and your Soul's Guidance
Venus enters Taurus- May 28- 9.45pm EDT to June 23- 8.33am EDT- focus on what is of true value and importance in your life
Mercury enters Cancer- May 29- 5.12am EDT- focus on clearing any emotional issues during the Mercury retrograde that block your spiritual vision
Moon enters Cancer- May 30- 10.13am EDT- focus on your spiritual vision and destiny path
Cancer Crescent Moon- June 01- 2.01pm EDT to June 05- 4.39pm EDT- focus on expansion and growth of your spiritual vision
Moon enters Leo- June 01- 9.43pm EDT- focus on inner courage and conviction as you express your creative ideas
Moon enters Virgo- June 04- 10.20am EDT- focus on healing and integration of mind, body, and spirit
Virgo First Quarter Moon- June 05- 4.39pm EDT to June 09- 1.32pm EDT- make a decision, take action, and break free from limiting thoughts
Moon enters Libra- June 06- 10.01pm EDT- focus on balance in relationship
Mercury in Cancer turns Retrograde- June 07- 7.56am EDT to July 01- 8.50am EDT- Mercury begins his retrograde journey in Cancer and asks us to heal and transform emotional issues. He will retrograde back into Gemini on June 17 at 6.04am EDT and asks us to connect with the wisdom of our inner universe and the understanding that Above and Below are one
Moon enters Scorpio- June 09- 6.38am EDT- focus on healing and transformation. Release what no longer serves you
Scorpio Gibbous Moon- June 09- 1.32pm EDT to June 13- 12.13am EDT- focus on evaluation and adjustment regarding whatever is needing to be transformed
Neptune in Pisces turns Retrograde- June 09- 3.51pm EDT to Nov 16- 2.04am EST- focus on what is true. Release what is not true and what can never be true. This will be the theme for the retrograde. Neptune Rx is also good for connecting within
Moon enters Sagittarius- June 11- 11.23am EDT- focus on your spiritual vision
Sagittarius Full Moon- June 13- 12.13am EDT- (June 12- 9.13pm PDT) - Use this Full Moon to find balance between knowledge and meaning. Continue to focus on your spiritual vision
Moon enters Capricorn- June 13- 1.04pm EDT- focus on your Soul Purpose Path and being empowered in the world
Moon enters Aquarius- June 15- 1.27pm EDT- share your spiritual gifts with the world
Aquarius Disseminating Moon- June 16- 5.56am EDT to June 19- 2.39pm EDT- continue to share your spiritual gifts with the world
Mercury retrograde re-enters Gemini- June 17- 6.04am EDT- focus on healing the mind and connecting with your inner universe
Moon enters Pisces- June 17- 2.26pm EDT- focus on your spiritual vision and connecting with the mystical
Pisces Fourth Quarter Moon- June 19- 2.39pm EDT to June 23- 6.19am EDT- focus on revision and realignment of your spiritual vision
Chiron in Pisces turns Retrograde- June 20- 8.44am EDT to Nov 23- 6.45pm EDT- focus on your spiritual vision and your healing gifts
Summer Solstice as Sun enters Cancer- June 21- 6.51am EDT- In the northern hemisphere we now enter the South Direction on the Medicine Wheel, the place of expansion and growth, with Coyote, the power of change, as our guide until Autumn Equinox. In the southern hemisphere this is Winter Solstice with White Buffalo, prayer and invocation, as your guide until Spring Equinox.
Moon enters Taurus- June 21- 11.03pm EDT- focus on strengthening what is of true value in your life
Taurus Balsamic Moon- June 23- 6.19am EDT to June 27- 4.10am EDT- focus on healing, completion, and releasing what is no longer of value
Venus enters Gemini- June 23- 8.33am EDT to July 18- 10.06am EDT- focus on communicating from your compassionate heart center when engaging with others
Moon enters Gemini- June 24- 7.05am EDT- focus on the balance between logical thinking and intuitive knowing
Moon enters Cancer- June 26- 5.05pm EDT- focus on your spiritual destiny path
Cancer New Moon- June 27- 4.10am EDT- focus on the Mystical Path and your spiritual growth
---
Dale Osadchuk is an Artist, Spiritual Astrologer, and Transformational Counsellor and is available for consultations in Sharon (just north of Newmarket) Ontario, Canada in person or by telephone. You can contact her at her cell number 905-589-0192. To receive her brochure of Astrological Sessions, New Moon Meditation Schedule or to be added to her free New Moon list contact her at you can also find Dale on www.facebook.com and www.crystalwind.ca
© 2014 Dale Osadchuk
You are welcome to share this Moon information with others. Please send it in its entirety with Dale's contact information. Thank you.
Reprinted with permission.
CrystalWind.ca is free to access and use.
"Please consider a small gift of $11.11 or $22.22 or $33.33
$44.44 or $55.55 or $77.77 or $88.88 or $111.11."
ॐ Namasté - Blessings!

© 2008-2020 crystalwind.ca. All rights reserved.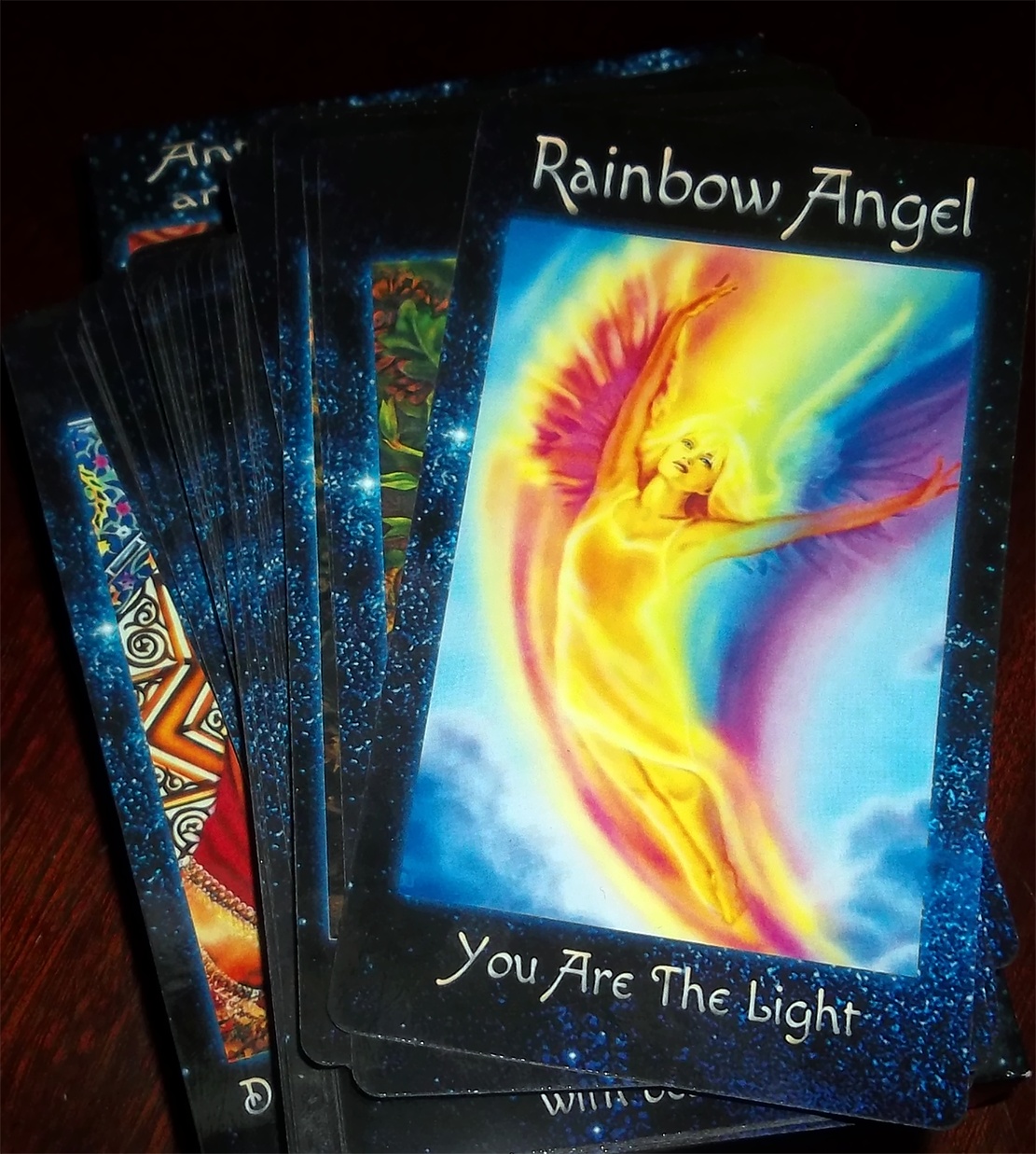 The Crystal Wind Oracle
Myth & Magic Card Deck!
Details Here!
NEW Expanded
Printed & Boxed!
Now with 58 cards!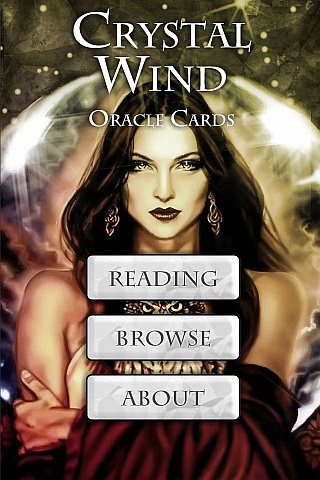 Cut Through The Illusions!
Who is Online Now
We have 1338 guests and no members online