Category: Astrology by Dale Views: 2654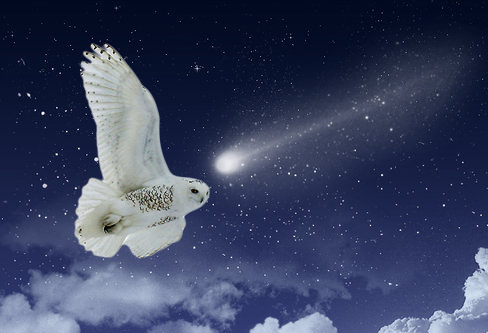 Dale Osadchuk
18 April 2015 at 11.57am PDT and 2.57pm EDT and 7.57pm BST summer time GMT
19 April 2015 at 2.57am AWST Perth Australia and 4.57am AEDT Sydney NSW
It was late morning as Snowy Owl and Shooting Star climbed the path to the Star Temple. The day before they had been to visit the Shaman to prepare for this New Moon ceremony and he told them the exact meeting between Sister Moon and Grandfather Sun in the North Country would be mid-day. The sisters wanted to make sure they were settled in the Star Temple to hear Sister Moon's message. This was the Budding Trees Time but the young women noticed that although some of the Plant People were starting to green and poke their heads above ground the Standing Ones had not yet shown their buds. Although the days were warmer the nights were still cold. This had been a very slow greening time. Snowy Owl and Shooting Star hoped Luna's message would indicate that they were coming into the time of new growth.
As the sisters settled in the Sacred Circle they heard Sister Moon begin to speak. "This is the New Moon of self-discovery, new beginnings, and inspired creative action. In a short while I will enter the Growing Time and two sunrises later so will Grandfather Sun. But for now the opportunity to discover your Authentic Essence and I Am Self is the gift we bring to you. But first there is something you must do."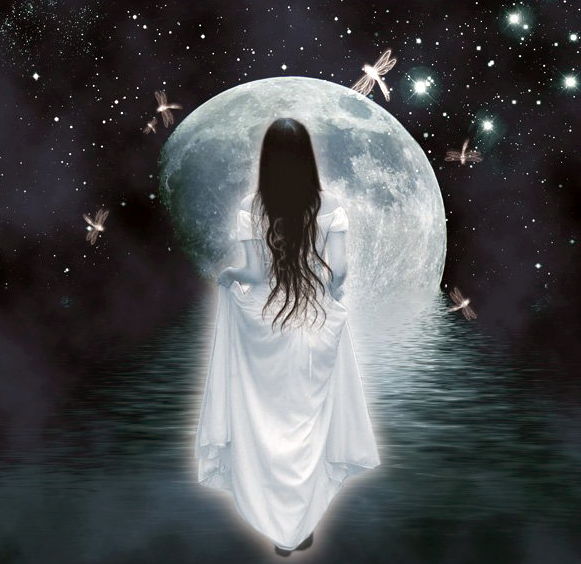 Sister Moon paused for a brief time and then continued "Grandfather Sun and I are connecting with Evening Star Venus in a way that asks you to release the illusion that the false self likes to create. It restricts you from being guided by your Soul's Wisdom and keeps you stuck in duality and a feeling of separateness from Source and the Oneness Within. You are Source Energy and this New Moon cycle is asking you to awaken your I Am Self and live every day from Sacred Self. When you do that you are free to be who you really are."
Finally Sister Moon said "This is the message we wish to share, not just with you Snowy Owl and Shooting Star, but with all the two leggeds in the far away time. It is time to release illusion and embrace the True Self."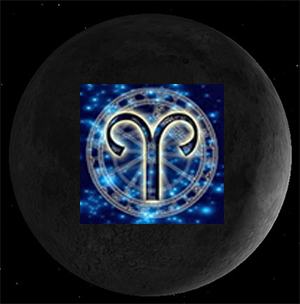 On the surface this New Moon seems to be straightforward. It is about self-discovery, new beginnings, and inspired creative action. This meeting of the Sun and Moon has no major aspects to the other planets. But if we look beneath the surface (which I like to do) we find a powerful message. There is a minor aspect in the astrological system called a Nonagen (or Novile) which is seen as restrictive and karmic (a need to evaluate past life attitudes). It is a 40 degree angle. The Sun/Moon are at 28 Aries 25 minutes and Venus is at 08 Gemini 18 minutes. The distance between them is 39 degrees 53 minutes so qualifies as a Nonagen aspect. Gemini is the sign of duality but when Venus visits here she is seen as the Harmonizer of the Universe and connects us with Cosmic Forces. We are being given an opportunity to release the restriction our personalities create by living in duality both in this lifetime and as we have experienced in past lives.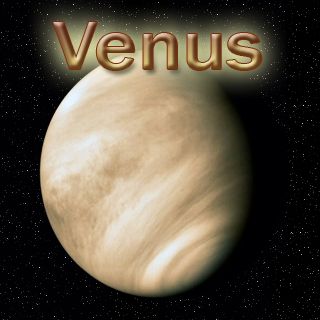 Venus is also being squared by Neptune at 09 degrees Pisces (illusion or illumination) and Vesta at 09 degrees Pisces (at oneness within and the spiritual path). Squares are motivators for change. The message is to release the conditioning of the past so you can move forward into the new beginnings you want to create. This is also echoed in the inconjunct (letting go) between Neptune and Vesta and the North Node at 09 degrees Libra (new relationship to self and others). The South Node at 09 degrees Aries (releasing the egotism and self-interest of the past) is sextile (ease and opportunity) Venus supporting us to be the harmonizer of our life by releasing duality and illusion. Venus is sextile the Asteroid Juno (relationship dynamics) at 07 degrees Leo (being centered in the compassionate heart) which is sextile (ease and harmony) the Libra North Node (new relationship to self and others). So this planetary dance is supporting us to free ourselves from the past and create our new inspired beginnings.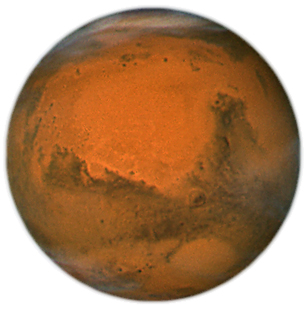 The traditional planetary ruler of Aries is Mars at 13 degrees Taurus at this Lunation. The Soul Centered ruler (Ageless Wisdom Teachings by Alice Bailey) is Mercury, the messenger, currently at 08 degrees Taurus. Together they are supporting us to create our new beginnings based on what is of true value and importance. They are also supporting us to love ourselves and be empowered in our lives. Taurus is the Fixed Earth sign and is closely connected to our precious planet so they remind us to love her too. It is synchronistic that on Apr 22 Mercury and Mars will meet in a conjunction at 7.03pm EDT. That is Earth Day. So how do the planetary rulers of this New Moon connect to the planetary picture created by Venus? Our lovely Evening Star rules Taurus. All is in Divine Order.
I do not usually include the Sabian Symbols for New Moon's but this one is special to me as this Moon cycle activates my natal Venus which is at 28 degrees Aries so it reminds me of why I am here. The Symbol is "THE MUSIC OF THE SPHERES" In An Astrological Mandala astrologer Dane Rudhyar interprets this as "Attunement to Cosmic Order" and "TO LISTEN TO THE INNER VOICE". I love the tapestry the Cosmic Dance creates.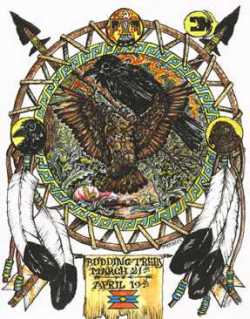 In the northern hemisphere this is the Budding Trees Moon Time with Falcon, clear vision and new beginnings, and Red Tailed Hawk, spiritual messenger and visionary power, as our guides. We are in the East Direction of Spiritual Awakening and new inspired beginnings. In the southern hemisphere this is the Falling Leaves Time with Crow, sacred law and justice, and Raven, the magic of the mysteries, as your guides. You are in the West Direction, the place of adulthood and personal responsibility. Astrologically this Aries New Moon is about new inspired beginnings wherever we live. The Clan Mother who guides us is Looks Far Woman. "She is the Doorkeeper of the Crack in the Universe and the Golden Door of Illumination that leads to all other dimensions of awareness." (The 13 Original Clan Mothers by Jamie Sams) She is also the guardian of the Dreamtime and the truth in all things. She teaches us to walk our path of authentic truth.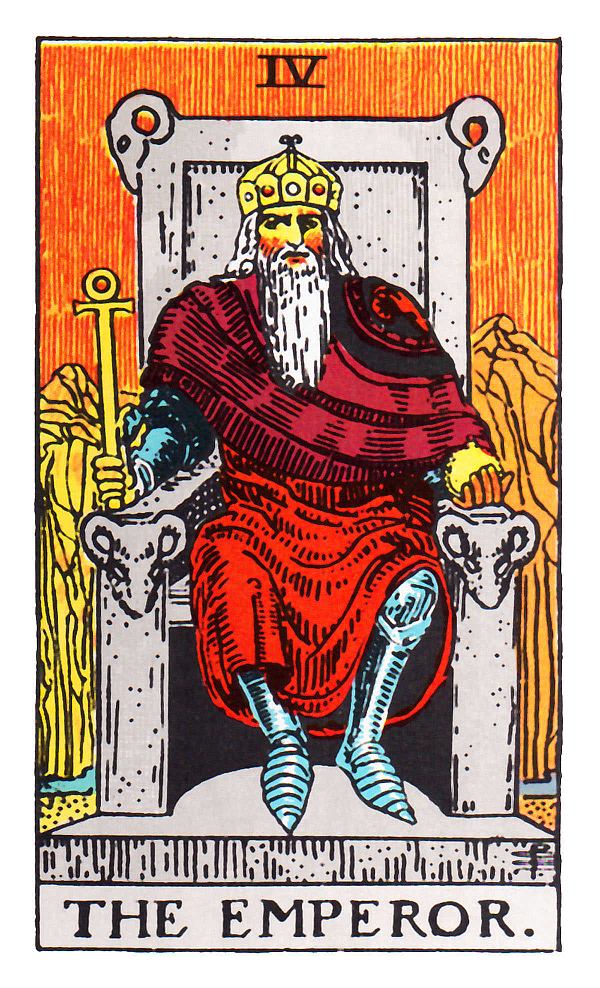 The Tarot Constellation active at this Aries New Moon is The Emperor, the principle of Life Force and realization that we have personal power. Scorpio (releasing what no longer serves us) and Uranus (breaking through to the new) are also found on this Constellation. Although Uranus in Aries is pulling away from Pluto, now Retrograde in Capricorn, they are still in their First Quarter Square range with the theme of make a decision, take action, and break free from the old to break through to the new. With this Aries New Moon the time to break through to the authentic self is stronger than ever.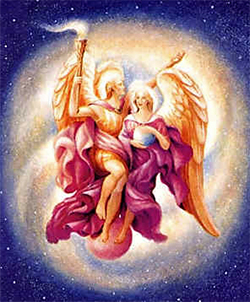 Aries is active on the 7th Ray of Invocation and Ceremonial Magic. Our Archangel guides are Zadkiel, the angel of Invocation and Prayer, and Amethyst, the angel of Divine Light and Forgiveness. Together they are the Keepers of the Violet Flame of Ascension and Transmutation. Aries is also found on the 1st Ray of Divine Will and Power with Archangels Michael, Divine Protection and Spiritual Guide, and Faith, belief in the Divine Self. As always Great Mystery gives us everything we need to remember who we really are.
I leave you with a quotation from American poet T.S Eliot which I have always felt describes the Aries journey. "We shall not cease from exploration, but at the end of all our exploring, we will arrive where we started, and know the place for the first time."
Wishing everyone new inspired beginnings as you journey to your authentic self.
Blessings Dale
---
Dale Osadchuk is an Artist, Spiritual Astrologer, and Transformational Counsellor and is available for consultations in Sharon (just north of Newmarket) Ontario, Canada in person or by telephone.
If you wish to contact Dale she can be reached via-email at or by telephone at 905-589-0192.
You are welcome to share this Moon information with others. Please send it in its entirety with Dale's contact information. Thank you.
You can also find Dale on www.facebook.com and www.crystalwind.ca
© 2015 Dale Osadchuk
Reprinted with permission.
CrystalWind.ca is free to access and use.
Please donate a small gift of $11.11 or $22.22 or $33.33.
Thank you!
ॐ Namasté - Blessings!

© 2008-2020 crystalwind.ca. All rights reserved.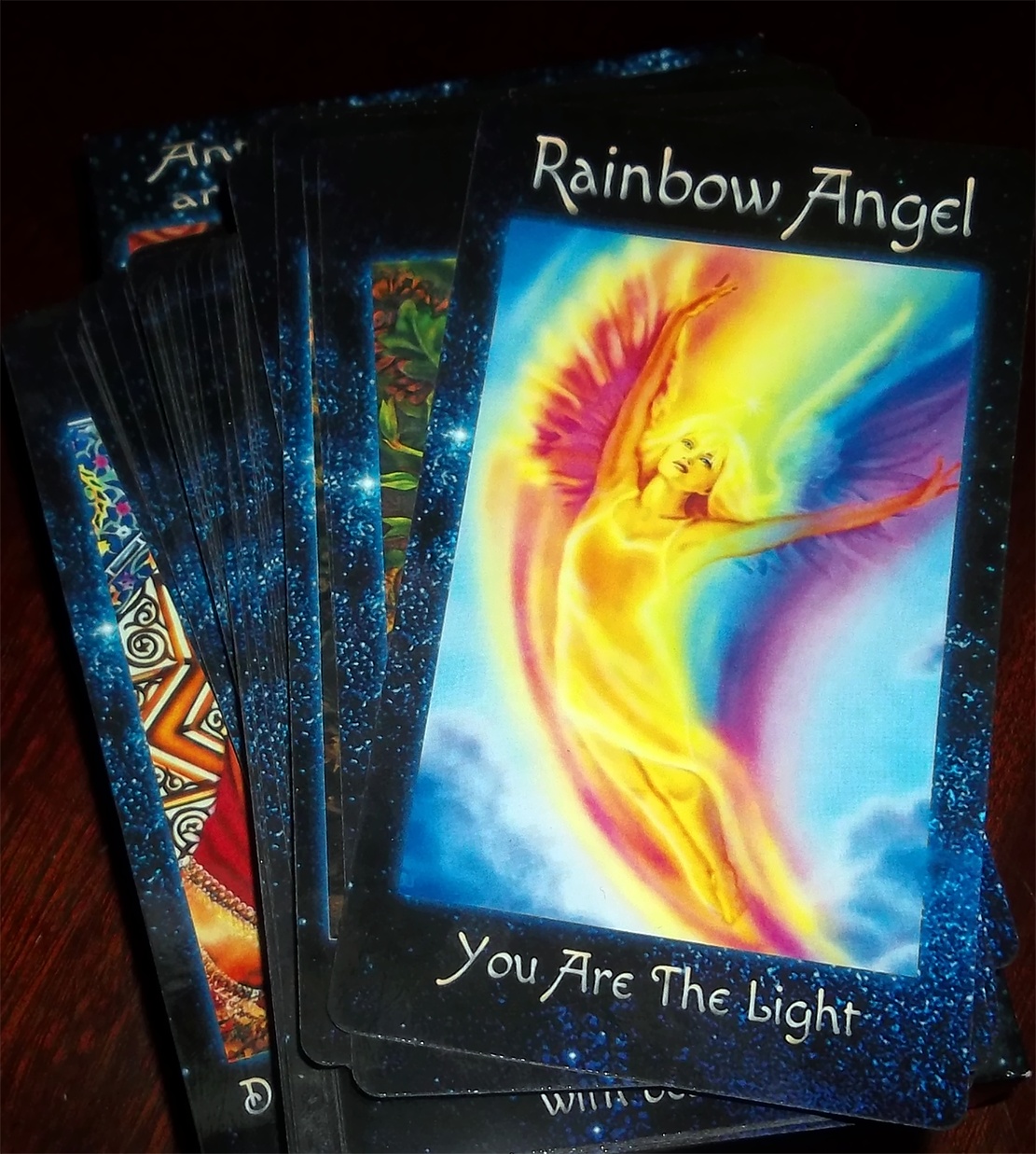 The Crystal Wind Oracle
Myth & Magic Card Deck!
Details Here!
NEW Expanded
Printed & Boxed!
Now with 58 cards!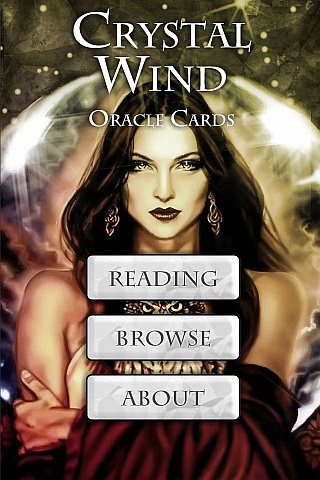 Cut Through The Illusions!
Who is Online Now
We have 1116 guests and no members online