Category: Astrology by Dale Views: 2320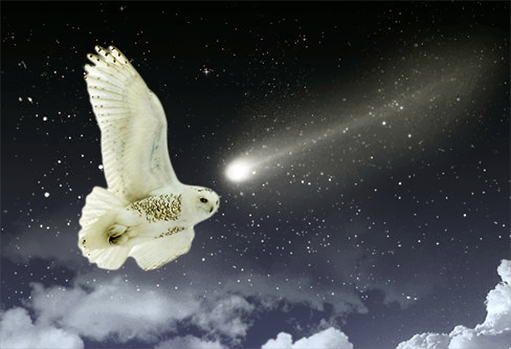 Dale Osadchuk
01 July 2015 at 7.20pm PDT and 10.20pm EDT
02 July 2015 at 3.20am BST Summer Time GMT
And 10.20am AWST Perth, Australia and 12.20pm AEST Sydney, New South Wales
It had been cool and rainy in the North Country for the last few days and felt more like spring than summer. But this day the warmth of Grandfather Sun had returned and Snowy Owl and Shooting Star were glad to feel his rays on their faces again. The Shaman had told them this Full Moon they were about to celebrate was very powerful and complex but there was also a special blessings to be received if they were centered in their compassionate hearts and Sacred Centers. The sisters decided nothing would block them from being heart centered regardless of what might be swirling around them from outer sources. As they climbed the path to the Star Temple the last pink, crimson, and orange streaks filled the western horizon as Grandfather Sun set. It was an awe inspiring beginning to this Full Moon ceremony.
Before they reached the Sacred Space darkness had fallen and in the western sky two shinning bright lights were visible almost touching. The young women knew they were the Wanderers Jove and Evening Star joining to send a message of blessings to the world. Jove bestowed the two leggeds with expansion and growth on the spiritual quest and Evening Star gave gifts of beauty, love, and harmony. When Snowy Owl and Shooting Star entered the Star Temple the Wanderers had dipped below the horizon but the sisters still felt the promise of their meeting.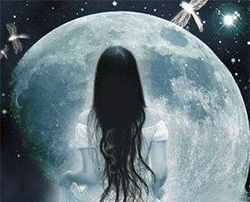 Sister Moon spoke "In the far away time these two Starry Wanderers are visiting the part of the Sacred Circle that is the place of the Compassionate Heart or the ego mind. It is time for the two leggeds to choose Loving Kindness so humanity can heal and transform the wounds the ego mind has created through eons of time. At this Full Moon it is finding balance and harmony so Peace and Love can be restored to the Earth Mothers human kingdom that continues to choose conflict over unison."
Sister Moon paused for a moment and then continued. "Grandfather Sun and I know you have heard this message for many, many Moon cycles but the two leggeds are not getting it so need to hear as many times as necessary so they get it. The only kingdom on the Earth Mother that is out of balance is the human one and so all others are affected. We ask you Snowy Owl and Shooting Star to fly to the far away time to guide those two leggeds who are ready to awaken to their true purpose to create Peace on earth."
The sisters retrieved their magic flying capes from the Standing One who guarded them and magically Little Owl appeared ready to lead them to the far away time so they could follow the destiny path Sister Moon had guided them to.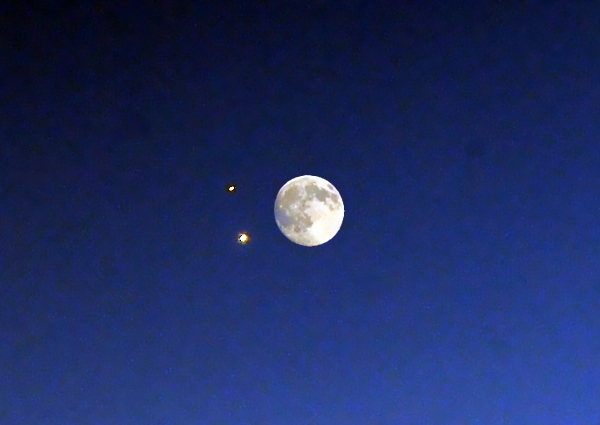 The two "Lights" that our story called the Wanderers are Venus and Jupiter. Wanderers was the name the ancients called the planets because they moved across the night sky as opposed to the fixed stars that appeared stationary. Jupiter is considered the Greater Benefic, the planet of luck and good fortune. Venus is considered the lesser benefic, the planet of beauty and harmony. When they meet they bestow their gifts on humankind. As they are conjunct in the sign of Leo this is an opportunity to be centered in the compassionate heart and be Loving Kindness. The shadow side of Leo is the ego mind. Our story was quite adamant that needs to be transmuted into Love for All. The Sabian Symbol (An Astrological Mandala by Dane Rudhyar) for this Venus/Jupiter meeting (exact at 3.51am EDT) is A CARRIER PIGEON FULFILLING ITS MISSION. Spirituality, in terms of training for service to mankind… the ideal of the WORLD SERVER. The Symbol is very interesting as Venus (harmonizer of the Universe) and Jupiter (expansion of your spiritual vision) are in a Grand Fire Trine (spiritual consciousness) with Pallas Athene in Sagittarius (spiritual wisdom) and Uranus in Aries (breaking through to the I AM Self). So we have this very powerful message about spiritual consciousness being emphasised at this Full Moon.
The Shaman told Snowy Owl and Shooting Star this is a powerful and complex Full Moon. And it is. The Moon at 09 degrees Capricorn (Soul Purpose) is conjunct Pluto at 14 degrees Capricorn (transformation and release of what no longer serves us). They are opposite Mars at 05 degrees Cancer (emotional anger) and the Sun at 09 degrees Cancer (mastering the emotions and stepping onto our spiritual destiny path). Full Moons are always about finding balance. These planetary pairs form a Cardinal Grand Cross (self-awareness and breakthrough) with the North Node at 05 degrees Libra (being in relationship in harmonious ways) and the South Node at 05 degrees Aries and the asteroid Vesta at 07 degrees Aries (breaking away from anger and conflict and committing to our authentic spiritual path).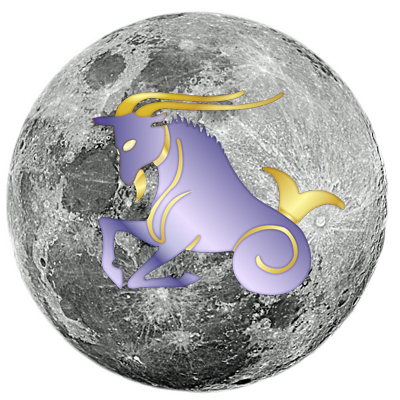 The ruler of Mars and the Sun in Cancer (mastering the emotions) is the Moon in Capricorn (Soul Purpose). The ruler of the Moon and Pluto is Saturn Rx at 29 degrees Scorpio (deep healing and transformation). He is in a wide square (finding new ways of doing things) with Venus and Jupiter (transforming the ego mind to become heart centered) and in a wide trine (ease and flow) with Chiron in Pisces (healing our wounds so we can be of spiritual service). We will talk more about Chiron shortly. But first let me share insights about the Cancer/Capricorn polarity from astrologer Tracy Marks in her book "The Astrology of Self Discovery".
"Only when we allow ourselves to experience our real needs can we hope to meet them. When strength and self-sufficiency denies needs and represses feelings it can lead to compulsive attempts to fulfill ambition and gain recognition as a substitute (Capricorn). In allowing ourselves to be vulnerable we discover our sensitive empathetic core…We need to take charge of our lives and accept responsibility for ourselves. As we learn to nurture the child within us we develop true responsiveness to other people's needs and can give unconditionally without needing to receive. We need to learn where to seek nourishment outside ourselves and not attach ourselves to people and experiences which are not nourishing. Establishing boundaries can create the resource base needed to experience the deepness of emotion and feelings in a safe and centered way. Our inner child can then emerge in safety (Cancer)."
I always associate the sign of Cancer (roots, origins, family, and emotions) with the wounded inner child. This Capricorn Full Moon can bring up old woundedness that still needs to be healed and transformed, especially related to mother issues. In my astrological counselling I have found people with natal Moon in Capricorn have some difficult challenges within the relationship to their mothers. This Full Moon is the opportunity to heal those old wounds regardless of where your Moon sign is.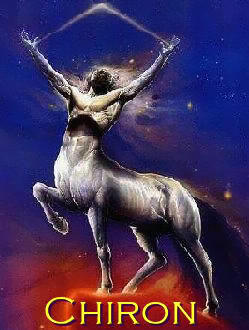 And now back to Chiron Rx at 21 degrees Pisces. When the Wounded Healer is retrograde he supports us to go deeply within and heal what has not yet been transformer. Chiron is forming a T SQUARE (feeling backed into a corner) with a square (finding new ways of doing things) to Mercury at 19 degrees Gemini (our thoughts, perceptions, and the logical verses the intuitive). Mercury is opposite Pallas Athene at 15 degrees Sagittarius (spiritual wisdom) who is in turn square Chiron in Pisces (healing feelings of separation from the Oneness). There is no planet or asteroid that fills in the empty space which is the sign of Virgo. But opposite Chiron in celestial longitude at 21 degrees Virgo is the Fixed Star called Denebola in the Constellation of Leo. (Just a note here the zodiac signs and the Constellations which contain the Fixed Stars are no longer in alignment because of the precession of the Equinox points). The principle of Denebola is to be non-conforming. "Denebola's presence in a chart adds an element of uniqueness, seeing the world through different eyes, holding a different philosophy and living outside the norms of the establishment." (Bernadette Brady in Star and Planet Combinations). That repeats the message of the Grand Fire Trine to be heart centered and true to your authentic self.
And finally we have Neptune at 09 degrees Pisces (illusion or illumination) sextile the Moon and Pluto in Capricorn (easy transformation to living your Soul Purpose) and Neptune is trine Mars and the Sun in Cancer (easily mastering the emotions to follow your spiritual destiny path). This planetary dance truly supports our spiritual journey. Just watch out for Mars in Cancer. He is said to be in his fall in Cancer which means his ability to take action is hindered. Mars is the god of war and anger. Cancer is the emotions. If someone is challenging you move into your compassionate heart and respond with Loving Kindness. That is what this Full Moon is asking us to do and be.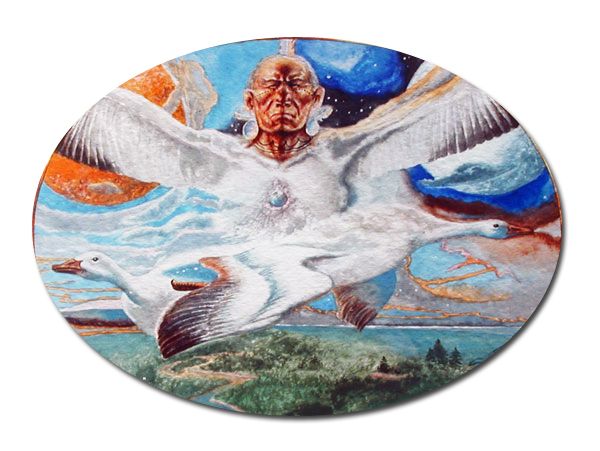 The Animal Totem for the Moon in Capricorn is Snow Goose, loyalty and respect. Spiritually Snow Goose teaches us to follow our dreams and vision. The Clan Mother is Talks With Relations who teaches all life is sacred. For the Sun in Cancer the Animal Totem is the Woodpecker Flicker, new life rhythms, transitions, spiritual growth and expansion, and healing love. The Clan Mother is Loves All Things, who teaches how to love unconditionally. For more insight on the Clan Mothers I refer you to The 13 Original Clan Mothers and Earth Medicine both by Jamie Sams.
The Sun in Cancer is active on the Tarot Constellation of The Chariot; mastery through change and stepping onto The Mystical Path. Cancer is found on the 7th Ray of Invocation and White Magic with Archangels Zadkiel and Amethyst, guardians of the Violet Flame of Transmutation. It is also found on the 3rd Ray of Divine Mind and Creative Intelligence with Archangels Chamuel, healing through Divine Love, and Charity, manifestation and gratitude.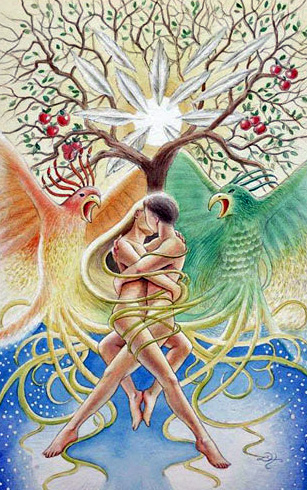 The Moon in Capricorn is found on the Tarot Constellation of the Lovers; relationship and choice. It is the choice to unite in love or separate in fear. Capricorn, along with Cancer, is also found on the 7th and 3rd Rays. But it is also a 1st Ray sign which is the Ray of Divine Will and Power with Archangels Michael, protection and spiritual destiny guide, and Faith, trust in self and Divine Guidance.
Wishing everyone Full Moon blessings. If your skies are clear be sure to look for the beautiful dance of Venus and Jupiter. They will only be visible to the middle of July here in the North Country.
Blessings to all,
Dale
---
Dale Osadchuk is an Artist, Spiritual Astrologer, and Transformational Counsellor and is available for consultations in Sharon (just north of Newmarket) Ontario, Canada in person or by telephone.
If you wish to contact Dale she can be reached via-email at or by telephone at 905-589-0192.
You are welcome to share this Moon information with others. Please send it in its entirety with Dale's contact information. Thank you.
You can also find Dale on www.facebook.com and www.crystalwind.ca
© 2015 Dale Osadchuk
Reprinted with permission.
CrystalWind.ca is free to access and use.
"Please consider a small gift of $11.11 or $22.22 or $33.33
$44.44 or $55.55 or $77.77 or $88.88 or $111.11."
ॐ Namasté - Blessings!

© 2008-2020 crystalwind.ca. All rights reserved.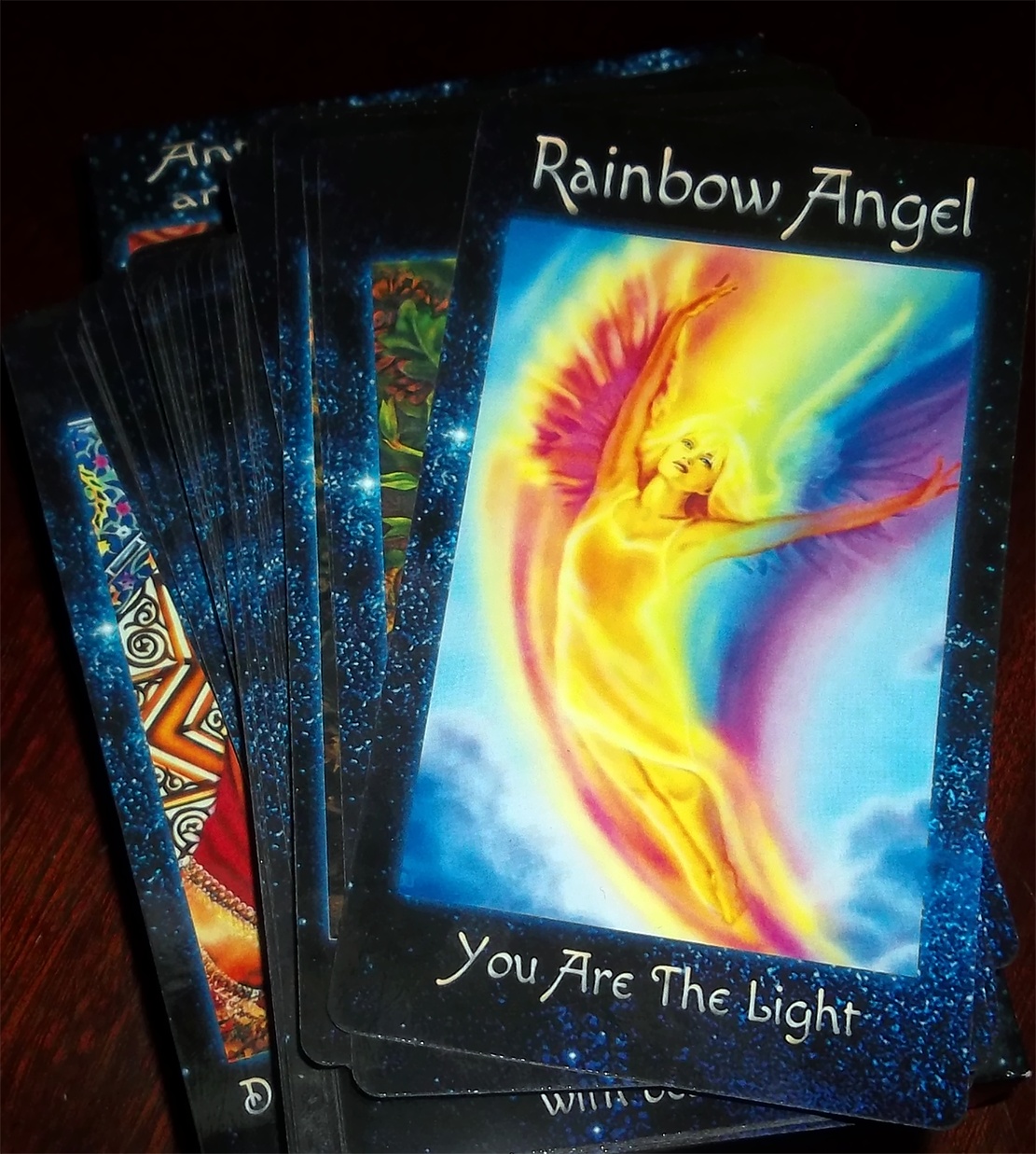 The Crystal Wind Oracle
Myth & Magic Card Deck!
Details Here!
NEW Expanded
Printed & Boxed!
Now with 58 cards!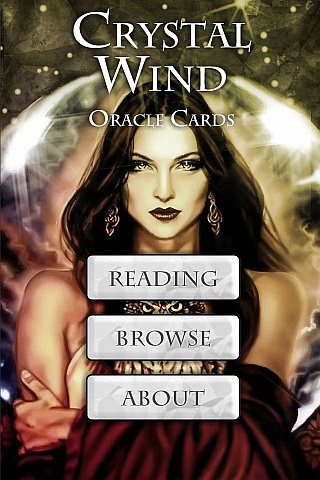 Cut Through The Illusions!
Who is Online Now
We have 1438 guests and no members online