Category: Astrology by Dale Views: 2804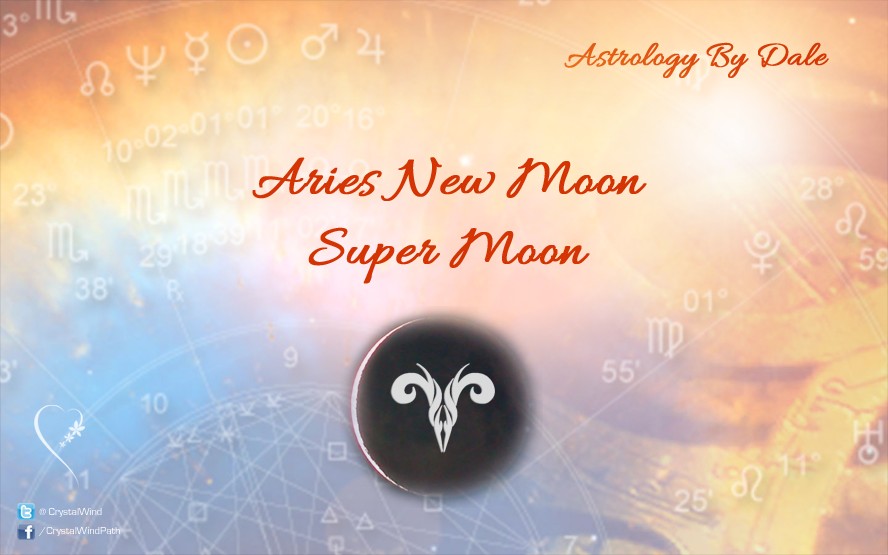 Dale Osadchuk
07 April 2016 at 4.24 am PDT- 7.24 am EDT- 12.24 pm BST (summer time GMT)
7.24 pm AWST Perth, Australia- 9.24 pm AEST Sydney, NSW, Australia
Here is a story we wrote in 2006 for the Aries New Moon. Wow 10 years ago. I think it is time to gather all the stories together and create a book. That will be my affirmation for this Super Moon of new beginnings. Here is the story.
"I am standing at the edge of the world. I could see forever if I knew what it might look like. As I think this thought Red Tailed Hawk comes circling out of the sky toward me and perches in a nearby tree. Hawk begins to sing "Seeker on the Path of Life you have yet to see with your invisible eye. Your vision has been clouded by your mind, body, and emotion. The doorway to the next part of your journey can only be seen from the Core of Your Sacred Self. I speak for the Thunder Beings. They are Guardians of the rain, thunder, and lightning. They cleanse and replenish Mother Earth. They cleanse your spirit and awaken your Soul". Hawk takes flight, transforming into Thunderbird, wings beating the air like a drum. I feel the power. I feel the freedom. I want to follow into the expansive sky. I am ready to soar."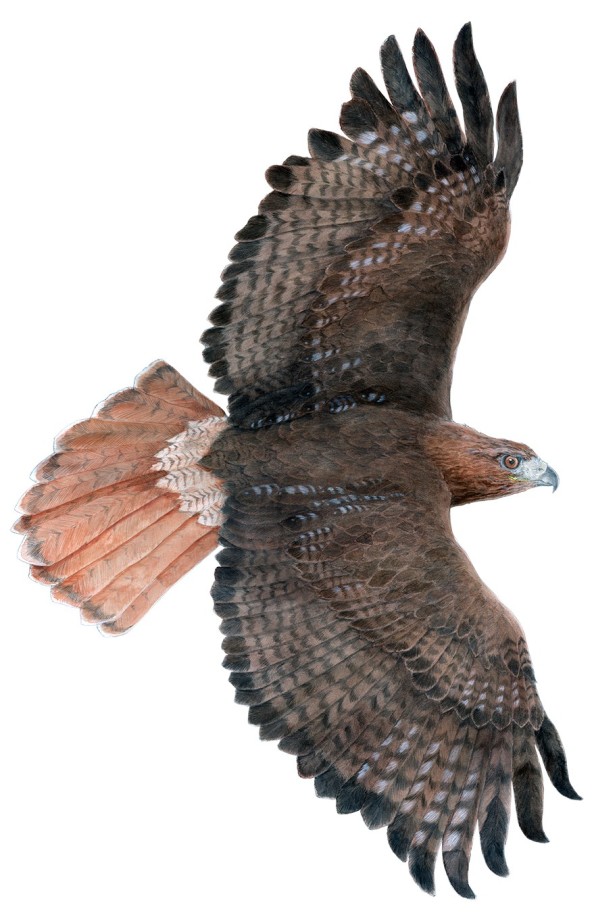 I was born with the Sun, Mercury, and Venus, all in Aries. Hawk is my special Totem guide. As a child in the summer my family rented a cottage in the Laurentian Mountains north of Montreal (Quebec). When I was about four years old I would notice, on our path to the lake, Red Tailed Hawk perched on a branch in one of the Standing Ones. He spoke to my spirit. Of course I did not "know" at the time he was my Sacred Totem. But I felt it. As children we are so connected to the world of spirit. It is life on the physical/mental and emotional planes that shuts us down. This Aries New Moon can initiate us into the magic of life once again. Hawk awakens us to inspired new beginnings and our creation power. His companion is Falcon, clear vision and dynamic action.
This New Moon is also a Super Moon when she is closer to Earth than usual. She pulls on the Earth's tectonic plates, the ocean tides, and our physical and emotional bodies. Our senses are heightened. The Sun/Moon at 18 degrees Aries (new beginnings) are travelling with Uranus at 20 degrees Aries (breaking through to the Authentic Self). They are opposite (finding balance) the Earth at 18 degrees Libra (peace and harmony). Pluto at 17 degrees Capricorn is creating a T Square. Pluto is asking us to break free from old ways of doing things that keep us shut down and powerless. It is so interesting that the Asteroid body called Isis is at 18 degrees Cancer opposite Pluto creating a Cardinal Grand Cross, taking action to break free. This is not a representative of the group also known as Isol (although breaking free from that ideology needs to happen). In Egyptian Astrology Isis is the wisdom of the Divine Feminine and all healing love. Her animal form is Hawk. I love the connections and synchronicity and the open doors Great Mystery shows us.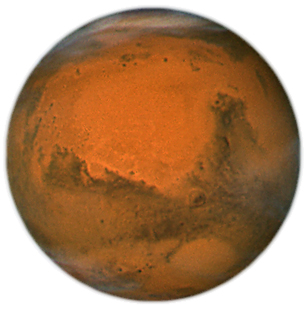 The traditional ruler of this Aries Super New Moon is Mars (action) at 08 degrees Sagittarius (our beliefs). He is travelling with Saturn Rx at 16 degrees Sagittarius (limiting beliefs or spiritual consciousness). They are both square (motivation for change) Neptune at 10 degrees Pisces (illusion or truth). So interesting that is a big theme in the world right now with the exposure of tax evasion by those in power (the Panama Papers) and the inner fighting that is going on in the American Presidential campaigns. I believe this will continue to be the theme for the Saturn/Neptune Square that is active from June to Sept. Best for each of us to find the connection to our Sacred Center and we will know what the truth is for us. At this Lunation Saturn is also Square (motivation for change) the North Node (new directions) and the Asteroid Hygeia (healing) at 21 degrees Virgo (Rainbow Bridge of Healing) and the South Node at 21 degrees Pisces (the past) and Chiron at 22 degrees Pisces (healing the world wound). This is another T Square but has no outlet so the stress is on Saturn (limitation and restriction). But the good news is Saturn is trine (ease and flow) the New Sun/Moon meeting in Aries, living your life with honesty and authenticity. If you have natal (or progressed planets) at 15 to 22 degrees Gemini you have your own way out. Change your thoughts, change your life (Wayne Dyer).
The Soul Centered ruler (Ageless Wisdom Teachings through Alice Bailey) of this Aries New Moon is Mercury at 02 degrees Taurus (our thoughts about what is of true value in our lives). The South Node and Chiron are in a stressful aspect (40 degree angle) with Mercury which really means if you hold onto the past it keeps you stuck. During Mercury's retrograde April 28 to May 22 you will have the opportunity to really let that past go. For this Lunation Mercury is ruled by Venus at 02 degrees Aries. They are in harmony and Venus rules the Earth in Libra (inner balance and peace). In Egyptian astrology Venus is associated with Isis, Feminine Divine Wisdom and Healing Love. Again the Universe always gives us doorways to walk out of the old through to the new.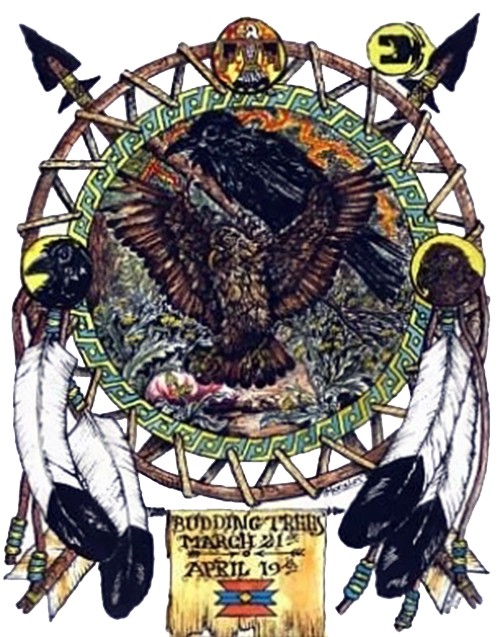 In the northern hemisphere this is the Budding Trees Moon Time and as we mentioned earlier with Falcon, clear vision and new beginnings, and Red Tailed Hawk, spiritual messenger and visionary power, as our guides. We are in the East Direction of Spiritual Awakening and new inspired beginnings. In the southern hemisphere this is the Falling Leaves Time with Crow, sacred law and justice, and Raven, the magic of the mysteries, as your guides. You are in the West Direction, the place of adulthood and personal responsibility. Astrologically this Aries New Moon is about new inspired beginnings wherever we live. The Clan Mother who guides us is Looks Far Woman. "She is the Doorkeeper of the Crack in the Universe and the Golden Door of Illumination that leads to all other dimensions of awareness." (The 13 Original Clan Mothers by Jamie Sams) She is also the guardian of the Dreamtime and the truth in all things. She teaches us to walk our path of authentic truth.
The Tarot Constellation active at this Aries New Moon is The Emperor, the principle of Life Force and realization that we have personal power. Scorpio (releasing what no longer serves us) and Uranus (breaking through to the new) are also found on this Constellation. Although Uranus in Aries is pulling away from Pluto in Capricorn, they are still in their First Quarter Square range with the theme of make a decision, take action, and break free from the old to break through to the new. With this Aries New Moon the time to break through to the authentic self is stronger than ever.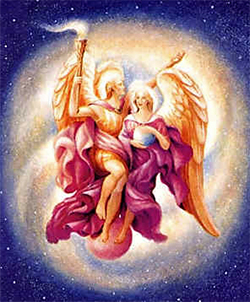 Aries is active on the 7th Ray of Invocation and Ceremonial Magic. Our Archangel guides are Zadkiel, the angel of Invocation and Prayer, and Amethyst, the angel of Divine Light and Forgiveness. Together they are the Keepers of the Violet Flame of Ascension and Transmutation. Aries is also found on the 1st Ray of Divine Will and Power with Archangels Michael, Divine Protection and Spiritual Guide, and Faith, belief in the Divine Self. As always Great Mystery gives us everything we need to remember who we really are.
I leave you with a quotation from American poet T.S Eliot which I have always felt describes the Aries journey. "We shall not cease from exploration and the end of all our exploring will be to arrive where we started, and know the place for the first time."
And this from The Medicine Cards by Jamie Sams and David Carson "Hawk…messenger of the sky, circle my dreams and teach me the message as we fly".
Happy soaring everyone,
Blessings Dale
---
Dale Osadchuk is an Artist, Spiritual Astrologer, and Transformational Counsellor and is available for consultations in Sharon (just north of Newmarket) Ontario, Canada in person or by telephone.
You are welcome to share this Moon information with others. Please send it in its entirety with Dale's contact information. Thank you.
© 2016 Dale Osadchuk
Reprinted with permission.
CrystalWind.ca is free to access and use.
"Would you consider a small gift of $11.11 ?" :)
ॐ Namasté - Blessings!

© 2008-2019 crystalwind.ca. All rights reserved.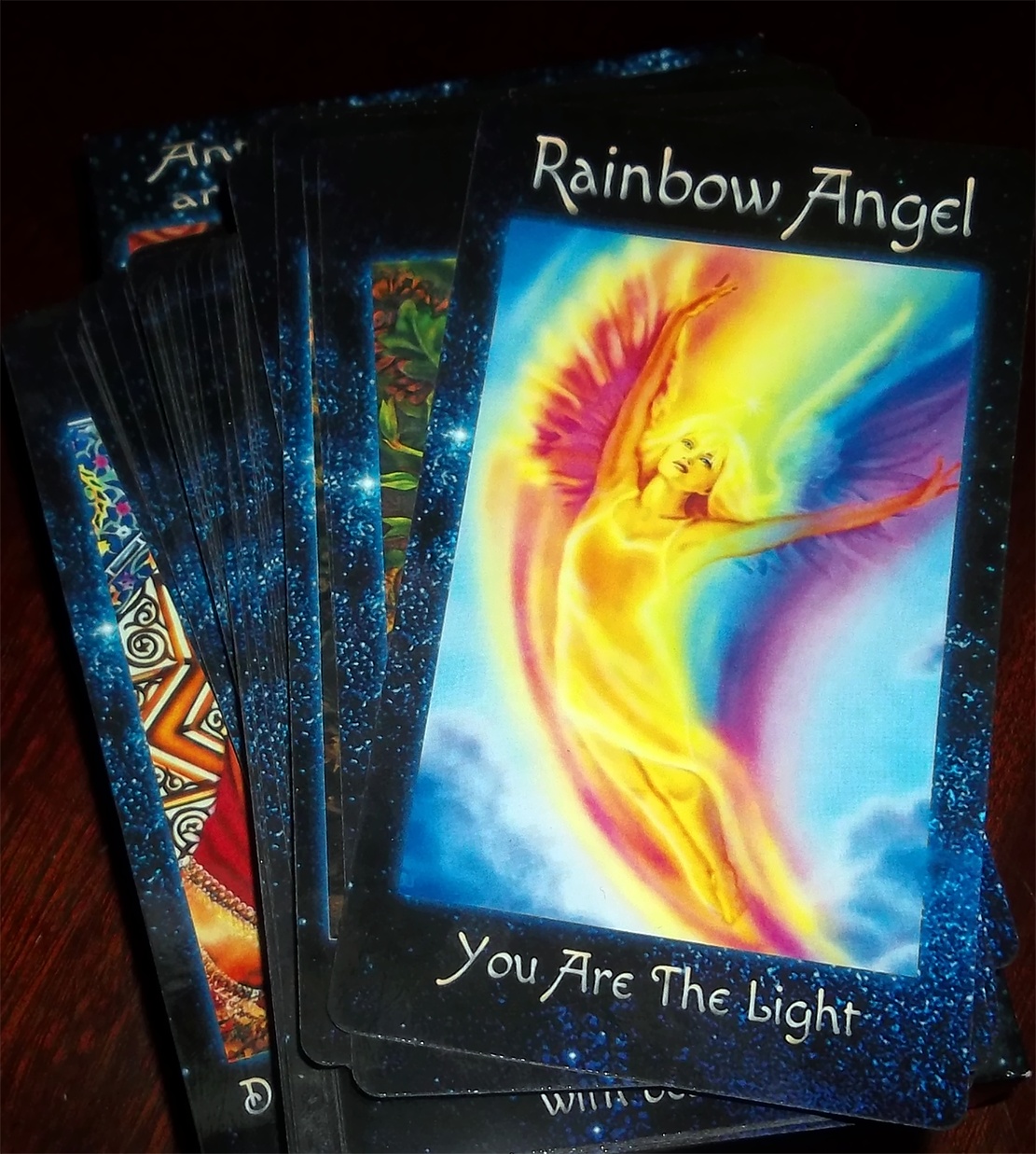 The Crystal Wind Oracle
Myth & Magic Card Deck!
Details Here!
NEW Expanded
Printed & Boxed!
Now with 58 cards!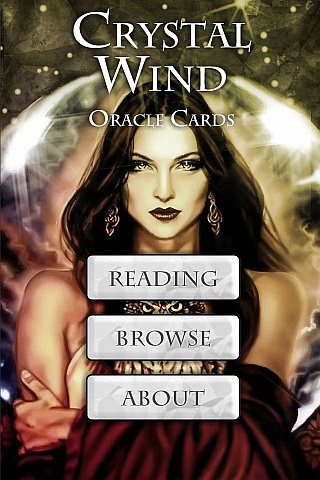 Cut Through The Illusions!
We have 1177 guests and no members online