Category: Astrology by Dale Hits: 1985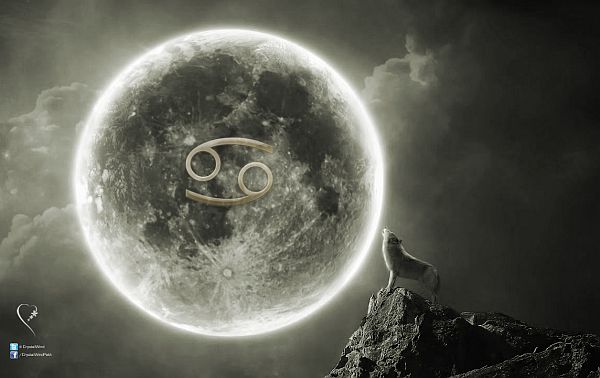 Dale Osadchuk
12 Jan 2017 at 3.34 am PST 6.34 am EST 11.34 am GMT
7.34 pm AWST Perth, Australia 10.34 pm AEDT Sydney, NSW, Australia
Some Full Moons are quiet. Not this one. It is very loud really trying to get our attention so we can break out of any box we find ourselves in. In the astrological system we have the planets (and Asteroids) the Elements, and the Qualities. The planets dance together and form patterns that tell stories. Most people reading this know the names and general meanings. The Elements are like verbs which describe a type of action. Fire (inspired creativity) Earth (security focused and grounded) Air (verbal expression) and Water (feelings and intuition). The Qualities are Cardinal (action) Fixed (stability) and Mutable (adaptability). This Full Moon is Cardinal (action) and Mutable (adaptable) in its expression.
At the Capricorn New Moon (Dec28/29) we had a planetary T Square. Jupiter in Libra (inner/outer balance) opposed Uranus in Aries (breakthrough to new beginnings) and both were Square (motivation for change) Pluto in Capricorn (transformation of self and society). T Squares make us feel backed into a corner. The stress point was Pluto. Preparing to release what no longer serves you. There was a doorway to walk through. The Fixed Star Castor in the Constellation of Gemini is in the sign of Cancer. His theme is to seek knowledge and express the lighter side of life. He was the doorway. Don't think too many people paid attention.
Now at this Full Moon we have a planetary Cardinal Grand Cross giving us the opportunity to break out of the box we have stuffed ourselves into. As we mentioned earlier Cardinal means action. Following is the planetary story. Since we live in a world of polarities (day/night and up/down and left/right to name a few) we are giving the positive expression and the shadow energy.
The Moon at 22 degrees Cancer is very strong as she is in her home sign. She connects us to the wisdom of the feminine and the Great Mother Goddess who created the Universe. She supports us to continue to follow our spiritual destiny path guided by our intuitive knowing. Her shadow is to be overwhelmed by emotions and to get lost in them and withdraw from life. Her Animal Totem guide is Flicker Woodpecker, new spiritual rhythms coming into our lives and healing love. The Clan Mother who guides the Moon is Loves All Things. She is the Mother of unconditional love and teaches us to LOVE THE TRUTH.
The Sun at 22 degrees Capricorn is of course opposite (finding balance) the Moon. Grandfather Sun is traveling with Pluto at 17 degrees Capricorn (transformation). The positive expression of Capricorn is to be empowered in the world and follow our Soul Purpose Path. The shadow is the need to feel in control and limit and restriction our intuitive knowing. Pluto conjunct the Sun in Capricorn is asking us to transform society and release those attitudes that keep us imprisoned in old ways of behaving. The Animal Totem for the Sun and Pluto in Capricorn is Snow Goose who supports us to be grounded as we follow our dreams and visions. The Clan Mother is Talks With Relations. She is the Mother of the planetary family and teaches us to enter the Sacred Space of others with respect. She guides us to Learn The Truth.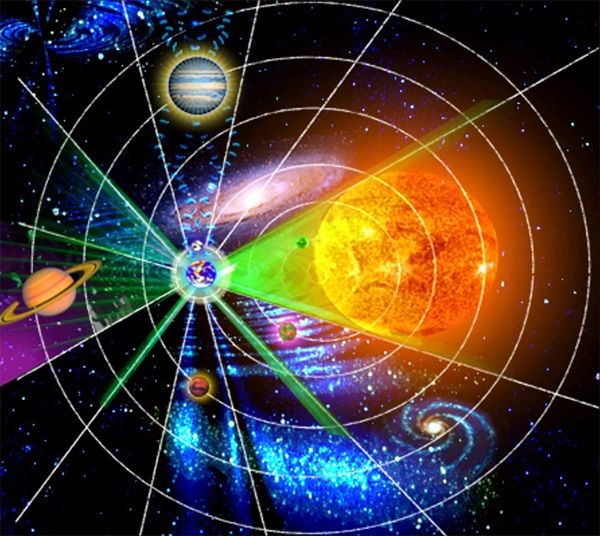 The Grand Cross is formed by Jupiter at 22 degrees Libra opposite Uranus at 20 degrees Aries both Square (motivation for change and finding new ways of doing things) the Full Moon. Jupiter ask us to grow and expand our spiritual vision and in Libra find harmony and balance in all our relations. The shadow side is to be indecisive forcing the other person to make a decision and then not liking the outcome. It is called being passive aggressive. The Animal Totem guides for Jupiter in Libra are Crow, justice and fairness for all, and Raven, who guides us through the doorway into The Mysteries. The Clan Mother is Weaves The Web the Mother of creativity and the manifester of dreams. She teaches us to Work With The truth.
Uranus at 20 degrees Aries is the Breakthrough Energy. He is still traveling with the dwarf planets Eris at 22 degrees Aries (purposeful action or strife and conflict) and Ceres at 24 degrees Aries (self- nurturing or abandoning the self). Uranus in Aries is breaking through to the Authentic Self or impulsively leaping before looking and ending up in hot water. The Animal Totem guides for this Aries energy are Falcon, clear vision, and Red Tailed Hawk, spiritual messages. The Clan Mother is Looks Far Woman. She is the Mother of visions and dreams and teaches us to See The Truth. You can find the stories of all these Clan Mothers in The 13 Original Clan Mothers by Jamie Sams.
So we have just described the Cardinal Energy. This is important as Jupiter in Libra will continue to oppose Uranus in Aries during 2017. The 1st hit was Dec 26, 2016. Whatever was going on in relationship at that time (self verses other) will be repeated Mar 03, 2017 and Sept 28, 2017. We must remember Uranus is the planet that says "expect the unexpected". Jupiter in Libra (balance) will also Square (motivation for change) Pluto in Capricorn in 2017. The first hit was Nov 24, 2016. That was when the stock market was riding high. The next Squares between these two will be Mar 30, 2017 and Aug 04, 2017. Pluto rules wealth and is associated with the stock market. Jupiter in Libra is the balancing of the scales. We may see some financial challenges especially in Mar 2017. Venus who rules personal assets will be retrograde in Aries/Pisces Mar 04 to Apr 15. As well in April Jupiter, Saturn, Mercury, and Neptune will all be retrograde. Time to revise and revision. Regarding the Jupiter/Uranus/Pluto T square when the Moon visits Cancer each month she will create the doorway out of being backed into a corner. Moon in Cancer is our intuitive awareness and guidance.
And now we come to the Mutable influence, flexibility and adaptability. I wrote the above yesterday Jan 11 intending to finish and send out to my Moon groups. The Universe had other plans. Our hydro power keep going out intermittently. No access to internet. And puppy Prince (now 10 months old) was off his schedule of napping in the morning. All he wanted to do was play the game of "catch me if you can". He steals something he should not have and then runs around the dining room table until he gets a treat in exchange. This puppy is just too smart. But he is teaching me to be flexible and adaptable and to just let go.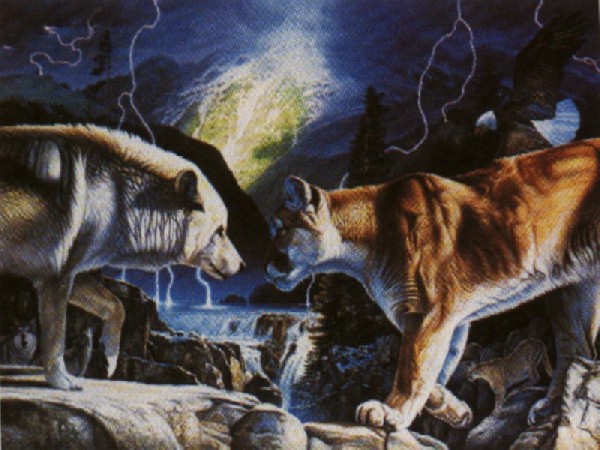 So here is the Mutable influence. Saturn at 22 degrees Sagittarius (creating a strong spiritual foundation in our lives or limited and restrictive thinking) is the ruler of the Sun in Capricorn. Saturn is traveling with the Asteroid Juno also at 22 degrees Sagittarius (relationship compatibility or conflicting beliefs). They are Square (motivation for change) Mars at 18 degrees Pisces (spiritual warrior or lost Soul) and Chiron at 21 degrees Pisces (healing the world wound or not). We are all being asked to let go of dogmatic beliefs and judgment and go with the flow. The Animal Totem guides for Sagittarius are Elk, strength and stamina, and Owl, the wisdom to see through deception. There is a lot of deception being expressed in the world right now. The Animal Totems for Pisces are Cougar, spiritual power, and Wolf, the teacher who guides us through change. Wolf is going to be very busy this year with all the dynamic energy ahead. Our Clan Mothers are Gives Praise, gratitude for the truth (Sagittarius) and Weighs The Truth, who teaches us how to accept the truth (Pisces). The good news is Saturn is sextile Jupiter in Libra (easy opportunity to create harmony in relationship) and trine Uranus in Aries (the removable of obstacles that block us from breaking free). Thank you Universe.
And finally we have a special blessing that stands alone. Venus at 09 degrees Pisces (harmonizer of the Universal Oneness) is conjunct Neptune at 10 degrees Pisces (illusion or illumination). Their exact meeting is today at 4.54 pm EST. Mercury, now in direct motion, re-entered Capricorn (Soul Purpose Path) at 9.03 am EST. Whatever is going on in the world the message is continue to Shine Your Light. Let go and flow and you will breakthrough to the new.
There is no story this time but maybe Sister Moon wanted ME to tell the story of this remarkable Full Moon. Until next time.
Blessings Dale
---
Dale Osadchuk is an Artist, Spiritual Astrologer, and Transformational Counsellor and is available for consultations in Sharon (just north of Newmarket) Ontario, Canada in person or by telephone.
You are welcome to share this Moon information with others. Please send it in its entirety with Dale's contact information. Thank you.
© 2016 Dale Osadchuk
Reprinted with permission.
CrystalWind.ca is free to access and use.
"Would you consider a small gift of $11.11 ?" :)
ॐ Namasté - Blessings!

© 2008-2018 crystalwind.ca. All rights reserved.
Archive: Astrology by Dale