Category: Astrology by Dale Hits: 1159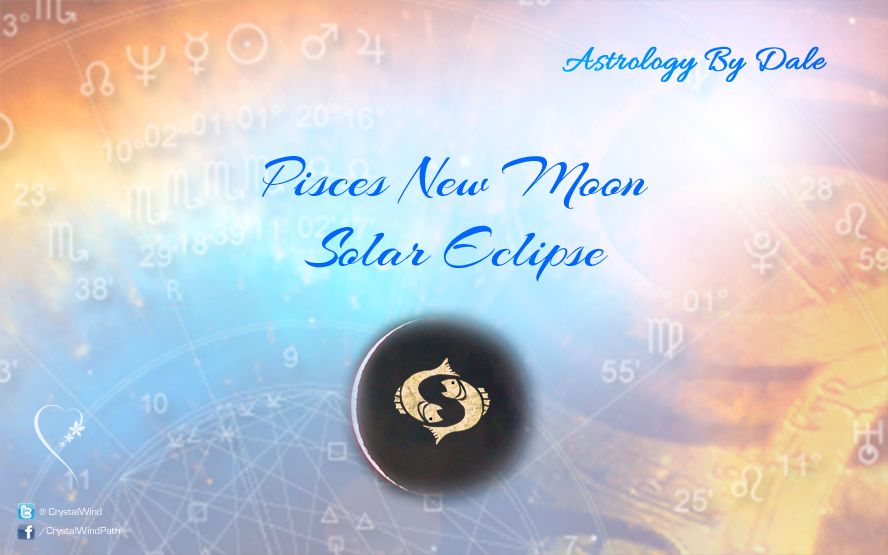 Dale Osadchuk
26 Feb 2017 at 6.58 am PST 9.58 am EST 2.58 pm GMT 10.58 pm AWST Perth, Australia
27 Feb 2017 at 1.58 am AEDT Sydney, NSW, Australia
The eastern horizon was filled with streaks of pink and gold as Snowy Owl and Shooting Star climbed the path to the Star Temple. Grandfather Sun was beginning to rise and a new day was dawning. The sisters were excited about today's Moon ceremony. They had been to visit the Shaman's Cave the day before and he told them they would be going on a journey to see Sister Moon's dark face cover the disc of Grandfather Sun. He gave them special filters to look through as there would be a ring of fire surrounding Luna. They needed them to protect their eyes from the brilliant light.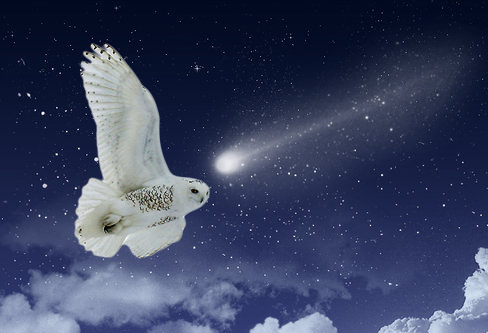 When they reached the Star Temple the Winged One with the heart shaped face was waiting for them. Little Owl was Snowy Owl's sacred Totem and he always guided them to the special location where the sisters could see Grandfather Sun and Sister Moon join together. At New Moon Luna's face was always dark so it was exciting for the young women to see Luna surrounded by the ring of fire created when she passed in front of Grandfather Sun. They also felt grateful for their magic feather capes that allowed them to fly with Little Owl to the place where they could witness the event.
Little Owl lead them south over Turtle Island until they came to the land of rainforests, brilliant Plant and Flower People, and vibrantly coloured Winged Ones. When they left their home in the North Country it was still winter. Now they were experiencing the warmth of summer as they continued to fly south. Grandfather Sun had risen and his warm rays bathed their faces. It reminded the sisters that the North Country was soon going to welcome Grandfather's Sun return. When the trio reached their southern-most destination Little Owl lead them east over the great ocean and the threesome landed on a small island in the middle of the vast sea. Sister Moon has already begun to cross the face of Grandfather Sun. The sisters quickly retrieved their special filters so they could watch the event.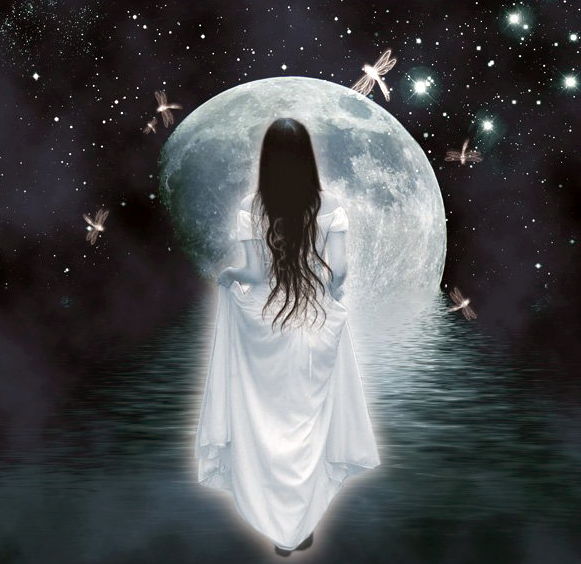 When Sister Moon stood in front of Grandfather Sun she was surrounded by that ring of fire the Shaman had told Snowy Owl and Shooting Star about. It was awe inspiring. Sister Moon began to speak "This is a Moon cycle of new beginnings but also endings. For the next six New Moons the theme of being guided by your Soul's Wisdom is of upmost importance. The planetary dance will be challenging if you have not released the limitation and restrictions the ego mind creates. Each Moon cycle to come I will guide you to your Sacred Self. The ring of fire that surrounds me now is to remind you that you are a being of Divine Light that illuminates the dark. That Light is especially needed in the far away time. The Animal Totems who guide you along with me at this New Moon are Cougar, spiritual power, and Wolf, the teacher who guides you through change. For the next six Moon cycles they will be walking with you and will join the other Totem guides at each New Moon to show you the way to A New Way of Being. Go now and share this message so the two leggeds will understand they are emissaries of the Divine Light and Great Mystery. It is time for humanity to wake up."
When she finished speaking Sister Moon had moved away from Grandfather Sun. As Snowy Owl and Shooting Star followed Little Owl home they felt their Soul Essence more powerfully than they ever had before.
I have some quotations to share for this Pisces New Moon Eclipse. "You do not have a soul, You Are a Soul" (India Arie). "Nothing ever goes away until it teaches us what we need to know" (Pema Chodron). "We shall not cease from exploration and the end of all our exploring will be to arrive where we started and know the place for the first time" (T.S. Eliot). "Being happy doesn't mean everything is perfect, it means you are willing to see beyond the imperfections" (Anonymous).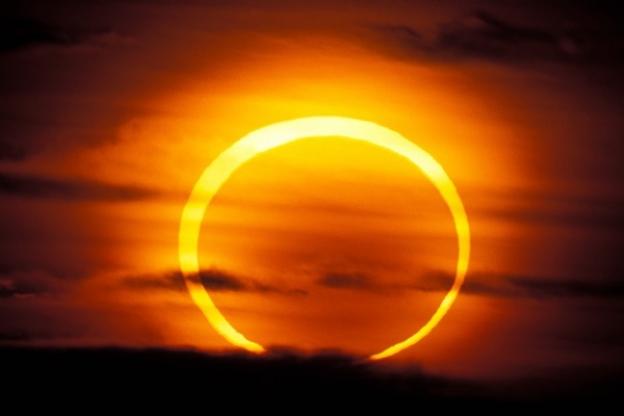 A Solar Eclipse (New Moon) influences us until the next Eclipse series. That takes us to Aug 21, 2017. That is a Total Solar eclipse and its path will cut across North America, particularly the US. There is a lot of buzz about that Eclipse. But first we have six Moon cycles to prepare us for whatever may occur in August. Our current Eclipse (Pisces New Moon) is an Annular Eclipse. The Moon is not close enough to Earth to completely block the Sun and results in the ring of fire. This Eclipse path begins in Southern Chile and Argentina, crosses the Atlantic Ocean, and ends in Angola, Africa. The time of greatest Eclipse is over the Atlantic Ocean. It is a South Node Eclipse and symbolizes releasing our wounds from the past both personally and universally.
The planetary dance is interesting. We have six planets and the South Node in Pisces (healing, forgiveness, completion, and releasing old wounds so we can be guided by our Soul's Ancient Wisdom). They are Mercury at 01 degrees Pisces (our thoughts and perceptions) the South Node at 03 degrees Pisces (releasing the past) the Sun and Moon at 08 degrees Pisces 12 minutes (inner harmony and peace) Neptune at 11 degrees Pisces (braking through illusion) Pallas Athene at 18 degrees Pisces (spiritual wisdom) and Chiron at 23 degrees Pisces (healing our wounds from the past and healing the world wound). That is a lot of Pisces. The question to ask is do I want to continue to carry my woundedness like a shield of protection (yes protection) or will I set myself free. The ruler of all this Pisces energy is Neptune, the Dissolver of Illusion. His gift is Illumination. As our story told us the Animal Totems for Pisces are Cougar, spiritual power, and Wolf, the teacher who guides us through change. Because this is a Solar Eclipse they will be with us for the next six Moon cycles as they join the Totems of each New Moon to come.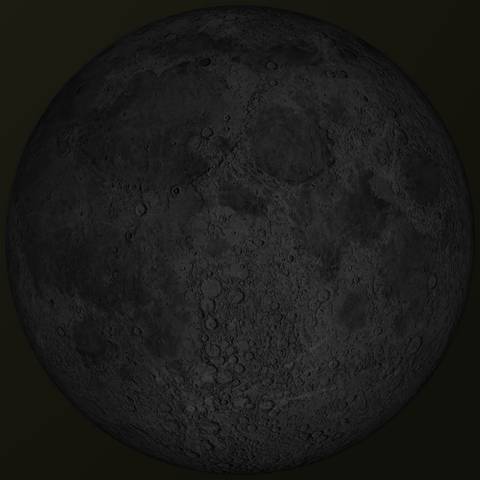 We also have four planets in Aries (new inspired beginnings) at this New Moon. They are Venus at 12 degrees Aries (self-love and awareness of others) Mars and Uranus both at 21 degrees Aries (spiritual action and breaking through to the Authentic Self) and Eris at 22 degrees Aries (purposeful action). The latter three could be problematic. Eris is the Goddess of discord and chaos. Uranus is rebellion and chaos. And Mars well he is the god of war. They are opposite (tug of war) Jupiter at 22 degrees Rx in Libra (justice and fairness for all) and square (finding new ways of doing things) Vesta at 20 degrees Rx in Cancer (commitment to your spiritual path) and Pluto at 18 degrees Capricorn (transformation of society). Pluto tears down old structures that do not work to prepare space for the new. This is a Cardinal Grand Cross (breaking out of the BOX). It is an important influence for the next six Moon cycles (again because the Solar Eclipse influences us until August) and Pluto is the Soul Centered ruler of Pisces (the Ageless Wisdom Teachings). Let us all work with our Spiritual Light to be illuminators and dissolve illusion. For the planets in Aries our Animal Totems are Falcon, clear vision, and Red Tailed Hawk, spiritual messages. For Jupiter in Libra we are working with Crow, justice and fairness, and Raven, the Mysteries. For Vesta in Cancer our guide is Flicker Woodpecker, healing love, and for Pluto in Capricorn Snow Goose guides us, following your Soul Purpose Vision.
For this Pisces New Moon Eclipse the Clan Mother is Weighs The Truth. She is the keeper of equality and Guardian of Justice for all. She teaches us to find healing solutions to issues of integrity and how to accept the truth (The 13 Original Clan Mothers by Jamie Sams). Her guidance is definitely needed in the world at this timing. She will join the other Clan Mothers as a guide for the next six Moon cycles.
Pisces is active on the Tarot Constellation of The Hermit, introspection and personal integrity. Virgo is also found here and the Earth is in Virgo (as well as the North Node0 at this Pisces New Moon. As we mentioned earlier Pisces theme is healing, forgiveness, completion, and release. Virgo is the Rainbow Bridge of Healing into Wholeness. In the Tarot the Hermit holds a lantern to light the path ahead but is looking back at the past. At this Solar Eclipse make a commitment to healing and releasing what no longer enhances your life so you can embrace the inspired new beginnings the Aries planets promise.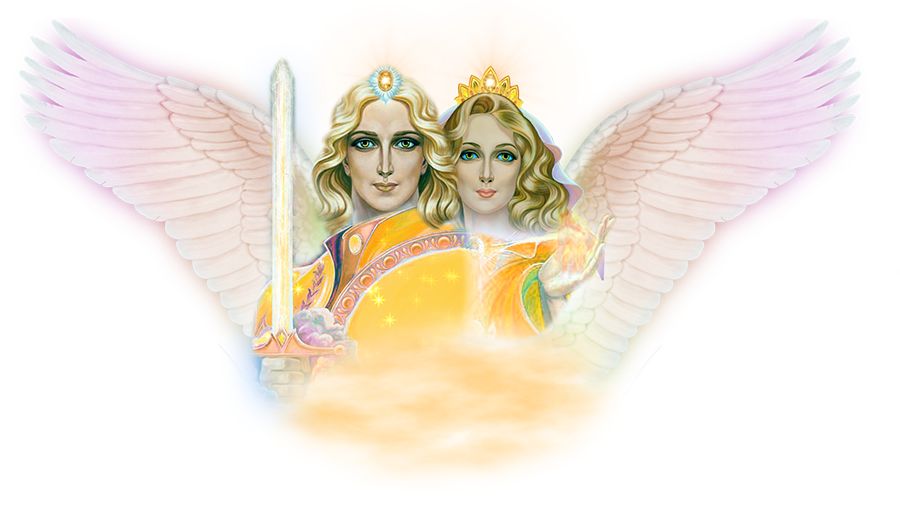 Pisces and Virgo are 6th Ray signs. It is the Ray of Idealism and Devotion. I have always said it is a difficult Ray to master as idealism can easily become dogmatism and prejudice. That too is prevalent in the world right now. Sun/Moon in Pisces ask us to see the Oneness of All and embrace unity. Our Archangel guides are Uriel, peace and Love, and Aurora Grace, harmony and balance. These are also 2nd Ray signs. It is the Ray of Divine Love and Wisdom with Archangels Jophiel, creative power and Divine Vision, and Constance Christine, illumination and enlightenment. They Embody the Light of Divine Wisdom.
May your path be illuminated by Divine Guidance now and always.
Blessings Dale
---
Dale Osadchuk is an Artist, Spiritual Astrologer, and Transformational Counsellor and is available for consultations in Sharon (just north of Newmarket) Ontario, Canada in person or by telephone.
You are welcome to share this Moon information with others. Please send it in its entirety with Dale's contact information. Thank you.
© 2017 Dale Osadchuk
Reprinted with permission.
CrystalWind.ca is free to access and use.
"Would you consider a small gift of $11.11 ?" :)
ॐ Namasté - Blessings!

© 2008-2018 crystalwind.ca. All rights reserved.
Archive: Astrology by Dale