Category: Astrology by Dale Views: 1514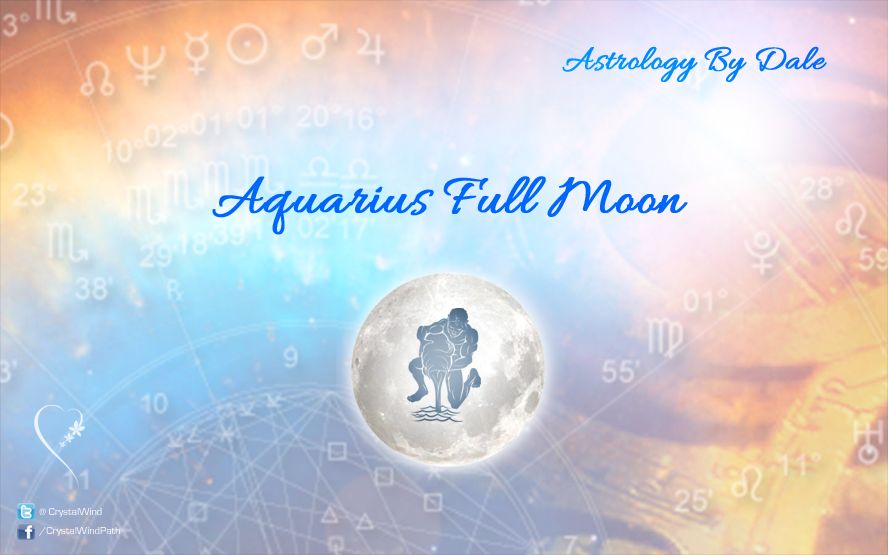 Dale Osadchuk
2018 Aquarius Full Moon and Total Lunar Eclipse
27 July 2018 at 1.20 pm PDT- 4.20 pm EDT- 9.20 pm BST (summer time GMT)
4.20 am AWST Perth Australia- 6.20 am AEST Sydney, NSW, Australia
The evening before this Full Moon the sisters, Snowy Owl and Shooting Star, went to visit the Shaman's cave. They felt there was something very special about this Lunation and knew the Wise One would be able to tell them what that was. As they sat and listened the Shaman shared his wisdom. "This is the Full Red Moon. Sister Moon will enter Earth's shadow and all the sunrises and sunsets around the Earth will colour Luna's full face deep red. She will also have a travelling companion who has great power. This Lunation is a time for letting the old go and preparing to walk your Earth Path with a new consciousness and understanding all that Great Mystery has created is sacred and must be honored in that manner". The Shaman paused for a moment and then continued "You will not be able to see the Red Moon as it is happening in your daytime. But in the early morning tomorrow when you go to the Star Temple your guide Little Owl will be waiting for you. He will lead you to a sacred place where you will be immersed in the energy of Sister Moon".
Snowy Owl and Shooting Star awoke early on the day of the Full Moon. They climbed the path to the Star Temple as Grandfather Sun was rising in the east. The morning sky was filled with streaks of pink and scarlet. The sisters were excited about the journey ahead. As the Shaman had said Little Owl was waiting for them as they reached the Temple. He was Snowy Owl's special Totem guide who always led them to the places where they could see Sister Moon in a dark sky. As soon as they retrieved their feather capes from the Standing One who guarded them Little Owl was flapping his wings to take flight. He led them through time and space across lakes and forests to the great ocean that lay to the east. As the trio crossed the ocean Grandfather Sun was starting to set in the west. When they reached their destination they landed on a very tall mountain with a clear view of the darkened eastern sky.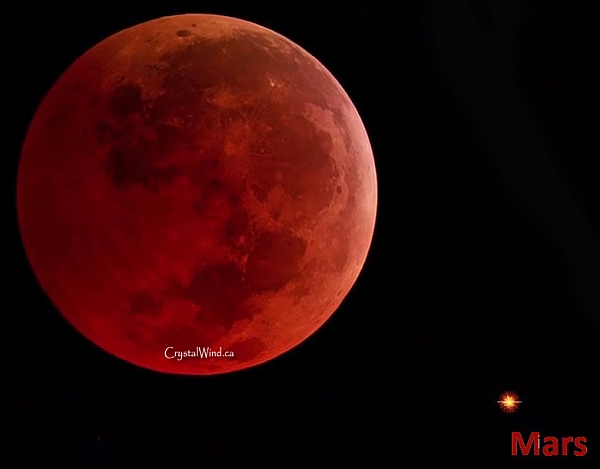 And there she was. Sister Moon's left edge was already showing a reddish glow as she entered the shadow of the Earth. The feeling evoked was mystical and very spiritual. As she rose higher she became a deeper red. Then a bright red Star appeared below her. It was at this point Luna began to share her message. "I have many companions joining with me in this Mystical Moon dance. The one you see so clearly is Red Warrior Star. In the far away time he is bigger and brighter than he has been for many years because he is very close to the Earth Mother. At this Lunation his message to all two leggeds is to channel life force energy from anger into healing love. Together he and I and the other planetary dancers are reminding you that all beings are of Cosmic Divine origins and emissaries of Divine Healing Love. This Full Red Moon time is asking all to release the ego's need for conflict and false power and to embrace the spiritual gifts their Soul carries and share those with the world. It is time to release old wounds that keep you in fear and then step into your Cosmic Purpose. This Full Moon is about endings that lead to new beginnings. Those new beginnings start at the next New Moon. It is time for all two leggeds to discover their Heart Path and live it. Red Warrior Star is beginning a new cycle as Cosmic Visionary. He will guide your Path".
Snow Owl and Shooting Star sat mesmerised as Sister Moon remained deep red for what seemed a long time. When Luna moved out of Earth's shadow and turned silver again Red Warrior Star was still travelling with her. He was reminding us we are all Spiritual Warriors and Beings of Cosmic Origins. We are emissaries of Universal Love.
How I wish I had a magic feather cape so I could fly with Snowy Owl, Shooting Star, and Little Owl to that place to experience the Mystical Red Moon. But the sign of Aquarius is connected with the Third Eye and seeing into the unseen so I can visualize this Red Moon with my inner sight. This Eclipse is not visible in North America but is visible in parts of South America, Europe, Africa, Asia, and Australia. Totality is 1 hour and 43 minutes. It is the longest Lunar Eclipse of this Century. But if you cannot experience it in person then I suggest you sit in quiet mediation and ask what the personal message is for you. The Moon and Mars will answer.
Full Moons are the time of blossoming. But they also ask us to acknowledge what we are ready to release and let that go before the next New Moon. This Full Moon Eclipse is the culmination of the last six months. It has been about healing our hearts. It has also been about the courage to be our authentic selves and finding our Heart Path. The Leo New Moon Eclipse on Aug 11 continues that theme and influences us until January of 2019. Of course being heart centered with Loving Kindness for all is a lifetime path.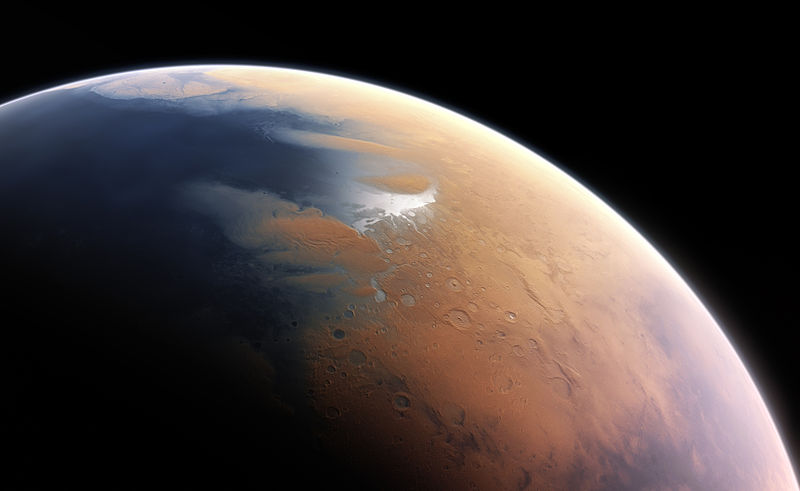 This morning at 1.13 am EDT Mars retrograde at 04 degrees Aquarius was opposite the Sun and began a new Shamanic journey as Cosmic Visionary and Wayshower to free our spirits. That is his theme and takes us to Oct 2020. At the time of the Full Moon Luna is at 04 degrees Aquarius merging with Mars Rx (cosmic action) the astrological Earth (spiritual groundedness) and the South Node which is at 05 degrees Aquarius (releasing the past by letting go with love). The Sun at 04 degrees Leo is travelling with the North Node at 05 degrees Leo (new directions guided by your heart's intuitive knowing). Chiron, the healer and problem solver, at 02 degrees Aries plays an important part in this dance. He is retrograde asking us to look within and choose to heal our spirits. He is trine (ease and flow) the Leo Sun/North Node and sextile (easy opportunities) the Aquarius cluster. It means whatever support you need in your healing journey the Universe is there to guide you on your path.
The Moon/Earth/Mars/South Node in Aquarius have two planetary rulers. The traditional is Saturn currently Rx at 03 degrees Capricorn. He is square (motivation for change) Chiron in Aries. It is about choosing to "break out of the box" of limitation and restriction (Saturn) and free your spirit to be your true self (Chiron in Aries). The modern ruler of Aquarius is the planet Uranus currently at 02 degrees Taurus. He is in a T Square with the Full Moon. This aspect can make us feel backed into a corner. But Uranus is the breakthrough planet. In Taurus he asks us to focus on what is of true value and importance in our lives and release what is not. Uranus (breaking free) and Saturn (building a strong spiritual foundation) are working in harmony giving us the support to break out of whatever box we are stuck in. All we have to do is choose a new way of being. And just a reminder Mercury (our thoughts and perceptions) is retrograde so this is time for inner work. "Change your thoughts, Change your life" (Wayne Dyer)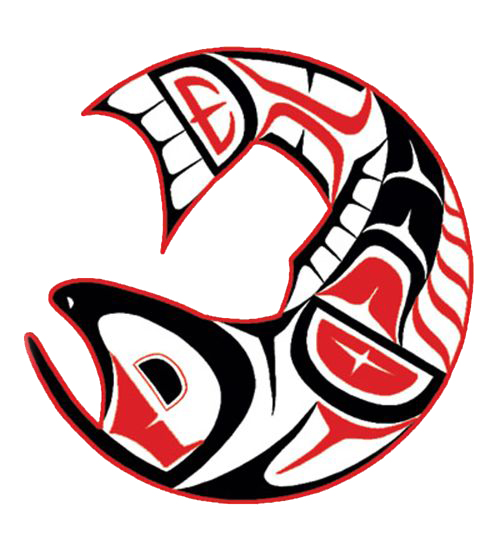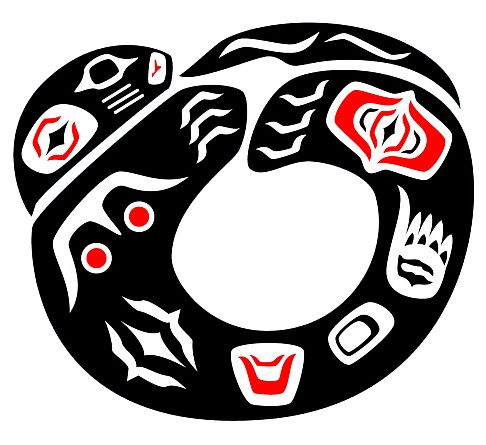 There are many other components to this powerful Full Moon but this post would end up being much too long so I have focused on the main influences. I do always like to share our Animal Totem guides and the Clan Mothers. For Aquarius the Animal Totem is Otter, companionship, sharing, and going with the flow. For Leo our guide is Salmon, courage, determination, and heart healing. (They are reversed for the Southern Hemisphere). For all of us the Clan Mother for Aquarius is Wisdom Keeper. She is the mother of friendship and planetary unity. She teaches us to honor the truth. For Leo the Clan Mother is She Who Heals. She is the guardian of the healing arts and teaches us to serve the truth. Their stories are found in "13 Original Clan Mothers" by Jamie Sams.
Our world is definitely in distress at this timing. The way we can help is to be centered in the compassionate heart and express Loving Kindness for all.
Namaste and blessings,
Dale
To contact Dale you can e-mail her at
Dale is available for astrological consultations. To contact her you can e-mail her at or via telephone at 905-589-0192. You can also find Dale's articles on www.facebook.com and www.crystalwind.ca
Copyright Dale Osadchuk 2018.
Reprinted with persmission from Dale Osadchuck on crystalwind.ca. All rights reserved.
CrystalWind.ca is free to access and use.
"Would you consider a small gift of $11.11 ?" :)
ॐ Namasté - Blessings!

© 2008-2019 crystalwind.ca. All rights reserved.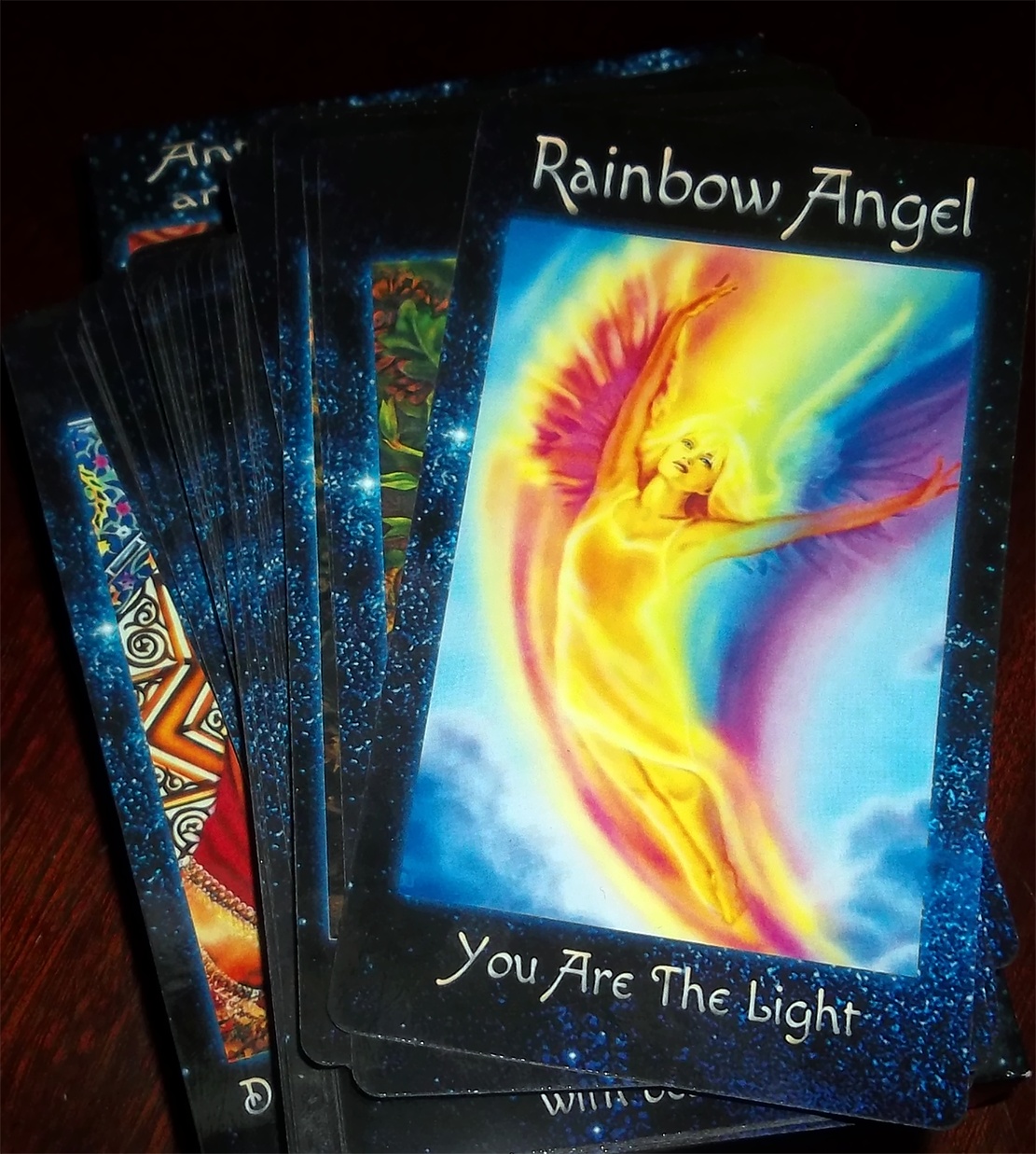 The Crystal Wind Oracle
Myth & Magic Card Deck!
Details Here!
NEW Expanded
Printed & Boxed!
Now with 58 cards!
Archive: Astrology by Dale