Category: Astrology by Dale Hits: 1789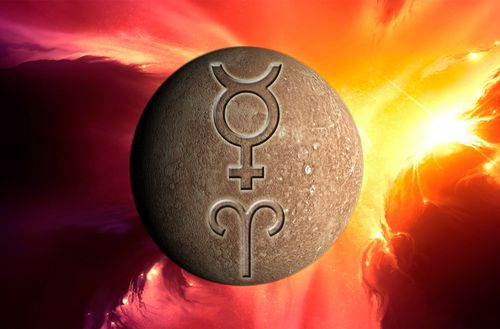 Dale Osadchuk
Mercury visits Aries- March 13- 5.07 pm EDT-
The winged messenger is going to take us on quite the journey for the next 9+ weeks. As he enters Aries we may feel the pull to initiate new beginnings. BUT the planet of our thoughts and perceptions is going on one of his retrograde journeys Apr 09 to May 03. That is the time for review, reassessment, evaluation, and finally realignment. So even if your mind is reaching for new inspired beginnings those beginnings will probably be redefined over the next few weeks.
On March 27 Mercury will reach 24 degrees Aries and enters his retrograde shadow. (That is also the day of the Aries New Moon, inspired new beginnings). He does not leave that shadow period until May 20. I have found over the last few years the Mercury shadow period is very influential. Just to explain the shadow period begins at the degree Mercury eventually moves direct (May 03 at 24 degrees Aries) and leaves the shadow at the degree he turned retrograde (April 09 at 04 degrees Taurus). He reaches that degree on May 20. Here are the significant dates for this Mercury Rx journey and other important activations.
Mar 13- Mercury enters Aries- 5.07 pm EDT- Explore creative new ideas that inspire you. Write out those ideas and see how they look after Mercury moves forward May 03 and when he clears his retrograde shadow May 20 take action.
Mar 18- Mercury meets with Venus Rx at 09 degrees Aries Mar 18- 8.27 am EDT- Explore new ways of communicating and being in relationship. Remember Venus is retrograde until April 15. Again write out what you want to experience in new ways in all your relating.
Mar 20- Sun enters Aries at 6.29 am EDT. Spring/Autumn Equinox. Focus on balance within and without.
Mar 25- Venus Rx and the Sun meet at 6.17 am EDT at 04 degrees Aries. Venus begins her Morning Star journey as spiritual warrior. In Aries it is about discovering our Authentic Self.
Mar 27- Mercury enters his retrograde shadow. Think before you speak.
Mar 31- Mercury enters Taurus at 1.31 pm. Focus on what you value and what is really important.
Apr 09- Mercury turns retrograde at 04 degrees Taurus at 7.14 pm EDT. Prepare over the next 3+ weeks to release what is no longer enhancing your life. In other words clear, clear, clear mentally, physically, emotionally, and spiritually.
Apr 20- Mercury Rx re-enters Aries at 29 degrees at 1.37 pm EDT- Review, re-evaluate, and re-define the new ideas that came to you March 13. Keep what still inspires you. Release what does not.
May 03- Mercury moves Direct at 24 degrees Aries at 12.33 pm EDT. Release anything that prevents you from feeling empowered in your life.
May 16- Mercury re-enters Taurus at 12.07 am EDT. Love and value yourself.
May 20- Mercury at 04 degrees Taurus clears his retrograde shadow. Time for action on those inspired ideas that are still valid.
When Mercury is in Aries our Animal Totem guides are Falcon, clear vision, and Red Tailed Hawk, spiritual messages. While Mercury is Rx in Aries (April 20 to May 16) pay attention to the spiritual messages coming your way. The Archangels who guides us while Mercury is in Aries are Michael, protection and spiritual destiny guide, and Faith, trust and belief in self and Divine Guidance. The Clan Mother is Looks Far Woman. She teaches us How to See the Truth. Mercury is in his Soul Centered Home in Aries. He guides us to live with authenticity.
While Mercury visits Taurus our Animal Totem guide is Beaver, clearing the old and building the new. Let Beaver help you to clear the clutter and release what you have been resisting letting go of. The Archangels for Taurus are Gabriel, transformation and resurrection, and Hope, optimism and renewal. The Clan Mother is Listening Woman. She teaches us to go within and Hear the Truth. (The 13 Original Clan Mothers by Jamie Sams). The planet who guides Mercury in Taurus is Venus currently retrograde until Apr 15. She is in Aries/Pisces and supports us to discover our true self (Aries) and our Soul Essence (Pisces).
It is important to remember when Mercury is in his shadow and when he is retrograde the focus is on communication. During the retrograde traffic accidents increase. So it is important to be consciously aware of your surroundings and not just while driving. Mercury Rx is The Trickster. A friend of mine used to call him "that naughty little fellow".
Hope your Mercury journey goes as smoothly as possible. The key is to let go of trying to control and flow with whatever is happening.
Blessings Dale
Dale is available for astrological consultations. To contact her you can e-mail her at

or via telephone at 905-589-0192. You can also find Dale's articles on www.facebook.com www.crystalwind.ca
Copyright Dale Osadchuk 2016. You are welcome to share this Moon information with others. Please send it in its entirety with Dale's contact information. Thank you.
If anyone no longer wishes to receive the Astrological posts contact

and I will unsubscribe you from the Moon list.
Reprinted with permission.
CrystalWind.ca is free to access and use.
"Would you consider a small gift of $11.11 ?" :)
ॐ Namasté - Blessings!

© 2008-2018 crystalwind.ca. All rights reserved.
Archive: Astrology by Dale