Category: Astrology by Dale Hits: 797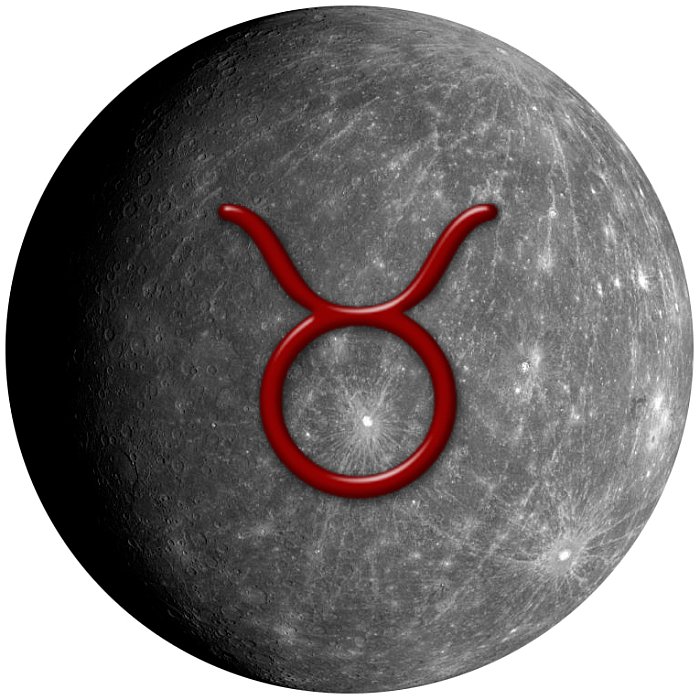 Dale Osadchuk
Mercury enters Taurus - 31 March 2017 at 1.31 pm EDT
Usually Mercury spends about two and a half weeks in a sign when he is traveling at full speed. But when he is ready to retrograde he begins to slow down in his orbit and stays longer in the signs of his backward journey. Mercury will advance to 04 degrees Taurus in the next 9 days and then "stop" his forward motion and from our perspective from Earth appear to turn backward and retrace the path he has just completed. He will be traveling backward Apr 09 to May 03. So we have the opportunity to review, re-evaluate, and readjust our perceptions regarding the theme Mercury's retrograde is activating. Just remember Mercury retrograde is called the "Trickster". The mind can create "tricky" situations for us to grow into our spiritual power.
He entered his retrograde shadow on Mar 27 (24 degrees Aries) and will remain in the shadow until May 20 (04 degrees Taurus). I have found over the last few years that the shadow period is very influential and creates challenges for the whole period of time. Mercury rules our thoughts, perceptions, and ideas, as well as communication, short distant travel, transportation and trade, our local neighbourhood, and our interactions with siblings. All these areas are affected when Mercury is retrograde and in his shadow. The rule is do not start anything new. It is okay to work on projects started before the shadow period just make sure "you read the fine print" especially when it comes to signing documents. And we always remind people to be very aware and conscious while driving during this time. Watch for "road rage" incidents especially when Mercury is Rx during his time in Aries. Conscious awareness is something we need to practice all the time anyway it just becomes more emphasized during Mercury's backward journey.
Mercury first entered Aries on March 13/14 (depending on your time zone). Today still moving forward he enters Taurus (March 31 or April 01 depending on your time zone). While in Aries we have felt inspired to make changes in our lives. To follow inspired new beginnings. Even wanting to "leap before looking". But the time is not right yet to take action. As we mentioned earlier the planet of the mind goes retrograde April 09 at 04 degrees Taurus (we will talk about the Taurus theme shortly). Then Mercury will retrograde back into Aries April 20, moves direct May 03 at 24 degrees Aries, and re-enters Taurus on May 16. He clears his retrograde shadow on May 20. During his retrograde in Aries it is time to review and reassess the changes you have wanted to make since mid-March. Are they still valid? Will they enhance your life? Are you just changing an outer circumstance without transforming within? If the answer to the latter question is yes then nothing will ever really change.
The planetary guides while Mercury visits Aries are Mars in Taurus (thoughtful action) and since he is the Soul Centered ruler of Aries, Mercury. He supports us to discover and be our Authentic Selves. Mars will enter Gemini on April 21 for the rest of the Mercury retrograde. Mars in Gemini is about writing "our new story". The Animal Totem guides for Aries are Falcon, clear vision, and Red Tailed Hawk, spiritual messenger (Northern Hemisphere) and Crow, fairness for all, and Raven, entering The Mysteries (Southern Hemisphere). They are working together for this journey so you can chose one or all as your guides. So interesting! I just took a break to let puppy Prince out into the backyard. A Red Tailed Hawk was circling above. A reminder to pay attention to spiritual messages coming our way. This was the first Hawk I have seen this Spring. Thank you Great Mystery for the confirmation. Red Tailed Hawk is one of my Animal Totems.
In Taurus the Mercury theme is focusing on what is of true value and importance, issues of self-worth, and issues of feeling disempowered in our lives. But Taurus is also about allowing abundance to flow into our lives. Mercury Rx wants to help us to get to our core feelings and identify what keeps us stuck in issues of security that we "think" will save us so we will find the true prosperity that is our birth right. He is asking us to "clean out our closets" physically, mentally, and emotionally. While he visits Taurus there are two planetary influences. They are Venus retrograde (March 04 to April 15) in Aries/Pisces (feelings of separation and disconnection) and Vulcan in Aries (our hidden wounds regarding rejection and abandonment). Our Animal Totem guides for Taurus are Beaver, clearing out the old to make space for the new (Northern Hemisphere) and Snake, shedding the old and experiencing re-birth (Southern Hemisphere). Wherever you live if you call on them they will respond and share their Medicine with you.
The Clan Mothers for this Mercury journey are Looks Far Woman (Aries) who teaches us to see the Truth and Listening Woman (Taurus) who teaches us to hear the Truth. More of their stories can be found in The 13 Original Clan Mothers and Earth Medicine both by Jamie Sams.
Here is the list of important dates for this Mercury Journey. All times are Eastern Daylight 75 west longitude.
March 13- 5.07 pm Mercury entered Aries
March 27- Mercury enters retrograde shadow at 24 degrees Aries
March 31- 1.31 pm Mercury enters Taurus
April 09- 7.14 pm Mercury turns retrograde at 04 degrees Taurus
April 20- 1.37 pm Mercury Rx re-enters Aries
May 03- 12.33 pm Mercury moves direct at 24 degrees Aries
May 16- 12.07 am Mercury Direct re-enters Taurus
May 20- Mercury at 04 degrees Taurus leaves his retrograde shadow
June 06- 6.15 pm Mercury leaves Taurus and enters Gemini
I leave you with this quote from Wayne Dyer "change your thoughts, change your life". I would like to add "change how you feel and your life will change".
Blessings Dale
Dale is available for astrological consultations. To contact her you can e-mail her at

or via telephone at 905-589-0192. You can also find Dale's articles on www.facebook.com www.crystalwind.ca
Reprinted with permission.
CrystalWind.ca is free to access and use.
"Would you consider a small gift of $11.11 ?" :)
ॐ Namasté - Blessings!

© 2008-2018 crystalwind.ca. All rights reserved.
Archive: Astrology by Dale