Category: Channelings and Spirit Messages Written by Angels and Light Therapies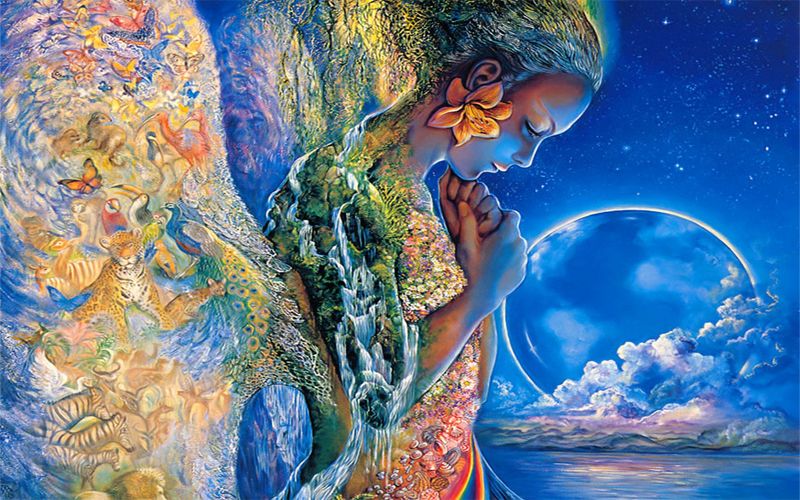 Dear brothers! I AM GAIA!
It's nice to have a little voice, it's nice to be able to put all my feeling, all my energy, into a little message. We have lived side by side for millions and millions of years. I, the human race, the animals, all the product of my flesh, everything always with a single purpose, to be the divine consciousness for the inhabitants of this planet. There could be no animals and humans without food; so from my bowels I give the food, I sustain the life in each one of you. My energy rises through each body keeping it alive and attached to me.
We are one. I am not separate from you and neither are you separate from me. We live together in the same purpose: life, survival, evolution. Staying here repeating, as if I were always complaining about what was done to me, doesn't change anything; it only brings pain, regret, sadness and judgment to your heart. We (you and I) have a single goal now: ascension. My physical part is already being modified, points of my body are already in high vibration. Thus, it is possible to say that they are already in the Fifth Dimension. And as time goes by, as your consciousness has widened, some points of you will no longer see. Because as long as you are here in this dimension, that geographic point, you are already vibrating in higher dimensions.
It is as if the planet is being divided into points, where some will ascend, others will not. Where there is human presence, very little will ascend, because your houses, your dwellings, do not vibrate towards the Fifth Dimension. They are made with materials that will no longer be used. So your new homes will be very different from what you have today. Then the big cities, their metropolises, their small towns, nothing will rise.
It is important that at a time like this, there is detachment. Do not rebel, this feeling cannot be amplified in your heart. The feeling now is of a "New World", and in a "New World", everything that does not correspond to that world cannot go there. You have a lot of attachment to material goods, but if you analyze coldly, what is yours effectively? You have possession while you are alive, nothing is eternal, nothing is carried by the soul; except your actions, your thoughts, your feelings; this is carried forward.
You will ascend in the physical body but you will take nothing. Some things will need to be transmuted so that you can have minimal survival, but the vast majority will not. How do you know what will and won't? It's easy, everything that has elements that don't come from nature won't. So it's very simple and very easy for you to be aware of what you're going to have in the Fifth Dimension.
All my surface where there are plants, animals, will be ascended. Some animals are already in the Fifth Dimension; they died out here and were reborn there and are dwelling with a huge heart awaiting you. Many points are already in the Fifth Dimension. What is the big role of each of you right now at this time? Think of this: a glass of water. If you spill this cup, that water will never go back into the cup; no matter how hard you try to recover the water that has turned over, it will never go back completely into the cup, something will be lost.
So everything that has been done has already been done; there is no way to undo what has been done, there is no way to repent for what has been done. So the time now is to reverse the thinking; it's not crying for me, it's not suffering for me. The big thought now is to do it for me. And I would like to add, that by doing it for me, you are also doing it for yourself. Because if you clean my rivers, you will have clean drinking water, anywhere on the planet, without needing elements to clean it; without having to contaminate the water with chemical elements, so that you can drink it.
If you clean my oceans you will have healthy animals living there, you will not see animals eating substances that are not from the planet. No, I'm not thinking about feeding them, you won't be using animals to feed anymore. I'm just thinking about keeping those animals that now die contaminated, with the garbage you throw into the oceans, the birds that eat all that dirt. So this is what you have to think about. This is how you begin to change everything around you.
It's a big cleansing of the planet; cleaning of all kinds. It is everyone's awareness of what they throw in the trash, it is everyone's awareness of what they are doing to improve, the dirt that is being generated. Right now, you won't be able to change macro things, big things, but there will come a time when everything will be created. New ideas are appearing and they will grow and become planetary, they will become used by everyone on the planet.
So let's forget what was done, let's forget everything you did bad to me. I already forgot. If I hadn't, I wouldn't allow any of you to ascend with me into the Fifth Dimension. I would simply extinguish them from my surface and start a new race. But I don't vibrate like that. I vibrate love, and you are my children, you are my brothers, you are my companions on the journey. So I do want all of you to use my new house in the Fifth Dimension. And for you to get there, you need to have Fifth Dimensional awareness.
What to do? Is not difficult. You need to look for good ideas. There are already many on the planet, but they are ideas that do not spread, because few people have access to them. So look for good ideas, foster good ideas. This is how you will change the Whole. Don't do actions just for the fact: "I'll do it to help." I'm not saying your one action won't help; yes, of course, but the moment is now for speed, for joint action.
So it's looking for good ideas, it's looking for good projects and you join them. This is how things grow. Each one doing their part, it's important, it's necessary; but when a group takes an attitude, an action, things gain strength and effectively begin to appear. This is a moment of unity, it is for you to work together on a single objective: Clean up the planet. Cleanse the planet from the dirt that you yourself put in, make the right destination for that dirt.
It's no use making a union, cleaning a beach and leaving the trash there at the end. The action was done, all right, but what about the end? And the fate of all that garbage? So understand, that you have to do integrated actions, not actions that will just soothe the guilt of each one of you. Actions have to be integrated, with a beginning, a middle and an end. The final treatment of everything that was collected is what is the big problem, and it is what you have to give the solution. Is easy? No, it's not. Getting dirty is very easy, now cleaning is not easy.
So look for actions that already exist on the planet, so that you can integrate and increase these actions more and more. Don't waste time starting from scratch, because these actions that are already underway have already gone through this. One day they started and already solved all the logistical problems necessary for a correct and complete action. Unite! The moment is not individual, the moment is in a group, it is for the Whole. Do group actions, but do it with awareness, do it with intelligence. Join those who already know what to do. I insist on it.
Don't just do it to soothe your feelings of guilt. The action has to be effective, with a beginning, a middle and an end; with correct forwarding of the result you did. Think about it, this is the time. It is time for you to take to the Fifth Dimension, more and more areas. Dirty, contaminated areas will not go into the Fifth Dimension. Those who today respect my soil, love my soil and produce with respect to my land, will have double everything in the Fifth Dimension. Now those who don't respect me, those who just deforest me for financial interests, will have nothing in the Fifth Dimension.
Understand, the process that is being done. What will go in these places? You will see when you get there. One thing is quite certain: if today the planet has more water than Earth, that is exactly what you will have in the Fifth Dimension. However, many areas that are underwater today will surface to make up for the areas that will not. So realize that the change will be big; and it's up to each one of you to play your role, thinking of the Whole, thinking of the Fifth Dimensional consciousness, which you have to learn to have from now on.
Translation by Google.
Image Josphine Wall
Angels and Light Therapies
Vania Rodrigues
Source
© 2021 crystalwind.ca. All rights reserved.
---
CrystalWind.ca is free to access and use.
Please support us with a small gift of $11.11 or $22.22 or $33.33.
Spirit Animal Totem Of The Day!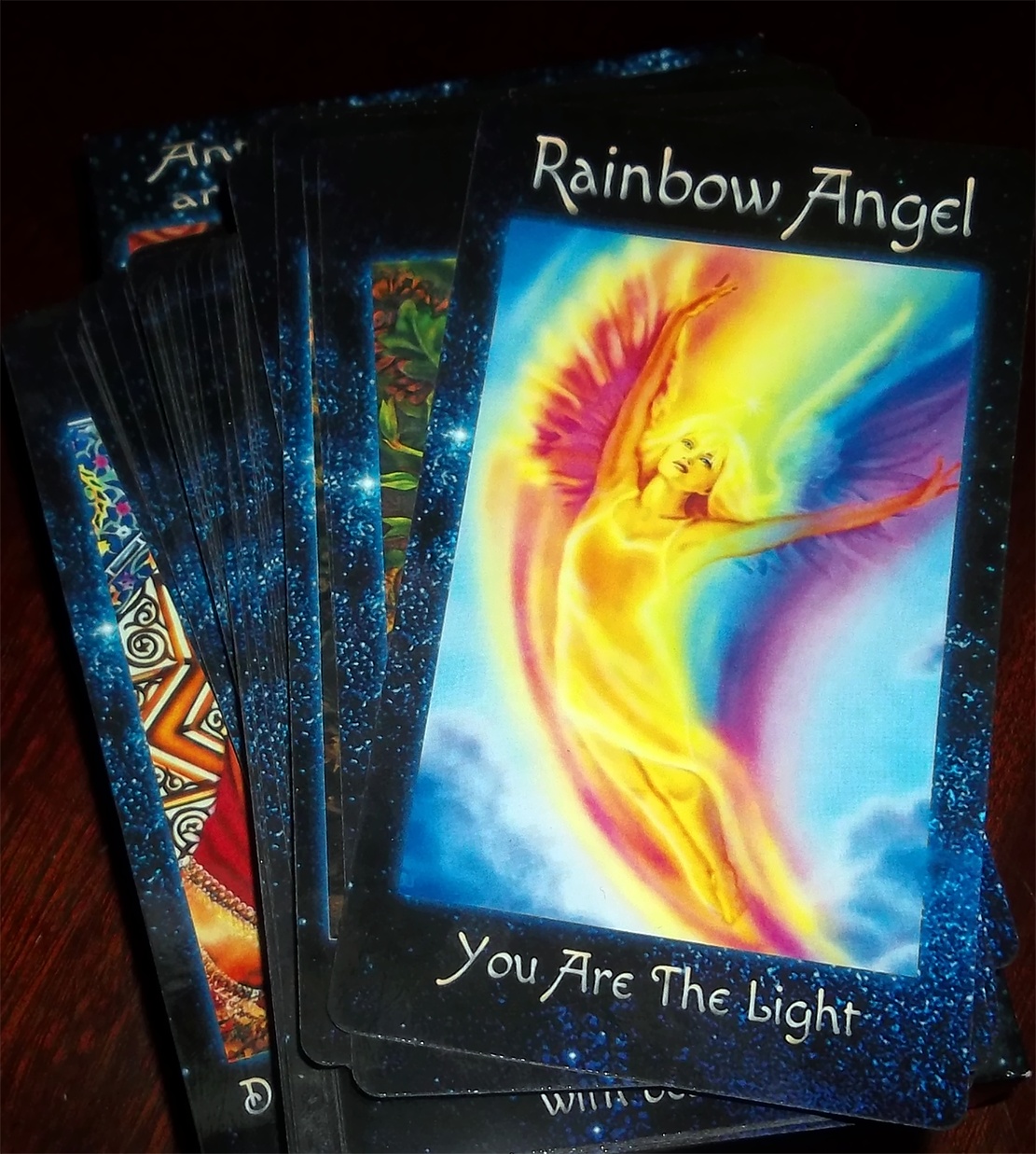 The Crystal Wind Oracle
Myth & Magic Card Deck!
Details Here!
NEW Expanded
Printed & Boxed!
Now with 58 cards!
Lightworkers Will Change the World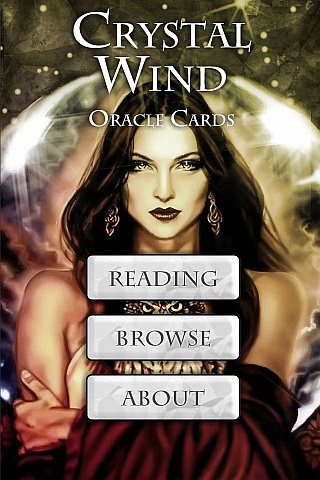 Cut Through The Illusions!
Who is Online Now
We have 1226 guests and no members online