Category: Channelings and Spirit Messages Hits: 1041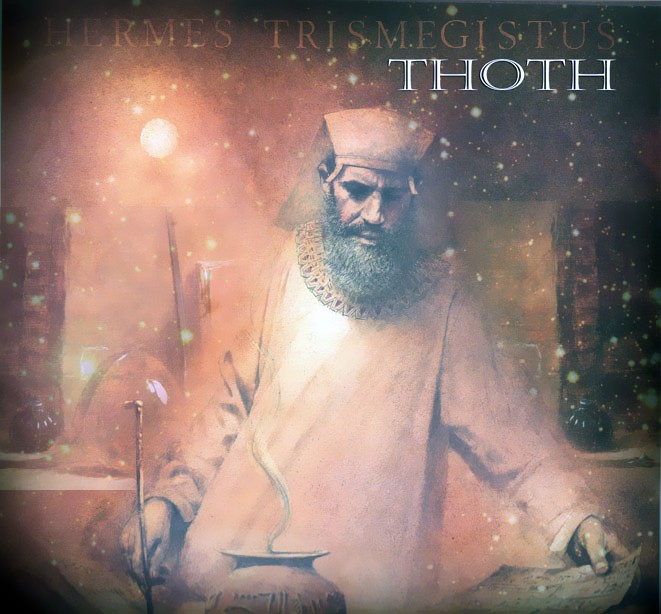 Rev. Christine Meleriessee Hayden transmits a message from Master Thoth on the Universal Law of Gender
The pathway of being an Initiate towards Ascended Mastery can cause an individual to question who they are in any given moment. It is a doorway that many choose not to walk into while inhabited in the physical realm, but yet it is the most rewarding challenge that any person on the planet can reward themselves to attain.

The reason being is that the beauty of descending the Higher Self into the physical dimension requires great diligence and continued support of a group of individuals that have walked the pathway beforehand. This is easier said than done as it requires the ability to have faith that there are other worlds beyond the physical that are just as important. It is a doorway of opportunity to connect with the souls that have walked the pathway before you, but yet it requires all senses to be in one's reality – the sense of knowingness, the sense of sight, and the sense of feeling that goes way beyond the capacity of the mental mind.

All that a soul learns within the physical body cannot relate to the metaphysical elements that occur within the higher consciousness. When an individual awakens to these aspects that can occur within themselves then a period of questioning results between the physical mind of logic and the feeling level of sensitivity.

In many cases an individual is gifted and is able to know both worlds of knowingness through the psychic mind and the physical mind. In those cases it can often be a juggling act between the two worlds ~ what is real, the unseen or the seen. It can be quite a contradiction.

It is the same when a person decides to work through their internal issues of the sub-conscious mind to realize that the attributes that they have attained can be directed through the Masculine Self (of the Mind) or the Feminine Self (of the Intuition). Again, the same kind of juggling act occurs as the planet has been focused upon the mental attributes of the Masculine energies. It has been ruled by aggression, control tactics, being strict in all actions and even feelings.

It has taken many years for souls to realize that this way of living and being is not the True Self. It does not represent the free will of each individual.

Presently, the earth is at a new juncture of time in which souls are awakening to the concepts of the Universal Laws and taking into account on a personal level how they work within their lives. Eventually, the earth will gain the appropriate knowledge that the way to correct living is within balance of the self, and not one sided or the other.

Let's take into account how women were suppressed for quite some time in many societies and even today some areas of the world live by these standards. That is not the free will of each soul, but the will of the masculine energy being in control.

As we look upon the Laws of the Universe, everything has its purpose in creation. If you look at each of the laws and how they affect humanity, you will see a process of order that occurs. Each of the laws represent a step into the next law: Divine Oneness, Vibration, Action, Correspondence, Cause and Effect, Compensation, Attraction, Perpetual Transmutation of Energies, Relativity, Polarity, Rhythm, and then Gender.

This process of the laws come to the last step of the evolution of spirit unto matter and that is Gender.

"This Universal Law states that everything has its masculine (Yang) and feminine (Yin) principles, and that these are the basis for all creation. The spiritual initiate must balance the masculine and feminine energies within themselves to become a Master and true co-creator with God."

As we look at the components of the Yang and the Yin, we see that it represents right action in the flow of life. When a person is too Yang, then there is a loss of Yin within their consciousness and way of life. Additionally, when the Yin is the controlling energy, then there is a loss of Yang energy.

As a species, you must come into balance and this must happen within each soul's essence.

We have to remember that the Masculine Self creates all the ideas; but what happens if the Feminine is not part of the Initiative of that idea?

It will come across as too harsh, too controlling, and not within the standards of the ebb and flow which is what the Feminine Aspect teaches us.

The opposite is true when the Feminine is too much in control. It can cause emotions to be overloaded and out of balance, indecisiveness can result, and sometimes depression or fear will be the controlling elements within that person.

The Universal Law of Gender teaches you to put all that has been lost into balance by allowing those aspects of each gender to work with each other. It is the only way that an initiate can fully understand what they are experiencing either from the perspective of their mental mind or heart essence.

It is the stepping stone for each individual to find balance within their spiritual essence no matter what gender they are physically. As each person understands what they are feeling, and why they are putting the Feminine and Masculine selves into alignment each part is working within one another.

This is the basis of right relationships to occur within the physical world. The reason why so many people have issues with others is that the aspects within themselves are very weak or too strong. All elements must go through a process of creating an equilibrium within the physical self. And the way to achieve this balance is to understand the core issues that they are experiencing.

Specifically, it helps to realize the potential that you have as an initiate to make changes within yourself. Learning the qualities of self-worthiness and self-love are high on the list. Allowing for Compassion, Forgiveness (for yourself and others) is an essential component. Exhibiting qualities of assertiveness instead of being aggressive. This takes great Perseverance but allows for Humility to rule your mind and heart.

All these elements represent standing in the middle of both spectrums – allowing the masculine and the feminine to work together. We have to remember that the masculine self brings forth the ideas but the feminine self is truly the initiator. She is also the intuitive mind and allows for the ideas to flow without getting too involved in the emotional feelings. The masculine self will work within the feminine but you must allow him to understand the process so that he does not take over the process as has occurred for centuries upon this earth.

Masculinity has been the ruling energy of this planet for eons of time. That is now changing. In order for it to assist each of you, every person has a responsibility of stepping into the unknown by allowing both the Yang and the Yin to work cohesively together.

This will create right action for every soul upon the planet. Elements will change, lives will get better, and the quality of life upon this earth will greatly improve.

Step into the Law of Gender and see for yourself the changes you need to make in order to have powerful and loving relationships within your life.

I Am Master Thoth at your Service
©2012-2017 Walking Terra Christa Academy of New Earth Mastery http://walkingterrachrista.com/ by Rev. Christine Meleriessee Hayden and Rev. J. Michael Hayden (Ara). Permission to repost this information electronically on your non-commercial website or blog is granted as long as you include this copyright statement and the following referral links. Use for commercial websites, blogs and printed or written reproduction requires written permission.
CrystalWind.ca is free to access and use.
If you appreciate the information provided,
please

help keep this website running. Blessings!