Category: The Ascended Masters Written by Vania Rodrigues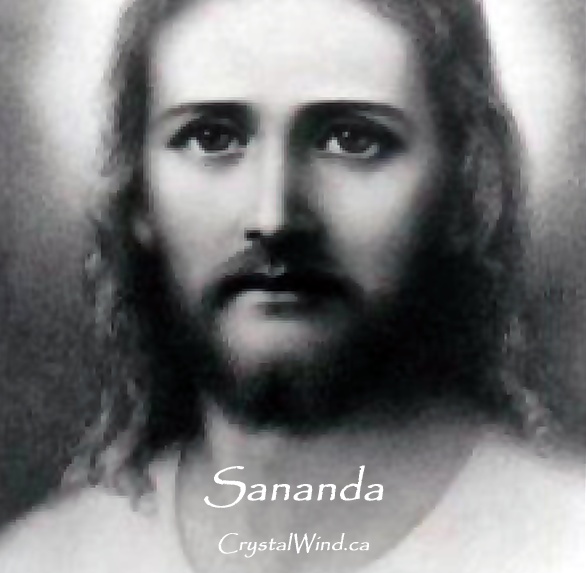 Dear sons and daughters of planet Earth! I AM SANANDA!
It is with great joy and gratitude that I once again come to you to pass on my teachings. I want to remind you of our meeting next Saturday. As I said here: whoever wants to do it, whoever wants to participate. The idea is that you contribute in some way to the neighbor, the planet or something related to animals. Is participation mandatory? No, it's not. It goes from the heart of each one, it goes from the way each one sees the inequality in their world.
I would say that this aspect, in addition to detachment from material goods, is another fundamental and very important point in your journey. There are millennia of beliefs, customs, discriminatory and separatist habits that this generation and the previous ones, live and have lived. It's like this is a disease ingrained in every cell of your body and however much you say, "No, I don't do that. I don't discriminate, I don't separate, I don't repulse!" You lie, you lie to yourself. Because today your society is trying to somehow change this. Minorities today are no longer silent, they have gained a voice and these voices bother you. You would like them to remain silent, so that you don't have to see them, to accept them.
But the time has come when everyone is balanced, the time has come when everyone walks towards equality. So how can there be minorities? If there is a minority, there is no equality. All have to be seen with equal importance. No matter the physical form, no matter the deformities, no matter the colors, no matter the form of love.
Before Father/Mother God you are all equal, you are souls with your Divine Spark. The envelope that covers each soul does not matter to Father/Mother God and therefore does not matter to us either. So much so that each one of us, if we are in a dimension greater than yours, we don't see your bodies, we only see points of light or points of shadow walking on the surface of the planet. Because we have been overcoming discrimination for a long time, we have overcome inequality.
So we don't see physical bodies, we see souls. And even those souls that we can see are practically dark, we don't discriminate or abandon them, we love them all equally. The work that is done with each one, then yes it is different, but the love is the same. There are neither chosen nor privileged. So this is a point that you also need to start addressing within yourself. It's like I said, you make a mistake, you open your mouth, yell: "No, I see everyone the same!" Lie. You still discriminate yes, you still separate yes, you still speak ill yes; even if it is internally, in thought. Outwardly, having someone around you, you cry out, you shout for it, but when you are alone with yourself, you truly are what you are; either I will put it another way, or that they were put to be.
I would like you to think about what your religions preach. Do they preach equality? Do they accept any and all human beings in any way? Don't they separate anyone? Don't they criticize anyone? Do they not form separatist castes, to the point where they practically provoke armies and wars? Think about it. So, this is also a point, which I would say that each of you start doing your "mea culpa". Begin to dominate your own cells because they scream discrimination, they scream separation. You just hear the call, the cry of your cells, because it's been millennia, centuries, years and days that your souls lived exactly that. And we understand that it's not easy all of a sudden, throwing it all away, seeing the world in a different way.
I would say, as I have said in my Letters; racism is not in the minds of those who condemn it, it is in the minds of those who live it. So everyone is wrong. Nobody is poor, nobody is inferior. People are what they stand for. And if people set themselves up as inferior, and they are always attacked, do they emanate that and what do they get back? The attack. So no one has to put themselves as a poor thing, or as an inferior, everyone is on the same level and you need to learn this.
Looking at a beggar in the street and not being disgusted, not being repulsed, is not easy; because habits have made you superior people, because you bathe, because you dress in clean clothes. But you have a bath house, you have clothes to change. And who doesn't? Are you naked? No, he wears the rags he has and he stinks and smells bad, because he doesn't shower, doesn't change clothes. I ask: is it his decision? It's not our place to judge you for entering this life, is it? No, it doesn't, because you don't know the path of that soul. What is not appropriate is for you to judge them, by their smell, by their appearance.
If he takes a good shower, cuts his hair, puts on clean clothes, uses a good hygiene product, he will be as clean and fragrant as you. And then you will no longer discriminate against him, he will cease to be a beggar. Will you leave? Or did you momentarily enable him to be an acceptable human being? And then you turn your back again and he goes back to living in that outfit for a while. Is this how you help these people, donating only once in a while, to ease their guilt, get them off the streets because the streets full of beggars get ugly? And those who don't have a place to live, who live on the street, bother you? Bother. Does anyone else do something to improve these people's lives? Does anyone stop, to find out why they are on the street? Some here will tell me yes; and I will agree that not everyone acts this way.
But more complete action is needed, more emphatic action is needed. It's not just donating food at that moment; is trying to solve that person's problem. This is really helping a brother. Of course, giving food to the hungry is a priority. I would say, I am not going to use the word obligation, but it is a necessary action for each of you: to kill the hunger of those who are hungry. The rest are actions that need to be taken, without judgment. Whoever is simply there because he doesn't want to do anything, wants to live off the charity of others, will you be the ones who will judge him or will he be reaping all that he is planting very soon? Because whatever is done in his favor will not work and he will remain that way.
Understand, many remain on the street because they don't have a choice, because they don't have a way to go. So what do you need to do? I understand you are not going to change the world. Not? But what is the purpose of moving to the Fifth Dimension? It's equality, where everyone will have everything, remember that? So you need to make it possible for them to choose to have everything. Those who choose to remain where they are will remain where they are. Now those who know how to take advantage of the opportunities, may in the future be there with you in the Fifth Dimension. Why? Because there was someone who gave him a hand, there was someone who took him upstairs, there was someone who helped him.
What do you do for others? What do you guys do? They feel disgusted, repulsed and preach: "It's not my problem, it's the government's problem". I tell you no, it's everyone's problem. Because if each one of you, who is in a better condition, as you say, would help a family, help one person to survive, a whole month with work, help him get dressed, have a plate of food on the table, how many people would you take off the streets, how many people would you take out of poverty, how many people would you take out of misery, hunger, how many?? I would say many, because those people who take advantage of this help will definitely help other people. And this process will spread and there will come a time when there will be no one else going hungry.
I don't want you to give alms here. It is not delivering the caught fish; teach each one to catch their own fish. Now, if he doesn't want to, he just wants to eat the fish, it's not his judgment; give him the fish and he's already sealed his walk. You won't be the one to judge him. So this is a point, let's say this is a face of discrimination. There are others that I will talk about shortly. But think about it. What do you do to appease the hunger of those in need? But I say what you do effectively, to appease hunger: Do you only give the fish to appease the guilt or do you somehow teach how to fish? Think about it. This is a very serious matter, and it is glaring and urgent in your world. Think about it.
Translation by Google.
Angels and Light Therapies
Vania Rodrigues
Source
© 2021 crystalwind.ca. All rights reserved.
---
CrystalWind.ca is free to access and use.
Please support us with a small gift of $11.11 or $22.22 or $33.33.
Spirit Animal Totem Of The Day!
Lightworkers Will Change the World
Featured Articles: Ascended Masters
Ascended Master Serapis Bey

Open or Close

Serapis Bey is from the realm of Bey, hence the name, wherein is His dwelling place. He is the great disciplinarian known through the centuries for the action of strict discipline. Real discipline is not stipulation over another which would thwart the innate progress, but instead it is a holding in check the human qualities so that the inner or Real Self can have expression. This is very essential to the attainment of the Ascension which is the culmination of all embodiments.

Who was Serapis Bey

He came as a guardian to Earth's evolutions, and took physical embodiment as many did. It is said that He came from Venus. His inner service is in the Fourth Sphere and He works with the Christ Selves of the unascended life-streams there.

The Ascended Master* Serapis Bey is the Chohan of the Fourth Ray.

Read More

Connecting with The Ascended Masters

Open or Close

Decide the name of the Ascended Master with whom you wish to connect with before going into the Master Chamber.

Please close your eyes and begin taking deep breaths of Archangel Metatron's golden energy when you are relaxed continue by saying this prayer:

Read More

Comte Saint-Germain

Open or Close

Comte Saint-Germain: A Man Beyond His Time

Many average, reasonable men can conceive wisdom only under the boring form of a sermon and think of the sage only in the semblance of a clergyman. For such men prudery, hypocrisy, and the most abject enslavement to ritual habit and prejudice must be the everyday virtues. When therefore it happens that a genuine sage, by way of amusing himself, mystifies his contemporaries, follows a woman, or lightheartedly raises his glass, he is condemned eternally by the army of short-sighted people whose judgment forms posterity.

Read More

The Violet Flame

Open or Close

FOR CENTURIES, alchemists have sought to change base metals into gold. But the transmutation of metals like lead into gold is symbolic of a higher and more noble alchemy -- the alchemy of self-transformation.

SELF-TRANSFORMATION was the goal of the most spiritual of alchemists. They sought a way to change the lead of negative human energy into the gold of divine energy, and some of them achieved this by using the violet flame. But first, let's explore what the violet flame is, what it does and how it works.

Read More

Saint Germain & The Pillar of the Violet Flame

Open or Close

More than fifty thousand years ago, a golden civilization thrived in a fertile country with a semitropical climate where the Sahara Desert now is. It was filled with great peace, happiness and prosperity and ruled with supreme justice and wisdom by Saint Germain.

As the High Priest of the Violet Flame Temple on the mainland of Atlantis thirteen thousand years ago, [13=4=4th dimension=time] Saint Germain sustained by his invocations and his causal body a pillar of fire, a fountain of violet singing flame, which magnetized people from near and far to be set free from every binding condition of body, mind and soul. This they achieved by self-effort through the offering of invocations and the practice of Seventh Ray rituals to the sacred fire.

Read More

Cut Through The Illusions!
Who is Online Now
We have 1335 guests and no members online
X
Right Click
No right click