Category: Awakening Written by Claudia Anderson Views: 1136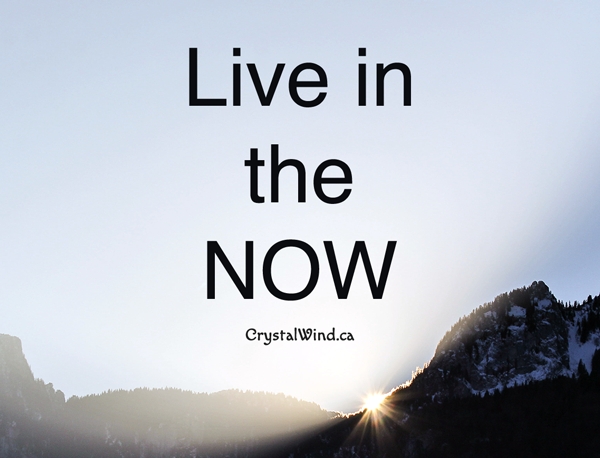 Are you done wishing everyone a Happy New Year yet? Are your Christmas decorations still up? Or are you finished with that part of the season and planning for Spring that is 59 days away?
Seems us humans have a hard time living in the "now". Even though that's the phrase of the millennium, it's really hard to live right now. And now. And now. And now. Which is now the past.
So here is my Philosophy 101 question for the New Year.
If you were totally isolated from others, would time flow differently for you?
I know our ancestors had to deal with no watches, no cell phones, no TVs to check morning, noon, and night. But I'm not talking about them. I'm talking about us modernists.
Say you lived 30 miles, 50 miles from town (you can drive to Sams Club once a month if you want for supplies, but no other luxuries.) No computers, no radios. No movies. All that isolation stuff. You live comfortably, but without technology. (No guilt trips about not being with your grandkids and all — that's a different game.)
My QUESTION is… how long could us modernites live in the "now"? No hanging out with friends, no phone. You can write letters but that's about all.
All you would hear would be the songs of the birds and the wind blowing through the trees morning, noon, and night. Thunderstorms and windstorms and coyotes in the distance moving across the plains. The longer you lived with nature, the more in-tune you would be with the sounds around you.
But that's all you'd hear.
Knowing your lifestyle of today, how long would you be able to stay away from civilization? How long would the songs of the birds or the chatter of squirrels be entertainment? How long would you be able to live in the NOW? A month? A year? 10 years? Would the NOW turn into one long blur?
I love these philosophical questions that have no exceptions. There are no "but what if I talk to the store clerk once a month? Is that isolation?" Or "what if the neighbor stops by?" Isolation is isolation.
For me, I think if I were forced to let go of technology, I could fairly adjust. Notice I italicized forced and fairly. Could I live with the sounds of nature 24/7? I live a lot with them these days, but let's be truthful — only when I sit outside or go for a walk. I always have music or the TV going on for sound when I'm alone. But I have the option to connect with friends and the nonsense of the outside world.
Would my my adult-onset A.D.D. handle the eternal nature-only sounds of dawn, midday, and dusk? Would my senses become sharper the longer I stayed away from technology?
For me, I guess I'd eventually get used to silence day in and day out. I'd probably sing a lot more in the beginning, but I wonder if even that would fade away the more I got used to the silence.
I'd definitely need to have a cat or two to hold conversations with, though…(if you knew how yakky my cat was you'd know what I mean…)
How about you?
@humorthegoddess


I am a lover of life and the freedom of writing. Pen to Parchment, Fingertips to Keyboard, crayon on construction paper. The means don't matter — just the way. I am the star of this blog, humoringthegoddess.com and the Creative Online Art Director of the unique Sunday Evening Art Gallery (www.sundayeveningartgallery.com).

I am a middle-aged writer of novels, short stories, and occasionally some great poetry. Iam a pretzel-logic sort of woman, lover of life and nature and spaghetti and chocolate. My stories often dance around middle-aged women thrown into impossible situations such as time travel and astral transportation. Female Fantasy Fiction, they call it. Modern women working with totally alien worlds and ideas and morals. I mean, why not write what you know?
Life only goes one way … so go with the flow and have fun on your journey!

Source Here
CrystalWind.ca is free to access and use.
Please support us with a small gift of $11.11 or $22.22 or $33.33.
Thank you!
ॐ Namasté - Blessings!

© 2008-2021 crystalwind.ca. All rights reserved.
X
Right Click
No right click