Category: Awakening Written by Maria Bethencourt Views: 2421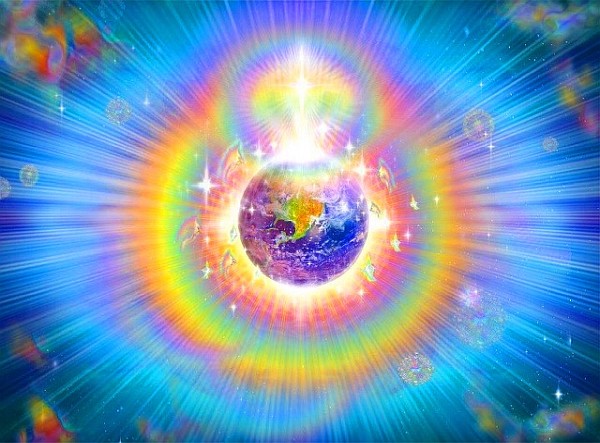 My Fam,
Whoaaaaaaaaaa Doggie!!
Feels like a Massive Convergence of 3/4D Timelines of Antiquity and a very high vibrational anchoring Of 5D+ timelines in this Heart Collective Joint Quantum Jump.
Holy Moly Guacamole Batman!
The universe at this point is not subtle AT ALL, as this Very Direct Tsunami Wave of Incoming Source Energy feels to me like…………………………
…the summer solstice, combined with Christmas, combined with MARCH…throw in my Beloved Mother Mary and God The Father, Allah, Buddha, Ascended Star And Earth Shamans, throw in St.Patrick energy with Snakes getting kicked out energy, and last but not least, the Easter Bunny.
That should give you and idea of what this feels like to me.
And then diamond, pearl opalescent pinks and…
Big. Lol.
I was fried trying to discern incoming energies and then something new came in and my legs began shaking- an ascension symptom I haven't had in a while, as The energy was reverberating and shooting back up my feet chakras, It was also getting dispelled as fast as it was trying to anchor.
You know what I mean?
THAT ascension symptom.
Then I felt the collective today waking up either visibly and spiritually and mentally and emotionally and etherically and energetically more clear … or (very clear to themselves),NOT
And I mean completely separated from the cognitive resonance of our new earth reality.
Like somebody yanked the tablecloth out from the dinner table and left all the dinnerware intact,trick.
*( please know my soul job is to extend out and feel incoming Source Energies and prepare the new earth grids for easy assimilation and integration for the Heart Collective- I run about 3 to 4 weeks ahead of the Collective now, for the more I go Within Intuitively, the more I expand out and become empathic. Both levels of electric/magnetic fields must be balanced for our personal Merkaba to activate for quantum jumping and multidimensional healing work…..Planetary And Galactic Gridwork runs in my galactic soul family sorta speak hahahaha)*………..(I love my job and the retirement package benefits from the Universe can't be beat…, and It's always hiring).
—This incoming Source Wave seems to be balancing the plasma build up from massive atmospheric weaponizing and nuclear discharge from man made nuclear bomb detonations AND the manipulated archonic negative alien agenda/weather chem trail systems—
To say messing with the planetary systems is a no,no,no from Mother Earth is silly to NOT understand…Free Will and all that…..but hey, that's not my department….as I like to say………for those that understand -no fear hear/here…
I Guess that's why I don't have Fear, Mother got me
Everybody else, well, Free Will choice-what do your rather face?
A satanic force?
A Luciferian Force?
A malevolent Galactic Force?
An unseen gonna kill you die die die Force?
DarthVader?
A clown?(thanks Stephen King…no comment)
A Velociraptor?( yeah, huge scary angry reptilian birds who can't fly with big teeth who are super smart)
Yadayadablahblah?
Or…….
Mother Earth really pissed off because you hurt her Divine Children and you are not one of us. And she has lots of different children…
Ever see a Mother Bear Protecting her cubs?
Exactly.
So today's "Q" Tip from me is:
If your body feels funny then go Within.
Drop into your little soul's Heart.
And say-"YES, I AM OPEN TO LOVE."
And so It Is.
In Light and Love and Joyful Service,
I love you guys
M.
Lightlover1964
Lightlover Journal
****Thank You so much if you choose to share my message, but please due so in its entirety and with credit back to my personal site as it is copyrighted. Namaste.****
CrystalWind.ca is free to access and use.
Please donate a small gift of $11.11 or $22.22 or $33.33.
Thank you!
ॐ Namasté - Blessings!

© 2008-2020 crystalwind.ca. All rights reserved.
X
Right Click
No right click