Category: Earth Shift Energy: New Earth Hits: 438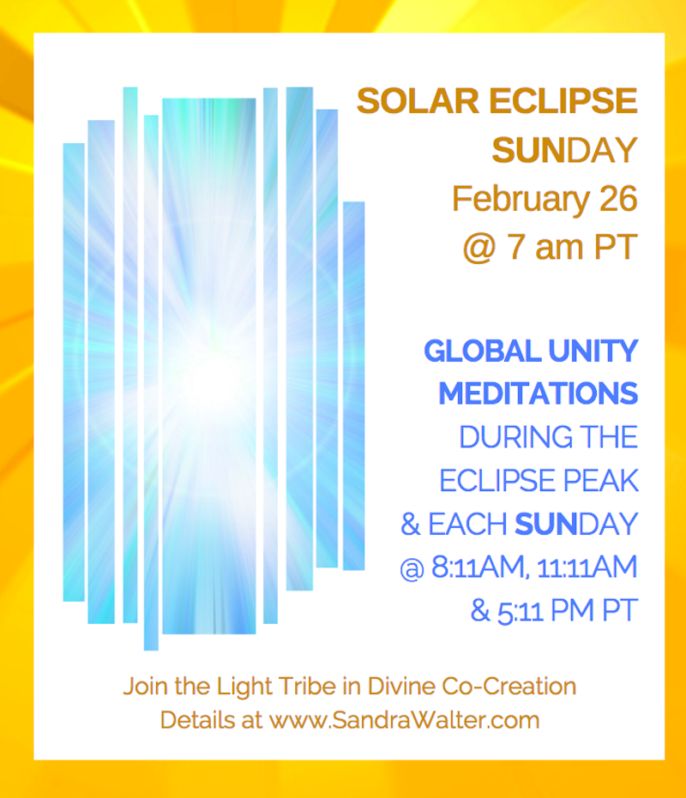 Blessings Beloved Light Tribe ~
Global Meditations occurring during the eclipse peak and our three Unity sessions on SUNday. This is a powerful Gateway for embodiment of the New HUman template, Christed/Crystalline Consciousness. Gaia's Solar aspects, Grid activation and the massive stargate templates approaching for Solar activation on many levels.
We request every awakened Soul to be on board this SUNday, since this passage determines the strength of the March unfoldments. Encourage your groups, friends, communities to add as many souls to this activity as possible. Tremendous activation available with this influx. Our Higher Levels are holding the Gateways open for the collective.
In Love, Light and Service,
Sandra
Free Guided Meditation:

Listen here
PC: right+click on the title below to Save As
Mac: Ctrl + Click on the title below to Download
Sandra Walter is a Wayshower and Ascension Guide who serves the Truth of Love, Source and Light Intelligence.
As a Clairaudient, Claircognizant and Dimensional Liaison, Sandra assists awakened HUmans through private sessions, The Ascension eCourse, the Ascension Integration YouTube channel, articles focused on the Shift in Consciousness and a poetic and conscious Twitter stream.
If this work is assisting your journey, I welcome your donation, thank you! (Click the article link below to go to Sandra's website to donate!)
This mission runs on love, light and your support. If my work is assisting your journey, please make a donation.
CrystalWind.ca is free to access and use.
If you appreciate the information provided,
please

help keep this website running. Blessings!