Support crystalwind.ca with your donation and help spread spirituality and positivity.
Blessings!
Written by Denise Ricard Views: 7872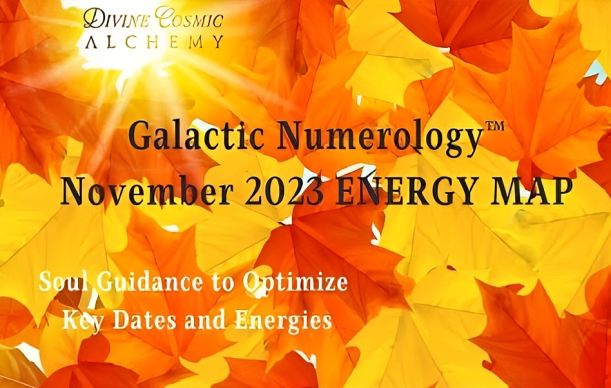 Welcome to November 2023 Galactic Numerology™ Energy Map
In this transmission, you'll learn about key dates, numbers, and cosmic energies, Galactic Numerology™ energies that are tools for manifestation that are available, specifically in November 2023.
See how this energy map sets the stage for maneuvering and creating your life. During these potent and specific energies windows you are given the opportunity to magnify your purpose and intention, and harness the powers that are available unconditionally for you! The key is to harness that power with Love!
Galactic Numerology™ welcomes you to this Month of November 2023 and is transmitting supporting and nourishing energies for you in this transmission.
There is an infinite amount of happenings under way in the energy realms, and here we bring specific highlights and key insights that FLOW from our vibrational streams with the Divine Cosmic Alchemy happening from and through Galactic Numerology™. We also take a brush stroke to the surface, to acknowledge some of the many events and expansions happening within the cosmos and astrologically as well. All of this is being transmitted to support you as you navigate upon your life path, and it is our JOY and delight to assist you.
November is the 11th month of the calendar year, and 11 is a Sacred Master Number in whose energy is powerfully amplifying the infinite nature of all things in oneness, and provides a deep connection to spirit and the unseen realms. And, with that remembering is a deep connection back to a place within that bridges back this truth of oneness, and allows the release of the energy of separation.
It's a highly spiritual number of universal code, associated with the 11/11 Portal, which is considered a genuine cosmic gateway. You might find yourself drawn to the number 11 when it appears repetitively, such as in the time 11:11 or the date 11/11. This number conveys a potent message that the spiritual and the material are interconnected, prompting a deep recognition that there's more to reality than what meets the eye. It aids in the process of manifesting inner wisdom outward into the external world, bringing both realms into a harmonious unity.
As a result, what is perceived through the physical eyes, of that which is happening in the outer world, get shifted to looking more deeply within. Because, there is that soul knowing and there is a connection made. The soul knows its infinite nature and connection in unity to All That There Is, and is continually sending reminders, nudges and sparks of Light to assist in that awakening and remembering.
On November 1st, the Celtic celebration of harvest – begun at sunset on Oct 31, of Samhain (pronounced: Sah-win). In the Northern Hemisphere, the sun's position brings shorter days and longer nights, and it is the season of harvest.
During the harvest season, we acknowledge and rejoice in the abundance of nature's gifts that nourish both body and soul. As winter's darker months approach, our inner selves are replenished, allowing for introspective rest and the closure of what no longer serves us. For within the place of night – the soul retreats into a deep inner reflection. What are you grateful for – bringing attention and awareness to all of those gifts – harvesting all of the bounty of what you have mastered thus far this year – and to really, really appreciate yourself, not focusing on what you have not done, yet feeling truly fulfilled in what you have become.
And, consider, maybe, jotting down everything you appreciate about yourself, every instance of personal growth, until you experience that profound sense of fulfillment. This is what you carry with you – the fulfillment and sustenance to delve deep within.
And, the Taurus Eclipse energy, begun a few days before on 10/28, continues through the first half of November - really nudging and prompting states of change that are evident in your life - that things have finally changed - for the better. The eclipse powerfully orchestrates that, so you may feel like it's happening and it's time to just finally line up to it and with it! Also lining up to the belief that these changes are indeed for the better - for your evolutionary advancement. Take notice! What has changed - what are you grateful in this change?!
During this entire month of November, celestial bodies are in motion, displaying their dances and alignments with the sun and one another. They transition from retrograde to direct motion and move within the astrological houses. The planets come into evolutionary prominence, inviting you to explore these celestial events further through your preferred astrology forecast. There's the most remarkable Divine orchestration of this solar system in its relationship to the Cosmos. The numerology associated with astrological calculations, degrees, and houses all interweave, offering potential opportunities when you harness these energies through awareness and personal choice.
November 11 is 11/11/23– a highly spiritual energetic Portal that offers unprecedented opportunity to tap into higher dimensions and realms of the Divine. This is highly transformational energy that like Eclipses, that offer openings for Quantum shifts and leaps in consciousness. A gateway of consciousness unfolds, saturating the Earth and all sentient beings with profoundly transformative frequencies. As denser separation energies continue to dissipate, these elevated frequencies become accessible for the revitalization and transformation of all your body systems, both the energetic and the physical.
Remember, you are infinite, boundless, and eternal. On this significant date of 11/11, direct your focus inward, into your heart, to tap into more of your infinite state of unity with all. Consider implementing rituals and ceremonies to set aside dedicated time for harnessing the profound power of this energy. Perhaps setting alarms for 11:11.
When there is a focus upon these portals each month, through the Light Collective, there is a drawing in of high dimensional Source energies and the expansion of them that creates evolutionary change.
And, we also love to refer to the "mini portal dates" for each month, as they provide an additional chance to revisit and further expand upon the themes and energies brought forth during the main portal date. In November, one such mini portal date falls on the 29th, where the numerological sum of 2+9 equals 11, making it a significant day within the scope of 11/29/23.
On 11/13 and 11/14 depending on where you are in the world, the New Moon in Scorpio steps forth for even more transformation and metamorphosis. A new cycle begins with the beauty of the moon, and the work that's been completed from the previous few weeks of the eclipse opens up a lot of space from which to begin anew. Scorpio energy helps to release emotions that show up as flags and indicators that it's time to let something go. Your emotions serve as indicators of imbalance, and with the revitalizing energy of this New Moon, you have the opportunity to redirect this energy. Opt for an objective approach when facing life situations that typically trigger a reactive response. Instead, strive to maintain objectivity and consider the broader perspective. Tap into your imaginative potential to manifest and set intentions for the free flow of abundance.
Each month as the lunar cycle renews itself, it never returns to the exact same point, so as within these cycles, your consciousness is constantly evolving and expanding. Each cycle of the beloved Moon is a new opportunity within the cycle, yet there's no repeating. If it seems that certain life patterns are repeating, often unwelcome challenges, understand that shifts and changes have already occurred, but the lesson remains unfinished. This means that there is still wisdom waiting to emerge, for you to grasp the fullness of it - and cease being separate from that lesson and its energy.
Are you prepared to delve deeper into what brings you profound fulfillment from the depths of your heart and soul with this New Moon? Rituals and ceremonies, once more, can anchor the abundance that is rightfully yours. Writing, singing, and dancing serve as avenues to connect with the joy in your heart, creating energies of delight that attract even more abundance into your life.
As the New Moon arrives, the Eclipse season draws to a close, with all those energies having implicitly contributed more than you may realize. Soon, you'll witness tangible evidence of these influences in your external world. Embrace these significant transitions and celebrate them as a rite of passage!
On November 22, 2023, the sun transitions from the watery sign of Taurus to the fiery sign of Sagittarius. This shift encourages a transition from a more rational mindset to a heart-centered one, fostering a renewed sense of optimism, happiness, hope, and joy. What stirs within your heart as a result of this change? Where does your heart want you to travel to as you are in this sun/Sagittarius portal until the Solstice on December 21, 2023. Today, a powerful energy ignites your motivation and propels you forward to unlock fresh potential in various aspects of your life: whether it's fostering a better relationship with yourself or others, embarking on a career change or relocation, adopting healthier habits, or inviting more abundance into your life.
And, 11/22 is another highly powerful Portal date of the multitude of 11's within the 22, and a double master number day. This month is jam-packed with 11's and the sacred geometry and sacred codes within this number. And this day of 11/22 packs in the momentum of evolutionary opportunities for harnessing the sacred within. Where do you feel prepared to venture into uncharted territory with unwavering enthusiasm, guided by the yearnings of your soul? Shed any remaining doubt and embrace new soulful adventures. This presents yet another remarkable opportunity to engage in rituals and ceremonies that bring awareness to your inner world and manifest positive changes in your external reality. Perhaps, setting the clock alarm for 11:22. Where can the fire of your soul's passion and destiny burn even brighter, to then also be a lamp for the world to see. To be the illumination of the Divine to the world?
11/23 brings forth the expansive collective energy of Thanksgiving holiday celebrated in the United States. This day of celebration of freedom, and in its original energy of liberation, was set up by the founding peoples with the heart and desire for sovereignty. And this day, there is an energetic increase of higher frequencies expressed through gratitude, and for the bounty and joy in life.
General George Washington firmly believed that the source of freedom in this newfound land was Divine, welcoming those seeking liberation from oppression, who ventured into this new world to create from the depths of their hearts of truth. It marked the genuine beginning, a foundation established in a spirit of unity, predating the divisions that would later emerge. Thanksgiving Day is the remembrance of that original intention aligned to the highest purpose. This celebration of freedom, as observed by countless individuals on this day, contributes to the elevated vibrations that further advance the evolution of our world.
Regardless of your geographical location on Earth, you can celebrate the liberation of your soul, acknowledging all the changes it has undergone during your journey, especially during this profoundly transformational year 2023. You can offer deep thanksgiving and gratitude to yourself, and extend it to all.
To wrap up the month of November 2023 in a big bow, we're graced with a Full Moon in Gemini on November 27th. Full moons are like spotlights, and when combined with the social energy of Gemini, they promise a fresh perspective on communication just as the holiday season kicks into gear. It's an opportunity to engage in conversations at social and family gatherings that bring about an uplifting aura of hope and understanding. The power of your thoughts and words is particularly amplified during this full moon. And since full moons often signify closures, it might be a chance to bring an end to complaints, revisiting past grievances, or dwelling on fearful events on the global stage. Remember, you have the capacity to effect positive change, and that change thrives on positive vibrations. What messages are you radiating out into the world, Dear One?
Happiest November!
We send our love, and our blessings are with you.
And our transmission is now complete.
---
---


Copyright 2023 Divine Cosmic Alchemy. All Rights Reserved.Galactic Numerology ™ is a registered Trademark of Divine Cosmic Alchemy – all rights reserved.I encourage you to share this full article with friends, your postings, etc. when you feel called, as long as this copyright and trademark notice is included and so is the link to my website.
Sign up for my Newsletter: https://divinecosmicalchemy.com
---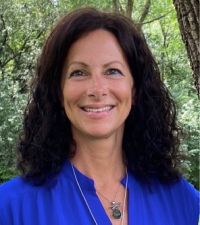 Denise Ricard:
Denise is here in service as an Ambassador of Light and Love for the evolution of consciousness, and to co-create the New Seventh Golden Age, to realize Heaven upon the New Earth.
She assists Lightworkers and Starseeds to fully activate their Ascension blueprint by providing the most advanced encoded Divine frequencies from across the multiverse. This empowers them to embody WHOLENESS – to actualize the state of Unity into their reality, therefore creating a life that reflects their truth and joy.
She is the Galactic Numerologist and transmitter of Sacred Number Energies, Divine Channel and Intuitive Soul Path Coach, a Licensed Quantum Light Practitioner, and transmitter of Sacred Codes through Light Language in all of its forms.
From her Cosmic Lineages, she works in co-creation with multi-universal Divine Beings of Light: Intergalactic Councils, Angels and Archangels, Dragons and Elementals, Ascended Masters, Crystals and Nature in all her forms. This enables her to contribute to others from the highest and most optimal evolutionary energies available for their expansion.
Source Here

This article was submitted to CrystalWind.ca by Denise Ricard on September 01 - 2023 with written permission to reblog this article exclusively on CrystalWind.ca. Stay tuned for more enlightened articles and teachings from Denise!
---
© 2023 crystalwind.ca. All rights reserved. We track all IP addresses. Using a VPN will now also get tracked to original source IP.
CrystalWind.ca is free to use because of donations from people like you. Please help support us!
Blessings!
Spirit Animal Totem Of The Day!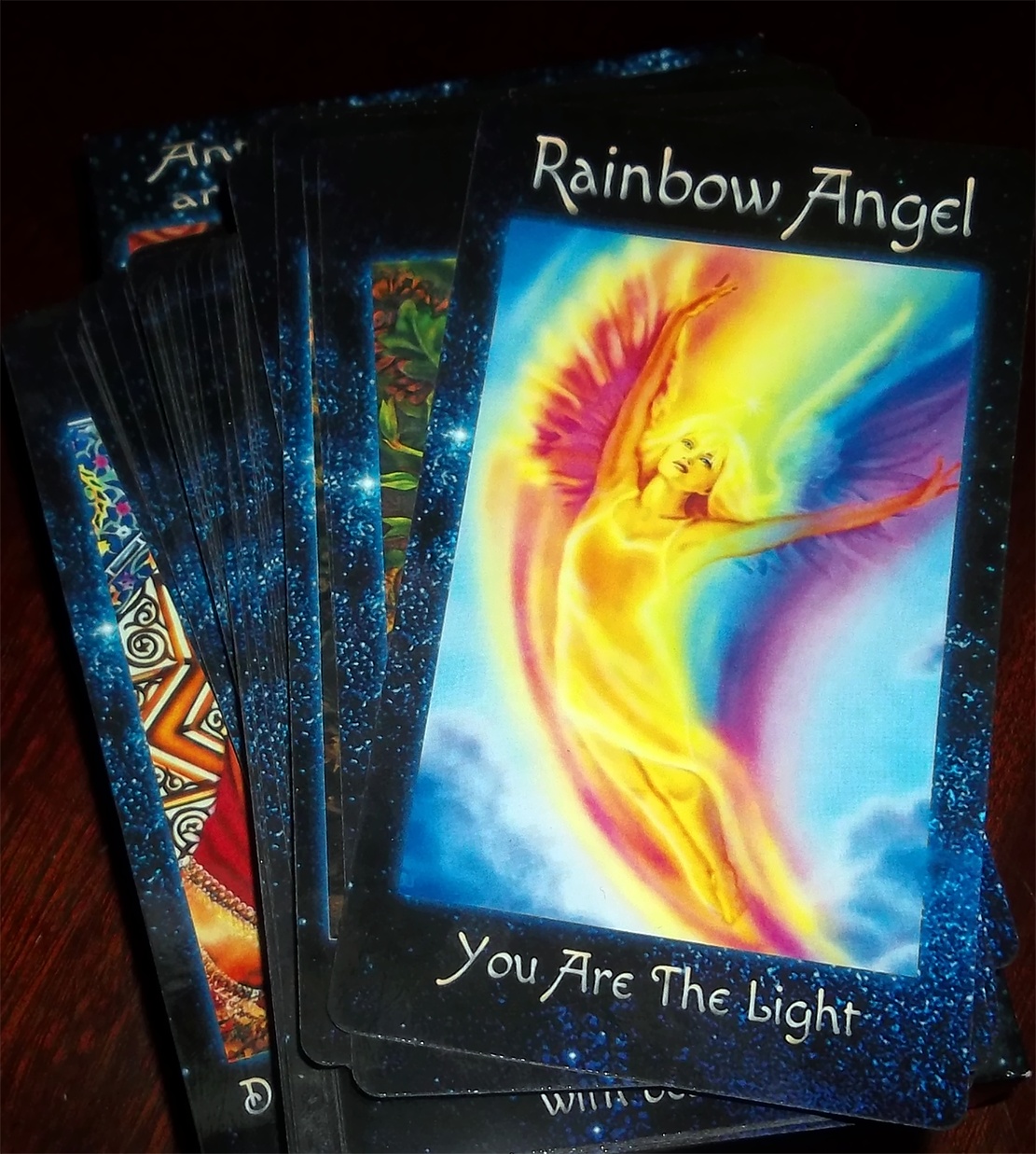 The Crystal Wind Oracle
Myth & Magic Card Deck!
Details Here!
NEW Expanded
Printed & Boxed!
Now with 58 cards!
Who is Online Now
We have 897 guests and no members online