Support crystalwind.ca with your donation and help spread spirituality and positivity.
Blessings!
Category: Divine Cosmic Alchemy Written by Denise Ricard Views: 1016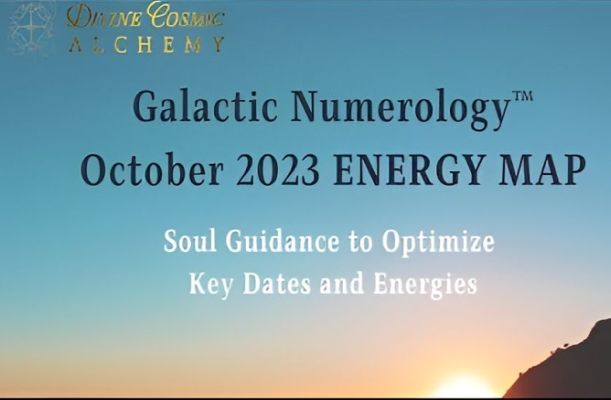 Welcome to October 2023 Galactic Numerology™ Energy Map
In this transmission, you'll learn about key dates, numbers, and cosmic energies, Galactic Numerology™ energies that are tools for manifestation that are available specifically in October 2023.
See how this energy map sets the stage for maneuvering and creating your life. During these potent and specific energies windows you are given the opportunity to magnify your purpose and intention and harness the powers that are available unconditionally for you! The key is to harness that power!
Galactic Numerology™ welcomes you to this Month of October 2023 and is transmitting supporting and nourishing energies for you in this transmission.
There is an infinite amount of happenings under way in the energy realms, and we bring highlights and key insights here that flow from our vibrational streams with the Divine Cosmic Alchemy happening from and through Galactic Numerology™. We take a brush stroke to the surface, and acknowledge some of the many, many activities and expansions happening within the cosmos and astrologically as well.
October is the 10th month of the calendar year, and reflects the energy vibrations of remembering that, as a Divine soul and spark of Source, that you are Infinitely Whole.
10 in traditional numerology is recognized as the full number, and often reduced down again to 1. And so thus, 10 encompasses both the energies of 1 and 0. Pythagoras recognizes the number 1 as the only absolute number, as the most powerful number, the creation number of action, and that from which all other numbers are derived. It is a leading energy that is unlimited and infinite. And the 0, which is all-encompassing, is the Wholeness.
This month of 10 is the vibrational frequency of Infinite and Wholeness, and the Divine Cosmic Alchemy of it. Thus, Dear One, this is a powerfully all-encompassing, infinitely grand, intense and profound month of October. Are you ready to harness that energy and engage the many Divine streams of consciousness that are available to you? Can you make a commitment this month of 2023, more than ever before, to utilize everything that is available to you – and very specifically for you - to create magic in your life? And to call forth only those streams of consciousness which are bespoke for your highest purpose and are most optimal for you.
This first week of October has been paved with the brightly energetic Full Moon in Aries last week on September 29th. And, as you enter October with the momentum of the feelings of standing in your truth, what was illuminated to be completed, and how do you now move forward in this whole new energy?
You're entering the last quarter of this year 2023, and October energies numerologically and cosmically bring even more opportunities for expansion. The September Full Moon in Aries has been a reminder that stepping into your higher mind to make decisions, and then use that momentum, rather than your emotions, and, to take the steering wheel from your emotional body, and put it into your heart-centered feeling body - you can create your outer world more harmoniously from your feeling body.
And, much evolution has occurred and continues with the retrograde season, bringing a slowing energy to deepen into all areas of life coming into prominence - for recognition and transformation. Can you reflect back to see how these opportunities to go back through, and really hone in on what areas of your life have changed, and how you've applied the action of change to bring in the new. This is deep soul work, Dear One! Celebration is in order for what's shifted, as Venus and Pluto complete their retrograde dances, as the planets begin to move direct, there's more smooth flow, and clarity drops in as needed when there's awareness to magical possibilities in each moment.
And October brings the Eclipse energies, so there's further transformations and upgrades available, giving you the opportunity to step fully into yourself as a Divine Being, a soul that is Light bringing your unique gifts to the world. And this month of October 2023 brings two Eclipses which are very powerful and more intensified energies within those eclipse windows to embody new states of higher consciousness.
And, this month's highlights:
October 10, which is 10/10 is the Portal Day that concentrates and amplifies the energies of 10, of knowing yourself as eternal, infinite and that you're always complete and whole. This journey on the Earth is to reawaken that – and these powerful energies of the portal days give you the opportunity to allow those awarenesses to become your new reality. This portal is a great opportunity of support that is available for soul development, and the emergence for realization of your Divine self. Perhaps taking some time to be in the energy of 10, to spark it as you see the number appear – on the clock, on a receipt or wherever it steps into view for you. Perhaps doing things in groups of 10. Or taking 10 ten-minute meditation opportunities to allow those portal energies to bathe your entire system - like sitting in your own little portal pod of infinite wholeness, just floating in complete surrender, and being in the zero point to experience nothing and everything all at once.
And the mini portal dates of 10/19 and 10/28 bring through a spark and reminder of what you experience on the Portal day of 10/10, and is like a supplemental boost from which to bring awareness and consciousness into your day. Very powerful and supporting all-encompassing - these Number 10 energies on this portal and mini portal days.
10/14 brings a New Moon Solar Eclipse in Libra. The eclipse is a massively transformative time for your soul – and looking back at all that has been shifted over the year, and also looking at events in the expansive month of June and transformative month of July. Doing the awareness review. This energy is like a launching pad into your next level of soul evolution. It's a New Moon with energies of harmony and balance, and it's an eclipse. Expect big changes and welcome them with joy and delight as you're reaching those soul goals- and it's very evident in your outer reality and knowing. Use the New Moon energy to start something completely new in your life: a new hobby, a new route to work or school, a new relationship, a new way to do daily routines. You've got this highly concentrated, high energy new moon eclipse opportunity - what can you schedule in on this day, to shift, change and create this day (as well as the days leading up and just after this cosmic pocket of creation clay). As this annular eclipse has the moon moving between the sun and earth, at its half way point on this eclipse path, from a particular vantage point on the earth, the moon appears like a smaller circle inside the circle of the sun, thus creating a "ring of fire" cosmic splendor. And so, as you take your opportunity to create with the cosmic clay of creation - during this New Moon Eclipse, you can then "fire" it and see what splendor results. Ahhh, the magic of the Divine is infinite - and it's whole!
10/21 and 10/22 brings the annual Cosmic showering of the Orionids Meteor Shower which spans from the beginning of October to just after the first week of November. 10/21 and 10/22 dates are the peak of this showering from the constellation Orion. And, you can treat yourself to soar and explore as you're standing outside and gazing into the night sky - allowing these showers to bathe you in the crystalline light of high-consciousness energies. Breathe in and out deeply, and you could imagine or see how the Light of the meteors are lighting up your cells - charging your electrons within your physical body. You're connecting to your Galactic self and all there is.
10/22 is the half point between the two eclipses for this month. You have one eclipse under your belt of consciousness, so today is the day to explore what's just occurred in your expansion. It's a day to stop, gather your new resources and get yourself ready to step onto the path of the next upcoming eclipse portal of transformation. For your next steps of life, restock with whatever you need, and set off on the next leg of this journey - you're ready. What's your new focus and intention? And, to benefit even more from all of this evolutionary opportunity - get really, really excited of what's to come. Be open. Get into the feeling of being on the most amazing adventure of a lifetime! Your lifetime!
10/23 is when the Sun moves out of Libra and into its next sign of Scorpio. And, like the sun shining upon the water, the sparkles of light, reflections of the prism of color, what IS highlighted. Scorpio is that watery energy. The natural glory of water in the sunlight is showing the multidimensional nature of the water molecules in their full essence. There's magic to this sparkle. What flows from you in your natural state of Being that shows your sparkle and magic? In other words, what makes you happy - truly happy from within. Not from the outside world, but what sparkles your joy in this solar cycle in Scorpio from within. You've experienced last week's New Moon Solar Eclipse, and you're more in tune with your heart's desires that are in alignment with your soul path. Keep going! You're in the flow and your path is golden!
And, on 10/28, shining brightly and with intensity is the Full Moon Lunar Eclipse in Taurus. Now this eclipse energy is urging you to really tap into your soul's purpose and anything that is not aligned to it is highly illuminating, because your life is no longer about sleep-walking through it. Look at what's obvious that needs to complete and finish it. Is it finally time to step out of a relationship that hasn't been serving you - or the other - for so long? Or what is it that you're ready to complete? You've got the support here to allow the Full Moon's illumination to make your choices clear from your soul perspective - through the portal of your heart, and the eclipse allows you to gather your inner resources to make those changes from the heart - and not the head. Remember this month's 10 energies as well. Know that you are an infinite and eternal being that is here to grow and awaken into the wholeness of you as the Divine, walking this Earth. That transformational energy supports you in taking action to get everything into alignment with the Divine plan that you're here to express in this lifetime.
October 31, 10/31 is the Hallowed Eve tradition of tricks and treats – certainly a way that duality plays out in fears and fun. Are there any fears that you wish to release on this final day of October 2023? Tricks and Treats. What tricks (illusions) are you finally releasing. What treats are you allowing into your life to delight your journey.
Marvel at this month of infinite, eternal energies of wholeness stepping forward to consciously create your soul path with each choice you make.
We send our love, and our blessings are with you.
And our transmission is now complete.
---
---


Copyright 2023 Divine Cosmic Alchemy. All Rights Reserved.Galactic Numerology ™ is a registered Trademark of Divine Cosmic Alchemy – all rights reserved.I encourage you to share this full article with friends, your postings, etc. when you feel called, as long as this copyright and trademark notice is included and so is the link to my website.
Sign up for my Newsletter: https://divinecosmicalchemy.com
---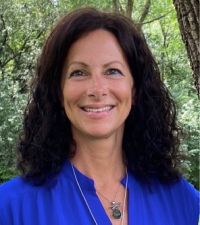 Denise Ricard:
Denise is here in service as an Ambassador of Light and Love for the evolution of consciousness, and to co-create the New Seventh Golden Age, to realize Heaven upon the New Earth.
She assists Lightworkers and Starseeds to fully activate their Ascension blueprint by providing the most advanced encoded Divine frequencies from across the multiverse. This empowers them to embody WHOLENESS – to actualize the state of Unity into their reality, therefore creating a life that reflects their truth and joy.
She is the Galactic Numerologist and transmitter of Sacred Number Energies, Divine Channel and Intuitive Soul Path Coach, a Licensed Quantum Light Practitioner, and transmitter of Sacred Codes through Light Language in all of its forms.
From her Cosmic Lineages, she works in co-creation with multi-universal Divine Beings of Light: Intergalactic Councils, Angels and Archangels, Dragons and Elementals, Ascended Masters, Crystals and Nature in all her forms. This enables her to contribute to others from the highest and most optimal evolutionary energies available for their expansion.
Source Here

This article was submitted to CrystalWind.ca by Denise Ricard on September 01 - 2023 with written permission to reblog this article exclusively on CrystalWind.ca. Stay tuned for more enlightened articles and teachings from Denise!
---
© 2023 crystalwind.ca. All rights reserved. We track all IP addresses. Using a VPN will now also get tracked to original source IP.
CrystalWind.ca is free to use because of donations from people like you. Please help support us!
Blessings!
Spirit Animal Totem Of The Day!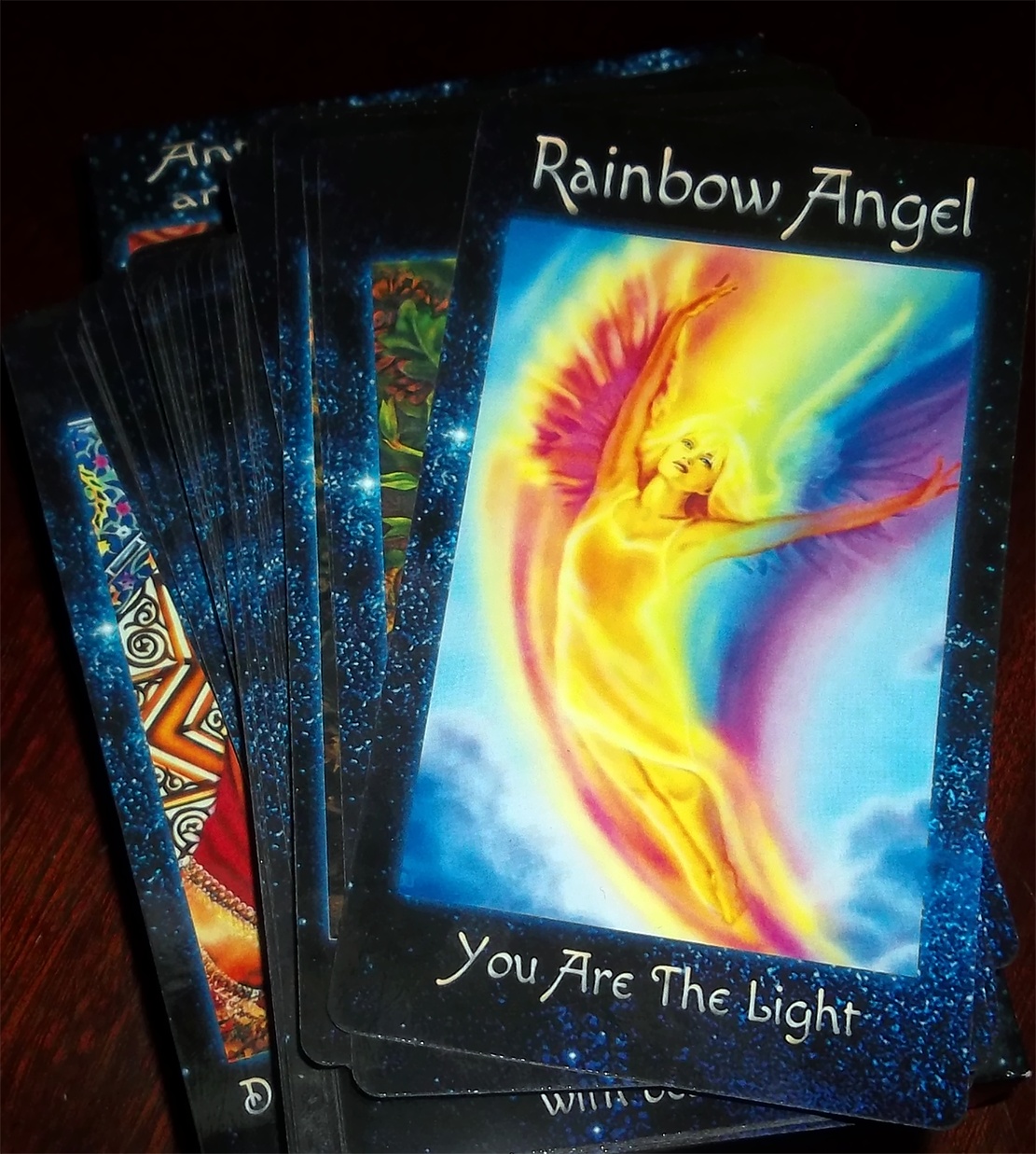 The Crystal Wind Oracle
Myth & Magic Card Deck!
Details Here!
NEW Expanded
Printed & Boxed!
Now with 58 cards!
Who is Online Now
We have 1302 guests and no members online