Category: Inspired Mind Hits: 1111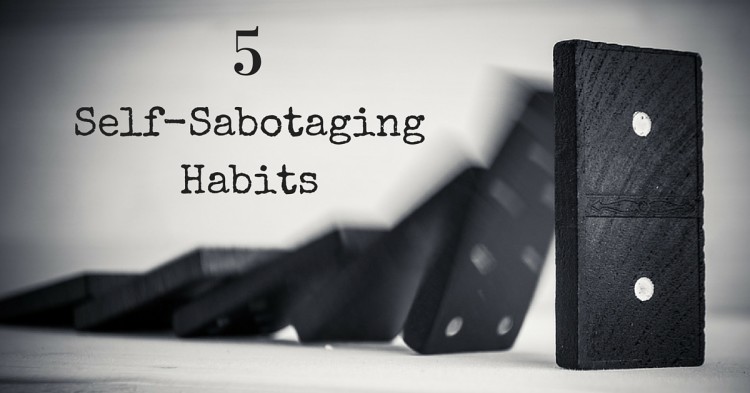 The theme of this blog came to me the other week when I was in a real funk. I felt unmotivated, uninspired, had low energy, and felt like I was in a big rut. When I finally recognized that I was being a major bummer, I started to notice what exactly I was doing, feeling, thinking, and saying that contributed to my sad state. I began to notice the habits that were leading me down a rabbit hole and keeping me stuck there.
I started to write them all down because if I'm doing these things and feeling this way, chances are you have (or currently are) as well. I discovered that I was sabotaging my own happiness with these little habits that I didn't even realize I was doing. Here are the top 5 habits that really brought me down, and what you can replace them with when you're feeling down or "in a funk.".
Self-Sabotaging Habit #1: Subconsciously Comparing Yourself
While I know comparison is a true buzz kill, I noticed that I had started a non-stop comparison reel in the back of my mind. This is a true step to anxiety and unhappiness. We are all on different paths in life and there is no need to compare ourselves or our journeys with anyone else's. Instead of comparison, honor where everyone else is, and most importantly, honor where you are right now.
Self-Sabotaging Habit #2: Pushing Down Your Feelings
I sometimes get on this kick that I have to be happy all the time, so when feelings of unhappiness or sadness come around I start to stuff them down because I believe I should be past these feelings already. Feelings are apart of life! The more you push them down, the more they will return, and sometimes with a vengeance. When you are feeling something, allow it to come up, notice what it might be trying to teach you, honor it, and then allow it to pass. Don't try and force yourself to be happy 24/7. It is in the contrast of our feelings that we are able to be truly grateful for the happiness and joy that can be a part of our lives.
Self-Sabotaging Habit #3: Multitasking
When I'm not truly present (aka multitasking), I start to feel down. When my energy is spread all over the place, I start to feel exhausted, unclear, and lacking in the confidence that I truly desire. Sometimes we can get so caught up in being on our phones, while watching TV, while eating dinner and chatting with friends (all at the same time) that we forget that we aren't being truly present. Make the conscientious effort to do one thing at a time. You'll feel better instantaneously.
Self-Sabotaging Habit #4: Overthinking Everything
When you're not feeling your best, you tend to overthink every single thing. Your mind goes into overdrive on how it can fix something, or how you can mentally plan your way out of whatever you're going through. Our brains are incredibly powerful and useful, but sometimes they just need to take a break. Instead of trying to plot your way out of something, try saying a simple prayer, asking for help and guidance, and releasing the need to control everything. The universe will do for you what you cannot do for yourself, promise.
Self-Sabotaging Habit #5: Not Remembering to Stay in Faith
Faith is huge. Believing that all is well and that everything is working out for your highest and greatest good is what transforms people's lives from mediocre to extraordinary. I believe that all of the self-sabotaging habits and challenging times were given to me for a reason. Having faith will lift you out of any rut and bring you back into the light.
I hope shedding some light on these habits will help you to stay positive on a daily basis! Remember, that even the difficult times, too, have purpose, even if you can't see it while you're in it, try to take heart that it will pass and you will see the light.
Wishing you a beautiful day!
Xoxo, Michelle
---
Michelle is Peaceful Mind Peaceful Life's Creative Director and resident writer. She has a degree in Journalism from Indiana University and is also a certified holistic health coach through the Institute for Integrative Nutrition and registered yoga teacher with trainings with Anuttara Yoga Shala and Strala Yoga. Michelle has a deep desire to help people find happiness in all areas of their lives, and truly believes the Peaceful Mind Peaceful Life movement will bring lasting change to the world. Michelle splits her time between Florida and New York City and loves connecting with people from all over the world. If you'd like to contact her, she can be reached at
CrystalWind.ca is free to access and use.
"Would you consider a small gift of $11.11 ?" :)
ॐ Namasté - Blessings!

© 2008-2018 crystalwind.ca. All rights reserved.