Category: Inspired Mind Hits: 1684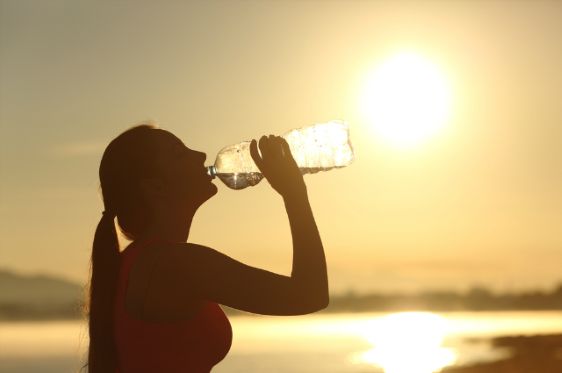 What does it take to be happy? Like, what does it take to be genuinely satisfied and content around the clock?
Most people immediately think about having lots of money, a gorgeous spouse, good health, fancy cars, etc. But at the end of the day, none of this really brings true happiness.
In the end, happiness is a byproduct of simple, mindful living.In other words, if you can get the small things right, you'll be much more satisfied in the bigger moments. And while it may seem like a cliché, happiness is a choice you make every morning when you open your eyes.
6 Morning Habits Worth Adopting…
Everyone's morning routine will look slightly different, but the happiest people in the world are the ones who have these simple, yet effective habits:
Drink One Glass of Water
Before you even roll out of bed, you should make a habit of drinking a full glass of water. There are many different benefits to drinking water upon waking up, including the following physical ones:
Water purges toxins from the blood stream and leads to healthier, glowing skin.
By drinking water first thing in the morning, you can increase the rate at which new blood cells and muscle are produced.
Consuming 16 ounces of chilled water boosts the body's metabolism by roughly 24 percent. This can help fuel weight loss.
Water is obviously a great tool for remaining healthy. By drinking water early in the morning, you can prevent headaches, arthritis, diarrhea, nausea, and more.
But it's not just the physical benefits. Drinking water also wakes you up and increases your ability to concentrate throughout the day.
Count Your Blessings
"Count your blessings" is a very cliché statement – right? Well, it may be cliché, but it's powerful. Life coach Marc Chernoff believes people who are more inclined to gratitude are less likely to suffer from anxiety, depression, and loneliness.
"Consider how very fortunate you are," Chernoff writes. "Consider it every morning. The more you count your blessings, the more blessings there will be to count, and the happier you will be."
While it may seem strange at first, audibly counting off your blessings in the morning is a great way to put yourself in a positive frame of mind. Eventually, it'll become a habit and you'll start to be more self aware of the blessings in your life.
Spend Five Minutes Alone
If you're like most people, alone time is hard to come by. Between your spouse, the kids, coworkers, and your boss, it's difficult to enjoy solitude during the day. By setting aside just five minutes in the morning, you can gather your thoughts and prepare your mind. Some people like to listen to calm music during this time, while others enjoy reading a novel. You do whatever is most relaxing for you.
Eat a Fresh, Healthy Breakfast
It's certainly important to eat breakfast in the morning, but it's also important to be mindful of what you're putting in your body. While a stack of pancakes and eggs may be delicious, too much food will make you feel sluggish in the morning.
Instead, opt for fresh, healthy foods. Fruit salad, yogurt, toast, and juice are all good choices. Not only will you get the nutrients you need, but your body will thank you later. As a result, you'll be happier and more carefree.
Spend Time Stretching
"One of the best ways to start your day in a healthy way is to take a moment to ground your thoughts by stretching and intentionally breathing," writes fitness coach Suzanne Bowen. "It's amazing what you can accomplish in less than seven minutes to set your day on the right path."
By targeting your limbs, neck, and back, you can reduce symptoms of chronic pain and relieve stress and tension. As a side note, it's also a good idea to get in some stretching before going to bed at night.
Smile at Yourself
A smile is a powerful thing. Seeing yourself smile is even more powerful. It makes you feel happy and alive. Try smiling at yourself in the mirror for 15-30 seconds each morning. Seriously!
"What you're doing here is basically checking in with yourself, giving yourself that look of determination that you'll need to make it through the day and accomplish all of your goals," the Bembu blog tells readers. "No matter what happens the rest of the day, you've at least said hello to that deeper part of yourself and given words of encouragement."
Start the Day Off Right
Your morning routine won't look the same as the next person's. However, if you can find a way to incorporate some of these healthy rituals into your morning, you'll find that you're exponentially happier throughout the day. Remember, happiness is a choice and is not rooted in money, health, or materials. Once you grasp this concept, you'll be free to enjoy life to the fullest.
---
CrystalWind.ca is free to access and use.
"Would you consider a small gift of $11.11 ?" :)
ॐ Namasté - Blessings!

© 2008-2018 crystalwind.ca. All rights reserved.