Category: Inspired Mind Hits: 1026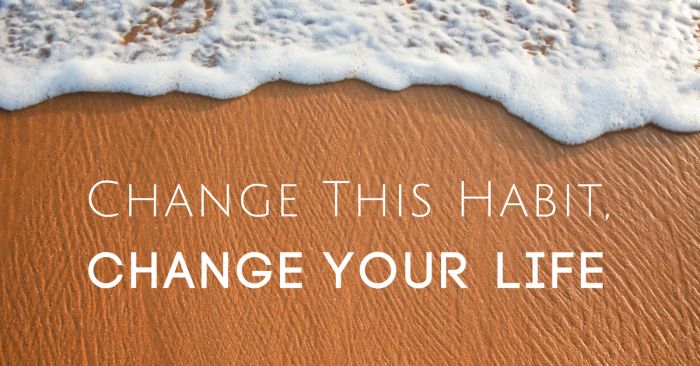 Have you ever done something that you knew was bad for you, but you continued to do it anyway? I bet you probably could answer yes to this question. At some point in our lives, we all fall into the trap of habitually repeating actions that make us feel pretty crummy. Lately, I have been falling into this trap. I've come up with four tactics I use to change this habit and transform my life. The habit might not be what you'd expect.
It's not about food or exercise or work― it's about the mind. My bad habit is not something that you can see. You probably wouldn't be able to recognize it just by looking at me or talking to me, but it's there in my thoughts. It has a way of taking over and eating away at my own happiness. Yet I have been letting it, even though I know better. Do I have you at the edge of your seat curious what habit this could possibly be? I hope so!
My habit that has been causing me an increase of anxiety, stress, sadness, anger, and even depression has been judgment. I have been allowing myself to go down a judgment spiral, and I'm outing myself for it now. The truth is, I know that making a judgment about someone or something else is a reflection of a judgment I have about myself.
I know that judgment only takes up part of my mental capacity. It doesn't actually produce the results that I think it should or that I desire. But just like any bad habit that gets its way with you, a bad judgment spiral quickly snowballs before you are aware it's happening.
Perhaps I could blame my judgment binge on the state of the world, the state of my country, and the tangible feelings of separation. I probably could arguably use this as an excuse, but again, I know better. I know that in order to find the happiness that I desire, the happiness that stems deep from within, I have to take responsibility for the judgments I've been delving in, and I need to uncover the feelings deep within that are creating these thoughts for me. This is how true change and shifts happen, and it feels way more empowering this way.
So where does judgment come from? How do we release it to find true happiness? How can we transform it into something more productive like compassion or inspired action?
From my own experiences, judgment stems from the insecurities we have about ourselves. Judgment grows from a dissatisfaction with something in your own life, a disownment of something within you, or a disapproval of something in your own life.
Sometimes judgment can even stem from boredom or from not having enough positive mental stimulation. Your job is to find the root of where your judgment comes from, so that you can release it. For me, lately I've been too much in the habit of comparing, complaining, and deflecting my own issues by judging. It's not a cute look to have, and believe me, it really doesn't feel great. Since recognizing this in myself, I've found that my judgment keeps me stuck, small, and stagnant. It keeps me action-less, which is exactly where my judgy ego would like for me to stay.
When your mind is free of petty judgments, you have more space to create, love, and appreciate life. You are more capable of making your life the best possible. You have more time, energy, and motivation to be your best. Possibilities become infinite. Releasing judgment lifts you up, so it's time to remove the judgment anchor in of all of our lives.
Ready to begin? Here are some simple shifts to make when you notice judgment creeping up:
When judgment arises about…
…someone else, ask yourself what judgments you're feeling about your own self, and then cultivate compassion, forgiveness, and love for all parties.
…an injustice in the world, ask yourself your desired outcome, and shift from tortured ruminating into inspired action.
…a competitor in the workplace, notice what it is about that person or institution that they are doing right. Ask yourself what you could be doing to move yourself in the right direction to achieve your own career goals.
…yourself, remind yourself that no matter what, you are doing the best you can. We all are. Cut yourself some slack, practice self-love and self-care. Bring joy and lightheartedness back into your life.
I hope these simple shifts help you to release judgment from your life. I think you will find that in due time a sense of freedom and peace comes from releasing these toxic thought patterns. I'd love to hear your thoughts on this. Let's keep the conversation going in the comments below!
xo, Michelle
Michelle is Peaceful Mind Peaceful Life's Creative Director and resident writer. She has a degree in Journalism from Indiana University and is also a certified holistic health coach through the Institute for Integrative Nutrition and registered yoga teacher with trainings with Anuttara Yoga Shala and Strala Yoga. Michelle has a deep desire to help people find happiness in all areas of their lives, and truly believes the Peaceful Mind Peaceful Life movement will bring lasting change to the world. Michelle splits her time between Florida and New York City and loves connecting with people from all over the world. If you'd like to contact her, she can be reached at
CrystalWind.ca is free to access and use.
"Would you consider a small gift of $11.11 ?" :)
ॐ Namasté - Blessings!

© 2008-2018 crystalwind.ca. All rights reserved.