Category: Inspired Mind Hits: 840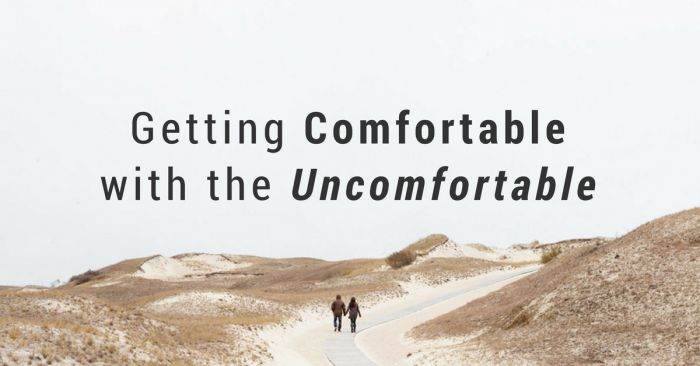 Do you desire to lead a life filled with magic, excitement, growth, fulfillment and opportunity? I'm sure you do, that's likely why you're here! So if you answered yes, today I will share with you a simple shift that you can make for this to be possible in your life.
Perhaps in this moment you are feeling stuck, frustrated or unsure of how to create the life that you desire, You are not alone. I have definitely felt this way many, many times.
I have been sitting with these feelings, being curious and becoming aware of what's happening for me in these moments and I notice that there is a common underlying theme for all of it. Fear. I see clearly, when life isn't progressing the way we want it to, or we feel frustrated and blocked our minds are generally running rampant with fear-based thoughts.
We as human beings are taught to fear the unknown, fear uncertainty, and fear that which makes us feel uncomfortable. So let me highlight here the importance of being comfortable in the uncomfortable, and shifting those fear based thoughts.
Now some of you might be questioning me on this (I've also been in this position too). I used to really loathe the conversations that would stress the necessity of stepping outside of comfort zones. I'm a creature of habit, I like to be able to predict outcomes, and feel safe. So when this conversation would come up I would ask myself the questions you may be asking yourself right now. What is so wrong with the safe feeling of comfort? Why is it so necessary to put ourselves out there in the world in ways that feel odd or difficult?
Though the safety net is a nice place to touch down from time to time, it's confined and limiting. There is meaning and purpose in the uncomfortable and a massive feeling of empowerment arises when we step outside of that comfy little box.
If you want to lead a magical life, embrace the unknown and the uncomfortable. Stepping outside of your comfort zone unlocks a world of infinite possibilities.
So, let's begin to shift into living life this way. I break it down here into three simple steps:
Become Aware. Start to notice the patterns of your thoughts. Journal, witness, and take note of the common themes that swirl around your head day in and day out. See where the fears pop in, notice where your mind wanders, and observe the feelings that go along with it. State your intention of shifting your beliefs on feeling uncomfortable and fearing the unknown.
Get Clear. Cultivate a sense of clarity of what you really want. Start questioning your desires; be curious and develop a deep relationship with yourself. Ask yourself how you want to feel. Feelings are equally as important as goals and desires. When you envision that dream life, what are the feelings that go along with it?
Take Action. Create an inventory of aligned actions you can take on a daily basis that will lead you to your desired goals and ideals. This list should be created as if you had no fear, because ultimately you will be living comfortably in the uncomfortable place. Get familiar with your fears and notice what comes up for you when you think about taking some of these steps or putting yourself out there in a new way. Ask yourself, if the fears are even valid, or simply just excuses your mind is using to stay where you are. Ask yourself what's the worst possible outcome from taking these new actions. Make it a priority to actually do these new actions, and be super aware of your feelings throughout the process. Keep your mind in check, remind yourself that everything is going to be ok. Commit to taking these new actions on a regular basis.
Once you start to put yourself out there in this new way, I promise you will begin to feel more confident and empowered. You will begin to see the shifts happening in your life that you really desire. I know because I am experiencing it!
It's true what they say, life really begins at the end of your comfort zone; we just have to reframe those pesky thoughts of fear and uncertainty.
I can't wait to see what happens when you all step out and take action! I'd love to hear your thoughts on this, let's keep the conversation going in the comments below!
xo, Michelle
Michelle is Peaceful Mind Peaceful Life's Creative Director and resident writer. She has a degree in Journalism from Indiana University and is also a certified holistic health coach through the Institute for Integrative Nutrition and registered yoga teacher with trainings with Anuttara Yoga Shala and Strala Yoga. Michelle has a deep desire to help people find happiness in all areas of their lives, and truly believes the Peaceful Mind Peaceful Life movement will bring lasting change to the world. Michelle splits her time between Florida and New York City and loves connecting with people from all over the world. If you'd like to contact her, she can be reached at
CrystalWind.ca is free to access and use.
"Would you consider a small gift of $11.11 ?" :)
ॐ Namasté - Blessings!

© 2008-2018 crystalwind.ca. All rights reserved.