Category: Inspired Mind Hits: 2975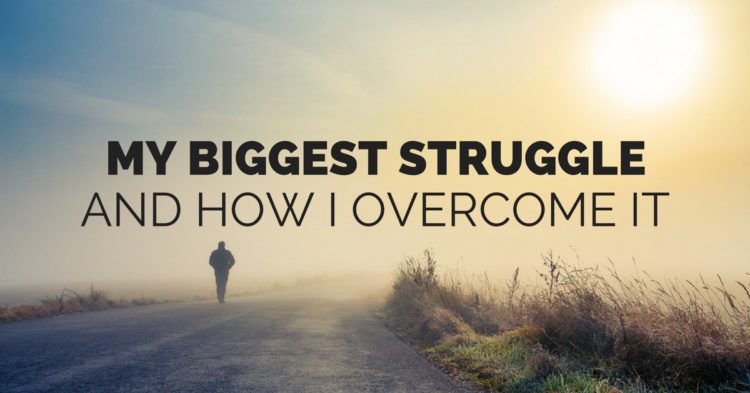 I'm usually pretty personal with you about my stories and what happens in my life. This week I'm getting even more personal, and sharing my biggest life struggle, and how I work every single day to over come it. I have had the idea to write about this for a while now but have always found excuses not to share; I can actually thank the insanity of the American election season as my enabler to keep putting it off! It was this very week, however, when someone posted a triggering comment on one of my pictures on Facebook that I knew it was a sign to finally share this with you. It was time to finally stop pushing this off.
I'll never forget one day in middle school noticing that the waist of my pants flipped over when I was sitting. My first reaction was that something had happened to my pants, they had been sewn incorrectly and that was why the waist creased when I sat. I thought about this often and even asked my mom to take the pants in to have them altered. It was shortly thereafter that I realized that it wasn't the pants that were the problem, it was me growing into puberty and learning that I no longer could indulge in the pizza and fried chicken diet that had sustained me in my youth. The changes that my body was experiencing caused me to put on some extra weight, that therefore caused the waist of my pants to fold over, which drove me crazy. It was from that very day, that I would become consumed with the thought of whether or not the waist of my pants flipped over when I sat down, and my obsession with weight and body image.
We live in a society that glamorizes a certain body type, while making a majority of us feel pretty subpar. Growing up, I took in the notion that I had to look a certain way to be perceived as pretty, to be successful, and to ultimately find a boyfriend/husband/someone to love me. I know that there are many other people out there who feel this way.
Since that time there has always been that nagging voice in the back of my mind wondering if I'm skinny enough, pretty enough and agonizing over whether or not whatever I eat in a day will make me gain weight. Even with all my daily practices, I'm never truly at peace unless I feel fully confident in my physical appearance, which is why I say this is my biggest struggle. I was basing my happiness on the external, which as we know, can NEVER truly be relied upon. So, I have taken it upon myself to learn, a lot, about food, nutrition, mindfulness and exercise. While for the most part the motives were pure, there was always that thought in the back of my mind saying, "if I master all of this, I'll finally figure out a way to be skinny."
There was a period of time where I was feeling pretty comfortable in my own skin. I had the external right, but again, the internal monologue was still a mess. And because, as Pema Chodron says, "nothing ever goes away until it teaches us what we need to know", my body issues came roaring back when my thyroid condition caused me to gain close to 40 pounds at what seemed like a blink of an eye. During this time, I felt like I had zero control over my body and no longer felt like I was living in my own skin. I didn't recognize myself in the mirror; in fact, I even avoided looking at myself in the mirror! This time in my life showed me I still had work to do in truly loving myself, and not just loving myself when I felt like my body looked up to par. It also showed me the judgments I had been harboring about body image in general, and sadly therefore, judging others based on their appearances.
I had never felt so much shame and judgment than during this period of my life. It was as if I wanted everyone to know there was a reason for my sudden weight gain, "it wasn't my fault", "it was out of my control", as if it wasn't ok for me to look this way. My outsides were mirroring my insides, and I started to awaken to the true state of body image in our culture. I knew deeply that this was one of my biggest teachings in life and I was being given an opportunity to truly heal and learn once and for all.
Day by day since then I have conscientiously worked to reprogram my thoughts about body image (which is no easy feat considering the messages we are constantly given in the media). I make an effort every day to look myself in the eye and regardless of what I see reflecting back at me, reaffirming that I love myself. I'm conscientious of what I eat in the sense of what makes me feel good, rather than what is going to make me fat or not. I exercise and move in a way that is truly enjoyable, not as a form of torture to the body that deserved to be treated a lesson. Most importantly, and this is my biggest lesson for you guys today, I strive to not be involved in the conversation that judges people based on their physical appearances. I can't tell you how many times people have come up to me and said something along the lines of "you look great, you look really skinny today". And while this is a nice compliment, this also stokes my "skinny loving" ego and perpetuates the notion that we have to acknowledge our peers based on how they are looking on that particular day. It puts the importance of appearance over everything else, and we are all so much more than that. We all deserve better.
I would love for all of us to start recognizing how we make each other feel, rather than how we look.
If any of this resonates with you, I share this deep, bit of my story, to let you know that you are not alone.
I want this to serve as a reminder to make it your daily mission to love yourself, take care of yourself, and frankly not give a damn about what other people think about your body.
For everyone else, I'd love if we could start a movement to change the conversation we have around bodies and the judgment thereof. We never truly know what is going on with someone else's physicality, therefore, how inappropriate is it to blindly pass judgment.
Honor the people in your life for who they are, not what they look like. Notice the beauty that shines from within.
I would love to hear your experiences with this and how you have healed your own body image issues. Let me know your thoughts in the comments below, and remember you are beautiful and loved just the way you are!
xoxo, Michelle
---
Michelle is Peaceful Mind Peaceful Life's Creative Director and resident writer. She has a degree in Journalism from Indiana University and is also a certified holistic health coach through the Institute for Integrative Nutrition and registered yoga teacher with trainings with Anuttara Yoga Shala and Strala Yoga. Michelle has a deep desire to help people find happiness in all areas of their lives, and truly believes the Peaceful Mind Peaceful Life movement will bring lasting change to the world. Michelle splits her time between Florida and New York City and loves connecting with people from all over the world. If you'd like to contact her, she can be reached at
CrystalWind.ca is free to access and use.
"Would you consider a small gift of $11.11 ?" :)
ॐ Namasté - Blessings!

© 2008-2018 crystalwind.ca. All rights reserved.