Category: Inspired Mind Hits: 1516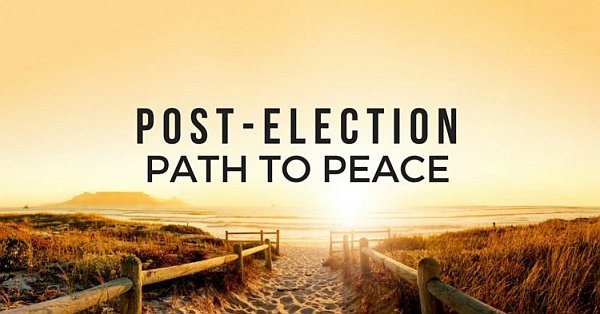 To start things off, let's take a collective deep breath, as this has been quite a week. I take my job very seriously and today I offer you my take on how to live the happiest, most peaceful life. Generally speaking, I avoid diving into politics here, but when major life events happen, that disturb the peace of mind for many, it must be addressed. To be clear, however, this is not a political post. It will address the political events that have taken place, but will be nonpartisan. I so deeply desire this to be a safe space for everyone, no matter what your political views. Everyone is welcome here, cared for here, and loved here.
No matter what side of the political spectrum you are on, you have been affected by this week's United States presidential election. Though this week feels difficult and divisive, I've found that we have some very positive outcomes, important lessons, and useful ideas that we can take from this election.
It's safe to say that change, no matter what form, can bring up a lot of feelings- mainly fear, uncertainty, and anxiety. We don't know what the future will hold, but let's be real, do we ever? Every person who comes to this site, and who is a part of the Peaceful Mind Peaceful Life movement, wants to be inspired, cares, and wants to create change and peace within themselves and in this world. Whatever happens in the external world does not change this fact, so this is important to remember. When you have the strength from within, you can tackle whatever life throws at you. Ultimately, it is your strength that is required in times like this.
I have created a little action plan for all of us to incorporate into our lives. I know deeply that when we all do our part, we will create miracles.
1. Start Listening. No matter where you stand politically, chances are you were shocked by this week's results. How I see it is; there is a massive portion of the population that feels unheard and abandoned. We are being called to start listening to one another. We all have needs, desires, and values. Listen to one another and make everyone around you feel heard.
2. Have Empathy. Compassion knows no boundaries. It is time for us to start cultivating the sense of understanding, especially for people who have views that differ from our own. We all have our opinions for a reason, and we are being called to start seeing things from all sides and to have empathy for all.
3. Be Kind. Just because we may have different political views doesn't mean we can't love each other. If we lose our sense of love, how on earth can we expect to live peacefully in this world? Love is what will save us. We are being called to be kind and to love one another. Allow people to feel safe in your presence, always.
4. Take Action. Although I am concerned about the divisiveness of this election, I am actually grateful for some parts of it. This period in time has shined a light on where we have work to do. It is redirecting us, showing us clearly what we care about, and giving us a new sense of purpose. Is there a cause that you are feeling strongly about right now? This is your calling to get to work now. This election has certainly given me a new sense of purpose. We are being called to step up and stand up for what we believe in.
I believe strongly that everything happens for a reason and that there are no mistakes or accidents in life. Every situation can teach us something, but most importantly every situation can teach us how to love more.
I wish you all so much love and hope. As we continue the conversation in the comments below, please remember this is not meant to be a political debate but rather how we can support and love each other more. If you would like to get deeper into the political aspects, you're welcome to shoot me an email and we can talk more there.
Love you all!
xoxo, Michelle
---
Michelle is Peaceful Mind Peaceful Life's Creative Director and resident writer. She has a degree in Journalism from Indiana University and is also a certified holistic health coach through the Institute for Integrative Nutrition and registered yoga teacher with trainings with Anuttara Yoga Shala and Strala Yoga. Michelle has a deep desire to help people find happiness in all areas of their lives, and truly believes the Peaceful Mind Peaceful Life movement will bring lasting change to the world. Michelle splits her time between Florida and New York City and loves connecting with people from all over the world. If you'd like to contact her, she can be reached at
CrystalWind.ca is free to access and use.
"Would you consider a small gift of $11.11 ?" :)
ॐ Namasté - Blessings!

© 2008-2018 crystalwind.ca. All rights reserved.