Category: Inspired Mind Hits: 1087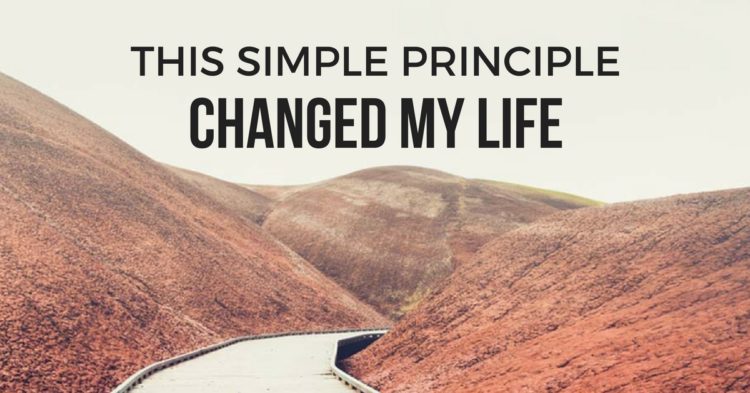 You guys know, I love learning spiritual principles, mastering them, adding them to my toolbox, and subsequently using them to lead a miraculous life. In my years of study, I truly feel like I have learned so much and am so grateful for it. As we all know, the spiritual path can be winding and challenging at times, but we also know, this is where the real treasure is. If life were easy, we wouldn't learn, we wouldn't grow, and we wouldn't recognize the invaluable lessons that enrich our lives daily.
I distinctly remember a point in my life where I was doing the "work." I started meditating. I did yoga. I drank green juice. I felt like I was doing "it all," but something still felt off. I wasn't totally happy, and things were not exactly lining up like I thought they should. As you can imagine, I was frustrated. What was my problem? I was checking all my boxes! One day I was having a conversation with my friend and teacher Gabby Bernstein and I uncovered an underlying core belief that was unraveling my entire spiritual practice.
In this conversation with her, I was having a bit of a pity party on why things weren't working out, and Gabby asked me, "Do you believe that the Universe has your back?" I really wanted to say yes to that question but deep down, I knew my answer, and it was no. I was faithless, doubtful, and in disbelief that I was being supported by a force greater than myself. The crazy thing about this was that I knew that there was this power constantly working on our behalf, I just thought that somehow it had singled me out, and I was the one person (in the billions of people on this planet) who didn't have this support. Gabby immediately brought me back to truth in her insistence that I, just like everyone else in this world, am fully guided and supported by the Universe, God, Jesus, Love, Cosmos, Spirit.
The key to feeling this support is that you simply have to be open to it, to ask for it, and to be aware of the messages and signs that you receive in return. There was never a time that I was truly unsupported, I had just closed off to the guidance that was available to me because of my disbelief. Now, I ask for signs, and I receive them because I am aware. I notice patterns and synchronicities. I check in with myself to see how I'm feeling and use my intuition as guidance in partnership with the Universe. I live from the belief that I am fully supported and guided (just like each and every one of you).
In the years since turning on my faith goggles, I have experienced miraculous shifts in my life. I believe, and so my life feels (mostly) like an effortless flow. I don't feel anxious about how life will turn out because when I surrender and believe, I know that everything will work out exactly as it should. I don't feel the sense of loneliness that once plagued me because I know that there is that force and spirit always with me. I don't feel like I need to know the answers to everything in my life because I genuinely love being surprised by the infinite possibilities of what could unfold. I find myself in situations that I could have only dreamed of, and I am constantly being amazed at where life takes me. I owe this all to the principle and the belief of trusting that the Universe always has my back.
I felt called to share this principle with you because I know there are many of you out there who have that feeling like this spiritual stuff works for everyone else, but you just don't feel it. You feel like the forsaken spiritual student. I want you to know that you aren't, and that you have the power in your hands to change this dynamic. This is the week where it all will change. Start exercising your faith muscle, and notice the shifts and miracles that will appear in your life.
If you're wanting to get a deep dive of learning to trust in the Universe, Gabby has just released a beautiful book called The Universe Has Your Back that will guide you on your way to full-fledged faith.
I would love to know your experiences in learning to trust and have faith. Let's keep the conversation going in the comments below, let me know some of your Universe stories!
xoxo, Michelle
---
Michelle is Peaceful Mind Peaceful Life's Creative Director and resident writer. She has a degree in Journalism from Indiana University and is also a certified holistic health coach through the Institute for Integrative Nutrition and registered yoga teacher with trainings with Anuttara Yoga Shala and Strala Yoga. Michelle has a deep desire to help people find happiness in all areas of their lives, and truly believes the Peaceful Mind Peaceful Life movement will bring lasting change to the world. Michelle splits her time between Florida and New York City and loves connecting with people from all over the world. If you'd like to contact her, she can be reached at
CrystalWind.ca is free to access and use.
"Would you consider a small gift of $11.11 ?" :)
ॐ Namasté - Blessings!

© 2008-2018 crystalwind.ca. All rights reserved.