Category: Forecasts and Horoscopes Written by Pam Younghans Views: 933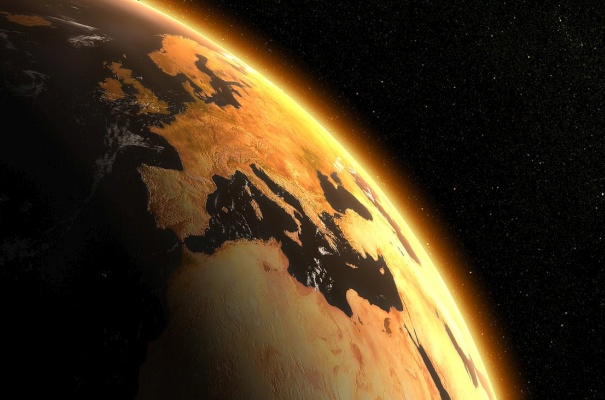 THESE ARE THE TIMES that we incarnated to be a part of. Yes, there are multiple and varied reasons for each Soul's choice to be embodied on planet Earth in this Now, many of which are unique to the Soul's own growth experience. But there are also grander purposes that we chose to experience in the current lifetime, evolutionary processes that we wanted to partake in, and so we chose this particular timeline.
We are moving through one of those pivotal periods that I visualize as a starburst on humanity's timeline. In our pre-life consults, we saw this bright light and knew that it would represent a major shift for all embodied Souls on the planet, and even for those in other dimensional states as well. And we wanted to participate, and to do what we knew we were capable of doing – or, more accurately, to Be who we knew we were capable of Being – to support and facilitate this awakening, this expansion of consciousness, this time of incredibly fast-paced growth.
GROWING PAINS associated with this process have been particularly intense throughout the month of August. Situations around the world and in people's personal lives are heating up. We are being pushed beyond our comfort zones, which means we must focus even more intentionally on staying in balance and at peace internally – not only as a means of daily survival, but to align ourselves with the choices and actions that are most in sync with our higher path and purposes.
There are many cosmic factors involved in this evolutionary push. One of them is the Pluto-Eris square, which has been working with us since early 2020. This week, that challenging aspect reaches another climax as it perfects for the fourth (of five) times.
THE EFFECTS of the Pluto-Eris square are very complex, as complicated as the personas of the mythical immortals for whom the two dwarf planets were named. Pluto was the Lord of the Underworld, snubbed by the other gods and feared by mortals. In modern astrology, Pluto oversees not only the transition from physical to nonphysical, but also the transmutation of emotional patterns that have been controlling us from behind the scenes, keeping us disempowered.
The dwarf planet Eris is a relative newcomer to our list of planets, having been discovered in January 2005. When it arrived on the scene, it immediately shook things up. As a result of its discovery, Pluto was demoted to dwarf planet status, a decision that raised more than a little controversy and foretold a great deal about the effects Eris would have on our reality.
ERIS was the goddess of Discord in mythology and was generally disliked by the other immortals. Her actions, though selfishly motivated, were revelatory in that they allowed everyone to see the shadow qualities of the other goddesses, those who had been adored and seen as flawless.
As we've watched the planet Eris at work in the "real world," it's become clear that this is one of its primary actions: to reveal that which has been ignored or glossed over because it makes us uncomfortable. Eris strips away the facade and makes us aware of a truth that we would prefer not to see. We saw this effect very strongly in 2016, when Eris conjoined Uranus and the #MeToo and the Black Lives Matter movements were seeded.
IN MANY WAYS, Pluto and Eris have similar mechanisms. They both dig beneath the surface to reveal what has been hidden. With Pluto, we are made aware of fears that have taken control of us and caused us to give away our power. With Eris, we usually get in touch with anger that has been repressed, often from not being seen and respected as an individual. Over the last eighteen months, while the Pluto-Eris square has been in effect, fears and angers have been much more difficult to ignore and contain.
This week, as this square aspect perfects again, we are at another crest of this influence. The emotional pressure that has been building is needing release. We will likely see heightened conflict between the powers of authority (Pluto in Capricorn) and individual rights (Eris in Aries). There will be demands to be seen and respected, and strong reactions to feeling controlled and manipulated.
But no matter what happens in the outside world, we each have the option to engage the highest purposes of this square, which is to find a deeper level of spiritual and emotional strength than we have accessed before. By setting this intention and using all the tools at our disposal, we gain an inner authority, an inner power, and an inner respect that cannot be violated or taken hostage by any other being or outer circumstance.
IN ADDITION to the Pluto-Eris square, it's a busy week for all the planets, which means eventful days for us humans. Here are the most important daily aspects and my brief interpretations of each:
Monday
Venus trine Saturn: This harmonious aspect can enable us to gain clarity about a relationship, a creative project, or what we truly value, helping us make plans for the future.
Tuesday
Mercury opposite Neptune: Dreams interface with reality, and it can be hard to know what is possible and what is only fantasy. This is a good time for creative musings, inspired writing, and meditation, but may not be the best time for making practical decisions. Communications can be unclear, resulting in misunderstandings.
Wednesday
Mercury sesquiquadrate Saturn: A reality check today, which may show us where we veered too far off course in our dreaming or ramblings yesterday.
Venus sesquiquadrate Jupiter: Efforts to please a friend or loved one can backfire if we end up saying "yes" when our gut is telling us "no."
Thursday
Venus opposite Chiron: Personal needs and the perceived needs of a relationships can seem at odds. Old wounds may resurface, requiring us to look at issues of codependency.
Mercury quincunx Eris and trine Pluto: Conversations go deep and we feel a strong urgency to speak our truth, no matter what the consequences. These aspects help us see more clearly how the Pluto-Eris square is at work in our personal lives.
Moon conjunct Eris (11:00 a.m. PDT) and square Pluto (11:02 a.m. PDT): The Moon activates the influence of the Pluto-Eris square.
Friday
Neptune conjunct Pallas Athene: Spiritual inspiration combines with intuitive wisdom. A wonderful alignment for meditation, energy healing, creative visioning, and enhancing our spiritual gifts.
Mercury quincunx Jupiter: Distractions make it difficult to focus on work.
Pluto square Eris: The major aspect of the week, and the month. See above.
Saturday
Venus quincunx Uranus: Discomfort in relationships requires us to renegotiate our unspoken agreements.
Sun square nodal axis: Old patterns of control and overanalysis can interrupt forward progress.
Sunday
Mercury sesquiquadrate Uranus: Nervous energy can make it hard to focus on mental tasks.
Mercury enters Libra: Mercury will be in Libra for an extended period due to going retrograde in September, not moving into Scorpio until November 6. During these nine-plus weeks of Mercury-in-Libra, we can call on the qualities of diplomacy and tact to rebuild connections with others. This transit can help us work together to reach consensus.
IF YOUR BIRTHDAY IS THIS WEEK: Your primary challenges this year may involve how to reorganize your life. New opportunities present themselves, but it can be hard to know how to take advantage of them while also keeping up with your responsibilities. The needs of family members or others in your care may dominate your concerns. Be conscious of when your choices involve too much self-sacrifice or are based in low self-worth. Remember that the highest expression of Virgo is unconditional love: the ability to hold the frequency of love under all conditions. This definition of unconditional love includes caring for self as well as for others. (Solar Return Sun square Ceres, square nodal axis)
In peace and with gratitude,
Pam
All times listed are Pacific Daylight Time. For Greenwich Mean Time, add 7 hours.
MON: Venus trine Saturn

TUE: Mercury opposite Neptune

WED: Mercury sesquiquadrate Saturn, Venus sesquiquadrate Jupiter

THU: Venus opposite Chiron, Mercury quincunx Eris, Mercury trine Pluto, Moon conjunct Eris (11:00 a.m. PDT), Moon square Pluto (11:02 a.m. PDT)

FRI: Neptune conjunct Pallas Athene, Mercury quincunx Jupiter, Pluto square Eris

SAT: Venus quincunx Uranus, Sun square nodal axis

SUN: Mercury sesquiquadrate Uranus, Mercury enters Libra
Event
"THE FINAL ASCENT": My webinar covering the last four months of 2021 will air live on September 8! If you're ready to register, click HERE. To learn more about the class, please read the description below.
A few business items:
Questions about registration or payment? Please contact Elsie at

. Payment for the webinar can by debit or credit card, PayPal or check to Elsie.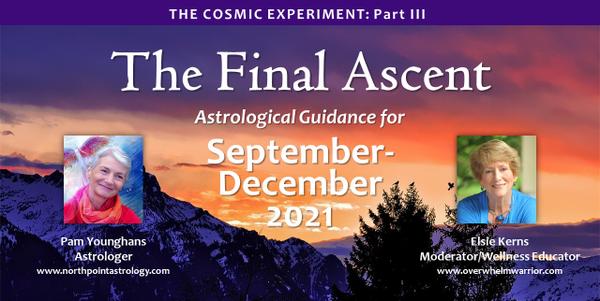 AS TREKKERS approach a mountain peak, they must prepare for the final ascent. This is often the most difficult stage of the climb, but a necessary step if they are to reach the goal.Wednesday, September 8
Airing Live and Recorded for Replay at
4 pm PDT | 5 pm MDT | 6 pm CDT | 7 pm EDT
75 minutes, $27 USD
To register: https://cosmiceventfall21.eventbrite.com
The next four months – September, October, November, and December – are humanity's final ascent in our trek through 2021. The climb will be challenging, requiring us to have all our spiritual tools with us and ready to use. But, with our sights set on the mountaintop, we will find the inspiration we need to persevere. And, once the peak is gained, we will have a much higher perspective on the entire landscape of this past year.
TO BEGIN this "Final Ascent" webinar, Pam will share an overview of the rest of 2021 and describe the most significant events of these final four months: the Pluto-Eris square and Saturn-Uranus square. These two aspects are linked to the COVID-19 pandemic, the vaccine controversy, and the challenges humanity is facing as we move away from old paradigms of fear and limitation toward a more expanded, soul-based perspective. Among the other highlights we'll discuss are a Partial Lunar Eclipse and a Total Solar Eclipse, Venus' station while conjunct Pluto, and Jupiter's re-entry into spiritual Pisces.
After this overview, Pam will dive into the monthly calendars, walking us through each week and describing the energies we'll be working with. You will receive the calendars before air date for easy notetaking.
PLEASE JOIN US! This webinar is for everyone, whether you are a newcomer to astrology or have spent years in study. And no worries if you're not able to attend live – everyone who registers will have full access to the replay and calendars for viewing at your leisure.
Credit
Pam Younghans lives in a log cabin outside of Seattle, Washington with her two dogs. She has been interpreting astrology charts for over 30 years, and has been reading charts professionally since the mid-1980s. Astrologer Pam Younghans writes this NorthPoint Astrology Journal based on planetary influences and guidance received. Her hope is to offer perspectives and insights that will assist you in utilizing current energies to enhance your life experience and accelerate your spiritual and personal growth.
Feel free to share this NorthPoint Journal with others who may enjoy it! When doing so, please forward it in its entirety, including all contact and copyright information. To learn more about private astrology sessions, please visit the "Personal Readings" page at www.northpointastrology.com. To schedule a reading, please email .
Copyright NorthPoint Astrology 2021. All Rights Reserved.
Source Here
---
CrystalWind.ca is free to access and use.
Please support us with a small gift of $11.11 or $22.22 or $33.33.
Thank you!

ॐ Namasté - Blessings!

"Life is an echo, what you send out comes back."
© 2008-2021 crystalwind.ca. All rights reserved.
Spirit Animal Totem Of The Day!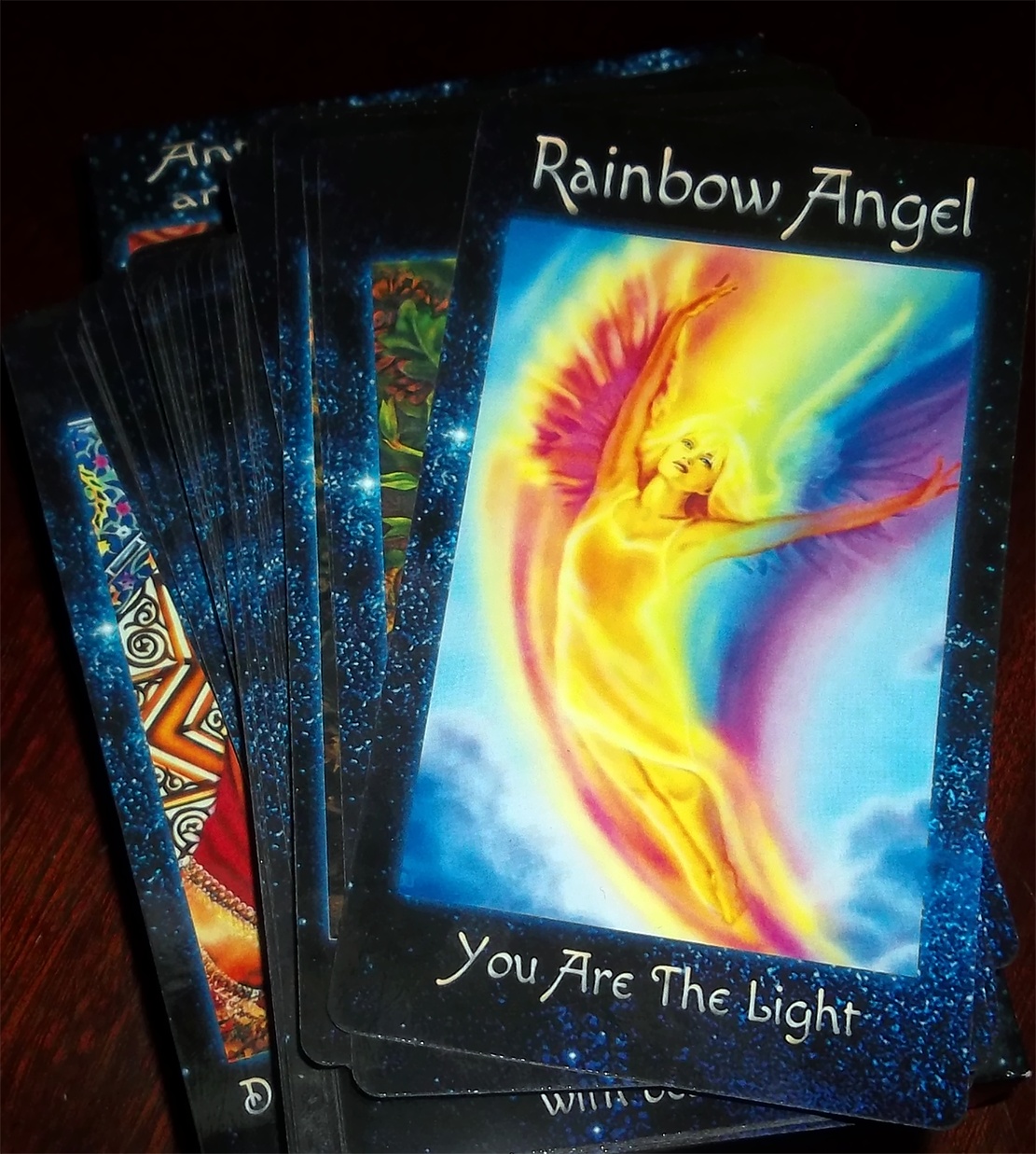 The Crystal Wind Oracle
Myth & Magic Card Deck!
Details Here!
NEW Expanded
Printed & Boxed!
Now with 58 cards!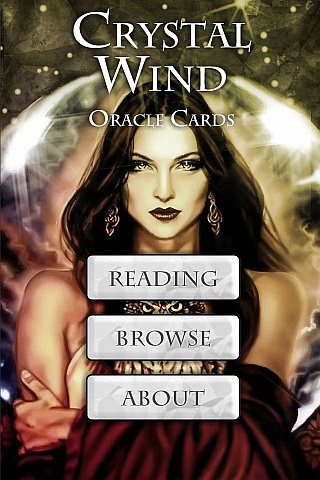 Cut Through The Illusions!
Who is Online Now
We have 1627 guests and no members online