Category: Astrological News Hits: 1002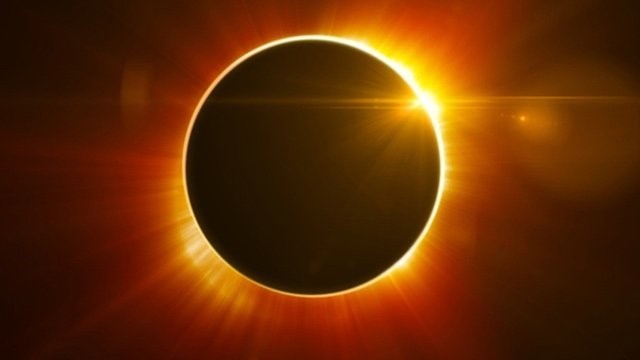 Dearest Friends
Monday August 21st, 2017, the Total Eclipse of the Sun in Leo (28º53') will affect the whole world similar in power to the Harmonic Convergence in 1987, the Harmonic Concordance in 2003 and the "end" of the Mayan Calendar on 12/21/2012.
It will however be most intense (total) from the US West Coast to the East Coast, literally sweeping across OR, ID, WY, NE, MO, IL, KY, TN, GA, SC where it will be fully visible in broad daylight.
While eclipses are always major cosmic turning points, this one in particular is unusually powerful. Interestingly enough, it is associated with the master number 33. Visible in the US from OR, the 33rd state, to South Carolina on the 33rd parallel, it occurs on the 233th day of the year, 33 weeks and 2 days into 2017, 99 (33x3) years since the last Total Eclipse to have crossed the entire United States (June 8, 1918) 6+8+1+9+1+8= 33!! 33 is the number of the Ascended Masters, of mastery, manifestation of our highest desires, and living our lives with optimism and enthusiasm.
It is conjunct the fixed star Regulus and falls on Donald Trump's Mars (action, war) in the XIIth house (the subconscious, hidden enemies) and Ascendant (self-image and impact projected into the world), making him gain more authority. It also occurs in the IXth house of the United States' chart (foreign policy, the press, immigrants, the law, higher education, philosophy and religion). On a global scale, we could see revolts, revolutions, the overthrowing of governments. The role of the press and its manipulations could become more obvious. The lies of some religious institutions could become more visible. The truth of mass immigration could be revealed. The schooling system could be revamped. The failings of the legal system could be denounced.
On the positive side, in the face of all that is crumbling in society, there could be greater movements towards integrity, tolerance, understanding, true justice and compassion.
On a personal level, this eclipse encourages us to not fall prey to the wildly fluctuating roller coaster ride that seems to have become our daily reality, but remain rooted in inner peace and wisdom. It favors new beginnings, as well as living with joy, passion and courage, in the knowingness that we are blessed, loved and supported.
If we honor our integrity, stay disciplined and compassionate, we shall realize that success in new ventures is not only possible, but totally available to us. Whatever dream we have that is in alignment with our highest destiny and supports the common good will be answered through an infusion of clarity, inspiration and bravery.
Now is the time to eliminate once and for all the disturbing elements affecting our self-confidence and standing in the way of our inner peace. We are helped in letting go of habits that no longer serve us. Positive changes come naturally and effortlessly, with long term results. As we develop our trust in life, as well as our faith in ourselves, new ventures are crowned with success. In group efforts, cheerful tolerance helps us work optimistically towards a common goal.
The truth of relationships could come to the surface. We could be surprised by what people we thought we knew well, reveal about themselves, leading in some cases to sudden, unexpected separations and in others, to a deeper sense of intimacy while our social circle expands.
Our need for greater freedom from limited circumstances is felt with more urgency. We become wiser and more visionary in the use of our skills, talents and financial resources.
Those who are artistically inclined, could be particularly inspired and manifest creations that feel divinely ordained.
While this eclipse is happening, the power of meditation is immensely enhanced, A truly magical time to see everything that we really desire in our lives, as having already manifested, and to visualize the world we want into being
Tomorrow, Monday August 21st, we can use the power of this eclipse to make a HUGE difference in both our personal lives and on our planet, by each individually, and together, meditating and performing ceremonies focusing on peace and the manifestation of the highest good. The most effective periods of time to gather are as follows:
OR: 9:06 AM-11:41 AM PDT
ID: 10:15 AM-12:58 PM MDT
WY: 10:22 AM-1:09 PM MDT
NE: 11:37 AM-2:29 PM CDT
MO: 11:46 AM-2:41 PM CDT
IL: 11:52 AM-2:47 PM CDT
KY: 11:54 AM-2:49 PM CDT
TN: 11:58 AM-2:54 PM CDT
GA: 1:06 PM-4:01 PM EDT
SC: 1:13 PM-4:06 PM EDT
In other locations in the US, although the eclipse will not be entirely total, it will still be visible and extraordinarily powerful:
L.A.: 11:30 AM PDT (exact)
N.Y.: 2:30 PM EDT (exact)
And in the world (mostly not visible, but still very strong), for example:
London: 7:30 PM GMT
Paris/Amsterdam: 8:30 PM CET
Helsinki/Athens/Tel Aviv: 9:30 PM EET
Delhi: 11:30 PM DDT
Sydney: 4:30 AM AEDT on August 22nd
Let us use the power of this eclipse with love and wisdom.
Michelle Karén, M.A., D.F.Astrol.S.
The world is shifting. As old paradigms become irrelevant, we need the astrological insight and gifts that Michelle Karén provides for people worldwide, right now. Having predicted current global circumstances, she also holds the answers to help empower people. Michelle Karén is the author of the groundbreaking book, Astrology for Enlightenment, published by Atria, an imprint of Simon & Schuster.
CrystalWind.ca is free to access and use.
"Would you consider a small gift of $11.11 ?" :)
ॐ Namasté - Blessings!

© 2008-2018 crystalwind.ca. All rights reserved.