Category: Astrological News Written by Jamie Partridge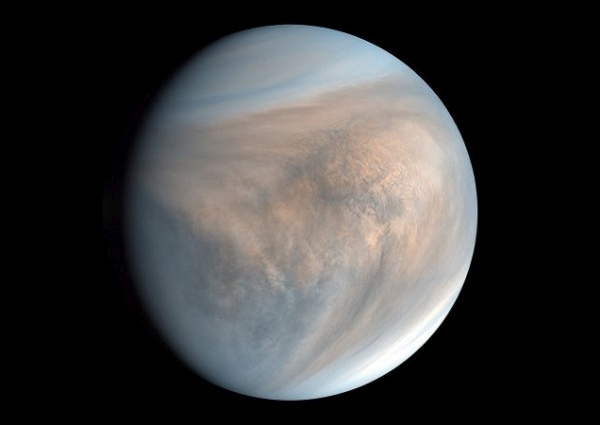 Venus retrograde 2021 begins on December 19, 2021 at 26° Capricorn and ends on January 29, 2022 at 11° Capricorn.
Venus retrograde is generally a fated and challenging time in your love life. Difficulty giving and receiving love and affection can lead to relationship problems. But destiny encounters can also result in a new romance. Planetary aspect and fixed star conjunctions to Venus help determine the nature of the retrograde period.
Venus retrograde December 2021 is on the more challenging end of the scale because it aligns with Pluto. This could lead to a relationship crisis or a financial crisis. But there are also more positive influences that bring the chance of growth and good fortune with love and money.
More detail about this retrograde phase follows some general information on retrograde Venus in transit. Information about Venus retrograde in the natal chart can be found at the end of this article.
Venus Retrograde Transit
Transiting Venus retrograde occurs once every 19 months for a total of six weeks (42 days). This means Venus is retrograde only 7% of the time, the least amount of any planet. The next closest is Mars retrograde at 9% then Mercury retrograde at 19%. Therefore, Venus retrograde is the most strongly felt of all retrograde planets.
During Venus in retrograde motion, your love life enters a fated period. Giving and receiving love and affection becomes more difficult. Old friends or lovers may reappear or you may relive past life experiences in order to sort out karmic issues. As Venus also rules money, it's traditionally thought that Venus retrograde is not an ideal time for investing or buying luxury items.
Venus retrograde in transit is a time of introspection and reassessment. You will likely become interested in someone or something of value that would bring you pleasure. Destiny encounters are possible and you may actually come into contact with your soul mate. If so, you should experience a feeling of inevitability or familiarity.
Use Venus retrogrades to improve how you feel about yourself, to love yourself more. Think about what really brings you pleasure. Find the reasons for problems in earlier or current relationships. This is where old lovers reappearing can help you clear away the past to make room for new relationships. Even reminiscing about old partners will help to remove your karmic baggage and lighten the load.
Venus Retrograde 2021
Venus stations retrograde on Sunday, December 19, 2021, at 26°29′ Capricorn. The only major aspect to Venus is the conjunction with Pluto. While this alignment can bring profound new love and intensify sexual relations, it is generally considered a challenging aspect.
A fixed star between Venus and Pluto can bring good fortune but will also reinforce the manipulative and abusive nature of Pluto. And the challenging influence of Saturn square Uranus is causing difficult change and rebellion under restraint.
Thankfully, there is a positive influence from Jupiter which adds good fortune, generosity and morality. The harmonious aspects to the Sun and Moon are enhanced by the December 18 full moon, only six hours before Venus stations retrograde.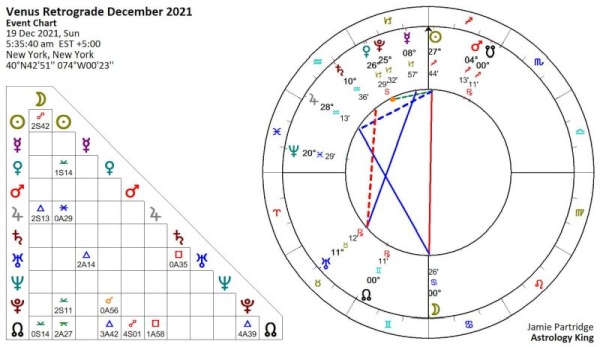 Venus Retrograde 2021
The Aspect
Venus conjunct Pluto dramatically increases your need for love and affection. You want to experience companionship at a deeper, more intense level. Magnetic attraction pulls people together at the subconscious level. Instant attraction or infatuation could lead to a new romance. And it would most likely be intense, karmic and life-changing. Intense sexual experiences, bondage and other tabboo areas of sex are possible in a healthy relationship.
However, this is a challenging aspect, and things can quickly turn nasty. Increased powers of attraction and an intense need for love can lead to the conscious or subconscious misuse of power or a relationship crisis. So beware of a tendency to manipulate others by guilt-tripping or using other subversive tactics. You could be the perpetrator or the victim of possessiveness, jealousy, stalking or spying. Extreme cases could involve rape or violence. There may also be a tendency to fall for negative or dangerous types of people like criminals and heavy drug users.
As Venus rules money as well as love, there may be a tendency toward compulsive spending. The stock markets may experience extreme ups and downs, with the possibility of a financial crisis.
This is a powerful influence on Venus retrograde 2021 because the conjunction is under one degree. Plus, Venus stays within one degree of Pluto from December 8 to 28.
The Star
25♑32 – Pluto
26♑08 – Terebellum
26♑29 – Venus
Fixed star Terebellum gives fortune but with regret and disgrace, cunning, a mercenary nature and repulsiveness. It is of the nature of Venus and Saturn so also gives bad morals, perverted tastes, misfortune in love affairs, and seduction. [1]
This is a strong influence not only because the sits between the two planets within a close orb. Venus stays within one degree of Terebellum from December 10 to 27. And Pluto stays within one degree of Terebellum from December 4, 2021, to February 6, 2022.
As mentioned earlier, this nasty side of this star will bring out the worst of Venus with Pluto for some. But for others, good fortune is possible. Much will depend on how Venus retrograde December 2021 aspects your horoscope.
Venus Direct 2022
Venus stations direct on Saturday, January 29, 2022, at 11°04′ Capricorn. Venus trine Uranus makes this an exciting and much nicer phase. And the fixed star joining Venus direct has a very positive influence on your social and love life.
Venus trine Uranus gives the urge and the freedom to try something new. This is an exciting time for your social life, love life, and possibly your finances. An electric or kinky type of attractiveness is a good omen for dating. Someone new entering your life would likely be very different, stimulating, and open-minded. You may be attracted to, and attract people from cultures or lifestyles different from your own.
Fixed star Nunki at 12°41′ Capricorn gives truthfulness, thoughtfulness, optimism, a religious mind and philosophical nature. [1] May become an authoritative writer or orator on matters concerning religion, business, state, or foreign affairs. Interest in long-distance travel and the ships and airplanes that make it possible is also likely. [2]
With Venus: Heart rules head, favors from opposite sex, many friends. [1]
Venus Retrograde Dates
2020, May 13 to June 25 – 21° to 5° Gemini
2021, December 19 to January 29, 2022 – 26° to 11° Capricorn
2023, July 22 to September 3 – 28° to 12° Leo
Natal Venus Retrograde
Natal Venus retrograde suggests you have some difficulty in giving and receiving love and affection. You may experience sadness in love or have to endure hardship or delay. Lack of self-love, social anxiety, shyness, and even financial hardship are also possible.
Often these challenges are a result of past life relationship issues. Due to the laws of karma, if you caused suffering or hardship to a lover in an earlier life, you shall experience something similar yourself during this life. Venus retrograde acts like Mars so perhaps you hurt someone you loved. Maybe you had an affair, walked out when they needed you most, or physically injured them.
Whatever happened in past romances, you come into this life with those bad memories etched in your soul. You probably don't recognize them as memories but as déjà vu or unexplained guilt. Especially when young, there can be a repeating theme of challenging events related to your past.
Sadness and disappointment may come from unrequited love, forced marriage, sexual abuse, mental illness, or physical disability. Learning to love yourself is critical in working through your Venus in retrograde issues. Other signs of natal Venus retrograde are poor personal hygiene and not caring about how you look.
Self-love can start with beautifying your physical appearance. Using fashion, cosmetics, and beauty treatments can greatly improve your self-love, therefore making you more lovable. However, natal Venus in retrograde can also show as excessive use of makeup and jewelry or even disfigurement from cosmetic surgery.
The aim of Venus retrograde in your natal chart is to perfect those areas of your love life which once let you down. As your relationship skills improve with experience, your karmic debt will be repaid and you start to enjoy more loving relationships.
References
Fixed Stars and Constellations in Astrology, Vivian E. Robson, 1923, p.180, 213.
Source: here
My name is Jamie Partridge and I live on the coast of NSW Australia with three amazing kids. I've had an interesting life so far, with varied occupations ranging from nursing assistant to farm hand.

---
CrystalWind.ca is free to access and use.
Please support us with a small gift of $11.11 or $22.22 or $33.33.
Spirit Animal Totem Of The Day!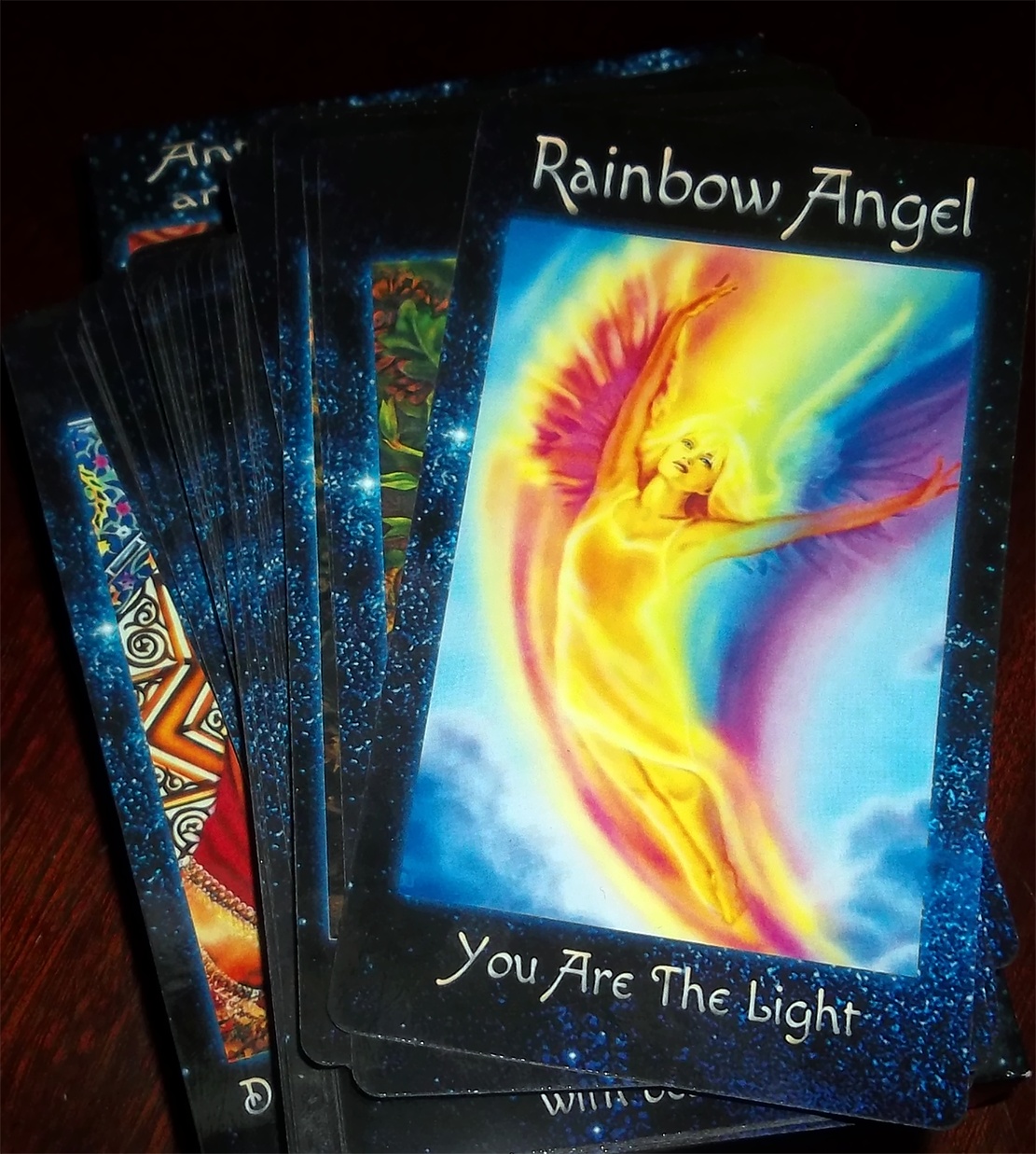 The Crystal Wind Oracle
Myth & Magic Card Deck!
Details Here!
NEW Expanded
Printed & Boxed!
Now with 58 cards!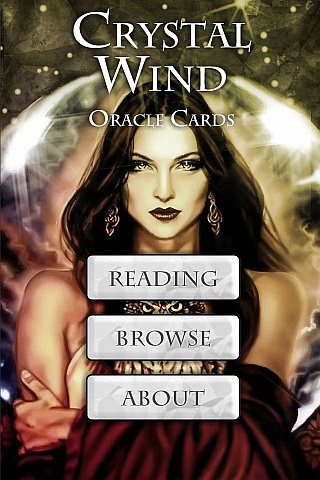 Cut Through The Illusions!
Who is Online Now
We have 853 guests and no members online