Category: Astrological News Hits: 1529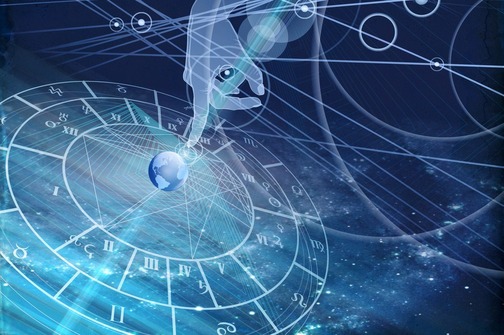 WE ARE FULLY ENGAGED in the energies of Eclipse Season now. The "not-an-eclipse" that occurred on August 18 marked our entry point — and this week, we have the first "real" eclipse, the Virgo Solar Eclipse/ New Moon on Thursday, September 1, at 2:03 a.m. PDT (9:03 a.m. GMT).
A New Moon occurs every month when the Sun and Moon (the "Lights") are aligned. But the lunation becomes a Solar Eclipse when the Lights are also in the same plane as the Earth. The other revealing feature of an eclipse is that it occurs when the Lights are in close proximity to the Moon's Nodes — those points in space that reveal our karmic past and shine light on our path of highest evolution.
All eclipses are significant and can correspond with major shifts in our consciousness and in our lives. They bring forward opportunities to evolve beyond existing limitations -- and to leave limiting perspectives behind. With this eclipse aligned with the North Node, we have a strong sense that we are moving forward, and more able than usual to leave old patterns behind.
A SOLAR ECLIPSE is like a potent New Moon — it is a powerful time for something new to be seeded in our lives. Some of us may be very aware of new developments now, often because changes must occur externally to create the new environment that will support the seedling as it grows. But since the seed is planted beneath the surface, some of us may not be fully aware of what has happened until the seedling pushes its head above ground in the coming weeks.
The seed that is being planted will bring new awareness to Virgo concerns. This Solar Eclipse marks an initiation into a new way of perceiving our experience in these areas:
Our health and nutritional needs
Our work and service in the world
Our ability to be discriminating and to analyze
Our desire to grow and become more than what we have been
Our ability to be loving stewards of the Earth and of all manifested Life
THE HIGHEST EXPRESSION of Virgo is the ability to be in the world and responsible to its practical needs, but at the same time to perceive reality through the eyes of the higher self, which can see perfection where our human minds cannot. This Virgo skill is the ability to be in a place of unconditional peace, the "peace that passeth all understanding." This peace is not achieved through controlling reality based on old paradigms, but through being open to new methods and techniques.
When we are in this energy of elevated Virgo, we are guided by a higher perspective in our choices and decisions. We see not only the details but the larger picture, and can envision solutions that were once obscured.
AN ECLIPSE has greatest impact for us individually if it activates a personal planet in our natal astrology charts. For everyone, the house location of the Solar Eclipse shows the area of our lives where this new energetic seed will be sown.
If you have your astrology chart:
Find the house that contains 9 degrees of Virgo — this will show the area of your life that is being energized by this eclipse. For house meanings, visit the "Houses" page of my website: www.northpointastrology.com/houses.html.
To see whether this eclipse marks an especially powerful time for you, note if you have any planets between 5 and 13 degrees of mutable signs — Virgo, Sagittarius, Pisces, or Gemini. To review what each planet signifies, visit www.northpointastrology.com/planets.html.
THIS ECLIPSE is especially powerful because it activates the influence of the Saturn-Neptune square we've been working with since last November. This square is highlighting the dual nature of the world we live in. If we don't apply our higher perspective, we can tend to get caught up in (and overwhelmed by) the struggle of us vs. them, right vs. wrong, good vs. bad, and all other polarities you can imagine.
To help us navigate these dynamic polarities, we will want to consider the value of Buddhism's "Middle Way," which embraces the highest vibrational attributes of Virgo:
"To pursue the Middle Way is not a compromise. It is to bravely confront life's challenges — identify root causes and seek means of resolution — while summoning the transformative strength and wisdom from within one's life to create harmony. The Middle Way does not equate to society's definition of what may be accepted or considered 'normal' at any given time. Rather, it transcends subjective values and accords with something more fundamental — our humanity. At the social and political level, the Middle Way could be expressed as the commitment to upholding respect for the dignity of life and placing it before adherence to a particular political or economic ideology." (From the Soka Gakkai International website)
ALSO THIS WEEK, Mercury goes retrograde, setting up a three-week period when we are encouraged to go within, to review decisions we have made, and to rethink our trajectory going forward.
As always, the usual cautions apply: If you need to handle any legal issues, paperwork, or important decisions between now and September 21, when Mercury goes direct, make sure to double check all of your facts. If you feel pressured, that you "have to" get something done or decided, that's an extra caution. We tend to make the most mistakes when we feel pressured by time — and with Mercury retrograde, we will likely need to redo later whatever we've done, if we succumb to that pressure.
IF YOUR BIRTHDAY IS THIS WEEK: This is a year of significant new beginnings in your life. Your knowing of self, and your sense what you really want and need for your fulfillment, is being energized. You may have to face some internal resistance along the way, and confront the old beliefs and judgments that have been standing in your way until now. But, the potentials for expansion are great once you have made it over those hurdles. Be sure to take the time to call light to yourself throughout the year, and allow yourself to feel the energy that supports you in your growth.

In peace,
Pam
Highlighted Aspects this Week:
MON: Mars square Nodes, Venus enters Libra
TUE: Mercury goes retrograde 6:03am PDT (1:03pm GMT), Jupiter quintile Saturn
WED: Sun sesquiquadrate Uranus
THU: Solar Eclipse/New Moon 2:03am PDT (9:03am GMT), Sun square Saturn
FRI: Pluto opposite Vesta, Sun opposite Neptune, Mercury conjunct Jupiter
SUN: Sun conjunct North Node
Pam Younghans
Pam Younghans lives in a log cabin outside of Seattle, Washington with her two dogs. She has been interpreting astrology charts for over 30 years, and has been reading charts professionally since the mid-1980s. Astrologer Pam Younghans writes her weekly NorthPoint Journal based on planetary influences and guidance received. Her hope is to offer perspectives and insights to assist you in making best use of current energies.
CrystalWind.ca is free to access and use.
"Would you consider a small gift of $11.11 ?" :)
ॐ Namasté - Blessings!

© 2008-2018 crystalwind.ca. All rights reserved.