Category: Astrological News Hits: 1985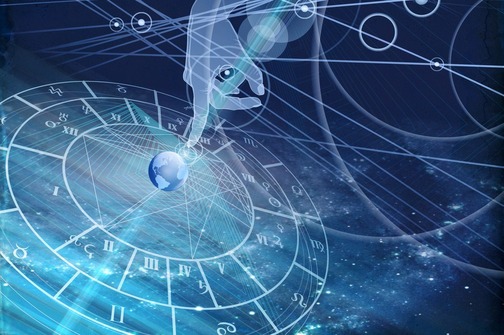 ECLIPSES often correspond with life-changing events, or in some other way set us upon a new course. As we make our way to the Solar Eclipse/New Moon in Pisces next Sunday, we are putting the closing chapter on some area of our lives and setting intentions for our new focus going forward.
We have some "interesting" planetary influences in effect this week that will serve to consolidate the changes underway. In the category of "supportive influences," Mercury seems on top of the world; the Messenger Planet receives helpful assist from other planets throughout the week, encouraging us to conceive of new ideas and to have the courage to speak our minds.
REINFORCING the theme of completion, the Sun aligns with the karmic South Node on Tuesday. We may be particularly aware on that day of elements of the past -- either this life or other lifetimes -- that we are ready to release with love and forgiveness. This may be people and situations, or our own patterns and misplaced intentions.
Given that next Sunday's Solar Eclipse is a "South Node eclipse" (which means the Sun and Moon are aligned with that point), we will want to carry the theme of release into the next few months in some way. This is the time to see where our energy is drained unnecessarily, and to adapt accordingly. We may need to rest more, take an extended vacation, reinvest in our spiritual practice, or do a cleansing to remove toxins from our bodies, minds, and emotions.
OTHER PLANETARY ASPECTS this week are likely to be more dramatic in effect. Wednesday is notable for two of these: we have a Mars-Pluto square that tends to evoke power struggles and anger, and a Jupiter-Eris opposition that increases our need to fight against injustice, especially as related to women's rights.
The other major aspect occurs on Sunday, the day of the eclipse. This one is an alignment between Mars (the god of war) and Uranus (the god of chaos). With these two planets aligned, some form of rebellion is activated -- and with the alignment being in Aries, some will have the courage (or lack of restraint) to take action where they might not have dared before.
THE SOLAR ECLIPSE occurs on Sunday at 6:58am PST (2:58pm GMT). The eclipse is notable for many reasons, primarily because the Sun and Moon are aligned with Neptune and there are a total of seven points in the sign of Pisces.
This could make for a very "mystical" eclipse, where new levels of spiritual awakening are possible, or for a very confusing time, when it's difficult to know what's real and what is illusion. Astrologer Leah Whitehorse (in the current issue of The Mountain Astrologer) calls this eclipse "a collective baptism" where we must "surrender to the experience, accept it, and welcome it as a blessing."
At the very least, sensitivity will be increased with this very-Pisces eclipse -- not only spiritual openness, but emotional vulnerability. Boundaries, on all levels, are very important as we move into this exceedingly receptive space.
HOWEVER, the effects of the eclipse are not solely internal. The chart for the lunation contains that very strong Mars-Uranus alignment, as well as the cardinal grand cross we've been working with since late January. In other words, this is not time to sleep. In our deepening connection to our spiritual and emotional truth, we are spurred into action.
The Sabian symbol for the eclipse reinforces the sense of urgency that we are likely to feel (and may already be feeling):
"A jockey spurs his horse, intent on outdistancing his rivals: Intense mobilization of energy and skill in the drive for success in any social performance affected by the competitive spirit."
THE KEYWORD for this symbol is SELF-QUICKENING. Astrologer Dane Rudhyar's interpretation tells us that:
"This symbol indicates the need to spur one's total being toward speedy attainment of the goal. Every superfluous 'weight,' every unnecessary consideration is to be dismissed in the one-pointed attempt to reach one's goal."
Perhaps the strong Neptunian/Pisces flavor of this eclipse will play a major role in our ability to let go of the "superfluous weight" -- those activities and attitudes that have gotten in the way of our successfully reaching the finish line.
IF YOUR BIRTHDAY IS THIS WEEK: This year, elements of your past come forward and require you to make new choices. You may decide to release what no longer serves you, or you may take the opportunity to reap the benefits of the positive seeds you have sown earlier in this life or in other lifetimes. The key is to be as clear as possible about your motivations and to maintain a good grasp of reality, without falling prey to either over-idealism or disillusionment. As your choices become clear, your courage and intention cannot be restrained.
Yours in peace,
Pam
Highlighted Aspects this Week:
MON: Mercury sextile Uranus, Sun semisquare Mars
TUE: Mercury trine Jupiter, Sun conjunct South Node, Sun semisquare Pluto
WED: Mars square Pluto, Jupiter opposite Eris
THU: Mercury sextile Saturn
SAT: Sun semisquare Uranus, Mercury enters Pisces
SUN: Solar Eclipse/New Moon 6:58am PST (2:58pm GMT), Mars conjunct Uranus
Pam Younghans
Pam Younghans lives in a log cabin outside of Seattle, Washington with her two dogs. She has been interpreting astrology charts for over 30 years, and has been reading charts professionally since the mid-1980s. Astrologer Pam Younghans writes her weekly NorthPoint Journal based on planetary influences and guidance received. Her hope is to offer perspectives and insights to assist you in making best use of current energies.
CrystalWind.ca is free to access and use.
"Would you consider a small gift of $11.11 ?" :)
ॐ Namasté - Blessings!

© 2008-2018 crystalwind.ca. All rights reserved.