Category: Astrological News Hits: 1503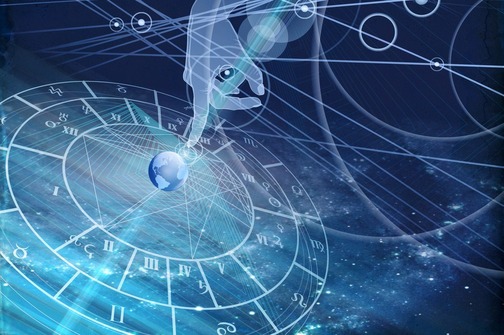 EVEN THOUGH today's Solar Eclipse was in Pisces and aligned with Neptune -- which we might think of as gifting us with peaceful and spiritual thoughts and feelings -- there are other complicating factors that may compromise our ability to sit quietly in meditation now. Instead, we may be feeling a bit fragile, uneasy, or disconnected, or at the whim of "Fates" over which we have no conscious control.
As mentioned last week, this eclipse is aligned with the karmic South Node. This means that we are being asked to dismantle some old, lower-vibrational patterns now. Each sign has a range of frequencies, from high to low; the lesser qualities that are associated with Pisces, that we now are facing and releasing, include confusion and lack of grounding, avoidance and escapism, hypersensitivity and being overwhelmed emotionally, self-doubt, capitulation, and falling into victimization.
IN OTHER WORDS, yes, we can find peace and enjoy the fruits of Spirit with a Pisces South Node eclipse -- but if we find ourselves not experiencing deep serenity, we may have to do some growth and healing work first. This may involve releasing the past, opening our hearts in forgiveness, setting healthy boundaries, claiming some aspect of our higher self that we are ready to integrate, or otherwise elevating our own frequency.
Basically, it won't work to just put a "happy face" sticker on an empty gas tank. We must fill our tanks with a spiritual fuel that then enables us to be present in our lives, and ultimately to be guided by compassion and faith.
The good news is that we have some time to do this deep spiritual work. Although the influence of an eclipse is usually strongest around the time of the event, it continues to work with us in varying degrees until the next pair of eclipses occurs (on August 7 and 21, 2017).
As we do this work, we reap the rewards of the higher octave potentials of Pisces: Trust in the positive, the ability to transcend life's dramas, unconditional love, a deeper connection to our own Divine Self, expanded intuition, heightened ability to receive higher guidance, and a knowing of the oneness of All Life.
THE CHART for the Solar Eclipse contains several challenging planetary aspects that are becoming exact over the next few days. This means that some of the tension we may be feeling today will carry into the coming week.
Mars is very active on Monday, leading us to take risks that we once lacked the courage to undertake. We'll need to watch a tendency to only see one side of the issue (Mars opposite Jupiter) and to be over-reactive (Mars conjunct Eris). While the energy of these aspects can help us move beyond places where we've been stuck, it will be important to maintain our balance and think through our actions before we proceed.
This is especially vital since Mercury aligns with the South Node on Monday. Confusion and wishful thinking can get in the way of making clear decisions. We may also hear from someone from our past, or be called to reconsider our communication methods.
OUR THOUGHTS and words are scattered on Wednesday, as Mercury forms hard aspects with both Uranus and Jupiter. These aspects open our minds to new perceptions, but we may not yet have enough concrete information on which to base good decisions.
The Sun is also exactly aligned with Neptune on Wednesday, a joining suited for dreams and mystical experiences, but not for "real world" decisions. But, if we can take a holiday and spend the day in nature or in a creative pursuit, we may fully enjoy and benefit from this other-worldly planetary alignment.
THE ASPECT of greatest import for this week occurs on Thursday. This day marks the second of three Jupiter-Uranus oppositions -- the first occurred on December 26, 2016, and the third will occur on September 28, 2017.
With Jupiter in Libra exactly opposite Uranus in Aries, rebelliousness is heightened, especially with respect to issues of justice and personal rights. There is a tendency to go to extremes to fulfill our need for change and to break free from unfair restrictions or laws. This, of course, can be positive in effect, if we are needing to make big changes, and if we can remember to bring some reason to the game. Staying in balance allows us to use this energy to make breakthroughs instead of having to fix breakdowns that occur after misguided actions.
ON SATURDAY, Venus goes retrograde in Aries. The planet named for the goddess of love will seem to move backward through the sky until April 15, and will dip back into Pisces on April 2.
During retrograde phases, the accepted advice is to limit external activities related to the planet, and to emphasize the internal. With Venus retrograde, we may tend to withdraw from people as we go through a period of re-evaluating our relationships and alliances. We are also meant to reassess our investments and purchases during this time.
In all situations, we will benefit by looking beneath the surface appearance of whatever we may be considering embracing in our lives. This is always good advice, of course; but when Venus is retrograde, we can tend to over-value a person or a possession, or be motivated by emotional idealism or sentimentality. These issues, and the results of any missteps, will likely be most apparent during the month-long Venus-Saturn square in April.
THE WEEK ENDS with a stabilizing influence -- hooray for Saturn! Next Sunday, even though a minor aspect between Mars and Neptune may cause some confusion early in the day, a Mars-Saturn trine midday helps us focus on getting things done, and indicates an opportunity to make progress.
This aspect represents initiative and discipline working well together. If there's a project we've needed to work on, we can take advantage of this influence to support our efforts. After a week of such scattered energies, it will be good to feel a sense of accomplishment.
IF YOUR BIRTHDAY IS THIS WEEK: This year holds great potential! With the Solar Eclipse just before your birth anniversary, a wave of energy is behind you, moving you forward. You are also aware of all that you need to release, that has been holding you back. As you let go of the need to save or be saved, many energy leaks are repaired. You then have the courage and self-belief that enables you to achieve new levels of liberation and fulfillment.
Yours in peace,
Pam
Highlighted Aspects this Week:
MON: Mars opposite Jupiter, Mercury conjunct South Node, Mars conjunct Eris, Mercury semisquare Pluto
WED: Mercury semisquare Uranus, Mercury sesquiquadrate Jupiter, Sun conjunct Neptune
THU: Jupiter opposite Uranus
FRI: Mercury semisquare Mars
SAT: Venus goes retrograde 1:08am PST, Mercury conjunct Neptune
SUN: Mars semisquare Neptune, Mars trine Saturn
Pam Younghans
Pam Younghans lives in a log cabin outside of Seattle, Washington with her two dogs. She has been interpreting astrology charts for over 30 years, and has been reading charts professionally since the mid-1980s. Astrologer Pam Younghans writes her weekly NorthPoint Journal based on planetary influences and guidance received. Her hope is to offer perspectives and insights to assist you in making best use of current energies.
CrystalWind.ca is free to access and use.
"Would you consider a small gift of $11.11 ?" :)
ॐ Namasté - Blessings!

© 2008-2018 crystalwind.ca. All rights reserved.