Category: Astrological News Hits: 1428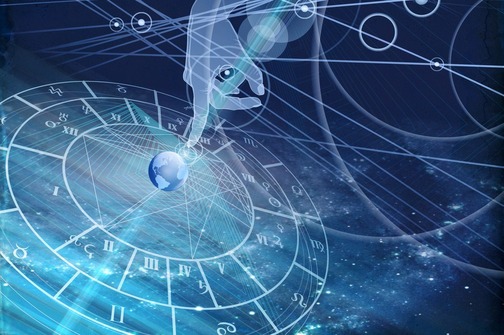 THE INFLUENCE of the Saturn-Chiron square continues strongly through the early part of the coming week, thanks to the Sun's interaction with both planets on Tuesday. As discussed in last week's Journal, this planetary confrontation represents many of the battles currently being waged. In one corner are old mindsets and beliefs fighting to keep their status and control (Saturn in Sagittarius), while emerging from the other corner is a heart healing and a new spiritual understanding of Oneness (Chiron in Pisces).
The difference between the two corners -- and our awareness of where we personally stand in the spectrum between closed-mindedness and open-heartedness -- is clear now. This gives us the opportunity to make changes within ourselves as needed, changes that will have a ripple effect energetically and ultimately enable shifts to occur in the larger world.
THE FIRST QUARTER MOON is also on Tuesday, when the Leo Moon squares the Sun in Taurus at 7:46pm PDT (2:46am GMT on Wednesday). This first major phase in the lunar cycle challenges us to reflect on new endeavors recently begun, especially those started with the support of last week's New Moon.
The practical Taurus Sun asks that we simplify our color palette as we paint our canvas, knowing that combining too many colors can turn our creative effort into a muddy brown mess. From the perspective of the exuberant Leo Moon, not using all the colors available is almost sacrilegious. But wise choices now make it more likely that we will have tangible, beautiful, and long-lasting results for our efforts.
WEDNESDAY brings potential benefits, starting with a Jupiter-Saturn quintile aspect that can help us find new solutions that are both more effective and more efficient.
This is also the day that Mercury goes direct (at 9:32am PDT/4:32pm GMT), completing its retrograde phase that began on April 9. Over the coming days and weeks -- and especially for the next 10 days or so, while Mercury is still conjunct Uranus -- progressive ideas and unconventional thinking are enhanced.
DURING THIS TIME, we also have the courage (or foolhardiness!) to take risks we might not have dared before, as we open our minds and our lives to new possibilities. Our reasoning faculties are not as bound by practical concerns as they might normally be, so keep this in mind when making long-term plans.
The link between the lower mind and the higher mind is open and activated with this Mercury-Uranus alignment. For some, brilliant insights and expanded intuition will flow. Others not familiar with this highly electrical energy may find it overwhelming, registering it as increased nervousness or anxiety. For most, it will be hard to focus and keep our minds on the practical concerns of daily life.
In some respects, it may feel like Mercury's retrograde phase hasn't ended at all ...
THE LAST HALF of the week sees Mars in uncomfortable semisquare aspect with both Mercury and Uranus. Since Mars is in Gemini, the sign that rules logic, communications, short-distance journeys, and our nervous systems, any of these may unexpectedly short-circuit.
We'll want to watch our words, especially -- Mars in Gemini is already quick to respond and often impatient, and with these aspects in effect, it will be easier than usual to react in anger, especially when our ideas are challenged.
Decisions may also be made impulsively with Mars semisquare Mercury/Uranus. Be sure to stop to breathe before jumping into any new situation. Do a grounding exercise such as hugging a tree or rooting your feet into the soil, or visualizing energy flowing down your spine and into the Earth, anchoring you to the very heart of Gaia. At the very least, these exercises will interrupt unwise impulses; at their best, they will ensure that our choices will be in alignment with something deep and true within us.
IF YOUR BIRTHDAY IS THIS WEEK: Your journey this year, Taurus, asks you to become aware of beliefs and judgments that have limited you, that you are ready to release. This is a step in the process of spiritual healing -- as you let go of the need to be "right" and embrace the concept of Oneness, you move into an even greater experience of the peace that Taurus longs for. It may surprise you to find that this process of surrender is easier than you anticipate, as it is supported in unexpected ways. Watch for signs, especially through animals and all of nature, that will guide and bring light to your process.
In peace,
Pam
Highlighted Aspects this Week:
TUE: Sun sesquiquadrate Saturn, Sun semisquare Chiron, First Quarter Moon 7:46pm PDT (2:46am GMT on Wednesday)
WED: Jupiter quintile Saturn, Mercury goes direct 9:32am PDT (4:32pm GMT), Sun sextile Neptune
THU: Mercury semisquare Mars
FRI: Sun quincunx Jupiter
SAT: Mars semisquare Uranus
Pam Younghans lives in a log cabin outside of Seattle, Washington with her two dogs. She has been interpreting astrology charts for over 30 years, and has been reading charts professionally since the mid-1980s. Astrologer Pam Younghans writes her weekly NorthPoint Journal based on planetary influences and guidance received. Her hope is to offer perspectives and insights to assist you in making best use of current energies.
CrystalWind.ca is free to access and use.
"Would you consider a small gift of $11.11 ?" :)
ॐ Namasté - Blessings!

© 2008-2018 crystalwind.ca. All rights reserved.