Category: Astrological News Hits: 1468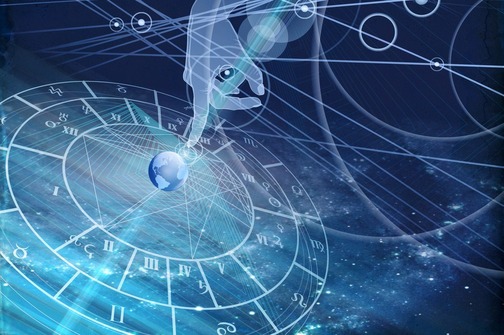 WHEN WE THINK of how the planet Uranus influences our experience, we can consider all the compound words that contain "break": breakthrough, breakdown, breakup, breakaway, breakout, outbreak, tiebreak, newsbreak, daybreak ... All of these words express an action that seems sudden and at times unanticipated, that results in substantial changes, altering our perceptions or our reality. These are the trademark effects of Uranus.
We are in an exceptionally Uranian time right now, and for the next several weeks. Our New Moon tonight (Sunday, April 15) is conjunct Uranus, infusing not only today but the next four weeks of the lunar cycle with this excitable energy. And, Uranus is nearing the end of its seven-year journey through Aries, which means the planet is wrapping up its work in that sign. Uranus will enter Taurus on May 15 -- which happens to be the exact day of the next New Moon.
AND URANUS is not the only major planet that is highly active right now. This week, both Saturn and Pluto station and begin their retrograde (backward motion) phases. When a planet comes to a standstill in preparation for this type of directional change, we feel its influence more strongly than usual.
My favored analogy for the effect of a stationary planet is that of the vibration we feel when standing on the platform in a train station. As a train nears the station, the vibration builds under our feet, and is strongest when the train is holding position right in front of us. Once the train shifts into reverse and starts to move out of the station, the vibration also recedes.
THE SATURN AND PLUTO TRAINS are both in the station this week, amplifying their already-powerful vibrations. Both planets are in Capricorn, so we'll see the effects of their stations in areas ruled by that sign -- governments, officials and authority figures, contractors and engineers, civil services, contracts, businesses and industries, and other structural components of society.
What will be interesting is to watch how these two planets work together. At first glance, they might seem to be at odds -- Saturn is the builder and likes to create substance and form, whereas Pluto is the demolition expert, ready to tear down whatever is not working.
Still, Saturn is also the pruner, cutting off branches that have been sapping our energy so that we can focus on that which is most important. Perhaps this is where Saturn and Pluto will find common ground, as they remove that which is no longer needed.
We also want to keep in mind that the Saturn-Pluto alignment is less than two years off now -- so whenever the two planets are both activated at the same time, we should start to see some patterns emerge that foreshadow the effects of their conjunction in January 2020.
CHIRON, the Wounded Healer, is also in the headlines this week. After spending seven full years in Pisces, Chiron moves into Aries on Tuesday, beginning a new eight-year phase of exposing and healing wounds related to that sign.
In this new chapter of our global rehabilitation, the intended result is the healing of masculine energy, which in its wounded forms manifests as bullying, combativeness, and violence. On individual levels, Chiron in Aries works in the areas of self-confidence and healthy assertiveness, helping us move beyond the need to become angry and aggressive to make ourselves seen.
ON THE LEVEL of shorter-term influences for the week ahead:
We have support early in the week in the forming and transforming of alliances and friendships, thanks to Venus working with Jupiter on Monday and with Pluto on Tuesday. In essence, Venus is activating the influence of the ongoing Jupiter-Pluto sextile, so we will see certain relationships and values undergoing powerful changes as truths are revealed.
The Sun exactly aligns with Uranus on Wednesday. This is the day to watch for further developments related to the intentions put into place with today's New Moon -- and another time when we will be seeing events that may be unexpected or life-changing.
Thursday is a bit topsy-turvy, some ups and some downs, representing the discomfort we all deal with when facing new realities that shift us off a familiar path. But if we look beyond the reactivity, we can access a greater confidence (Mars quintile Chiron) and the peace of mind (Sun entering Taurus) that will hold us steady on our new course.
On Friday, it may be difficult to fully trust that what is dissolving will actually result in greater stability (Sun semisquare Neptune). But, if we can keep the faith, the Venus-Neptune quintile on Sunday can help us relax and accept that All Is Well.
IF YOUR BIRTHDAY IS THIS WEEK: Much is changing this year, both in your self-concept and in your outer world. The end result of these changes is the opportunity to live a life of greater authenticity, free from the attachments and patterns that have kept you restricted. You may be revisiting themes you dealt with about 21 years ago. You now are being given the chance either to build on positive choices you made then, or to choose to respond differently, based on what you have learned in the interim about who you really are, and who you want to be.
In peace,
Pam
Highlighted Aspects this Week:
MON: Venus opposite Jupiter
TUE: Chiron enters Aries, Venus trine Pluto, Saturn goes retrograde
WED: Sun conjunct Uranus
THU: Venus sesquiquadrate Saturn, Mercury sesquiquadrate Jupiter, Mars quintile Chiron, Sun enters Taurus
FRI: Sun semisquare Neptune
SUN: Pluto goes retrograde, Venus quintile Neptune
Credit
Pam Younghans lives in a log cabin outside of Seattle, Washington with her two dogs. She has been interpreting astrology charts for over 30 years, and has been reading charts professionally since the mid-1980s. Astrologer Pam Younghans writes her weekly NorthPoint Journal based on planetary influences and guidance received. Her hope is to offer perspectives and insights to assist you in making best use of current energies. Source Here Copyright NorthPoint Astrology 2018. All Rights Reserved.
CrystalWind.ca is free to access and use.
"Would you consider a small gift of $11.11 ?" :)
ॐ Namasté - Blessings!

© 2008-2018 crystalwind.ca. All rights reserved.