Category: Astrological News Hits: 1732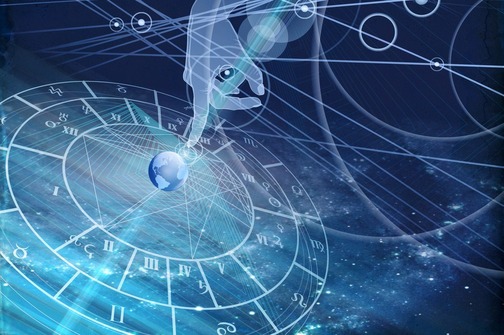 THE NIGHT SKY is at its darkest this week, leading up to the New Moon on Saturday. We are completing two significant cycles over the next few days -- the lunar cycle that began with the Solar Eclipse/New Moon on February 15, and the year-long cycle of the Sun through the twelve signs of the zodiac.
We can also consider this week the completion phase of the current eclipse period. This chapter started at the New Moon on January 16, which marked the beginning of the lunar cycle leading up to the Lunar Eclipse on January 31.
A lot has happened over the last eight weeks! As we move through the days before Saturday's New Moon, it is a good time to breathe through and release any tension that we are holding onto. If we can accept and allow what has been rather than fighting against it, we are better prepared to take advantage of the new lunar cycle and to welcome its gifts.
JUPITER AND SATURN compel us to come to terms with certain aspects of reality this week. These two planets are in semisquare relationship for much of this year, with this Wednesday marking the second time the aspect has been exact to the degree. In all, we have a nine-month window to work with the issues related to this aspect, starting on December 22, 2017 when the first exact aspect occurred and ending on September 3 with the third and final pass.
These two planets use quite different methods to do their work: Jupiter offers expansion and asks us to take risks, while Saturn requires consolidation and often sets limits. At times they can work well together, but this semisquare tells us that their agendas are not in sync right now.
JUPITER IN SCORPIO sends us on a journey into the depths of our collective psyche, into realms that we might often avoid because they seem too dark. With this influence in effect, we have more courage to face difficult issues that until now have been ignored or hidden. Jupiter reveals secrets while in Scorpio, bringing to light an intricate web of intrigue. As we acknowledge truth, we transmute the fear and other negative emotions that have held us captive.
Eventually, we emerge as more empowered beings, having learned that we are capable of navigating through the darkness. As a result, we do not merely survive the journey; instead, we triumph. We gather to us all the strength that we had once given away to fear, integrating that dynamic energy into our beings at new levels.
COMPARATIVELY, Saturn in Capricorn prefers to avoid emotional issues. This reality-driven member of our solar system instead focuses on what needs to be done in practical terms. It is not interested in hearing about what it feels are "excuses," seeing them as expressions of weakness.
While in Capricorn, Saturn is focused on the nuts and bolts of our lives, revealing where there are structural problems and demanding that they be addressed -- NOW. This means that the areas ruled by Capricorn are being tested for flaws. A few of these include: our physical bodies -- especially teeth, bones, and joints; authority figures, businesses, governments, economics, and social services; and coal mines, farms, boundaries, and walls.
WITH SATURN AND JUPITER in conflict, we are aware of a strong desire to get things quickly cleaned up and completed so that we can start to rebuild. But first, we must slog through the muck and mire, and dredge the depths for anything we've missed.
Although Saturn may not be happy about the delay, Jupiter is actually making sure that when we do begin new construction, the foundations are established on the solid ground of truth, not on deceptions that will undermine any real progress. Their semisquare aspect means that this week we may feel discouraged with having to peel yet another layer off the onion.
THE NEW MOON occurs at 26°53′ Pisces on Saturday, at 6:11 a.m. PDT (1:11 p.m. GMT). The Sun and Moon are closely conjunct Chiron at that time, allowing us to call this a Healing and Completion Moon.
While in Pisces, Chiron is both revealing and healing the wound of separation -- from our source and from each other. The tools we can access to facilitate that healing are compassion (for self and other), acceptance and forgiveness, humility, and trust in the divine plan. As we heal, we let go of the need to control, compartmentalize, and judge. We learn the benefits and greater ease of living in a spiritual and creative flow.
THE SABIAN SYMBOL for the New Moon reinforces the Piscean themes of completion and healing:
"The harvest moon illumines a clear autumnal sky: The light of fulfillment that blesses work well done."
Over the next four weeks, as we move through the new lunar cycle, we should see very clearly where we are, what work is completed, and what needs still to be done. As astrologer Dane Rudhyar writes in his interpretation of this image:
"This symbol brings us the message that the time has come to reap what we have not only sown, but also cultivated -- or failed to cultivate. The keyword is Consummation. But in this consummation -- this 'karmic' moment -- the seed of the new cyclic manifestation is already latent."
THE PLANET MARS is in late Sagittarius on Saturday morning, conjunct the asteroid Vesta and closely square the New Moon. This adds a note of contention to the event, representing a thorn in our side.
In spite of our Piscean yearning to be cosmically in tune, in unity, and at peace, we continue to deal with conflicts of belief. We still judge, usually perceiving ourselves as right and others as wrong, keeping the battle alive both internally and externally.
THE MESSAGE of this New Moon is one of great healing, but the square to Mars/Vesta indicates an obstacle to that healing, through our ego's need to identify with a cause. The enormous question remains: How can we be true to our ideals, take action according to what we believe in, while also adopting and integrating the concept of oneness?
This is not an easy task, even for the most high minded or spiritually inclined. It truly takes a release of attachment and an elevation of perspective to embrace this paradox while maintaining the strength of our convictions.
A final note on Mars: The Red Planet moves into Capricorn just four hours after the New Moon. This sign change is significant, as it sets the energy for the Mars-Saturn alignment on April 2, and the Mars-Pluto alignment on April 26. Watch for developments related to Capricorn-ruled areas (mentioned earlier in this issue) starting next week, and especially around those April dates.
IF YOUR BIRTHDAY IS THIS WEEK: Your emotional and spiritual growth are highlighted this year. You have the capacity for greater depth in both of these areas, and will find it easier to take the risks needed for the results you desire. Along the way, you will be healing fears that have limited your expansion, as well as overcoming patterns of victimization or self-sacrifice. As you resolve these issues, your path is smoothed and you feel more supported, on both physical and unseen levels.
In peace,
Pam
Highlighted Aspects this Week:
TUE: Venus square Saturn, Venus sesquiquadrate Jupiter, Sun trine Jupiter, Mars square Chiron
WED: Jupiter semisquare Saturn
FRI: Jupiter opposite Pallas Athene
SAT: New Moon 6:11am PDT (1:11pm GMT), Mars enters Capricorn
SUN: Sun conjunct Chiron
Pam Younghans lives in a log cabin outside of Seattle, Washington with her two dogs. She has been interpreting astrology charts for over 30 years, and has been reading charts professionally since the mid-1980s. Astrologer Pam Younghans writes her weekly NorthPoint Journal based on planetary influences and guidance received. Her hope is to offer perspectives and insights to assist you in making best use of current energies. Source Here
CrystalWind.ca is free to access and use.
"Would you consider a small gift of $11.11 ?" :)
ॐ Namasté - Blessings!

© 2008-2019 crystalwind.ca. All rights reserved.