Category: Moon Cycles Written by Jamie Partridge Views: 2363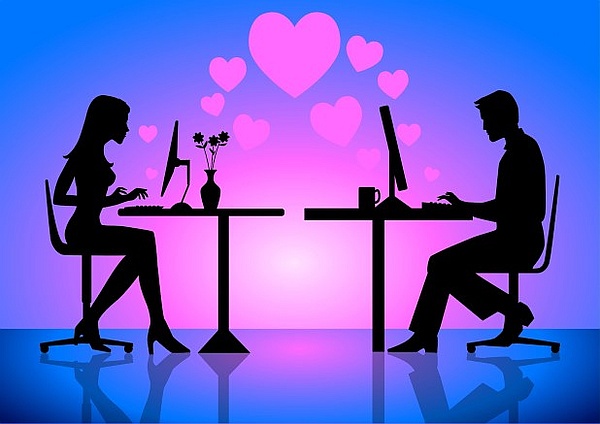 The full moon on Wednesday October 24, 2018 at 1° Taurus joins the planet Uranus. Therefore the Full Moon October 2018 astrology is about change, excitement and uncertainty, especially in relationships. Venus opposite Uranus focuses the change and uncertainty on love relationships but also your finances.
The October 2018 full moon makes a more helpful aspect to Saturn which moderates the erratic and impulsive nature of Uranus. It turns unexpected changes into opportunities and relationship uncertainty into reassurance and commitment.
The fixed stars joining the October 24 full moon also bring a mix of problems and solutions. So Uranus with full moon October 2018 may bring unexpected love but will also show the vulnerabilities in your love life and finances. Saturn brings practical solutions that lead to greater security and stability.
Full Moon Meaning
A full moon occurs when the Sun is opposite the Moon. This highlights opposing forces or polarities in your life such as your work versus home, or what you need versus what you want. Inner tension and external pressures can lead to personal conflict and crises that drain your energy. Your home, family and intimate relationships comes into sharper focus following a full moon.
The lunar qualities of emotions and instincts reach their peak at a full moon. Use you increased emotional strength and intuition to overcome any relationship challenges. Subconscious awareness allows for an impartial and balanced look at your personal relationships. You will clearly see any relationship dynamics or negative feelings causing disharmony.`
A full moon has a relationship to the previous new moon. Your October 8 new moon goals can now be fine-tuned or completed, it is harvest time. You can make emotional adjustments in response to those new goals. Full moon October 2018 lasts for two weeks up to the November 7 new moon.
Full Moon October 2018 Astrology
The October 24 full moon at 01°13′ Taurus is conjunct Uranus. At less than one degree orb, this conjunction is the main astrological influence on the full moon. This means an uneasy mix of change, excitement and uncertainty for the two weeks of this moon phase. The full moon aspect of Sun opposite Moon means the change and uncertainty applies to you relationships. While Venus opposite Uranus focuses the change and uncertainty on love relationships but also your finances.
The full moon October 2018 astrology chart below shows Saturn connected to the full moon axis by harmonious blue aspect lines. Saturn bridges the polarizing oppositions to bring more stability and makes the changes less disruptive. It means the unexpected events associated with love and money can be turned to into opportunities with practical, enduring results.
The fixed stars next to the October 2018 full moon mirror the dichotomy of the positive and challenging planetary aspects. These stars pose problems for relationships but also offer solutions through patience, love and forgiveness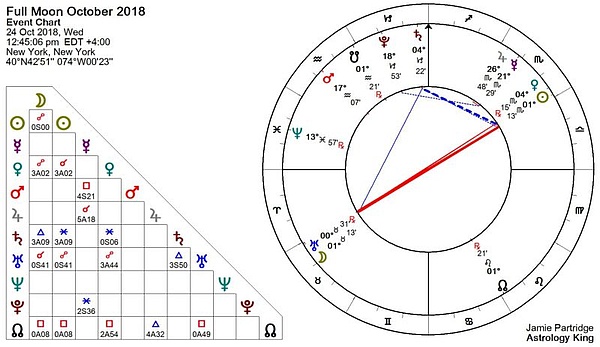 Full Moon October 2018 Astrology
Challenging Aspects
Venus opposite Uranus signals change or tension in your love life. If single, a new romance would be exciting, surprising, unusual or kinky. But it could also be risky, unstable and brief. Internet dating suits this aspect and you could find someone from a very different background or culture than your own. If you have a partner, an unexpected event, flirting, an affair or sexual experimentation may lead to drama or separation.
Whatever your situation, if love is not an option then change and excitement can manifest in another area of life. Financial windfalls are possible but you should be extra careful with money. Avoid a tendency to gamble or invest in get rich quick schemes. Find stimulation some other way through entertainment, especially on the internet.
Moon conjunct Uranus brings impulsive reactions. Sudden events may result in relationship upsets, family disputes, or a major change in an intimate relationship. Some eccentric or weird actions may not turn out so well, but one or two may prove extremely valuable. At times you may feel isolated or detached from your loved ones.
Moon opposite Venus increases your need for love and affection regardless of the consequences. If single, loneliness could cause you to lower your standards just to be with someone. If you have a partner, different moods or needs may expose simmering tensions. Whatever your relationship status, if your emotional needs are not fulfilled through human contact, you may be tempted to substitute with sugar, drugs, alcohol or shopping.
Helpful Aspects
Venus sextile Saturn increases your need for companionship. If single, it increases the likelihood of finding true love with someone who is also interested in long-term commitment. A teacher-student type relationship is possible, or there may be a marked age difference. If you have a partner, any unexpected change or kinkiness in the bedroom is now less likely to cause tension or separation.
Being dutiful about making your lover happy and content will bring reassurance and commitment. A practical and common sense approach will help fix any recent difficulties. There should be a mutual understanding and acknowledgement if a relationship has run its course. This aspect helps you save money and be more conservative with investments. It favors long-term investments in blue chip stocks, real estate or works of art.
Moon trine Saturn gives the patience and emotional strength to handle sensitive or difficult relationship issues. Others may come to you for advice on a personal issue or just for a shoulder to cry on. Traditional values and old habits can bring solutions to new problems. You can rely on strong instincts and common sense to make important decisions about your home, family and relationships.
Full Moon October 2018 Fixed Stars
Fixed Star Mirach is on the side of the Chained Woman, Andromeda Constellation. Robson said it gives love, beauty, brilliance, devotion, forgiveness, kindness, renown, love of home and good fortune in marriage. [1] Ebertin adds cheerfulness, happiness, love of company, many interests, altruism, and a tendency to inspiration and medium-ship as a base for artistic creation. [2] But according to Robson, the Moon and Uranus do not go so well with this star:
Moon conjunct Mirach: Trouble with opposite sex owing to indiscretions, bad for domestic affairs, honor through martial matters.
Uranus conjunct Mirach: Unbalanced mind, may commit crime in insanity, occult interests, continual disappointments, bad for domestic affairs, peculiar or violent death. (Charles Manson 0°51′)
Fixed Star Mira is in the Tail of the Whale, Cetus Constellation. Ebertin said that if connected well and with a well-placed Saturn, and otherwise well aligned, it means prudence, perseverance, versatility, progressive spirit and endurance in solving difficult problems. But with unhelpful connections will bring as results failures, fiascos and enmity. When linked with the Moon, melancholy will then appear. [2]
If the Full Moon October 2018 astrology chart directly impacts your horoscope decan you can read about it in your
monthly horoscope
. For more detail about how it affects your natal chart see
full moon transits
.
Previous Moon Phase: New Moon 8 October 2018
Next Moon Phase: New Moon 7 November 2018
Full Moon October 2018 Times and Dates
Los Angeles – 24 October, 9:45 am
New York – 24 October, 12:45 pm
London – 24 October, 5:45 pm
Delhi – 24 October, 10:15 pm
Sydney – 24 October, 3:45 am
References
Fixed Stars and Constellations in Astrology, Vivian E. Robson, 1923, p.179.
Source: here
My name is Jamie Partridge and I live on the coast of NSW Australia with three amazing kids. I've had an interesting life so far, with varied occupations ranging from nursing assistant to farm hand.

CrystalWind.ca is free to access and use.
"Would you consider a small gift of $11.11 ?" :)
ॐ Namasté - Blessings!

© 2008-2019 crystalwind.ca. All rights reserved.