Category: Moon Cycles Hits: 2061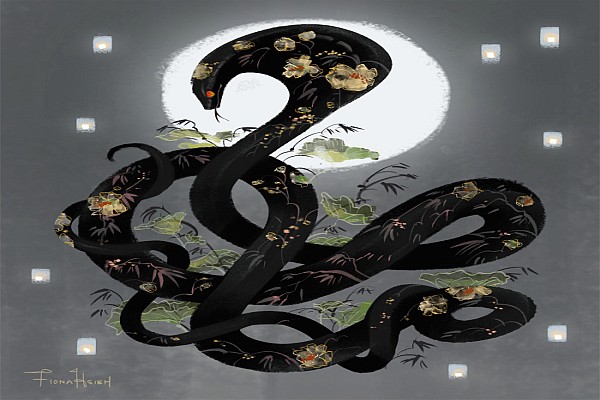 In the words of either Finley Dunne, Banksy or Cesar A. Cruz (the paternity of the quote is still very much debated), art should "comfort the disturbed and disturb the comfortable".
If so, we could definitely go as far as to say that Scorpio's ferocious, visceral brand of transmutation is surely an art in its own right.
"Comfortable" is a word that doesn't exist in the scorpion's vocabulary. "Death", "agony" and "catharsis" do.
Whereas Libra is the neutral, diplomatic terrain of compromise, where two Souls meet halfway, Scorpio is the bottomless pit, the dark corridors, the kingdom of Hades. Few want to venture there; but those who do, always come back with a surplus of power and resilience that could rip the whole Universe open.
It's hard to imagine a less welcoming place for soft, dainty Luna (the Moon is considered to be in her fall here), because Scorpio is not protective, or soothing. Like, at all.
It can be warm and enveloping, yes, in the same way the voracious mouth of a predator can be. And, in the same way, it's much more likely to swallow us whole than to shelter us.
But what happens to food, once it's digested? To flesh, once it has decomposed?
Exactly.
Scorpio may not be reassuring or comforting, but it brings us into the world anew.
Scorpio strips us of our security blankets, throws us to the lions, forges us in fire. Rearranges us. Repurposes us – our darkness, our fears, our survival tactics. Tough, devouring love.
On April 30, at 0:58 AM UTC, the Moon in her fullness at 9 degrees Scorpio trades the softness of her safe haven for the thrill of the unknown.
Full Moons expose, accelerate, illuminate, push us to the brink, so expect this one in particular to shine a torch into the darkest pit, pushing unspoken feelings, hidden agendas and the overall subtext of our current reality, to the surface, in a long overdue epiphany.
Nowhere to hide, no use in backing away – the silvery, piercing gaze of this gorgonic Moon sees through us, her square to the Nodal Axis indicating a powerful crossroad along the path that must be walked through if we're to reach the other side and resurrect from our own ashes. Something dies, something else begins anew. There will be loss. There will be gain. We can't have one without the other. Not under a Full Moon like this.
Thus, the least we can do is embrace it all. Stepping into the flames, diving unabashedly into the deep end, accepting the fears, the shadow and the hunger brought up by this turning point without getting sucked in. Facing the truth, and accepting to be liberated by our own emotional burdens.
With both rulers of this Moon (Mars and retrograde Pluto) conjoined in stoic Capricorn, our agency plays a pivotal role: we might be asked to hammer the final nail in the coffin, to actively disengage from an outdated scenario, to wisely harness our raw power through our own process of resurrection – but we will need to show up and take a stand.
Wholeheartedly, courageously, and without looking back.
Scorpio wouldn't have it any other way.
Painting by Helena Nelson-Reed – helenanelsonreed.com
Cristina Zodiac Poetry
My name is Cristina, but you might remember me as Aeterna - the alias I used back when this site was called Aeternalight Astrology. I'm an Astrologer based in Italy, with a MA in Cultural Anthropology and a passion for music, Nature and Art.
ReBlogged With Permisson From Cristina/Aeterna on www.crystalwind.ca
Source
CrystalWind.ca is free to access and use.
"Would you consider a small gift of $11.11 ?" :)
ॐ Namasté - Blessings!

© 2008-2018 crystalwind.ca. All rights reserved.