Category: Moon Cycles Views: 1577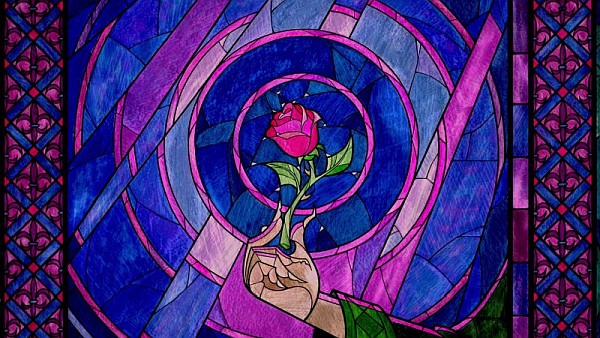 The New Moon on Tuesday May 15, 2018 is located at 24° Taurus Sign. However, the new moon May 2018 astrology is influenced by two stars in Perseus Constellation. Fixed stars Algol and Capulus are associate with violence and misfortune. Large numbers of people could be affected by extreme weather conditions or other catastrophic events.
The May 2018 new moon is not necessarily a bad omen because there is a positive side to Algol and Capulus. So you can do a lot of good for yourself and others by setting idealistic new moon goals and practicing faith, hope and charity. The major planetary aspect this month is Jupiter trine Neptune. This will also have a generous and optimistic influence on the May 15 New Moon.
New Moon Meaning
A new moon represents the end of one cycle and the beginning of another new 28 day cycle. Sun conjunct Moon gives an invigorating burst of energy and initiative. So this is an excellent time for making a fresh start, turning over a new leaf, or starting a new project. You can also question old habits, behaviors and beliefs as you search for new and inventive ways to make progress.
The effects of the May 15 New Moon will last four weeks up to the June 13 New Moon. The best time for making a fresh start and for beginning new projects is during the first two weeks of this new moon cycle. This waxing phase of the Moon lasts from May 15 to the May 29 Full Moon.
New Moon May 2018 Astrology
The May 15 new moon is located at 24°36′ Taurus Sign but the astrological influence comes from two stars with Perseus Constellation as shown below. Perseus gives an intelligent, strong, bold and adventurous nature, but a tendency to lying. [1] The constellation is indicative of events affecting large numbers of people, especially those events caused by major meteorological phenomena. [2]
24°26′ Taurus – Capulus, M34 Persei
24°36′ Taurus – New Moon
26°24′ Taurus – Algol, β Persei
Fixed star Algol causes misfortune, violence, decapitation, hanging, electrocution and mob violence. It gives a dogged and violent nature that causes death to the native or others. It is the most evil star in the heavens. Both the Sun and Moon conjunct Algol are supposed to give a violent death or extreme sickness. [1]
However, Capulus and Algol both have a very positive side to them. If a person lives life with an honest sense of purpose to it, or least to tries to live up to a philosophy, religion or ideal, then all will go well. [3] There are many examples of Algol celebrities that prove this positive side to these notorious fixed stars.
No matter what you think of Donald Trump's politics or personal life, fixed star Algol conjunct his Midheaven has done wonders for his public profile and career. In fact, as leader of the free world, Trump has the most important career in the world, and possibly in the history of the world.
Likewise, a new moon conjunct Algol can lead to good things if you approach your new moon goals with an honest sense of purpose. When setting your new moon goals and working towards them, try to live up to a philosophy, religion or ideal.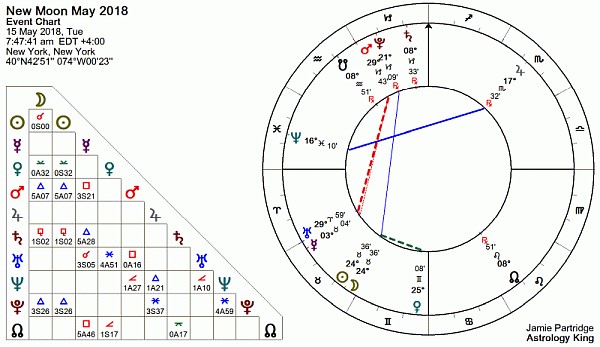 New Moon May 15, 2018
May 2018 New Moon Aspects
New Moon semisextile Venus is a subtle but positive influence. It creates opportunities for love and money if you can take the initiative in these areas. Being proactive in relationships by simply giving love can heal any old wounds. So a hug and a kiss may be all it takes to put any dramas behind you with loved ones.
New Moon trine Pluto results in intense and deep experiences. You will have greater power and influence over your own life, allowing for positive transformations. You can also exert this greater power and influence over the events in your life and over the people around you. Personal or professional problems can also be more easily resolved now.
Mars square Uranus gives a tendency to act rashly without regard for the consequences. This could lead to great disruption and increases the risk of violence posed by fixed star Algol. An original outlook may lead to works of creative brilliance or scientific breakthroughs but you should avoid impulsive actions and taking dangerous risks. Lack of attention and concentration can lead to accidents, especially as when driving or working with electricity or technology. If it ain't broke, don't fix it.
Jupiter trine Neptune reaches full potency on May 25 and is encouraging hope, generosity and community spirit. You may undertake a spiritual quest to seek the truth. As your personal value system or morals reach a higher standard, you will find that selflessly helping others brings great satisfaction. You charitable nature may extend to environmental causes or animal welfare. Social justice becomes important with more interest in human rights and the plight of refugees and other innocent victims or war and greed.
New Moon May 2018 Summary
The May 15 new moon comes under the influence of the notorious fixed star Algol. This does suggest some people will be directly affected by violence, misfortune or catastrophe by extreme weather. Many more will be indirectly affected, empathizing with the pain and suffering in their extended human family.
Mars square Uranus increases the risk of accidents and violence from Algol. However, other planetary aspect to the new moon deepen the genuine feelings of universal love and compassion. So if your new moon goals are well-intentioned and considerate of others, you can do a lot of good for yourself and others. Jupiter trine Neptune supports this idealistic approach to New Moon May 2018, encouraging faith, hope and charity.
If the New Moon May 2018 astrology chart directly affects your Sign you can read about it in your free Weekly Horoscope and Monthly Horoscope. For more details about how it affects your natal chart see Sun Transits.
Previous Moon Phase: Full Moon 29 April 2018
Next Moon Phase: Full Moon 29 May 2018
New Moon May 2018 Times and Dates
Los Angeles, May 15 at 3:47 am
New York, May 15 at 7:47 am
London, May 15 at 12:47 pm
Delhi, May 15 at 5:17 pm
Sydney, May 15 at 9:47 pm
References
Fixed Stars and Constellations in Astrology, Vivian E. Robson, 1923, p.56.
Fixed Stars and Judicial Astrology, George Noonan, 1990, p.14.
The Living Stars, Dr. Eric Morse, 1988, p.130.
CrystalWind.ca is free to access and use.
"Would you consider a small gift of $11.11 ?" :)
ॐ Namasté - Blessings!

© 2008-2019 crystalwind.ca. All rights reserved.