Category: Moon Cycles Written by Edith Boyer-Telmer Hits: 2331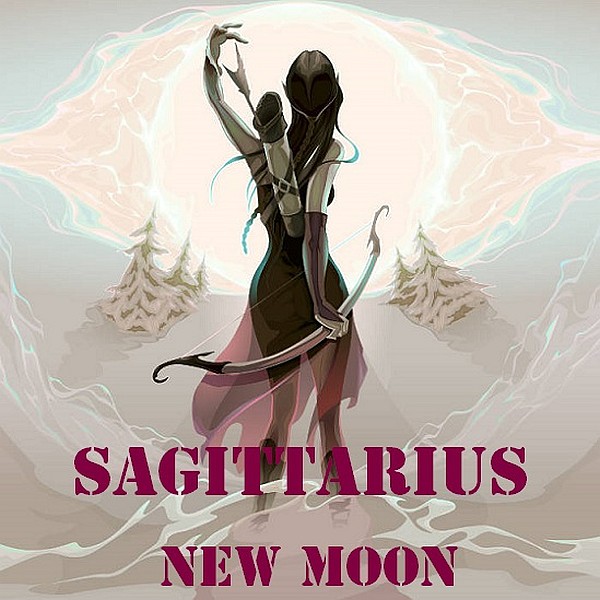 Dear Friends,
on Friday December 7th we will collectively experience the impact of a powerful New Moon at 15 degrees and 7 minutes in the star sign of Sagittarius. This last New Moon of the year 2018 is truly designed to create an energetic bow between our current moment in life and the bigger future we will collectively be able to see unfolding during the year 2020 and beyond. So be aware of the chances and challenges the New Moon energy field will bring and keep a crystal clear mind when you are setting your intentions during this magical stellar event.
The win can be immense for us on personal as well as on collective level, if we are aware of the strong challenges we might be facing these days, plus manage to navigate our own energy field with grace and personal authenticity. For those of you who are sensitive to the experience of mental pressure, be aware that collectively it will increase exponentially for some days. A particularly effective tool to balance the energies is to repeatedly celebrate self-alignment through healing vibrations.
Nature and Grace – the physical and the spiritual – reflect each other and reveal "the great fact" that there is a secret tone scale – or set of sounds – that vibrates at the exact frequencies required to transform spirit to matter or matter to spirit.
Leonard G. Horowitz

Heaven, to me, is the complete synchronization with higher frequencies and vibrations of creation being totally entrained. In other words, being at-one-ment.
David Hulse, D.D.

Remain open. There is something bigger than you know going on here.
Iyanla Vanzant
We all are invited to stay ready during the New Moon period to experience constant personal extensions of what we thought would be the maximum of our individual capacity, and to consciously make another collective quantum leap in our evolution.
Evolution is not a force but a process. Not a cause but a law.
John Worley

I reserve the right to evolve. What I think and feel today is subject to revision tomorrow.
Laurence Overmire

We are the facilitators of our own creative evolution.
Bill Hicks
There is a high possibility for the appearance of social protests in the air right now. Watch closely the collective political situation these days, because all over the planet already existing instabilities and disappointments could lead to strong reactions from the people of this world. That can as always find its expression in many was, our individual focus should be to voice our true needs and insist on humane solutions for all beings.
Wild globalization has benefited some, but it's been a catastrophe for most.
Marine Le Pen

A non-violent revolution is not a program of seizure of power. It is a program of transformation of relationships, ending in a peaceful transfer of power.
Mahatma Gandhi

Promise yourself to live your life as a revolution and not just a process of evolution.
Anthony J. D'Angelo s
Its a time in which we are all called to examine the political and social structures we are currently living in with a crystal clear mind and a laser sharp eye for truth. A time to ask the uncomfortable question where in our own world we are corruptible, so that we are still willing to except manipulative and corrupt leader ruling our planet.
One of the challenges we could all experience is the internal stretch between seeing what has to be done, but not quite seeing the road we need to take. So hold your horses and make sure to only let go of your arrow when higher awareness is guiding the way.The worst disease in the world today is corruption. And there is a cure: transparency.
Bono The first sign of corruption in a society that is still alive is that the end justifies the means.
George Bernanos

Those who corrupt the public mind are just as evil as those who steal from the public purse.
Adlai Stevenson

When plunder becomes a way of life for a group of men in a society, over the course of time they create for themselves a legal system that authorizes it and a moral code that glorifies it.
Frederic Bastiat
Dear Ones, I hope you are keeping your energy field crystal clear and highly focused during the impact of this powerful New Moon in Sagittarius. Be aware, right now we are collectively facing a moment in time that will define the outcome of our path for many years to come!
Love & New Moon Blessings!
Edith
Edith Boyer-Telmer - I was born, as an Indigo Child, a Highly Sensitive – Empath, a Visionary, an Introvert and a romantic Dream-creator, in 1968 in Vienna, Austria. I was the youngest child in a family of eight, with 2 sisters and 3 brothers. Nothing special or extraordinary on the outside, but on the inside I had a hard time growing up. Living in an environment where all of this terms where alien to other family members, my friends, teacher and trainer, I did not know how to live my energy authentically.
Source
CrystalWind.ca is free to access and use.
"Would you consider a small gift of $11.11 ?" :)
ॐ Namasté - Blessings!

© 2008-2019 crystalwind.ca. All rights reserved.