Category: Numerology Hits: 1112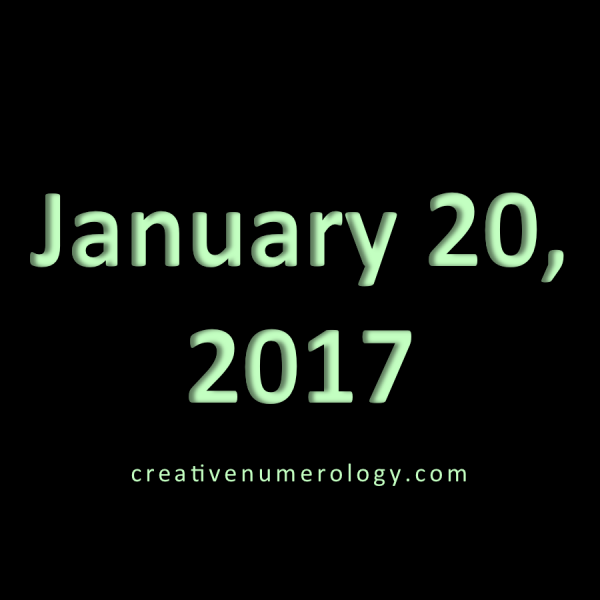 January 20, 2017 = 1 2 1. This is a very significant date in the human journey. 2 is reinforced here because January in a 1 Year is a 2 Month. These numbers are a stark reflection of our position – the volatile space between one millennium and the next. We are experiencing the vibrational differences between the electrical masculine 1000s and the magnetic feminine 2000s. And the shocks will continue until we finally wake up to enormity of what is happening.
Today, while 1 signifies speed, action, and the start of something new, 2 slows everything down by drawing attention to important details which must be recognized and dealt with before real progress can be made.
1+2+1=4
4 is the number of order, foundation, method, system, facts and figures, and effective organization. 4 is the number of effectiveness. However, until we feel its powers of determination and purpose, 4 can create limitation, delay, and the feeling of being boxed-in. 4 teaches us that every problem has its answers and solutions if we are patient enough to find them – and then find the most effective way to put them into practice. 4 is the number of results through hard work, which confirms that although the road ahead will not be easy, 4 gives us the power of perseverance.
We cannot solve a problem until we understand its true nature, and we are dealing with complex and dangerous matters now. The first step to stabilizing our position is acceptance of reality. Eyes wide open! Denial is easy to spot in this age of transparency – but the 'old guard' cannot operate in openness and is trying desperately to push everything back into secrecy.
It's OK to be afraid. Fear is a natural part of the emotional range, with its own power and purpose. It is fear that is waking people up right now! Fear is not the problem. Denial of fear is the problem. Indifference is the problem. Being paralyzed by fear is the problem, too. Constant distraction is the problem. As evolving beings, we must learn to accept what must be feared, and discard the petty or false fears which keep us tied to this floundering way of life.
January 20, 2017, marks the beginning of a serious segment of the journey in which humanity is starting to recognize the power of its own Will (feminine energy), and is rising up against the old ways of oppression, and the ridiculous notion of white supremacy and patriarchy. The war on women is real and terrifying.
The Will is our ability to feel and sense. The Will is also MOTHER'S LOVE and the natural tendency to nurture and protect, and we all possess this energy, male and female alike. The Will (emotion) is YIN and the Spirit (consciousness) is YANG, both of which are different but equal – and interdependent. But this male-driven system must keep the feminine down in order to maintain its dominance. This cannot continue as the feminine 2000s unfold.
45 is also prominent today because it marks the inauguration of the 45th POTUS, which is the result of an election that occurred in Week 45 of 2016. Both 45 and 2016 add up to 9 – the number of endings, conclusions, awareness, and emotional healing. 4 = restriction, 5 = freedom, and 9 is the most emotional number of all (from the heights of happiness to the depths of despair), and there is no doubt that people are experiencing extraordinary depths right now.
This numeric combination tells us that this is NOT the beginning of a new system, but the end of the old one – this unfair, out of balance, and utterly cruel way of life. Donald Trump is bringing down the old system because that is what greed was bound to do in the end – consume itself. Racial matters are coming to a head because that is what the old system IS – the race to be number 1 – "winner" take all. But that is not the true nature of life. We cannot discover our real potential while a person's "value" is based on how much money they have.
The 20th day of January 2016 connects us directly to the millennial 2000s, and reminds us that the NEW system will not be based on competition (1), but on cooperation (2). Resolution to war will come through peaceful desire and diplomacy, not more war. No matter what happens on the long and difficult road ahead, just remember that the human RACE is not a species. The human RACE is the system itself. The human RACE must end, so that a free humanity can begin…
CrystalWind.ca is free to access and use.
"Would you consider a small gift of $11.11 ?" :)
ॐ Namasté - Blessings!

© 2008-2018 crystalwind.ca. All rights reserved.
Featured Articles: Numerology
Number Sequences from the Angels

Open or Close

by Doreen Virtue, Ph.D

The angels do their best to get our attention and to communicate with us. In this way, they help us heal our own lives. However, we often discount the signs they give us, writing them off as mere coincidences or our imagination. The angels say: "We can't write our messages to you in the sky. You've got to pay attention and believe when you see any patterns forming in your life — especially in response to any questions or prayers you've posed. When you hear the same song repeatedly or see the same number sequence, who do you think is behind this? Your angels, of course!"

Read More

The Esoteric Significance Of Numbers

Open or Close

The following summarizes the beliefs of some modern numerologists. Note that there is no scientific or mathematical evidence to show that numbers exhibit these properties.

Note also that the association of various meanings to specific numbers in the time of the European Renaissance, when numbers were worked into the detailed fabric of musical, poetic, & architectural artifice, was both far richer and far more precise than the modern summaries offered here.

Numbers one to nine are used in present-day numerology to determine character analysis and predict upcoming trends. Other numbers are thought to carry vibrational influences which must also be taken into consideration, as must also the connection of astrology, numbers, and locational addresses, e.g. "Seven Star Road."

Read More

Finding Your Personal Year Number

Open or Close

Here is a formula for finding your Personal Year Number:

To find your Personal Year number, add the month and the day of your birth, plus the Universal Year number. (This formula will work for any year by using the universal year number of the current year and adding up those numbers accordingly, i.e., for 2018 the Universal Year number is 11=2; 2+1+8=11=2)

For example, someone born on May 15 finds his or her Personal Year number by adding 5 (May) plus 6 (the fifteenth day) plus 2 (2018) to arrive at a Personal Year number of 13 ( 5+6+2=13), which is reduced to 4.

Read More

What's Your Number? What Your Phone Number Reveals About You

Open or Close

If you're interested in numerology then you know that numerology would say your house number exerts a huge influence on you, just like your birth number. But what about our phone numbers? We can say we choose the day we incarnate in order to experience a certain life path and its lessons. The same goes for where we live. Many people believe that houses 'choose' their occupants. The energy of a house contains certain experiences and events and the house either wants you to experience that energy – or not. So, where does this leave our phone numbers which are after all, usually randomly assigned by the phone company. This is where synchronicity comes in. Our phone numbers can often reflect our communication energy or what we need to know about communication style. Often spooky synchroncities can be revealed when we work out our phone's 'communication number' as this can often be the same as our birth or life-path number.

Read More

Your Life Path Number – Discover Your Destiny

Open or Close

Your Life Path number is similar to your Sun Sign in astrology.

It reveals your life's purpose including your gifts, challenges, and abilities as well as your talents, inner drives, and how you experience your emotions . It can also help you discover why you have experienced some of your life's circumstances. What are you meant to learn is often what is most challenging for you and is where you have the greatest potential. Each number vibration has a range of energies. We often start out experiencing the challenge of each vibration until we overcome those obstacles and manifest the higher vibration of the number. Here is how to discover your life path number and what it means.

Read More

Numerology for Your Address – Is Your Home Happy for You?

Open or Close

House numerology can affect your well being. Since numbers are vibrations, your address sets the tone for your entire living space. You want to make sure that your house or apartment number is compatible with you and the others living there, as well as create an energy that is conducive to your lifestyle.

Although your street address, building address, and zip code certainly have an impact, the most influential number for your well being is your house or apartment number, since that is what is most personal to you.

Read More

Your Name Number Is Your Destiny

Open or Close

Numerology

Numerology is the study of numbers and the divine, mystical meanings they may have. There are many different systems of numerology to predict and determine many different things.

Once thought of as a math and science, numerology is now seen as an occult study, used for astrology and divinatory arts.

Read More

Cut Through The Illusions!