Category: Numerology Hits: 2259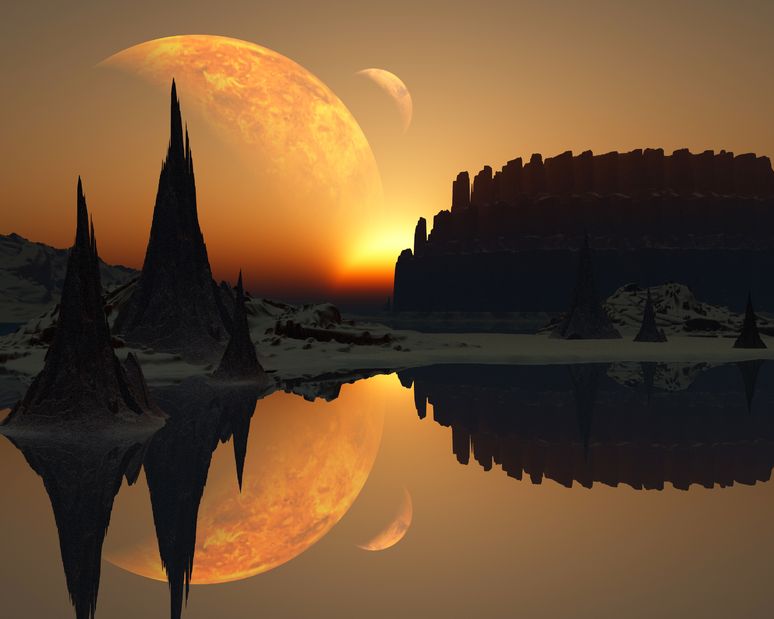 We've entered a momentous week in 2017…
Not only do we have a magnificently fortunate Lunar Eclipse in four days, but Jupiter has just turned retrograde.
Hours ago Jupiter stationed retrograde at 23° Libra – the Royal Star of the Lion number. During its retrograde cycle Jupiter will be moving back to 13°Libra before turning direct again on June 9. This is a very powerful call to integrate how you communicate in all your close relationships. Are you happy? Can you expand freely?
23 and 13 are the numbers of Freedom and Transformation.
Over the next four months you'll have many opportunities to integrate new, refreshing values into all your close relationships.
How are you relating? Is there an equal exchange of energy, as symbolized by the balances – Libra?
Are you remembering that you and the other are first and foremost spiritual beings?
Jupiter in Libra in retrograde motions you to look WITHIN FIRST, so you enter every relationship inter-dependently.
An imbalanced relationship is co-dependent.
Co-dependency expresses itself as intense, possessive and controlling, where your two identities are enmeshed and there is a compulsive need to keep the other so tied to you that everything you say, think or do is calculated. You feel threatened by any differences that come up because you want the other to be just like you.
It's a very imbalanced energy – with many ups and downs – from calm and good… to strong outbursts of friction as the roles of victim, victimizer and rescuer are played out.
You identify with each others moods – taking on each others happiness or frustration.
Jupiter in Libra requires that we stop repeating patterns that keep us mired in dysfunctional behavior.
During this retrograde you are balancing your need to control (or be controlled) so you can set yourself FREE.
Inter-dependent relating gives freedom of choice to both people – it is first and foremost about promoting growth, when partners act in each others best interest and give each other room and encouragement to express themselves in their unique way.
Each person has an individual soul-code which gives you a separate identity. Your unique mission gives you such joy and instills your heart with courage – and that creates a self-confidence that comes from WITHIN.
Inner strength does not require the other acquiesce to your demands.
There is a consistent, unwavering respect and each partner knows what to expect from the other in any given situation – each can TRUST each others commitment.
You love and care for the other – yet you do not take on their pain and issues as your own.
You are honest and wise – when something goes wrong, you immediately correct it.
This is the essence of Jupiter – Wisdom, Honesty, Expansion, and Trust.
During the next four months you will embrace all of these qualities – healthy balance and growth are your only options now.
Jupiter Retrograde cycle in Libra is an extraordinary opportunity to achieve rapid growth in an important area of your life. You can make GREAT strides now towards manifesting your dreams.
It is mandatory that you focus on your inner spiritual life in order to Manifest your dreams.
Meditation is your best source of inner contact with the divine.
Make room for quiet contemplation in your life – and do so every day. There are many forms of meditation – find what works for YOU.
Stay true to what brings you peace and joy. Surrender to shared happiness and shared goodness.
You are now in the midst of creating your greatest life ever.
Love and Blessings,
Tania Gabrielle
Make sure you are tuned into the heavenly rhythms of 2017 – both personally and universally. Navigate the year with confidence using the powerful 2017 Ultimtae Yearly Forecast - your inspiring guide to 2017's extraordinary astro-numerology code.

Tania Gabrielle is a Wealth Astro-Numerologist, spiritual teacher, author, composer and speaker. She has coached thousands of clients and entrepreneurs worldwide — helping them to design prosperous lives by leveraging the secret numbers' code in their names, birthday and personal cycles.
CrystalWind.ca is free to access and use.
"Would you consider a small gift of $11.11 ?" :)
ॐ Namasté - Blessings!

© 2008-2018 crystalwind.ca. All rights reserved.
Featured Articles: Numerology
Number Sequences from the Angels

Open or Close

by Doreen Virtue, Ph.D

The angels do their best to get our attention and to communicate with us. In this way, they help us heal our own lives. However, we often discount the signs they give us, writing them off as mere coincidences or our imagination. The angels say: "We can't write our messages to you in the sky. You've got to pay attention and believe when you see any patterns forming in your life — especially in response to any questions or prayers you've posed. When you hear the same song repeatedly or see the same number sequence, who do you think is behind this? Your angels, of course!"

Read More

The Esoteric Significance Of Numbers

Open or Close

The following summarizes the beliefs of some modern numerologists. Note that there is no scientific or mathematical evidence to show that numbers exhibit these properties.

Note also that the association of various meanings to specific numbers in the time of the European Renaissance, when numbers were worked into the detailed fabric of musical, poetic, & architectural artifice, was both far richer and far more precise than the modern summaries offered here.

Numbers one to nine are used in present-day numerology to determine character analysis and predict upcoming trends. Other numbers are thought to carry vibrational influences which must also be taken into consideration, as must also the connection of astrology, numbers, and locational addresses, e.g. "Seven Star Road."

Read More

Finding Your Personal Year Number

Open or Close

Here is a formula for finding your Personal Year Number:

To find your Personal Year number, add the month and the day of your birth, plus the Universal Year number. (This formula will work for any year by using the universal year number of the current year and adding up those numbers accordingly, i.e., for 2018 the Universal Year number is 11=2; 2+1+8=11=2)

For example, someone born on May 15 finds his or her Personal Year number by adding 5 (May) plus 6 (the fifteenth day) plus 2 (2018) to arrive at a Personal Year number of 13 ( 5+6+2=13), which is reduced to 4.

Read More

What's Your Number? What Your Phone Number Reveals About You

Open or Close

If you're interested in numerology then you know that numerology would say your house number exerts a huge influence on you, just like your birth number. But what about our phone numbers? We can say we choose the day we incarnate in order to experience a certain life path and its lessons. The same goes for where we live. Many people believe that houses 'choose' their occupants. The energy of a house contains certain experiences and events and the house either wants you to experience that energy – or not. So, where does this leave our phone numbers which are after all, usually randomly assigned by the phone company. This is where synchronicity comes in. Our phone numbers can often reflect our communication energy or what we need to know about communication style. Often spooky synchroncities can be revealed when we work out our phone's 'communication number' as this can often be the same as our birth or life-path number.

Read More

Your Life Path Number – Discover Your Destiny

Open or Close

Your Life Path number is similar to your Sun Sign in astrology.

It reveals your life's purpose including your gifts, challenges, and abilities as well as your talents, inner drives, and how you experience your emotions . It can also help you discover why you have experienced some of your life's circumstances. What are you meant to learn is often what is most challenging for you and is where you have the greatest potential. Each number vibration has a range of energies. We often start out experiencing the challenge of each vibration until we overcome those obstacles and manifest the higher vibration of the number. Here is how to discover your life path number and what it means.

Read More

Numerology for Your Address – Is Your Home Happy for You?

Open or Close

House numerology can affect your well being. Since numbers are vibrations, your address sets the tone for your entire living space. You want to make sure that your house or apartment number is compatible with you and the others living there, as well as create an energy that is conducive to your lifestyle.

Although your street address, building address, and zip code certainly have an impact, the most influential number for your well being is your house or apartment number, since that is what is most personal to you.

Read More

Your Name Number Is Your Destiny

Open or Close

Numerology

Numerology is the study of numbers and the divine, mystical meanings they may have. There are many different systems of numerology to predict and determine many different things.

Once thought of as a math and science, numerology is now seen as an occult study, used for astrology and divinatory arts.

Read More

Cut Through The Illusions!

Archive: Numerology

2018 (13)

February (5)
January (8)

2017 (113)

December (8)
November (9)
October (8)
September (10)
August (10)
July (8)
June (6)
May (12)
April (15)
March (12)
February (4)
January (11)

2016 (85)

December (9)
November (11)
October (8)
September (7)
August (8)
July (6)
June (9)
May (7)
April (3)
March (6)
February (4)
January (7)

2015 (67)

December (5)
November (6)
October (7)
September (4)
August (5)
July (7)
June (5)
May (2)
April (8)
March (8)
February (5)
January (5)

2014 (7)

December (2)
November (3)
October (1)
September (1)

2013 (2)

December (1)
September (1)

2012 (2)

November (1)
October (1)