Category: Numerology Hits: 1450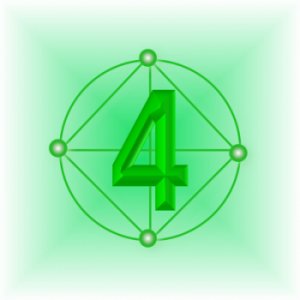 2017 is a 1 Year, and your personal number for 2017 is obtained by adding 1 to your month and day of birth. For example, if you were born on September 29, add 9+2+9 +1 =21. Keep adding until you reach a single digit. 2+1=3. In this example, the personal year number for 2017 is 3 *.
* Use your yearly number to read your monthly & weekly forecasts throughout 2017.
---
SCROLL DOWN TO YOUR PERSONAL NUMBER
NOTE 1: Calendar Week 22 runs from May 28 to June 3. New article coming soon about the significance of the number 22 in the run up to the year 2020.
NOTE 2: Meanwhile, there are TWO 'Double Dose' days in Week 22 in which your weekly forecast doubles as a daily reading. This occurs when the month and day add up to 9: first on Wednesday, May 31 (5+3+1=9), and again on Saturday, June 3 (6+3=9). This highly emotional energy forces our attention onto the world stage because both 9 and 22 represent global matters, the conditions and circumstances of the masses – and the efforts of the controlling forces to hold humanity's evolution back.
9 represents endings, conclusions, drama, and the re-emergence or conclusion of issues from the past. Strong feelings, increased awareness, generosity, and letting go (in order to move forward) are also part of the 9 vibration. And while simple kindness is a major aspect of 9, it also exposes areas of indifference and cruelty, prompting an acceleration of emotional movement (feminine energy). 2 is the number of sensitivity, and 22 makes this an extremely sensitive week in which our personal and collective sense of identity is emphasized.
NOTE 3: 2017 is an 1 global year which is affecting us all – so be sure to read the 1 forecast as well as your own. The 2, 4, and 6 forecasts are also extremely potent this week.
---

Meaningful change is often accompanied by a temporary shock, infused with feelings of loneliness and confusion. Real change is not a mere mental concept. You really do have to feel it. This is a chance to heal from such a shock by forgiving yourself and others – letting go of guilt and blame – allowing the past to move into its right place, behind you – and moving with confidence into present time. Lighten that load! And remember that comparing your reality to other people's causes much unnecessary stress.
---

Is someone, or life itself, conspiring against you? Or is this just the paranoia that arises when aspects of your life are out of balance? Give others the cooperation they need and the credit they deserve. Listen to them. The truth may be uncomfortable, but don't ignore it. Progress is possible now by taking a complete break from whatever has drained your energy and thrown you out of balance.
---

Don't make assumptions before you have all the facts. Judging by appearances, or believing that "appearance" is all that matters, are major lessons here. Stand back and carefully assess your position. Look beneath surface appearances. Seek more information. Think long-term. Devise a plan of action. Recent events reflect only pieces of a much larger picture. Quantity can be burdensome now, so choose quality instead.
---

The theme is 'lightening the load' and simplifying an overly complicated area of your life. This is a time to relax, revitalize, and heal. Discomfort between certain people is a clear indication that change is needed. Be yourself and let others be who they are, but don't allow anyone to lay down the law, issue ultimatums, or set the pace. Something unproductive must end before anything worthwhile can begin.
---

You may be shocked to know how much you depend on others for your everyday wellbeing. The truth is that you are the only one you can rely on. Who and what have you been taking for granted? If you are not aware of their value you cannot appreciate them – giving rise to the saying: "you don't know what you've got 'til it's gone." This cycle reveals a stubborn streak and involves an adjustment to the way you communicate.
---

Don't be afraid to hold back until you have a more detailed view. Don't be afraid to say "I don't know". But do not use your 'not knowing' as an excuse to stay uninformed. Information is available. Take an independent approach to ensure accuracy. Good ideas and good news often fall victim to ignorant minds. Therefore, an unexpected result or a negative response should not come as too much of a shock.
---

Don't discard a good idea just because it's not happening immediately. Patience and diplomacy are your greatest strengths now. Take everything in your stride and find a balance between wanting too much and expecting too little. Your mind is being stretched by the new and untried. This may feel exciting, or it could feel like a mental overload. Relax. Your options are more numerous than you think.
---

Take an objective view, rather than one that is blurred by hearsay or the fear of how others may judge you. Be friendly. People who believe in themselves have no need to be aggressive. Of course, it will be difficult to believe in yourself if you do not have all the facts and especially if the facts are being covered up or ignored. Keep an open mind. Test those ideas. Play with them. Experiment. And start turning an idea into reality.
---

As parts of your past enter the present, you will also encounter glimpses of future possibilities. Action must be taken, but it is too early to know what is plausible and what is not. Meanwhile, you have much to offer. Be sensitive, reasonable, and kind to yourself as well as others. If you neglect 'you', you will be unable to take care of anything or anyone else.
CrystalWind.ca is free to access and use.
"Would you consider a small gift of $11.11 ?" :)
ॐ Namasté - Blessings!

© 2008-2018 crystalwind.ca. All rights reserved.
Featured Articles: Numerology
Number Sequences from the Angels

Open or Close

by Doreen Virtue, Ph.D

The angels do their best to get our attention and to communicate with us. In this way, they help us heal our own lives. However, we often discount the signs they give us, writing them off as mere coincidences or our imagination. The angels say: "We can't write our messages to you in the sky. You've got to pay attention and believe when you see any patterns forming in your life — especially in response to any questions or prayers you've posed. When you hear the same song repeatedly or see the same number sequence, who do you think is behind this? Your angels, of course!"

Read More

The Esoteric Significance Of Numbers

Open or Close

The following summarizes the beliefs of some modern numerologists. Note that there is no scientific or mathematical evidence to show that numbers exhibit these properties.

Note also that the association of various meanings to specific numbers in the time of the European Renaissance, when numbers were worked into the detailed fabric of musical, poetic, & architectural artifice, was both far richer and far more precise than the modern summaries offered here.

Numbers one to nine are used in present-day numerology to determine character analysis and predict upcoming trends. Other numbers are thought to carry vibrational influences which must also be taken into consideration, as must also the connection of astrology, numbers, and locational addresses, e.g. "Seven Star Road."

Read More

Finding Your Personal Year Number

Open or Close

Here is a formula for finding your Personal Year Number:

To find your Personal Year number, add the month and the day of your birth, plus the Universal Year number. (This formula will work for any year by using the universal year number of the current year and adding up those numbers accordingly, i.e., for 2018 the Universal Year number is 11=2; 2+1+8=11=2)

For example, someone born on May 15 finds his or her Personal Year number by adding 5 (May) plus 6 (the fifteenth day) plus 2 (2018) to arrive at a Personal Year number of 13 ( 5+6+2=13), which is reduced to 4.

Read More

What's Your Number? What Your Phone Number Reveals About You

Open or Close

If you're interested in numerology then you know that numerology would say your house number exerts a huge influence on you, just like your birth number. But what about our phone numbers? We can say we choose the day we incarnate in order to experience a certain life path and its lessons. The same goes for where we live. Many people believe that houses 'choose' their occupants. The energy of a house contains certain experiences and events and the house either wants you to experience that energy – or not. So, where does this leave our phone numbers which are after all, usually randomly assigned by the phone company. This is where synchronicity comes in. Our phone numbers can often reflect our communication energy or what we need to know about communication style. Often spooky synchroncities can be revealed when we work out our phone's 'communication number' as this can often be the same as our birth or life-path number.

Read More

Your Life Path Number – Discover Your Destiny

Open or Close

Your Life Path number is similar to your Sun Sign in astrology.

It reveals your life's purpose including your gifts, challenges, and abilities as well as your talents, inner drives, and how you experience your emotions . It can also help you discover why you have experienced some of your life's circumstances. What are you meant to learn is often what is most challenging for you and is where you have the greatest potential. Each number vibration has a range of energies. We often start out experiencing the challenge of each vibration until we overcome those obstacles and manifest the higher vibration of the number. Here is how to discover your life path number and what it means.

Read More

Numerology for Your Address – Is Your Home Happy for You?

Open or Close

House numerology can affect your well being. Since numbers are vibrations, your address sets the tone for your entire living space. You want to make sure that your house or apartment number is compatible with you and the others living there, as well as create an energy that is conducive to your lifestyle.

Although your street address, building address, and zip code certainly have an impact, the most influential number for your well being is your house or apartment number, since that is what is most personal to you.

Read More

Your Name Number Is Your Destiny

Open or Close

Numerology

Numerology is the study of numbers and the divine, mystical meanings they may have. There are many different systems of numerology to predict and determine many different things.

Once thought of as a math and science, numerology is now seen as an occult study, used for astrology and divinatory arts.

Read More

Cut Through The Illusions!

Archive: Numerology

2018 (22)

March (6)
February (8)
January (8)

2017 (113)

December (8)
November (9)
October (8)
September (10)
August (10)
July (8)
June (6)
May (12)
April (15)
March (12)
February (4)
January (11)

2016 (85)

December (9)
November (11)
October (8)
September (7)
August (8)
July (6)
June (9)
May (7)
April (3)
March (6)
February (4)
January (7)

2015 (67)

December (5)
November (6)
October (7)
September (4)
August (5)
July (7)
June (5)
May (2)
April (8)
March (8)
February (5)
January (5)

2014 (7)

December (2)
November (3)
October (1)
September (1)

2013 (2)

December (1)
September (1)

2012 (2)

November (1)
October (1)