Category: Runes Written by Jan Erickson Views: 1147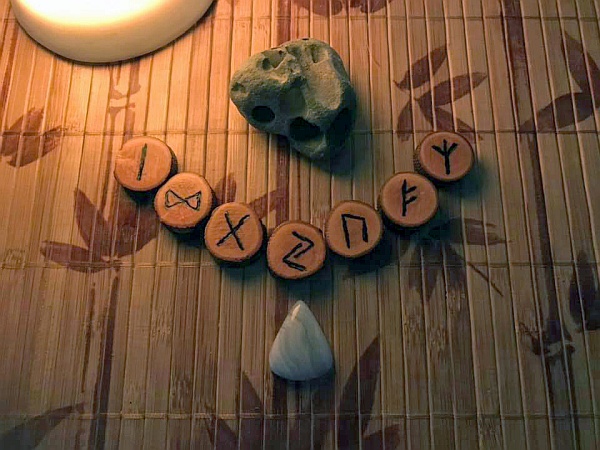 As a new week begins, let's take a look at the upcoming esoteric influences. As always, I'm looking at each day's numerology, Elder Futhark rune, and Moon information derived from both traditional astrology and Human Design's use of the I Ching. The runes appear below.
Sunday, 9 February 2020
Numerology – 9 – completion, endings
Day – Sunday is a day governed by the Sun reflecting success, joy, protection, power, confidence, and health
Rune – Isa (11) – Water, Norn (Verdandi) rune of the present or static realm, ice, becoming, stillness, will development, contraction, focus, consciousness, freezing unwanted behavior or situations
Human Design (I Ching) Moon position – Gate 7 Line 3 The anarchistdescribes an individual who requires constant change and the rejection of societal norms or laws
Astro Moon Position – outgoing Leo until detailed-oriented Virgo at 3:39 PM PST suggesting a split energy day where the energy to engage takes a more detailed focus in the latter part of the day.
Given the goings-on in the country, the presence of Isa is counseling an inner spiritual focus today. The anarchist in question may be rearing his ugly head today spewing his lies and demeaning comments to anyone who will listen, so remove yourself from that level of hostility and focus on the mundane while taking a Higher Self perspective.
Monday, 10 February 2020
Numerology – 10/1 – new beginnings, Sun, Leo, wholeness, unity, self, intuitive knowledge, Monad, First Cause, Alpha
Day – Monday is a day governed by the Moon and involves healing and intuition along with feminine magicks
Rune – Dagaz (23) – Water, new day, dawn, endings and beginnings, conclusion, daylight, awakening, all doors open, all options are available
Human Design (I Ching) Moon position – Gate 59 Line 1 The Preemptive Strike suggesting the ability to see and remove obstacles to success
Astro Moon position – Virgo – a narrow focus may find us lashing out at others when they don't live up to our expectations. Stay focused on your own projects and avoid sugary foods that may increase intolerance, both physical and emotional.
The blending of Dagaz, today's one energy, and the I Ching influence of the preemptive strike, the ability to head off anything that might derail our progress increases and new opportunities are possible. Caution, however, if you feel out of sorts today. A quick review of what you've been eating may find that your food choice may be the culprit. Focus on foods today that balance and do not tax digestion.
Tuesday, 11 February 2020
Numerology – 11 – Master Number, illumination, awakening
Day – Tuesday is governed by Mars and is filled with passion and energy
Rune – Gebo (7) – balanced energy exchange, Water, link, marriage, partnership, gift, reciprocity
Human Design (I Ching) Moon position – Gate 64 Line 5 Promise describes harmony from shared values as the underlying cohesive factor in shared revolution or struggle
Astro Moon position – routine-oriented Virgo until balanced Libra at 3:38 PM PST – another split energy day where a focus on routine and the self transitions into increased interactions with others. Take care of the mundane in the morning but be ready in the afternoon to focus on partnerships and social gatherings.
Illumination and awakening are both possible today with Tuesday's Master number 11 energy influencing. Harmony with others is present with both Gebo and the I Ching influence of promise as we come together in shared purpose with others, likely to contend with the Anarchist from Sunday.
Wednesday, 12 February
Numerology – 12/3 – catalyst, triple aspects, mind/body/Spirit, imagination, Jupiter, Capricorn, triad, Gimel, Gamma, analogy, past/present/future, Hecate, triangle, Norns of Fate, Aum
Day – Wednesday is governed by Mercury and involves communication, reason, and intellectual expression
Rune – Jera (12) – Earth, transformation, balance, give and take, cycles, herbalism, gardening, unfolding awareness, energetic alignment, year, fertility
Human Design (I Ching) Moon position – Gate 46 Line 3 Projection describes the avoidance of distraction and staying within your defined plan for success
Astro Moon position – Libra – security is derived through harmonious relationships with others. Objectivity may also be minimal today.
Transformation is experienced today with the alignment between the day's numerology and the numerology of Jera, both catalytic and transformative in their effect. Success is derived today from staying within prescribed boundaries and harmonious engagement with others.
Thursday, 13 February
Numerology – 13/4 – foundation, structure, Sun, Sagittarius, sensation, materialism, Tetrad, Delta, Daleth, divinity, masculine resonance, robust, Hercules, Mercury, Vulcan, Urania, justice, Tetragrammaton, Aum Mani Padme hum, elements, seasons
Day – Thursday is governed by Jupiter and involves expansion and benevolence
Rune – Uruz (2) – primal forming force, Water, health, endurance, strength, healing, aurochs, energy shaping matter
Human Design (I Ching) Moon position – Gate 48 Line 6 Self-fulfillment suggests a level of superficiality that restricts success; Channel of Logic describing a balance between clarity and doubt
Astro Moon position – balanced Libra until secretive and intense Scorpio at 4:38 PM PST – take care of anything you need to rely upon in the morning, conversations in particular, because emotions may be difficult in the afternoon and a balanced perspective may be difficult to maintain. If a tactful approach seems impossible, remove yourself from the situation until you feel more level.
With the transition from balanced Libra in the later afternoon to secretive and emotionally intense Scorpio, we may experience scattered energy today. Jupiter's expansive effect doesn't really care what it expands, so if that means we have a hard time grounding or centering today, then so be it. Tact may be at a minimum in the latter half of the day and evening so avoid hasty judgments if superficiality is increased.
Friday, 14 February
Numerology – 14/5 – change, Quintessence, Mercury, Cancer, Epsilon, feminine, elemental solids, justice, pentagram, protection, safety
Day – Friday is governed by Venus and involves love, balance, and harmony
Rune – Fehu (1) – Fire, wealth, abundance, cattle, life force, sending energy for magickal workings, growth, success, invoking
Human Design (I Ching) Moon position – Gate 50 Line 4 Corruption describes the effect of amorality and the lack of any traditional values on individual behavior; Channel of Preservation describing a design of custodianship
Astro Moon position – Scorpio – increase in negative and volatile feelings today as emotions remain in flux. Use the intense focus in a positive way to accomplish tasks as you avoid that same intensity with others. You may feel an either/or sense about your experiences today, but in time, clarity will return.
Fehu as the sending rune, invokes willfulness into the day and when this intersects with the Moon in Scorpio, we might need to take a step back before interactions become difficult. Corruption and the Channel of Preservation from the day's Human Design chart are concerning as they suggest the preservation of corrupt values at any cost. Friday could be a day to simply keep to oneself until volatile emotions settle.
Saturday, 15 February
Numerology – 15/6 – Higher Self, Venus, harmony, balance, perfection, Taurus, Thalia, benevolence, peace, health, truth, perfection of parts, marriage, rebirth, Merkaba
Day – Saturday is governed by Saturn and involves binding, slowing, and resistance
Rune – Algiz (15) – Air/Fire/Water, elk, protection, BiFrost bridge between physical and astral realms, higher consciousness, divinity
Human Design (I Ching) Moon position – Gate 1 Line 1 Creation is independent of will describing a higher level of timing, spirit-based, that results in adaptation
Astro Moon position – intense Scorpio until extroverted Sagittarius at 8:07 PM PST suggesting another split energy day that transitions from an intense inner focus to one that is external in nature. Water energy gives way to Fire and the transition may not go smoothly.
Higher Self energies take the reins today with the amplified 15/6 energy. Algiz offers both a means for supplication as well as for invoking the Higher Self. As things slow down today, remain aware of the effect of volatile emotions, especially as the Moon transitions into Sagittarius in the evening. If it seems that emotions are too much allow them to settle before stepping back into the flow.
Until next week…
Blessings to all!
Jan: Witch, Empath, Herbalist, Author, Reiki Master, Kenpo Black Belt, Beekeeper, and Goddess Blessed
Credit
About Jan Erickson
Jan Erickson is an empath and a witch in her Crone years. She has a BA in Psychology, and facilitated her two sons' homeschooling efforts. Jan earned her Black Belt in Kenpo Karate in 1991, after which she taught along side her husband in their dojo. Herbalism has always been a part of Jan's life, and after suffering with rheumatoid arthritis for 13 years, she became a cannabis patient and healed. Living on the High Desert of Central Oregon with her husband of 40 years, Jan writes the blog, Stepping Aside, gardens, is a mom to bees and two sons, and continues to study herbs. And in July, 2017, Jan and her husband became grandparents!
CrystalWind.ca is free to access and use.
Please donate a small gift of $11.11 or $22.22 or $33.33.
Thank you!
ॐ Namasté - Blessings!

© 2008-2020 crystalwind.ca. All rights reserved.
Featured Articles: Runes
Runes

Open or Close

Overview

Runes are a method of divination similar to the Tarot or the I Ching. The difference is that Runes are a set of 25 stones instead of 78 cards or a set of sticks with patterns. As with the Tarot, most of the Runes may be rightside up, or up side down, the meaning differing with the case. There are also some Runes that can not appear up side down. In practice, the Runes may be made of any material; ceramic, stones, sticks, or drawn on cards.

Read More

Divination Using Runes

Open or Close

Runes originated with the ancient Etruscans and were spread upwards throughout the Alpine regions to Northern Europe via the trade routes. The Germanic tribes took them and adapted them to their own needs and uses. The oldest and most widespread of the Germanic runes are the Elder Futhark or Common Germanic Runes. The word rune, which occurs in various forms in Germanic and Celtic languages, means "a mystery" or "holy secret" that is "whispered".

Runes were traditionally carved into bone, wood or stone which accounts for their angular shape. The lack of curves made it easier to create the shapes in either hard wood or stone.

Read More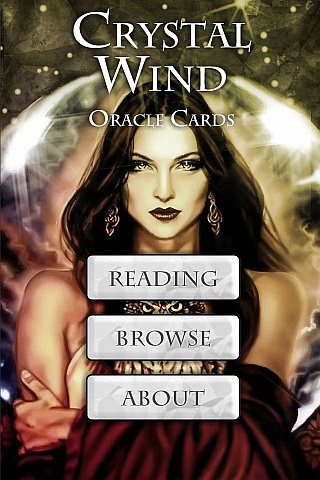 Cut Through The Illusions!
Who is Online Now
We have 1031 guests and no members online