Category: Tarot Cards Hits: 1496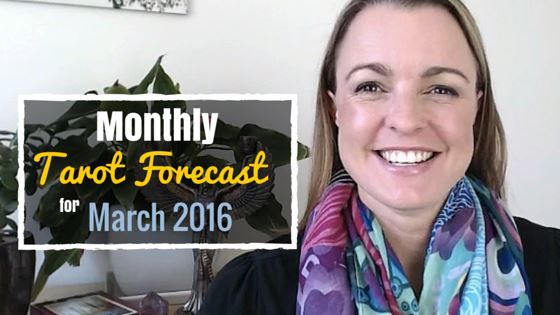 March 2016 is set to be an emotional month. You'll become more consciously aware of your emotions and how you relate with others. It might create some troubled waters with loved ones, but breathe a sigh of relief, because this is only temporary and it will pass.
Watch the Tarot card forecast to discover exactly what's coming up in March 2016 and how to make the most of the month ahead.
Video Transcript:
Hi, I'm Brigit, founder of Biddy Tarot, and this is the monthly Tarot forecast for March, 2016.
And we're going to have a look at the Blessings, Challenges, and recommended course of action for this month – to help you make this a really great month.
Now I've gone ahead and drawn the cards, and I'm actually going to show you all of them. I don't normally show you them. I usually do one at a time.
But let's see, we've got:
For the Blessings we've got the Queen of Cups
For the Challenges we've got the Ten of Cups reversed, and
For the recommended action we have got the King of Cups reversed
Now you don't have to be a talented Tarot reader to know that we have all Cups this month.
Now Cups represent relationships, but also represent the emotions.
So you might find that March is quite an emotional month for you.
Now there's a bit of good positive emotions coming through, but also you might find you are feeling a bit unsettled emotionally. And this will no doubt play out in your relationships with others, and how you emotionally connect to other people.
But also given those two reversed cards it's also a connection back to your inner emotions as well.
Okay, so we have the Queen of Cups here as the Blessing.
Now the Blessing is that you are connected to your emotions, and that is a beautiful thing.
You will feel more in flow with your emotions and your feelings in the month of March. And you might even have more insight into why you're feeling a certain way; and that you are experiencing a certain or emotion.
You know often times we can go through life without really feeling stuff because we make ourselves so busy, but with a Queen of Cups your Blessing is that you are an emotional being, and you are really experiencing your emotions this month.
Now, the Challenges with the Ten of Cups reversed – so, as you're starting to experience your emotions more during this month, you might find that every now and then you're actually a little bit out of alignment with yourself and with others.
You know when we bring things into conscious awareness, we actually go through a period of feeling a little bit unsettled for a certain time – until it sort of comes back into balance. So as you're growing more aware of your emotions with the Queen of Cups, you might actually start questioning what your real emotional values are, and your personal values are, and might even feel a little bit uncertain about it.
Additionally, with the Ten of Cups reversed, some of your challenges might be in your relationships with others; and wondering if you are really in resonance with those who you are interacting with. There's a possibility you might start looking at some of your friendships and other relationships, and realising: Wow, we're actually on different paths. And maybe we need to take a break from each other for a certain period of time.
Now look, if you're in a relationship, and you've been together forever, and you're like, "Everything's amazing," don't worry – it doesn't necessarily mean that all of your relationships will be upside down this month. It's simply a sign that you might be just sort of feeling your way through a couple of those relationships.
Now the Advice with the King of Cups reversed is to be okay with a little bit of rockiness with your emotions.
So whilst the Queen of Cups is about having that emotional stability, on the other hand the King of Cups reversed is actually having a lack of stability.
I mean take a look at the little waves in this card. It's kind of showing that we go through emotional ups and downs. And I really do feel that March will be a month of emotional ups and downs.
And what I ask of you is: Don't read too much into it.
You are naturally going to go through ups and downs, and particularly as you become more consciously aware of your emotions, you're going to experience those. Really important to stay grounded; whether it's just going outside for a little bit; getting your bare feet into the grass, really connecting in to the Earth energy so that it grounds you – that will just help you manage those ups and downs emotionally.
Alright, so we're more emotionally aware – that's a Blessing.
We might experience a little bit of uncertainty in our relationships as we question are we really in resonance with this person? Are we on the same page – or maybe we're a little bit off track?
And be okay with experiencing your emotions, even though they might feel a little bit up and down.
Alright, so I want you to take care of yourself this month, and I hope that this month's Tarot forecast was helpful to you.
I shall see you very, very soon. Bye.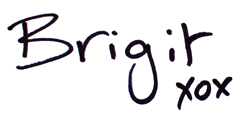 ---
Credit
Brigit is a professional Tarot reader & teacher, intuitive coach and spiritual entrepreneur. She is the founder of Biddy Tarot and inspires over two million people each year to transform their lives with the Tarot.
CrystalWind.ca is free to access and use.
"Would you consider a small gift of $11.11 ?" :)
ॐ Namasté - Blessings!

© 2008-2018 crystalwind.ca. All rights reserved.
Featured!
What Is Tarot Astrology?

Open or Close

Tarot astrology is the system through which a reading of the cards in a tarot deck help you through troubled times by offering a reflection on your past, present and future. Tarot is closely associated with astrology as each card relates to a planet, element, or astrological sign.

Tarot cards are used for divination, often known as fortune telling. But, many psychologists have used them as well, feeling that the cards often make patients delve in to how they feel about themselves. This is done through the subconscious. For example, let's say you know work is not going well, but you do not allow yourself to think about it. Getting a tarot card reading that shows you need to change occupations is not really telling your future so much as it is making you face what is really going on in your life.

Read More

The Tarot

Open or Close

The Tarot (pronounced tair-row) is a combination of teachings that reflect the aspects of life, a symbolic "book of life" in the form of pictures that can be read or meditated on from "cover to cover". It can also be opened randomly for insights to issues. As a source of information, it is actually a channel by which pictures bring the situation to light and explain what caused it to occur. Those same pictures depict how the situation is being played out as well as the predicted outcome when placed in "spreads" of various patterns. That outcome will be in accordance to the choices that have currently been made by the client as well as outside influences which they have little or no control over. The Querrent (person asking the question), needs to be informed of this so they understand that they have free will and can apply it if they so choose. The Tarot is informative, enlightening, and it's accurate.

The Tarot's history is veiled in the mists of time, surrounded by myths and legends, superstition, and diverse speculation. It speaks a language that is born of the universal collective mind through archetypes and symbols that range across the boundaries of astrology, numerology, mystical wisdom, religious teachings, and other psychic sciences. There are many stories as to its origin. Some say that the Tarot came from the Hierophants (priests of the Eleusinian Mysteries), the Gypsies, the Egyptians, the Jews, the Chinese, from India, the Hebrew Kabbalistic teachings, on and on. These teachings were handed down as the Major Arcana; cards representing the outside influences of one's life that remained out of the individual's control, alongside the Minor Arcana representing the individual and influences within daily life over which they did have control.

Read More

The Tarot: An Intuitive Health Tool

Open or Close

Teacher: Peter Phalam

When I began reading the Tarot Decks back in 1973, I used the traditional readings. Later on, I studied Carl Jung and his analysis of using Tarot for the study of emotional and mental problems. The many students in my area were using the Major Arcana of Tarot Cards to do the analysis. After many years, I have finally discovered a mannerism to use the entire Tarot Deck for the 'Healing Intuitive Reading'. In this reading, we examine five planes of health in a being. The heart and blood, the liver, pancreas, adrenals and kidneys, thymus, immune system and finally, the brain, are examined.

Read More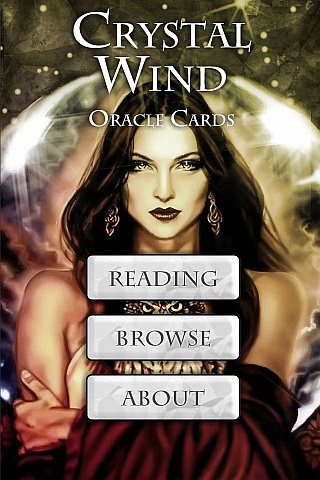 Cut Through The Illusions!