Category: Tarot Cards Written by kOri Woo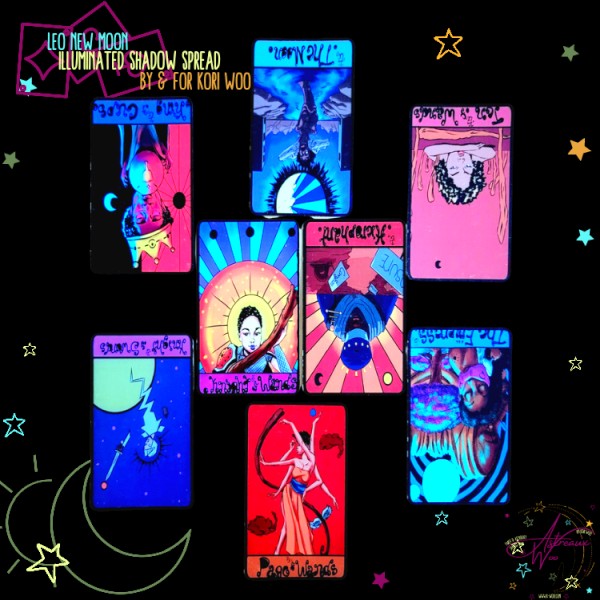 Illuminated Shadow Spread by Kori Woo Deck used: The Black Tales Tarot by Carlos Gee
TAROT CARDS
Ideal Self: The Moon (rx)
Conscious: The Hierophant, 10 of Wands, The Empress (all rx)
Unconscious: Knight of Wands, King of Cups (rx), Knight of Swords (rx)
Advice: Page of Wands
Positive: King of Cups, 10 of Wands (both rx)
Negative: Knight of Swords, The Empress, (both rx)
Overall Picture (deck bottom): Strength
This felt like a big reading before I even turned over all of the cards. The reversed Moon is always welcome as someone who struggles with depression, anxiety, and letting go. It's about clearing illusions fueled by emotions, coming through the 'dark night of the soul' with greater self awareness & with integrating shadow aspects of myself. The Hierophant, too was a welcome addition, in the reverse, aligning with that which is innovative and unique and maintain adherence only to rules and traditions that resonate or serve a greater purpose than myself.
SHADOW WORK TAROT INTERPRETATION
IDEAL
The Moon in this deck depicts a person whose hands are out of sight, apparently tied behind them or otherwise immobile as they stand surrounded by dark glowing water and jagged rocks. Outlined in the shadows, two wolves howl at the edges of the card. My first thought was of the Indigenous American tale about a grandfather, the battle within him between a pair of wolves, and his grandson's question "which wolf will?" In the reverse, the wolf that transcends illusions of the mind and clarifies the truth behind the heart's fables is victorious. Upright, the battle is a painful one being fought violently in present time between a person's conscious and unconscious selves. In the case of the Moon in tarot, being upside down is most often positive. The nebulous, painful effects of depression & delusion, emotional trauma, and lies are being seen clearly as they are waning. Light appears to be rising or expanding from the circle, encouraged or buoyed by the waters around it.
For me, clearing my perceptions of negative ideation, leftover and misplaced emotions, self deception and any lingering feelings over having been or feeling deceived is reflected here. Indeed, this has come up for me in a number of ways and I am looking at my emotional reactions (the two wolves) as information now. Asking myself daily, I consider how I might adjust means and expressions or alter my environment to better serve my goals and improve my ability to participate in healthy bonding. Too, I'm facing (mostly because I have little choice in the matter now) where I have betrayed my intent to heal, connect, or manifest. Ruthless honesty begins first with myself about myself, right?
CONSCIOUS UNCONSCIOUS
The overall energies for my conscious and shadow self are a fly by night fire knight and her slightly unorthodox spirit guide. As determined as I am to do things my way, I am also motivated by tangible forward movement. Even when I'm breaking all the rules, misunderstanding expectations (Knight of Swords), needing the kind of wisdom I can only get from one leathered by a trinity of learning, experience, and spiritual connectivity (The Hierophant), I am still whole, deserving of respect and worthy of every effort I've put forth and every lesson I learned. I allow myself the space to move through every facet of my experience with a tight grip on who I wish to be & become regardless of external entreaties to model social norms. Too, I'm working to breakthrough my own conditioned habit of filing down my corners, and feigning modesty about my skills and talents in exchange for a sense of belonging.
Today, I embrace the sense that what makes me an individual can also connect me to opportunities for commonality in the world. Regardless, embracing my own self definition frees me to heal the self I've suppressed so that I can integrate and evolve more and more holistically over time. The reversed King of Cups as positive was something I had to really think deeply on for it to really hit home. I have been in my new beloved apartment nesting like crazy since I moved in February. What I expected was smooth sailing after cohabitating and co-depending for a year in relative isolation due to Covid. Have I ever been more wrong! All of the stories, memories both true and false, paranoid fantasies and unexpressed anger, resentment, hurt, & shame came rushing like hungry teen late for dinner. A purge was in order and for all intents and purposes is still in progress.
First priority dump is all the impulse reactions regarding situations and people long removed from my life which I wrote about in the last new moon cycle. Now, there is purging in the form of what I expose myself to and what I allow myself to respond to, blockages to creative self expression, and an avoidance of spaces where I am drained or experienced as "too much". I release responsibility for engaging or maintaining dynamics that don't emotionally fulfill me. I lay to sleep those versions of myself that hinder it too. Harsh words to others that reflect harsh views of self have come up for air (ha) over and over so I'm not blind to the fact that I can be the bad energy in the room *smudges*. This moon cycle is also compelling me to look at the unique and powerful parts of myself that I've rejected and what I've conditioned myself to accept or express in it's place.
It's daunting, ugly, chaotic working through this truth, but also cathartic in that in owning all my bullshit without making excuses for it, I transform some of the energy into fuel and some into wisdom of my own to share. I'm actually queasy sometimes when I see parts of myself that are less playmate than sparring partner. However, I also recognize there are times when I need(ed) that energy to be safe. The 10 wands came through reminding me that everything I've held onto is not mine and that some difficult endings and stressful tasks are really liberation disguised as "The Work" Practical action on that which keeps me stable, strong and mobile is imperative. But, inviting in and taking on all that is projected onto me widens the space between current experience and evolution into my holistically evolved self. Too, I further damage myself worth by allowing the past or any external source to have undue influence on my self valuation (the reversed Empress).
ADVICE
This is one of my favorite cards in the "Black Tales" tarot deck. Free spirited, intensely passionate, and fearless in pursuit of what she desires, this Squire of fire gets things started. Her movement is art, her words are a spark, a direct, but charming challenge give all our energy over to a goal. Creative expression of her ideals, values, fantasies, and experiences brings her closer to an experience of divine will bearing fruit. True enough, I am working to bring optimism with my efforts and output. To get back into touch with my artistic interests, I took on a new hobby and I'm reimagining my relationship to another, setting goals that benefit me materially and inspire more creativity from me. I am doing what I will, as exactly who I am… and it will be beautiful. Ase.
I set my intentions prior to each reading and custom spread to provide clear and concise messages of growth and healing for the collective and interpret the cards based on a combination of position in a fixed spread, meanings from early study and my own intuition.
kOri Woo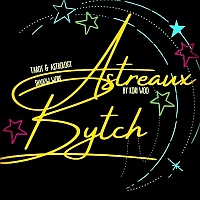 Author: kOri Woo (AstreauxBytch)
This blog is a reflection of my personal growth journey, creative writing pursuits and general energies I encounter in the day today. I am currently mastering both Tarot and Astrology and you can find my posts regarding those subjects @AstreauxBytch I also post biweekly tarot videos for each month and new moon on my youtube channel http://youtube.com/c/AstreauxBytch
Reprinted with written permission from kOri Woo.
© 2021 crystalwind.ca. All rights reserved. Dio Not Copy.
---
CrystalWind.ca is free to access and use.
Please support us with a small gift of $11.11 or $22.22 or $33.33.
Spirit Animal Totem Of The Day!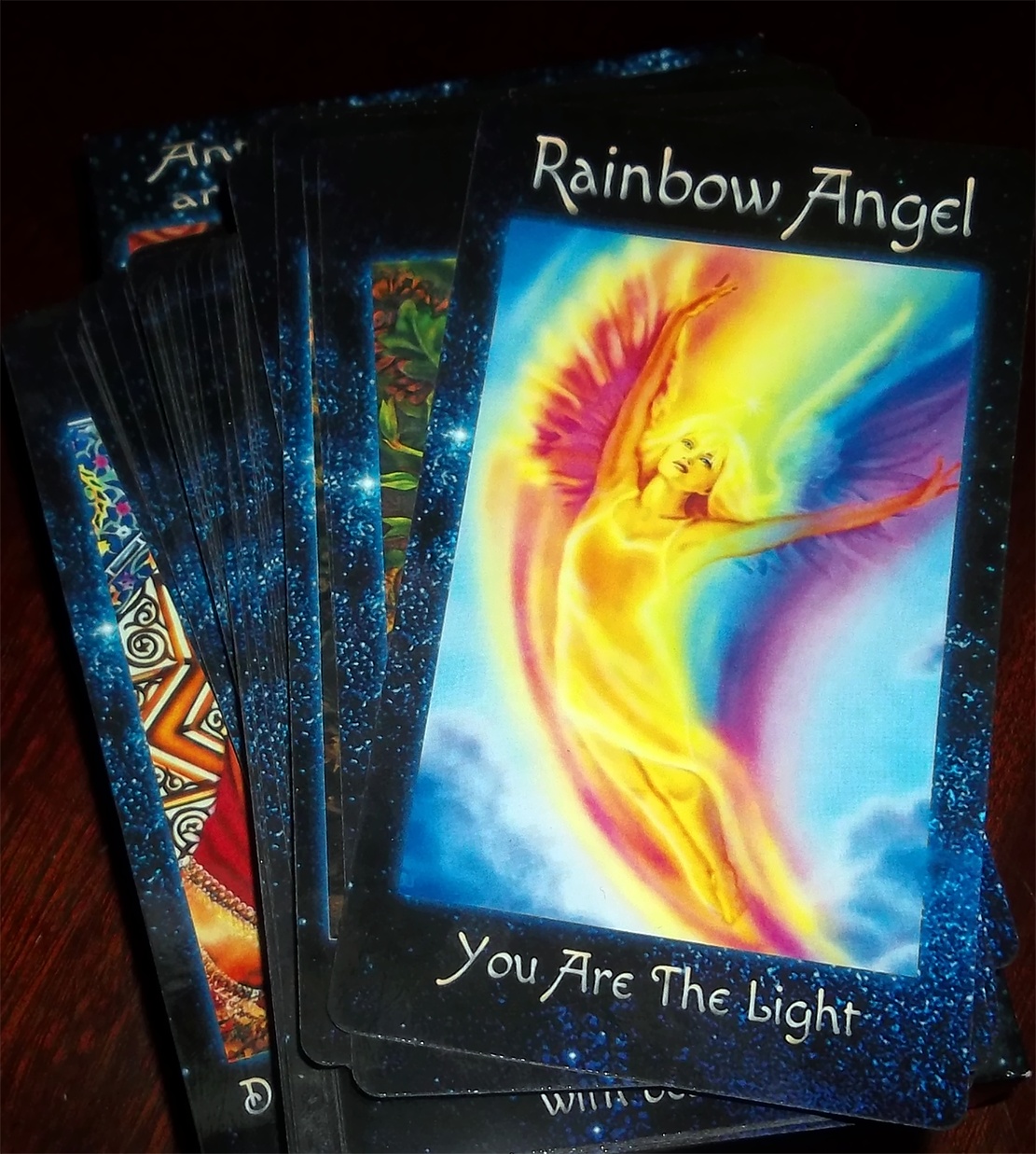 The Crystal Wind Oracle
Myth & Magic Card Deck!
Details Here!
NEW Expanded
Printed & Boxed!
Now with 58 cards!
Featured!
What Is Tarot Astrology?

Open or Close

Tarot astrology is the system through which a reading of the cards in a tarot deck help you through troubled times by offering a reflection on your past, present and future. Tarot is closely associated with astrology as each card relates to a planet, element, or astrological sign.

Tarot cards are used for divination, often known as fortune telling. But, many psychologists have used them as well, feeling that the cards often make patients delve in to how they feel about themselves. This is done through the subconscious. For example, let's say you know work is not going well, but you do not allow yourself to think about it. Getting a tarot card reading that shows you need to change occupations is not really telling your future so much as it is making you face what is really going on in your life.

Read More

The Tarot

Open or Close

The Tarot (pronounced tair-row) is a combination of teachings that reflect the aspects of life, a symbolic "book of life" in the form of pictures that can be read or meditated on from "cover to cover". It can also be opened randomly for insights to issues. As a source of information, it is actually a channel by which pictures bring the situation to light and explain what caused it to occur. Those same pictures depict how the situation is being played out as well as the predicted outcome when placed in "spreads" of various patterns. That outcome will be in accordance to the choices that have currently been made by the client as well as outside influences which they have little or no control over. The Querrent (person asking the question), needs to be informed of this so they understand that they have free will and can apply it if they so choose. The Tarot is informative, enlightening, and it's accurate.

Read More

The Tarot: An Intuitive Health Tool

Open or Close

When I began reading the Tarot Decks back in 1973, I used the traditional readings. Later on, I studied Carl Jung and his analysis of using Tarot for the study of emotional and mental problems. The many students in my area were using the Major Arcana of Tarot Cards to do the analysis. After many years, I have finally discovered a mannerism to use the entire Tarot Deck for the 'Healing Intuitive Reading'. In this reading, we examine five planes of health in a being. The heart and blood, the liver, pancreas, adrenals and kidneys, thymus, immune system and finally, the brain, are examined.

Read More

Tarot Card Meanings (A Quick Reference Guide)

Open or Close

A quick list of tarot card meanings.

If you are just learning the Tarot, print off this list of tarot card meanings to keep as a handy reference – it can be easier to look up meanings on a sheet of paper rather than flipping through the little white booklet that comes with most Tarot decks.

The Tarot deck is made up of 78 Tarot cards, each with its own unique Tarot card meaning. There are 22 Major Arcana cards and 56 Minor Arcana cards across four suits (Cups, Pentacles, Swords and Wands). The Major Arcana consists of 22 cards that reflect key archetypes or spiritual lessons in our lives.

Read More

Can Tarot Card Reading Help You With Your Love Life?

Open or Close

Tarot reading is one of the most exciting activities that you can perform to know what is in store for the future. It helps to understand and boost your love life just by clicking on a few sites.

You need to choose the best online tarot card reading sites of 2021 and fill in your details. An expert tarot reader will help you explore more about your life.

Read More

Cut Through The Illusions!
Who is Online Now
We have 1025 guests and no members online
X
Right Click
No right click