Support crystalwind.ca with your donation and help spread spirituality and positivity.
Blessings!
Written by CrystalWind.ca Views: 6992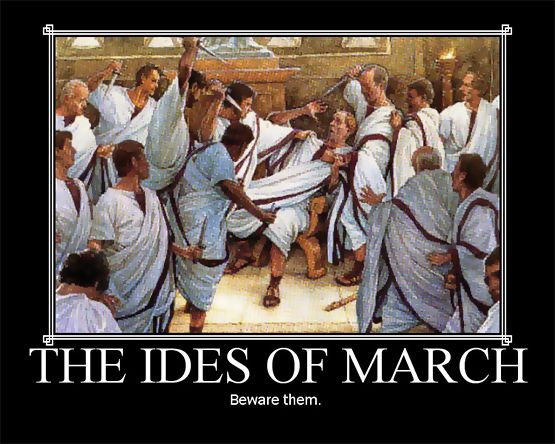 Had it not been for events in ancient Rome, March 15th would be just another ordinary day. But the death of Julius Caesar at the hands of several Roman senators made this a date of misfortune. They say a soothsayer warned Caesar of this day, but Caesar resisted and ventured out anyway. Should you beware the Ides of March this year?
History and Meaning
Although most of us know about the Ides of March, did you know that the term ides (from the Latin, idus) means the middle of the month? According Roman calendar the ides fell on the 15th during the months of March, May, July and October. For the remaining months of the year, the ides fell on the 13th.
Yet the Ides of March and all other doomsdays do have some messages for us. One is the greater message of listening to your own intuition and inner voice.
The ides were also sacred to the god Jupiter and generally these days were free days or legal public holidays. Courts were closed and public business did not occur. Employees and even slaves got the day off. Celebrations took place and a white lamb was sacrificed to Jupiter on the ides.
The Ides of March in particular was not only sacred to Jupiter but also Mars. March was named after Mars the God of War. Military parades and assemblies were often held to commemorate this god and display the might of the Roman army.
Caesar's Fall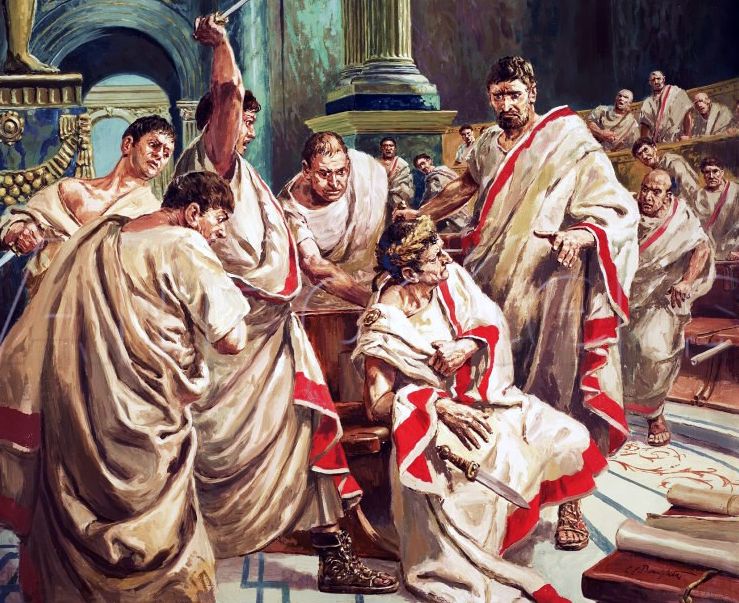 The assassination of Julius Caesar occurred on March 15th in 44 BC, but date really got its claim to fame thanks to William Shakespeare. In his play Julius Caesar, Shakespeare penned the famous line, "beware the Ides of March" spoken by a soothsayer to warn Caesar of his impending doom.
According to the ancient Greek historian Plutarch, a seer did indeed forewarn Caesar that he would come to harm. The prophecy stated that tragedy would befall Caesar no later than the Ides of March. In Plutarch's account, on that day Caesar joked with the seer saying that the 15th arrived and nothing happened, to which the seer replied that the day wasn't over yet. And so the prophecy was fulfilled.
Should You Beware?
We love to poke fun at tales like these and warn each other to watch out, but should you really beware? After all we know what happened to Caesar; even his friend Brutus stabbed him in the back. Or is this all just silly superstition based on history?
Certain calendar dates do have significance for us. Just look at Friday the 13th for example. Have you ever experienced bad luck on that date? Some people even report having good luck on that date, while the majority experience just another ordinary day. And what about that last "big date" that was on everyone's lips—December 21, 2012? So many of us were all up in arms about that one. Now it's just a faded memory. Can we say the same for the Ides of March? Most likely. While it was a bad day for Caesar it will probably be an average day for you.
Yet the Ides of March and all other doomsdays do have some messages for us. One is the greater message of listening to your own intuition and inner voice. What does your gut tell you about March 15th or any other ominous date? Follow that voice before anyone else's. Another important lesson for us is to pay attention to our thoughts. If you think trouble will befall you on a particular date and expect it to happen, guess what? You will have misfortune. On the other hand, if your thoughts remain positive, so will your day—regardless of the date.
Although the Ides of March is upon us, it does not mean that were are subject to difficulties and strife. Cultivate positive thoughts and follow your heart to make this day and every day a lucky one!
---
© 2010-2023 crystalwind.ca. All rights reserved.
CrystalWind.ca is free to use because of donations from people like you. Please help support us!
Blessings!