Category: Twin Flames and Soulmates Views: 7220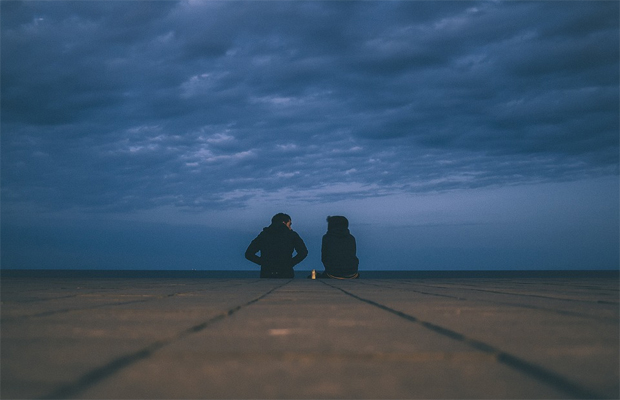 One of the more difficult tasks we end up having to face in our personal and spiritual development is letting go of a relationship that has served its purpose. This is especially difficult if it was a twin flame or a soul mate. In some cases, it may feel like you're separating the nail from the skin. It can be deeply painful. I consider it to be a form of death. It is followed by a rebirth – one of the many you will experience and an elevated way of living, loving and learning. It is very much like giving birth- painful, messy, miraculous and comes with a touch of "Remind me to not do this again" sentiment which we forget about.
I had to walk away from three deep relationships and after the third one, I came into some sobering and liberating realizations. Through all this pain, I was freed from a culturally conditioned expectation that was making me write off every relationship I had as a failure- thus causing immense suffering. I realized that not every relationship had to end in marriage with six grand kids and holding hands at age 90 at the park. This wasn't even my authentic dream. I had innocently bought into it. Another major awareness sunk in when I had to finally accept that until I was willing to show up for what needed to heal within me, I was doomed to have the Groundhog relationship/break up experience over and over again. This might be the ultimate cosmic joke but I was born on February 2nd. Yep, the gods must be laughing at me somewhere in the 5th dimension.
So, what's the truth beyond cultural conditioning?
The truth is, we are wired for pairing. No doubt. Yet, this doesn't have to mean that a relationship is a failure if it didn't bring about a "happily ever after, till death do us part" outcome. This, simply is not true. The purpose of a relationship is to get us close to ourselves and to our Higher Power (of your own definition). Why would that be? Because:
Only through attaching to another person, we gain access to our core wounding- one inflicted by one or both of our parents. Depending on what you believe, some say that we come with the wounding imprint from before birth and earth life experience reflects that. I happen to believe this and that we choose the perfect parents who would help us experience that very plan. When it comes to the why of this misery, your guess is as good as mine. This wounding is usually played out in the relationship, though it looks deceptively different. But it's there. It needs to come up for it to be examined and healed.
By living through the story of our wounding again, we now have a perspective of it as an adult, which we didn't have as a child. As an adult, we can identify the ingenious adaptive ways we invented to protect that wound. This involves recognizing how we unconsciously push the other person away, reject their love, cling for dear life, control and manipulate them, etc. We get to see how these adaptive, yet dysfunctional behaviors prevent us from receiving the healing and the love that is available to us in present time. Every relationship carries within it the seeds of that healing. Otherwise it would not have shown up in our lives.
Not seeing our part in the painful wound dance we performed with our beloved and blaming it all on them buys us a guaranteed ticket to another disastrous relationship just like it. I know this from all my experiences. If you have experienced a recent break up and couldn't step out of your usual reactive behaviors and contributed to your pain, try not to beat yourself up about it. At least this time, after going through it so many times, you have an opportunity to see how it played out. Your partner had the perfect combination of "material" to attract you and play into the script of your wounding. So, they are in fact, not an enemy but a soul who loves you enough to be the "bad" guy/girl again.
My own trauma replaying
I'd like to share the trauma pattern I have re-created in order to help you identify yours. In my last three relationships, I re-lived my trauma that I experienced with my dad. My father loved his younger sister more than any of us and was never shy about expressing it. As a little girl, I watched my father adore my aunt in ways I longed to be adored by him. She was a grown woman, only 8 years younger than him but he treated her like his beloved little girl he would bend over backwards to please. What I got was mostly scolding, angry and disapproving eyes from him. I knew that he was capable of offering that to someone but that 'someone' was not me. My aunt had already filled that spot before I was born (not her fault) and there was nothing I could do to be daddy's little girl. I felt helpless. He was the only father I had and I was too young to seek other solutions.
Of course, the men I fell in love with played this part really well. They all had a former lover (a wife or a girlfriend they couldn't get over) or they had a wandering eye that left me feeling as if I wasn't enough for them. They were wounded by those partners (and their own mothers) so they either didn't know to connect intimately with a woman and commit to her or they were too burned to risk going there again. Regardless, I was getting the short end of the stick despite how much I loved them.
How does this trauma heal?
Because of my experience with my dad, as a little girl, I had made the decision that I wasn't worthy of his love like my aunt was. The lesson and healing that needed to happen for me was to recognize that I was (and AM) worthy of love and connection and that the experience I had (or didn't have) with my dad wasn't a reflection of my worth. I realized and affirmed that my worth relies on one thing and one thing only: I am a divine child of God who chose to come into this life to experience and transcend the pain and the shame of not having been loved right. My healing was going to come from my Higher Power (God, Shiva, Universe, Allah, Spirit, etc) by way of other people – once I recognized how I had learned to block off love and connection with people as a result of this wounding and changed those patterns consciously.
I'd like to leave you with a few thoughts which I think can be helpful if you are hurting in the aftermath of a relationship:
Recognize that it is not about them, they are not the only source of love for you (but only one of the conduits for it). They can't be your Higher Power because they are human and flawed, wounded and perfectly imperfect just like you.
The path you follow to heal your core wounding will open you up to universal love, help you shed false beliefs about yourself and about what love is, what the purpose of your life should be and your intrinsic sense of self as a human being. So, accept and bless this wound. Rumi said, "The wound is the place where the light enters you".
Here is the gist: We must develop the grace to accept our wound as a divine assignment our soul took on to elevate human consciousness. What our soul and what our ego wants are sometimes completely two different things. One serves itself, one serves the greater good. Life doesn't support self-service unless the survival of the self supports the good of the whole. In order to receive the good along with the life that surrounds us, we must participate in its making. In my opinion, the most fundamental way we do this is by gracefully accepting the wound, moving away from dramatizing our relationships and humbly ask for help in healing it. This is the path to surrender. The path to love that threads through all that there is.
There is light at the end of the tunnel. Believe this and you will heal.
---
Credit
Banu Sekendur is a writer, teacher, coach, small business cheerleader and an intuitive (not in any particular order). Her life is dedicated to helping people discover, own and live from who they truly are and build a happy life around that. You can connect with her on Facebook [http://www.facebook.com/BanuLLC] and her website [http://www.workwithbanu.com]. "Come as you are".
---
CrystalWind.ca is free to access and use.
Please support us with a small gift of $11.11 or $22.22 or $33.33.
Thank you!

ॐ Namasté - Blessings!

"Life is an echo, what you send out comes back."
© 2008-2021 crystalwind.ca. All rights reserved.