Category: Moon Cycles Written by Lena Stevens Views: 2163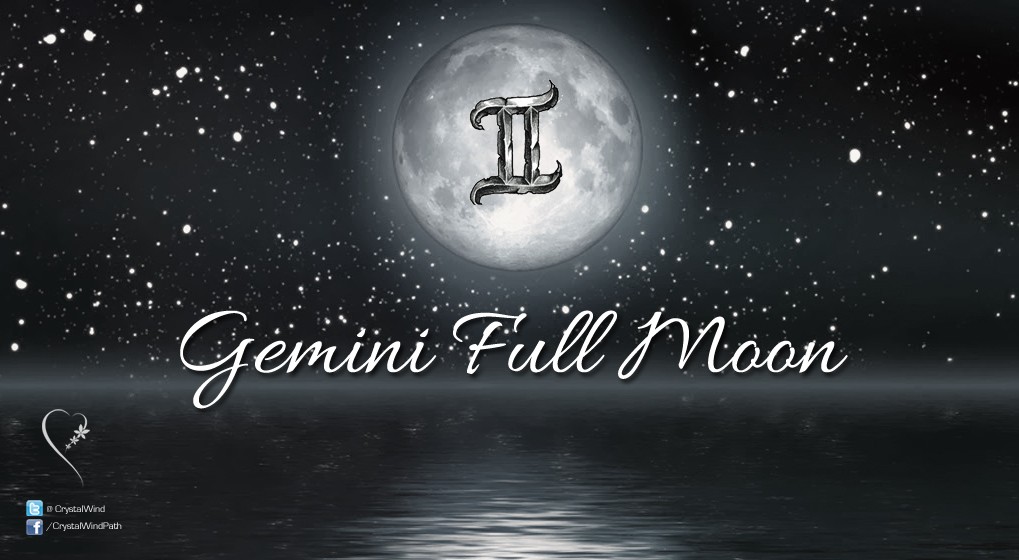 GEMINI FULL MOON
Sun in Sagittarius ~ Moon in Gemini 0º52'
Thurs., Nov 22, 10:40 PM Mountain Standard Time
(Friday, Nov 23, 5:40 AM Greenwich Mean Time)
The Sun makes its yearly shift into Sagittarius and hours later the Moon shifts into Gemini and opposition to the Sun. At 0º Gemini the Moon is full and ripe with potential, a seed point. This cycle comes into fullness with the energy of an inspired new beginning. With Gemini/Sag we are able to consider not only information, detail and all mental input, but we are also able to hold the big picture vision we all need as we pass through this time of tremendous transformation. So, now is the time to dream your dream and engage and perfect your ability to hold your vision of the future while taking care of the details of life.
The Sun is blessed with Jupiter so close by and Mercury tagging along all in Sagittarius. Through Jupiter's eyes everything seems bigger, brighter, more energized, more possible. We're eager for adventure, bringing in the new, moving forward, exploring new realms, and keeping our options open. We are hopeful-a time to shoot our arrows to the far horizon and dream a new dream. Just be aware of Jupiter's tendency to get over zealous, excessive, distracted or dogmatic by the glorious vision that they see to the detriment of the here and now. With Mars in a stressful square to the Sun and the Moon, we are primed for excessive behavior and over indulgence.
The Moon Full in Gemini is a time to shake up the mental realms: the mind, your perceptions, how you think and speak, how you teach and learn, and why you believe what you believe. Step outside your gerbil trail and learn something new to shake up your mental circuitry or explore another culture, people, or way of looking at the world. Sag is the most broad minded and tolerant of signs and welcomes in the diversity of global consciousness. Sag is always the seeker of truth and meaning in our earth-bound lives.
Mercury in Sag is ruler of the Full Moon chart and with Mercury retrograde from November 16 and riding under the influence of the Sun/Jupiter conjunction, it's important to be mindful of what you say, how you say it, and the effect on others. When you are on the receiving end of a stronger than necessary communication, you may need to step aside and let your breath (Gemini) guide you into a balanced response, otherwise that Mars square to the Sun and Moon may take you somewhere you DON'T want to go. With Mercury squared by Neptune communications can go in unexpected directions, get confused, be misinterpreted, and non-verbal or unconscious communications can be just as strong as intended ones. Neptune is especially strong as it is nearly at a standstill before is turns direct on Nov 24 at 13º Pisces after six months retrograde. Practice 'right speech' and don't believe everything you think!
With the movement into Fire/Air signs (Sag/Gemini), it marks a swing away from the feminine and a move toward a more active, masculine influence from the planets. Many less fixed signs are operating now and more mutable, change-oriented signs are present in this chart making it easier to make the changes we have felt we just couldn't get off the ground in the recent past.
We are still under the long influence of the Grand Square and Grand Trine meeting at the North Node, our cutting edge as I wrote about above for New Moon. We shall experience both in various measures without a doubt. There is tremendous choice in this configuration along the lines of resistance/growth.
Full Moon is on the day of USA Thanksgiving holiday.
The following times are in Mountain Daylight Time (MDT)
11/22 Sun enters Sagittarius 2:01 AM MST11/22 Sun enters Sagittarius 2:01 AM MST
12/06 Mercury goes direct 27º Scorpio until 3/5/19
12/07 Sagittarius New Moon 15º 12:21 AM MST
12/21 Solstice~Sun enters Capricorn 3:22 PM MST
12/22 Cancer Full Moon 0º49' 10:49 AM MST
01/05 Capricorn New Moon/Partial Solar Eclipse 15º 6:28 PM MST
01/20 Sun enters Aquarius 12:59 AM MST
01/20 Leo Full Moon/Total Lunar Eclipse 0º51' 10:15 PM MSTorn
Image by CrystalWind.ca
LENA STEVENS
Lena is an internationally known teacher and shamanic practitioner. She apprenticed for 10 years with a Huichol Shaman from Mexico and has studied cross cultural shamanic healing from numerous traditions including the Amazon basin, Native American, Northern European and Siberian. Lena has taught and worked with individuals, groups, businesses and communities for the past 25 years, helping to bring shamanic nature based wisdom back into people's lives. One of her specialities is the woven song tradition of the Shipibo tribe in the Peruvian Amazon, the singing of Icaros or healing songs. The individual healing work with these energy patterns through song and other shamanic techniques has had a powerful impact on her clients. Lena is the co-author of the "Secrets of Shamanism, How to Tap the Spirit Power Within" and a contributor to "The Power Path". Along with husband and partner Jose, she is the co-founder and one of the primary instructors of Power Path Seminars and the School of Shamanism.
Source Here
© 2018 CrystalWind.ca. All rights reserved.
CrystalWind.ca is free to access and use.
"Would you consider a small gift of $11.11 ?" :)
ॐ Namasté - Blessings!

© 2008-2019 crystalwind.ca. All rights reserved.